Kasauti Mohabbhat Ki- Season 2 Part 8

Warning: A non-numeric value encountered in /mnt/nfs/home/ftpusers/tellyu/public_html/wp-content/themes/publisher/includes/func-review-rating.php on line 212

Warning: A non-numeric value encountered in /mnt/nfs/home/ftpusers/tellyu/public_html/wp-content/themes/publisher/includes/func-review-rating.php on line 213

The Choudry family come along with Aliya. Only Rakhi, Daljeet and Aliya come to the wedding. Afterwards, Sarla, Bulbul and Pragya arrive. Finally, Urmilla arrives with tears in her eyes.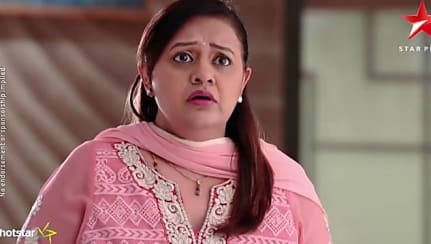 " Where's my Gopi?" Urmilla asks Kokila. Kokila smiles.
" Shes in her room, getting dressed." Kokila says. Urmilla rushes upstairs. Urmilla enters the room. The girls are with Gopi. Urmilla hugs Gopi.

" Gopi, where were you for 16 years? Your mother missed you so much!" Urmilla cries.
" Maa, her memory hasn't come back." Rashi says. Urmilla looks at Gopi.
" Sorry, I don't remember you. The only mother I remember is Sarla Maa." Gopi says whilst she looks at Sarla. Urmilla gets emotional and leaves the room.
In Ahem's room, Ahem is getting ready and Raj is helping him. " I cant believe it. All of this is happening so fast." Ahem says.
" Life is strange bhai. Our destinies are strange. But you and Gopi bhabi are destined together and this fate's game. You both belong with each other." Raj says.
" I guess you are right." Ahem says.
Villain music plays. A man enters the Modi Mansion wearing a suit. Gaura and Kokila are shocked. Gaura approaches the man.
" Maa, what a pleasant surprise." The man says.
" You are not my son. No rapist will be my son." Gaura says. It is Jigar. He was back from prison.

" But you helped me hide my crime, remember?" Jigar laughs evilly.
" Why are you here?" Gaura asks.
" It is Ahem and Gopi's wedding and I didn't know they were both still alive." Jigar asks.
" I invited him here. He is my grandson and part of this family as well." Kalyani says.
" Dadi!" Jigar says and he greets Kalyani. Kalyani gives him blessings. Kalyani takes Jigar to her room.
" Do you remember the plan?" Kalyani says.
" Of course I do. I have been waiting for so many years for my revenge. I will destroy Gopi and Ahem. Because of them, I was sent to prison." Jigar says. Villain music plays.
The girls leave Gopi's room. Jigar enters.
" Hi, who are you?" Gopi asks.
" I am Ahem's younger brother. I have come back after so long and I have been waiting to do this for so long." Jigar says and he hits Gopi with a vase. Gopi falls down and goes unconscious. Jigar laughs evilly. A couple of goons disguised as waiters drag Gopi and put her in a body bag. They take the bag away. Jigar goes with them.
Kokila comes to the room. She doesn't find Gopi. " Gopi?" Kokila shouts. She still couldn't find her. Gaura comes.
" Kokila what happened? Where is Gopi?" Gaura asks.
" Shes not here." Kokila cries. Gaura has a flashback where she herself got Gopi kidnapped on her wedding day once.
" Kalyani is responsible for this, I am sure." Gaura says.
" But Gaura we have no proof. Our main focus is to find Gopi. We need to tell Ahem." Kokila says. Ahem is sat at the mandap. Kokila comes.
" Maa, where is Gopi?" Ahem asks.
" Gopi is missing!" Kokila cries. Everyone is shocked. Dramatic background music. Kalyani and Komolika smirk evilly. Vamp tune plays. Kalyani leaves the Modi Mansion and arrives at a warehouse.
" Ma'am, we have a problem." The goon says.
" What is it?" Kalyani says.
" Gopi is missing." The goon says. Kalyani slaps him. She gets angry.
" Where has she gone?" Kalyani screams. Vamp tune plays.
Precap- Ahem looks through the jungle and finds Gopi. Gopi tells Ahem to get married to her quickly before something bad happens.

Warning: A non-numeric value encountered in /mnt/nfs/home/ftpusers/tellyu/public_html/wp-content/themes/publisher/includes/func-review-rating.php on line 212

Warning: A non-numeric value encountered in /mnt/nfs/home/ftpusers/tellyu/public_html/wp-content/themes/publisher/includes/func-review-rating.php on line 213