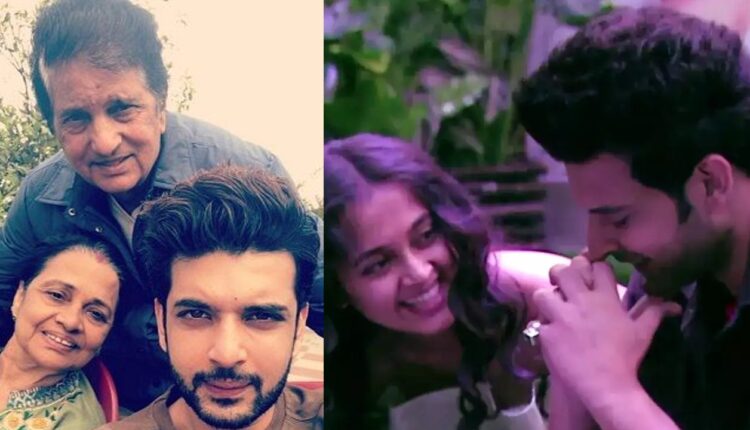 Karan Kundrra's parents on his relationship with Tejasswi, gameplan and more
Bigg Boss 15 contestant Karan Kundrra, who is extremely close to his parents was recently seen talking to his parents from the Bigg Boss house. The actor even introduced Tejasswi to his parents and even received a thumbs up from the family.
Karan's mother Suneeta and father SP Kundrra recently talked about their son's game, the bashing he got from Salman Khan and his relationship with Tejasswi Prakash in a recent interview with ETimes TV.  Suneeta shared, "It was an amazing feeling to finally hear his voice after so many months. We are in seventh heaven as we just wanted to hear him. We were very happy after talking to him. He was very happy after hearing our voice and seeing us and knowing that we are healthy. We are fine and we were very careful while travelling."
She adds, "We are missing him terribly. I don't cook anything that is his favorite because I can't make it without him being around. Even if I make it I call his friends and feed them. We have come here to his house in Mumbai and when he's not around we don't feel like living here. We miss him a lot, he's our life."
Talking about Karan's game plan, they said, "Mother-Father: He's doing very well in the game and I only wish that he plays for himself. He's always concerned about his people, friends. He has always been like that since childhood. He would get worried about his friends more than himself. His friends can't do anything without him."
Talking about the bashing Karan received from Salman Suneeta said, "I felt Salman Khan was too harsh on him (father pitches in, she's speaking as a mother). I couldn't sleep that night If he's helping someone, they will bash him saying why are you helping. If he plays for himself, he gets questioned about and also bashed that why are you not standing for your friends. The day he was heavily bashed he was asked why doesn't he stand for Tejasswi and 15 minutes later into the show Tejasswi was asked to play for herself. He's stuck in duality."
She added, " It was shocking for me when I heard he was called a toxic boyfriend, but then he is Salman Khan. What can we say. Someone even told me that Salman Khan was trying to wake him up and you should not feel bad about it. I would rather want him to sleep than be woken up like this on national television. We have seen how so many people come up to him in that house and talk about their problems and he solves it in a beautiful way. They go back happily. We are very proud that he has played the game in a dignified way."
When asked about the love brewing between Karan and Tejasswi, Father S.P Kundrra said, "Whatever we hear, we see on the show we trust and believe it. Most of the decisions are pending when we meet each other we will see. Karan and Tejasswi have to come out and we have to first meet each other. There are certain things that need improvement. Our intentions will be to help them stay together. There are certain things that they need to sort out. We are waiting for the time when they come out, we want to meet and see them and share our views with them. After all, it is my son's life and his happiness. That is more important for us."
When asked if they have met Umar yet. Suneeta shared, "No, we couldn't meet Umar. We tried to contact him but he was busy so we couldn't meet him. We will meet him soon." she concluded.