Kaisa yeh isq hai ( Avneil fan fiction) Episode 24
КᕱᎥᏕᕱ Ꭹꂅ♅ ᎥᏕգ ♅ᕱᎥ
Episode – 24
Recap :- Neil finds out Ahiana is Alia only ; Daksh gets to know about Avni's escape and presence in Mumbai . On knowing it , He threatenes Neela
---
The Episode starts at The CHAMKO cafe ,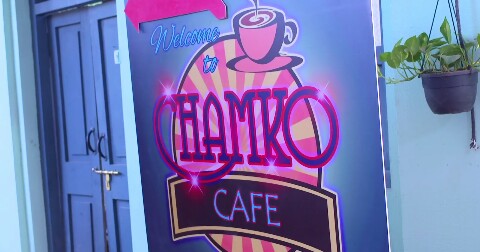 Juhi keeps her Palms over Avni's hands " Avni , Know what Police said , They said that they'll arrest Alia , For them you're a criminal , Who ran away , Who did a robbery , Who …"
Avni " Juhi , Don't worry about that , They could only do so when they'd caught me "
Juhi " I just pray to lord that you remain safe "
Avni " Don't worry about me , Take care of yourself , Ha ! "
Juhi " Avni , Please don't roam around the city , Police has already suspecting you , They're looking for you
Avni " I'll see to it , Ha ! "
Juhi " But Avni ! " ( Suddenly Ali interrupts )
Ali: Special Poha for most beautiful ladies of the world
Juhi " Oh Thanks a lot Ali "
Avni sees her Phone " Sorry guys I can't join you , I've to go , Actually I'm just doing some job and I just left it in between , I gotta go "
Avni gets up , But as soon as she tries to go Ali speaks " Wait ! "
Avni turns around " Yes ! "
Ali " Where are you going ? " He asks slowly and faintly
Avni " I'm going back to my office " " Is there some problem "
Ali " Oh no " He says with changing expressions from suspicion to free mind " You forgot your bag "
Avni " Oops ! thanks bye "
As she leaves , Ali sat down beside Juhi .
Ali : Woa ! I didn't knew that Ahiana is your friend
Juhi : Yeah ! She is
Ali : She came from London and you live here then how You both became
Juhi ( Hastily replies ) : Oh actually years ago l met her in London , Then we became good friends
Ali : How lucky that you were there in London , I wish I could be there once
Juhi's eyes got little watery and she became nostalgic " Ha ! And I wish I'd never go back there again , There are some strange and horrific memories attached to me "
She smiles faintly as if grief has struck inside her " Oh sorry , I just started being emotional , I don't know why I do it all the time , You must be having a lot of work , I'll take your leave now "
But when Juhi gets up Ali holds her hand , On turning back he asks " We're good friends now , At least we can share our problems with each other Now "
Juhi " What're you saying Ali ! "
Ali gets up , With his fingers he clears Juhi's tears " Know , What people say about me that I can read faces easily , I can easily make out from people's face what're they thinking , And I can give solutions , So tell me what's the problem "
Juhi " I'm glad to have someone like you , But I'm tied in a promise , I can't tell you anything " " Hope you'd understand , I'm sorry " And she left the place .
Ali shouts " JUHI , wait please listen to me , Juhi " His phone rings and it diverts his mind .
AT SANAM RE ' – music channel .
Avni reaches , And getting in she could see everything in a haste , People holding files and folders in their hands moving from one corner to other .
Avni asks " Sunheri , What's happening here , Ha , The whole scene seems to be changed "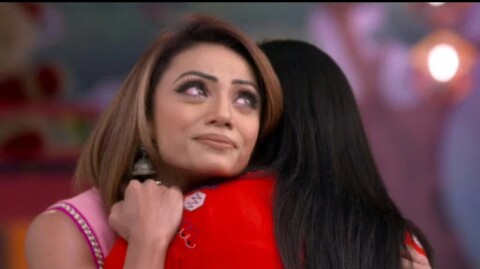 Sunheri :- I'm so happy for you , Ahiana , Wow !
Avni : But what's this all going on , Would someone tell me ?
K.k comes out talking rapidly as of ordering someone " Yes , Everything should be perfect " " I don't want any kind of imperfections , Right "
Avni goes and mutters " K.k Sir what's all this going , They're not telling me anything "
He didn't paid any heed to her and moved away in constant declamation .
Avni chases her , Finally reaching his room , He kept his mobile down
Avni :What is this happening ?Everyone is saying me to ask you , I'm confused !
K.k : I'll eliminate your confusion in just a minute , Wait !
K.k brings a pamphlet " Close your eyes "" There's a surprise for you "
Avni " Oh sir please tell what's there "
K k " I said close your eyes "
Avni closed her eyes and K.k keeps that pamphlet in her hands
Avni opens her eyelids and finds out somethinsurprising
Looking at her shocked face , Kk says " So get ready " " We're gonna have a big and grand party "
Avni thinks ( What a party , It means people from many places would come , Media , And security , Police ) She gets goosebumps " There's no need of this party Sir , Why to waste money "
K.k " It's a simple rule of business , How much you'll invest the same you'll get back "
" You're a star , It's really required , A launch party by K.k the owner sanam re ' , Releasing new music channel on television , ' Isq with Music ' , Wah wah ! "
Avni " But I've already told that I'd remain a hidden singer , No one should get to know about me
K.k " Yes , Yes ! babe " " I've made all the necessary arrangements for it , Just chill , Sit back and listen "
" A grand opulent launch party for secret superstar , Alia , The youth sensation , A RJ , The beautiful , Hot , And melodious singer " " Just imagine , It'd be a attraction , Our channel would be a super hit , You can rock whole Mumbai "
Avni " But Sir please listen to me , I won't come at the party , I'm sorry "
K.k " Nope No I won't listen to anything , Just go away , Prepare yourself , Buy yourself a new dress , We've not much time , It's just tomorrow , Go , Go now , Hurry up "
Avni to herself " What the heck is that ! Why do every time I only had to suffer challenges , Why only god you had to test me ?"
Sunheri " Ahiana what's you muttering to yourself , Come let's go "
Avni " Where ? "
Sunheri " To buy a new dress for your party "
AT CHAMKO CAFE …
Ali is shown sitting on chair , He's talking to someone but initially it's kept hidden behind a pole …
Ali " No , No I can't do that , Please don't drag me into this
Ali " How can I do that ? It's so illogical and it's not good ,No I won't "
Ali " I can't do it , It's unethical , You want me to spy on Ahiana " It's not possible for me "
The camera revolves and the person who's at talking to him is shown , It's Neil
Neil " Ali , I know that , But you've to , You've to help police "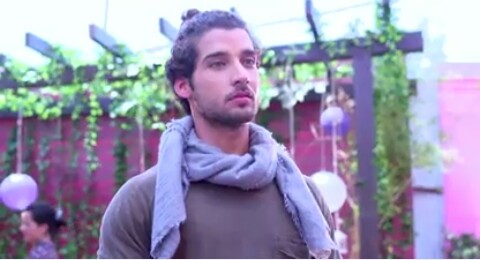 ALi " What're you saying Neil Sometimes you say that Ahiana is a brave and honest girl , You had prepared Poha for her with your own hands , Now you're telling me that she's involved in some kinda bad business "
Neil " Who knows who's hidden behind innocent faces , Anyone can be wrong person , We don't know , If you'll help me then we could catch a thief , Think , You're helping police , Society "
Ali " Bas bas ! Don't try to flatter me , Previously , You told me to look into her bag , Now what you wanna to do with me "
Neil " Nothing much just have to do this " ( He passes over to him a little envelope )
Ali holds it and stares at it
while Neil thinks " Sorry Ali but I've to this , I know it's wrong but to get through the roots of this case I've to take this step "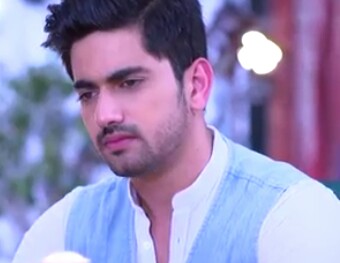 At SUKOON GHAR ,,,
Avni reached home , Looking simply sad she exclaims keeping her bag over the brown table " Ma ! I've a shocking news to deliver , I'm really … Mad over it "
Avni looks here and there , On been unable to find her , She stood up and searches for her , Looking at house completely disordered , she gets panicked
Avni shouts again " Ma ! Where are you "
Instantly she finds out Neela coming out of her room , Dragging on the floor suitcase
Avni asks curiously " Ma ! Are we going somewhere ? "
Neela didn't spoke a word and keeps the suitcase on the table , She starts stuffing other things into the bag
Avni asks again " Ma ! What're you doing ,Why are you packing the bag , Are we going somewhere , Are you going somewhere , Please tell me "
Avni " I'm sorry I didn't listened to you , Are you upset from me ? " " Ma please speak something "
Neela finally break the monotony , And spoke with freak " Not only I , But we all are going away from here , We're shifting from here for short period of time "
Avni " Ma ! What has happened to you , What're you saying , Why are we shifting from here , I know you're afraid of those people , But believe me , From now nothing will happen , Believe me "
Neela " You're not getting me , Living here is not safe anymore , We've to go from here "
Avni " Is everything fine , Did they came here again , I can see some fear in your eyes , Please tell me , Are you hiding something "
Avni looks at Neela's red , Terribly frightened eyes .
Neela thinks " Avni how could I explain it you now , How dangerous it's for you to be here , If you continued to be here they'll kill you , They'll take you from here " Avni we've to go from here "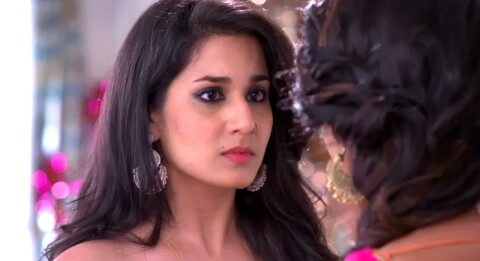 Avni " Please Ma ! tell me "
Neela " You know what all happened these days , There was a bomb blast , I was kidnapped , You'd have died in the blast "
Avni holds her shoulders and speaks slowly " But it didn't happened your love and naina ma's blessings saved me , My ambition saved me , See I'm alright , Healthy in front of you "
Neela " Once , Twice , Thrice , But how many times you'll be saved , Anything can happen in future , You've to understand "
Avni " It means that you know that the previous incident occurred because of Vidyut , You know it Ma , Please tell me "
Neela now lost hers sanity , And spoke loudly " Avni , Why are you getting me point " She roars " Vidyut is dangerous , He can do anything , It's really important for us to hide somewhere "
Avni " We can't hide like rats in holes , We've face him , And you only said Na we've be strong enough "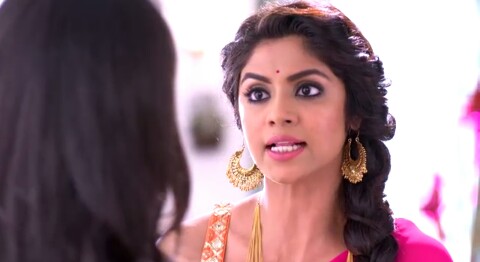 Neela now gets loud again " You always have to do what your heart says , You never listen to anyone else , Now I won't talk to you unless you give me your final answer , Either you want to go or Listen to your heart "
She angrily moves away from there and climbs up the stairs
Avni murmurs to herself " What has happened to Neela Ma !why's she behaving like this , For sure there's a problem "
INSIDE CHADHA'S MANSION ..
Daksh is talking on phone ,He's holding cigarette between his two lips , With arrogance he spoke " Don't worry Vidyut , Where would she go , I've made my men to spread all over the city they'll find her soon "
He looks himself in the mirror and crushed that smoked , Black burnt cigarette in between his fingers " Need to worry at all , I've made all the necessary arrangements , You know very well that noone can defeta us , We're the boss , And even all this I still wonder that how can a mere girl escaped your trap , You need to really work hard , I'm telling you , But the mistake which you did , I will not , I'll catch her as soon as possible "
AT SUKOON GHAR …
Avni dabs at Neela's door time and again " Ma ! please open the door " " Please Ma ! " " Tell me what're you hiding " " I know you want to protect me from Vidyut that is why you're doing all this , I know But unless you'll tell me everything , How'd we find a solution to it "
Avni again bangs at door hardly , Suddenly , A nail in the wood injected in her hand
" Ouchh ! " She cries out in pain , Just then the door opens and Neela comes out in haste .
Neela exclaims with pity " Avni ! Bacha " She holds her hand and took her inside and gives her first Aid .
Neela " Avni what're you doing Bacha ! You know it could have cause a big injury "
Avni " You Know Ma ! I even felt that I got hurt , The grief that because of me you're being troubled again , Again "
She looks straightway into her eyes " Please Ma ! Please tell me what's the reason ,Did the goons came here again "
Neela hugs Avni and began weeping .
But suddenly Someone comes and says"Goons ! " with great confusion and questioning tone .
They both look back and are shocked
Avni exclaims with a jolt " Ali ! "
Ali rapidly " Ahiana did you just said goons , You said goons , Right ! "
Avni " Ali ! " Slowly " Please listen to me "
Ali " Ahiana , Neela aunty are you both okay , I mean did you told Police about this "
Avni " Ali I think you're reacting quickly , Its not like that what it seems "
Ali " what do you mean by this , I can't be wrong what I heard just now , And what about these , These things on the floor , The whole house looks like a mess , It clearly shows that something happened here "
Avni : Please Ali , Go away from there now , I'll explain everything to you later , This is our personal internal matter
INSIDE POLICE STATION
NEIL " Stop right there ! " touching the Bluetooth device over his ears .
Neil " Listen ! Ali if you went ahead they'll suspect you , Just do what was planned "
Neil thinks then , " My views were right , She's Alia only , I just hope I could do my duty well this time "
Dd interrupts " Sir you think that this time our plan would work "
Neil " I just hope for the best , This time we'll win "
AT CHADHA'S MANSION
someone IS SHOW stealthily coming in into Daksh's room , The camera rolls up and its Naina who's there , Her feet dried and rough , Big heavy shackles still around her ankles .
She frantically comes in walking up to photograph . That was partialy burnt by that crushed hot burning Cigarette thrown by Daksh . Naina quickly picks it up and saved it from getting destroyed further .
" My Puchu ( Avni's nick name )" She exclaims with grief and satisfaction
" You've grown so much "" My daughter , She's so big now " " I'm seeing her after 15 years "
She just then wraps the picture in between her arms and let it touch her chest .
She cries , She sobs " Avni , I'd the first mother who hasn't seen her daughter for 15 years "
She talks to that picture like a insane " How're you ! Are you fine , Where are you please come to me , See your mama misses you so much , Please for once come to me , I want to see you "
She took out lord Ganesha's little sculpture and Screams " Avni please come to me , Avni " " See god she's here in Mumbai " She stumbles " But does she knows that I'm also here " " Oh lord please i wann see her "
Daksh mutters " Takkk Tkkk , Oh Why are you disturbing god time and again, I'm here for that , I'll fulfill every dream of yours "
He comes in and grasped her hairs hardly " So you want to see your daughter "" Ha!"
"don't worry I'll for sure full fill your dream , I'll bring her here in front of you , Then with this Gun of mine , With which I shot Janki "
Naina gets enraged , Mustering all her strength with those delicate limbs she stood up and holds his collars " I'm your enemy , Then why are you against my daughter , If you want to kill me , Then you can , But don't harm her "
Daksh " Mujhe usse bahut purana badla Lena hai " " Jab tak wo pura nahi hoga tab tak uski sanse chalti rahenge , Aur uske baad use marna hoga "( He says that he had to take vengeance from her , Once it's done he'll kill her )
Two men came and hold Naina's shoulders , Daksh took out a picture of Avni's childhood and with a lighter he burns it "
Naina began roaring and screaming , But by those men she was been dragged away .Locked in prison like room .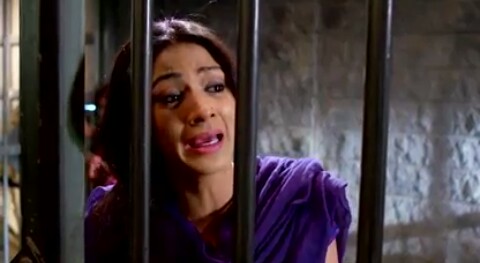 She yells " Avni , Leave me , Daksh don't dare do to anything to my Avni " " Leave me "
With that flame still over the lighter he lits another cigarette And exclaims with hatred filled voice " S**li ma! Bete dono hai ki hath hi nahi atte , Bas bahut hogya , Ab pani sar se upar ja chuka hai "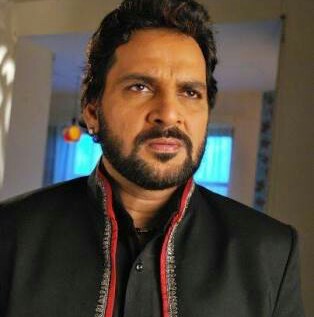 " Kuch karna hoga " ( blo*dy mother and daughter , They can't be handled , It's getting on my nerves now , Now I've to do something )
AT SUKOON GHAR …
Avni " Ali please I think you should leave now , It's our internal matter , We'd solve it our way "
Ali " Okay , Ahiana , I'm going , But I came here to give you this " ( A small Lord Ganesha's sculpture )
Avni holds it , And a flashback is shown [ Neil holding the same sculpture
" In this I've hidden a spy camera , It's really serious case , It needs to be solved as early as possible , And for this , I've to take this action "
Ali : But , Neil , Think again , Aren't you doing something wrong , Don't you think
Neil holds his shoulders " Sometimes to have good , We've to take help of bad Believe me , Believe your friend "
Flashback over)
Avni : Thanks ali For this , And I'm sorry that I just was so loud at you
Ali : It's alright , I'm sure that you'll get solutions to your problem soon
At Police station …
Neil orders to his force " Quick, Is everything set "
Police officers starting setting the computers
Neil says " Hurry up , I want the whole thing , Clear , Every single word should clearly audible , Record everything "
Neil "Today whatever i have to do , I'll have to crack this case "
AT SUKOON GHAR …
Neela : Don't create mess We've to leave now , Our flight is ready , Come on let's go
Avni : No Ma ! Unless you tell me what hadhappened I won't go anywhere
Neela " Bacha try to understand please "
Instantaneously , Neela's phone rings . Neela gets a jolt , Terribly shaking she sees her phone
Avni " Ma who's calling , What happened , "
Neela's eyes grew wider , She's skockstriken , She didn't moved
Avni " Ma ! Tell na! Who's calling "
Neela frantically , started uttering " We should run , We should go away , Come let's go , We should go "
AT POLICE STATION …
NEIL wearing headphones hears ' Avni " Ma ! what happened ! "
( She made her sat over sofa and takes away Mobile from her )
" Hope by now you've decided , which option you'd choose . Today I spared you , But next time I won't , It'd be better for you to straightway tell me where's Alia or else ….You know what can I do " '
At SUKOON GHAR …
Avni gets a thunderbolt , " Ma ! I was right , They came here again , Why didn't you told me "
Police station ….
Neil " Increase the volume "
Neil " Don't miss anything "
Ali reaches by then , He without any delay as entering in utter " Neil , Neil "
He comes directly to him " I don't know if she's culprit or not but I know that she's in some kind of trouble "
Neil " I know Ali and that is why I set this plan "
Ali " The moment I entered the house I saw everything was a mess , Completely disorderd , Both Neela aunty and Ahiana were distressed "
Neil " Ali what happened , Why do you look so tensed "
Ali " I found this there " ( Brings forward a big knife Which was stained with blood )
Neil looks at him strangely
Just then , They heard " ma ! What're they saying , That'd kill you "
Neela " I told you we should leave , They're dangerous , They want Alia , They can do anything "
Avni " No I'm sure there's something else you're hiding from me "
" You didn't told me who kidnapped you , Who was it who came here , What they told you "
Neela was quiet
Avni took her hand and keeps over her head
Avni " Maa apko mere kasam please tell now "
Avni holding Neela's shoulders " Ma ! speak "
Neela " Yes ! Yes I am hiding something from you , Yes the goons came here "
Avni " Tell what's there that you're longing and don't want to tell to me " " Speak up "
Then , Neela sees that party pamphlet over the table , She goes and picks it up " Daaaakkk , Do you know him "
Avni : What happened Ma ! Why are you tensed looking at this picture
Neela " He'll kill her , He'll kill her " She began huffing badly and sweating
Avni " Ma he's Chief guest to our show , Do you know him "
Neela " No You'll not go anywhere , You'll not go to him "
Avni holds her and Neela hugs Avni , She cries , " Ma please tell me believe me , For once "
Neela holds Avni's hand and takes her away …
AT POLICE station
Neil " What happened ? Why we can't hear anything ?"
:- Seems lik they've gone away from the mike
Neil bangs on table " Oh shit ! Now what , Increase the volume , See if anything could be heard "
Neil to himself "What are they both hiding , What was Neela aunty talking about , Why was she saying ' He'll kill her ' " " Something is fishy , Some big trap "
Neil " I just want to know it now , I can't wait anymore "
»» The screen flashes off ««
Precap :- Neela and Avni in Temple ( At home )
Neela " Take pledge , Say that whatever I'm going to tell you , You'll not take any step in anger "
And ,,,,
Avni says " Kal is khel ka ant hoga , Main karuge is khel ka ant , Kal "
______________________________
Happy friendship day to all my very dear friends and sisters and brothers . I'm so glad to have friends like you . You've supported me everytime , In my bad or worst days and also in good days . Moreover , You've given me amazing ideas to write good . Thanks for all that friends .
I know these days I'm not writing up to your expectations Beacuse of studies and peer pressure , I even don't know if when would I upload next one .
But I'm damn sure you all will surely support me , And be patient .
Thanks once again ., Yours Kira
______________________________
Mini spoilers…
As you've seen by now that Neil is pretty sure that Ahiana is Alia , And he wonders why is not seeking help from police and getting Vidyut arrest for his illegal business and brothel . As Neela now knows that Daksh is the only one who has captivated Avni's mother , Naina , For fifteen years , She fumbles to tell the truth to her . As , Daksh has kidnapped her daughter .
There , Ali is ordered by Neil to spy Ahiana and find out her history . Daksh threatens Neela that if she didn't handed over Avni to him , He'd kill not only her but also her daughter .
Avni knows nothing . Neil urges to help her out ,But she's afraid of taking help from police and had pledged that she'd accomplish her mission own by her own .
Now , what'll neela choose , Her daughter or Avni ?
How's Daksh related to Neela ?
What'll happen when Daksh as chief guest would come to the launch party ?
Let's all wait and see what's gonna happen next ? Upcoming some intriguing , Romantic , Avneil scenes .
Bye , Have a great day ahead | Please ignore all mistakes , Did it hurriedly , Got little time . Sorry if it was boring . Hope you liked .Do write your views and hit ??icon .