Kaisa yeh isq hai ( AVNEIL fan fiction ) 9 Episode

Warning: A non-numeric value encountered in /home/ftpusers/tellyu/public_html/wp-content/themes/publisher/includes/func-review-rating.php on line 212

Warning: A non-numeric value encountered in /home/ftpusers/tellyu/public_html/wp-content/themes/publisher/includes/func-review-rating.php on line 213

? Kaisa yeh isq hai ?
? 9 Episode ?
Recap :- Avni leaves SUKOON ghar , She visits her original house , Avneil misses each other
___________________________
The Episode begins with , It's a heavy rain pour and darkness is surrounded at every corner
Avni says " Neil " and hugs him
Neil " Ahiana what are you doing here "
Avni lost in her own dreams , Scream " Neil save me , They'll come and take me back there , Again , I don't want to go there again " she says while weeping
Avni is in state of stupor , She thinks that the man standing in front of her is her friend Neil from whom she was drifited apart 15 years ago , He is ! , But , Both are unaware of the fact .
Neil shouts" Ahiana Ahiana listen to me "
He keeps his hands over hers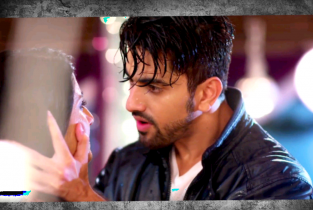 as she's badly crying till by now thinking about those men who'll one day take her back to that hell in London .
Neil shakes her to bring her back to reality " Ahiana will you please tell me what's the matter "
As Neil's eyes are looking into hers , She stares into his , Soon she realizes " Oh god what did I said just now , Oh my god , Avni you're so stupid "
She quickly frees herself form his grip and tries to took a step forward , As she was little weak and fragile , Her feet slipped and she just was to fall down , Her partner catches her .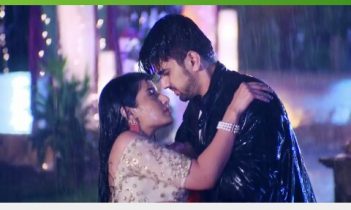 Neil raised is voice " Ahiana will you speak something who'll come , Where will he take you where , Ahiana … Speak something "
Avni ( changing her present condition ) : Nothing , Hey why'd you come here ?
Neil : I'm here to take you back home , At SUKOON ghar
Avni : Nope I'll not go back
Neil : Are you crazy !
Avni : Yes , But I will not
Neil " Oh gosh " , " See Neela aunty is so tensed for you "
Avni : I've promised her until I'll not pay her back money I'll not go there
Neil : okay fine where wil you go then
Avni : I'll live on streets , But I'll not go , Especially with you
Neil holds her shoulders " You must be crazy but I'm not at all , See you're trembling , You're shivering "
Neil removes his overcoat and wrapped it around her .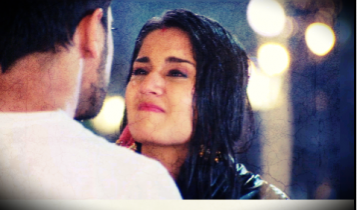 Neil : Tell me why did you stole money , To whom you gave money , Who were those men ?
Avni : I don't like Sharing my personal life with others
Neil : Maybe I could help you , Tell me who were those people , Where will they take you ?
Avni : Listen , Please go from here , I can take care of myself
Neil : Okay ! fine ! But now you're my responsibility I've promised Neela ma that I'll bring you back to her safely
Avni : I said no , So it's final
Avni removes his jacket form over her and threw it away " Mind your own business , Let me live my own life "
Avni takes a step forward and Neil holds it and pulled her towards himself " I don't know what kind of human being you're ? You'll fall sick "
Avni : For you I am a thief , So why do you care for me so much
Avni again walks forward , Neil taps his forehead " Oh god what kind of girl she is ? " , " She's not ready to listen to me "
Neil goes behind her and picks her up , Avni yells " Neil what's this , It's not fair "
Neil : If you're a stubborn girl then I'm also a rigid and tough policeman
He took her to his car and dragged her into , Hurriedly he comes and sits in the drivers seat .
He wraps her again and locks the car .
Avni : It's not fair open the door I said ( She keeps on trying but the door didn't opened )
Neil : Really I've never seen a girl like you
Avni : And you'll never see one like me , I said open the door
Neil " You'll not sit quietly like this " He takes out handcuffs and locked her right hand with his left hand
Neil : Now you try to get out of here
Avni : You're not doing something good I'm telling you
Neil : Like you're doing very good , You say Neela aunty your ma ! but you don't value her
Avni becomes calm and thinks " More than me who'll value mother "
She becomes quiet and looks out from window .
Neil : She's very strange , Till now she was roaring like a lioness but now she's calm as Scared cat
Neil and Avni looks into each others eyes , Avni and Neil is looking at each other with sharp , Intense and fixed vision
Avni thinks " Aakroo police wala kahi ka ( stubborn policeman ) always he's behind me , Every time he destroyes my plans
Neil : Sherni kahi ki(lionesses ) 24 hours she's angry and angry never smiles
Avni taunts him : why are you staring at me like this , See ahead and focus on driving , I don't want to die
Neil : Don't teach me how to drive I know better than you
Avni : I know very well what can you do
Neil : Whole day bla bla bla .. Don't you get tired
Avni : Even you also every time you just go on and flaunt and flaunt , Just be quiet sometimes .
Neil : Listen my head is aching now , Now no one will speak a word , Especially you
Avni : Right ! if someone spoke then he or she would be mad
After fifteen minutes , It's silence in the car , A pin drop silence . Suddenly , Avni feels something hard and squezzy under her feet
She bows down to have a look what's troubling her , She finds out something hard like " Oh what's this ! What if it's a lizard , What no ! "
Avni screams " Aaaa hhhh " , Neil gets shocked , " AAA " he shouts too .
Neil : What happened ?
Avni : A lizard under my feet
Neil : what ? a lizard
Neil stopped the car and comes out " Come out let me check "
He looks everywhere but couldn't find anything but a pen .
Neil holding a pen in his hand " This is your lizard "
Avni : A pen ! where's the lizard
Neil : Are you mad how can I lizard come in a car , Foolish girl
Avni : what do you mean by that , Ooo , Now I understand you knew I'm afraid of it so tried to tease me
Neil : How would I know that you're afraid of lizards
Avni : whatever get in now
Once again the car took to road , Neil looks at her and laughs .
Avni : Hey what so funny ?
Neil : Nothing
Avni smiles " How can I be so stupid , Oh Avni you're so insane Ha ! how can a Lizard came into car and that's too in his car " , " Shit I gave him another chance to laugh on me "
Neil : Hmm you're laughing thinking about what childish ish you did just now right !
Avni : Silently drive the car or else …
Neil : Wah ! you're warning a police man great
They both reached back , AT SUKOON GHAR …..
Neela is sitting sofa , Her eyes are constantly fixed to door , She finds Avni coming in with Neil , Her one hand is sealed with handcuff and other end of it is held by Neil .
Neela runs and hugs her " Ahiana Bacha ! Where were you Ha ! "
Avni " Sorry Ma ! "
Neela " What sorry , Children does mistakes but it dosen't means to run away from them "
Neil : Right ! she wasn't ready to come see how I had to bring her back
Neela " Thanks a lot Neil you really helped me a lot , Ahiana he's right ! What were you up to "
Avni : I'm wet , And tired by now can we please talk later , Good night .
Neela : Okay thanks once again , Good night , Bye
Neil walks out of the house , Avni throws out from the window of her room , his jacket which lands on his head .
Neil looks at her room and says to himself " This girl will never ……sh !!! Leave it "
NEXT MORNING …..
Avni is standing in kitchen , Her face is painted yellow , Green , Red as a rainbow . She's cooking .
Neela is sitting on sofa looking at her trying her best to make a circular chapati ( tortilla )
Neela " Ahiana leave it I'll do it "
Avni " No neela ma ! I'll do everything which I could to lessen my mistake , So today I'll cook breakfast "
Neil's POV….
" Neil :- Avni from tomorrow we'll visit temple everyday
Avni:- why
Neil :- Because it's really important to take blessings from god everyday
Avni :- Oh come on Neil , I know why do you want to go to temple just to get 'Laddus' right
Neil : what Avni ! you think I always think about food
Avni :- I know you very well don't try to hide from me okay "
Neil is smiling laying on his bed as he's dreaming . Shweta who's sitting beside him
Shweta : Tillu wake up it's morning now
Neil is still giggling , Shweta " Tillu oh my IPS officer , Wake up now "
Neil murmurs " No Avni I'm not lying I'm saying truth , No Avni , Avni listen to me "
Shweta keeps her hands on his face " So many years have passed but still he's dreaming about her , Still she's present in her mind "
Prakash comes and keeps his hand on her shoulders showing his concern " Shweta don't worry he'll be soon be fine "
Shweta : How ? For how long he'll keep that girl in his heart , That was past and he's still there , He hasn't moved on
Prakash : Shweta Ji remember years ago when we used to live at that old home , What you said that Neil and Avni would be very good friends
Shweta : That was my biggest mistake ever , I didn't knew the background of her family , Didn't you remember
Prakash : Leave it now , Don't recall those old days .
Shweta : We both have forgotten but what about him
Prakash : Let's go down , He'll come by his own , Come let's go now
Neil woke up , At first again he looks at Avni's photo hung on wall .
Then after getting ready he looks at his jacket which was thrown away by Ahiana
He goes and picks it up , A little chit falls down
" I wish we never again meet Aakroo police wala "
He was constantly looking at the handwriting as to him it appeared quiet familiar , But he let it go .
Neil " Now I have to give answer back to this 'Sheerni '
Neil steps down " Mom I'm going police station " He says and leaves .
Shweta rushes towards his room but till then he has left " Oye tillu wait , At least have breakfast "
Then she goes into his room and finds out a black colored jacket which was little Damp
Shweta " Yesterday it rained at night , But he had an umbrella and he was in his car but still his cloths got wet , How ? "
She finds the chit " I don't need your any help or you jacket , I wish we never meet again ' Aakroo police wala' " she reads
Shweta curiously " Who's this silly person ? "
Then Dd comes down he's shouting " Neil sir , I'm here come on let's go to police station "
Shweta is holding a rolling pin in her hand and she's wearing sunglasses as if she's a lady Don ..
Dd: Wah ! Mata Ji ( mom ) today you're looking very good
Shweta : Oye dakhal dyaal ! Tell me what's going on in my tillu's life
Dd : In sirs life , Nothing , Cases , Thieves and nothing else , But Mataji where's our Neil sir
Shweta : He must have gone to police station
Dd : No everyday we both use to go together
Shweta : So right in morning , Without breakfast where would have he gone
Dd : I know , He must have gone there to catch their , To catch Ahiana .
SUKOON GHAR …
Avni brings a big tray and keeps it on the table
Neela : wow what's on on tray today
Avni : I've made allo ka prantha , With yummy raita , Lassi
Neela : wow ! looks tasty
But how did you made you knew how to cook
Avni : I remembered how my mom used to . Please taste it
After that she woke up and she's walking up and down
Avni : Neela ma ! Why do you always is after Neil , Neil , He's a disturbing element for me
Neela : Why ? he's a good guy , He has helped us many times
Avni : I don't know but I just hate him so much , Promise me from now you'll never share my personal life with him
Neela finds out that Neil is standing at door , He's hearing everything . Neil says her to stay silent .
Neela : But Ahiana why ?
Avni : Every time whatever I just try to do he does opposite of it , I just hate him .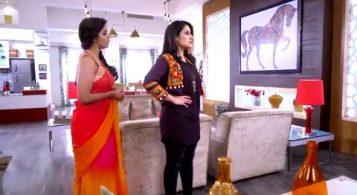 Avni holds neela ma " Leave it , I just don't want to think about him , Sit mom and tell me how's food "
Neela : Now what can I say about food it's …
Neil : It's boring , Tasteless isn't it .
Avni to herself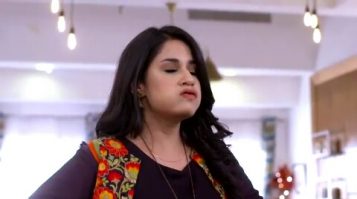 " From where does he came , He heard everything "
Avni goes to him , Pointing with her forefinger " Hey , You why had you come here "
Neil points his finger to her " I'm here not to meet you but to meet neela aunty "
>>> To be continued <<<
---
Hope I wrote good today , Do tell me if I did any mistakes . Please it's a polite request to give your comments . Give it a ?? if you liked . Bye awesome people …

Warning: A non-numeric value encountered in /home/ftpusers/tellyu/public_html/wp-content/themes/publisher/includes/func-review-rating.php on line 212

Warning: A non-numeric value encountered in /home/ftpusers/tellyu/public_html/wp-content/themes/publisher/includes/func-review-rating.php on line 213