Kaisa yeh isq hai ( AVNEIL fan fiction ) 6 Episode
? Kaisa yeh isq hai ? ? 6 Episode ?
Recap :- Avni organises a fancy dress party for Neela ma on occasion of mother's day , Neil visits there
___________________________
AVNI is standing alone midst children and muttering words to herself " Who's this Neil , And why ! why do Neela ma trust him so much , Why ? What was need to tell him about me , Now he'll interrupt in my plans "
Avni crossed her arms and exclaims " I ought to do something , Mom tell me some ideas please , Oh god "
Neil comes to her and says silently in her ears from back " I think you love to talk to yourselves , And it's said people who does so are mad "
Avni : Actually what's the reason behind this is that whenever I need some expert advice I talk to myself
Neil : Expert advice , Why do you need an expert's advice
Avni : To know ways by which I can remove a obstruction in my way
Avni says and turns back to go away , Neil holds her hand and rolls her to catch her .
Neil : main wo raste ka pathar hun jispar agar tum paar maroge to tumhe hi dard hoga ( I'm that stone in your way onto which when you'll kick your own foot will pain )
Avni : Don't worry , You needn't take tension , I can bear those kind of little pains pretty easily
Avni goes from there to a raised platform , She announces " So guys , Let's begin with the party , As today we've two occasions , One is mother's day and other , It's Neela Ma's birthday today , So we'll have double party "
Mowgli : Let's have dance
Mishti : Yes , Come on
The music begins " Janam janam janam saath chalna yunhi
Kasam tumhe kasam aake milna yahin "
Avni is dancing with Children , Neil is having dance with Neela ma , But they both are staring at each other .
Neil with his first two fingers points in his eyes denoting that his eyes are on her . Then Avni rotates her face to other direction , And Neil also .
Suddenly their backs collided with each other .
Neela claps " 3 cheers for Neil and Ahiana , Come on let's have a couple dance "
Avni : I'll never dance with this man , No , Never
Neil : I'm also not interested to dance with you , can I dance with anyone else
Neela : Oh come on , All are children here and we want a rocking performance , Ahiana wouldn't you do it for your mom
Avni : Mom that's not Fair
Neela : Come on ! Everybody Neil and Ahiana , Neil and Ahiana .
The music is being played "
Koi bole dariya hai (kaisa kaisa hai isq)
Koi maane sehra hai (kaisa kaisa hai isq)
Koi bole dariya hai (kaisa kaisa hai isq)
Koi maane sehra hai (kaisa kaisa hai isq)
Koi sone sa tole re, koi matti sa bole re
Koi bole ke chaandi ka hai chhura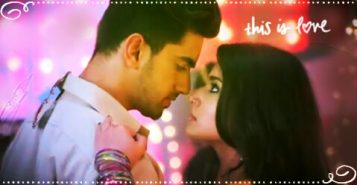 Hota aise yeh mauke pe
Roka jaaye na roke se
Accha hota hai hota hai yeh bura
Kaisa yeh isq hai, ajab sa risk hai "
Neil and Avni dances together .
Neil looks into Avni's eyes thinking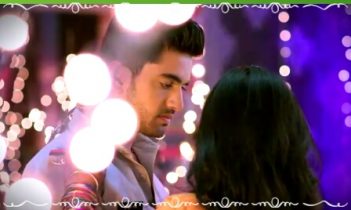 " So much is hidden in these eyes that I can't read "
Avni thinks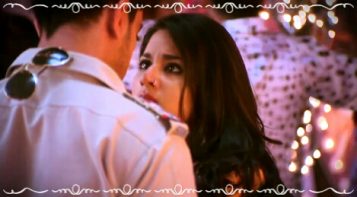 " Keep on trying to read my mind , I'll never get into your brain , Because once I got in I'll make a mess "
Suddenly Avni points two big sized men at door , Looking here and there in the party .
Avni : These men , Had they came here to find me ? oh god , I need to hide myself
Avni smiles and turns Neil to opposite direction in order to hide herself form them .
Avni's body's starts sweating , She got tensed " Oh god how did they got that I'm here , If they didn't saw me then they would think that I don't live here , I've to do something " she says in her mind .
Neil " What happened to you are you okay , Wait I'll get some water for you "
Neil goes away , Those men points Avni , Avni finds out that she's got found by them . She runs away from there .
Avni : Oh shit ! Shit !
Avni goes out of the house and those men caught her .
Man ¹ : So here you live
Man ² : What you thought we can't find you out
Avni : See , Many gusts have came today , There are a lot of people in there , I'll shout
Man ¹ : Shout ! come on do that , But we'll take Alia back today
Avni : I'm not Alia , Did you get that .
Man ¹ : Boss made you what you are today , We've put our efforts on you since 15 years , Now you can't get back
Avni : I know what all you've done with me , What all I've to do , But now I won't do it anymore .
Man ² : Don't waste the time
Avni : You want money , Right , Wait ( She takes out bundle of money from her bag ) Take this but please leave me , Please
Neil comes there and stealthily he sees Avni giving money to those men
Man ² : This much money can't do anything , You're treasure forever
Man ¹ : You're made for our business , And without you our business would be finished .
Avni holds his collars " I'm not made to earn you money , I'm a human being , A girl and I can't fight for myself "
Man ¹ : Now this girl had started speaking like scissors , We've to make it shut ( He raised his hand to slap Avni )
Suddenly Neil comes there and grasps his thick broad dark arm .
Avni looks up " Oh Yaar from where did he came now "
Neil : who're these people , Tell me
Man : Eh ! don't try to be smart , We've came here to take her away
Man ² : You know why because without her our business can't be done .
Avni : These are stupid men , Who can be found at any corner of Mumbai .
Avni to those men : Hey you get out of here , Or else I'll call police .
Man 1 : For now we're going but don't worry we'll meet again very soon .
Avni : Come let's go in now , Party is going on
Neil holds her hand " Wait ! who were these men "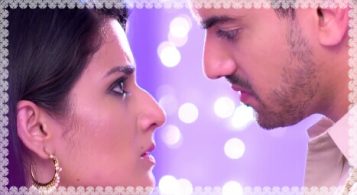 Avni : Who're you to ask me these questions , You are not related to me anyway , So please next time bring a suitable reason that with what relationship you're asking me questions , Fine
Avni goes in declining to every question he asked .
Neil : Something is obviously crazy with this girl
Avni moves in , Neela " Ahiana where were you , You kept this party for me and you yourselves are missing "
Avni : Sorry Neela ma !
Neela : Hey , Didn't you said that you've made song , Come on we all wanna listen to it
Avni goes to the stage , She holds the mike ( microphone ) in her hands .
She says to herself " Naina mom and Ahil dad today your daughter Ahiana is going to sing , The daughter of famous singer Naina , Avni is going to sing , I miss you very much Ma ! This is for you "
With her eyes got teary and she clears her throat , A sweet melodious voice come out form her .
She has closed her eyes and the song begins " Main Kabhi Batlaati Nahi, Par Andhere Se Darti Hoon Main Maa
Yuun To Main Dikhlaati Nahi, Teri Parwaah Karti Hoon Main Maa "
Her mind goes away in flashback [ 15 years ago she was kidnapped , Her house was set on fire , She got separated form her mother ]
" Tujhe Sab Hai Pata, Hai Na Maa
Tujhe Sab Hai Pata… Meri Maa
Bheed Mein Yuun Na Chhodo Mujhe, Ghar Laut Ke Bhi Aana Paau Maa "
[ Flashback :- When she opened her eyes after being kidnapped , She found herself midst of men in a dark room ]
" Bhejna Itna Door Mujhko Tu, Yaad Bhi Tujhko Aana Paau Maa
Kya Itni Buri Hoon Main Maa
Kya Itna Bura… Meri Maa "
[ Flashback :- She was Ill treated treated since then , Beaten , Tortured and had to do many bad things for money ]
Neil looks into her eyes while she was singing " Why am I thinking that a big truth is being hidden in you , A sacrifice , Pain "
Avni ends her song and wipes off her tears " Okay let's cut the cake now "
Neela " Excellent song my dear "
Avni : Thank you so much
Everyone gathered around a table to cut the cake , Neela cuts it .
Avni puts little piece of it into her mouth .
Neela repeats the same , Neela : Avni offer cake to everyone
Neela goes to her room for a while .
Avni is offering cake to children with her hands .
Neil : Won't you offer me ?
Avni : Why god has given everyone two hands for the purpose
Neil : what's the reason is till someone makes me eat sweet form thief hands with love , Sweetness can't be felt .
Avni : so go and find someone like that because I can't do that
Neil : Okay then no problem ( He picks little little piece of cake and puts in fornt of her mouth )
Neil : Eating sweet makes our mood happy , Try to smile sometimes , You'll look good .
Avni didn't accepted and moved away .
Neela comes from her room shouting " Ahiana , Neil , Mowgli , Mishti "
Avni : What happened Ma !
Neela : Bacha somebody stole my money form my cupboard
Neil : what ! But how ! how much they were
Avni : Yes
Neela : Around a lakh , A bundle , It's not there now
Neil looks with suspension into Avni's eyes " But today onky we were there , Then who can do it , Isn't it Ahiana "
Avni gets little worried and looks with panicky and irritated vision .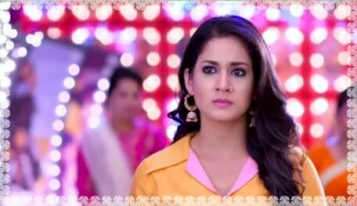 ---
Guys I'm nothing without my readers , So please support by hitting ? if you think i wrote well , We're like a family so feel open to share your views .Good night friends ??