Kaisa yeh isq hai ( AVNEIL fan fiction ) 10 Episode

Warning: A non-numeric value encountered in /home/ftpusers/tellyu/public_html/wp-content/themes/publisher/includes/func-review-rating.php on line 212

Warning: A non-numeric value encountered in /home/ftpusers/tellyu/public_html/wp-content/themes/publisher/includes/func-review-rating.php on line 213

? Kaisa yeh isq hai ?
? 10 Episode ?
Recap :- Neil brings Avni back home , Avni prepares breakfast and tells her feeling about Neil to Neela ma
________________________
Neela finds out that Neil is standing at door , He's hearing everything . Neil says her to stay silent .
Neela : But Ahiana why ?
Avni : Every time whatever I just try to do he does opposite of it , I just hate him .
Avni holds neela ma " Leave it , I just don't want to think about him , Sit mom and tell me how's food "
Neela : Now what can I say about food it's …
Neil : It's boring , Tasteless isn't it .
Avni to herself
" From where does he came , He heard everything "
Avni goes to him , Pointing with her forefinger " Hey , You why had you come here "
Neil points his finger to her " I'm here not to meet you but to meet neela aunty "
Avni: But she dosen't wants to meet you
Neela : Hey , Neil come , Come in
Neils shoulders pushed her and he enters in .
He bows down to touch her feet , " Neil in morning you came here , Is everything alright ? " – Neela ma asks
 He goes and sat at the table where food was kept .
Neil : I thought to have breakfast here , But ( touching Prantha ) this burnt tortilla , Tasteless tea and this curd , Seems so …
Avni : Neela ma ! don't judge a book by it's cover , From outside it could be different but from in it's good
Neil : Oh really ( he detaches a small bite form tortilla and puts it into her mouth )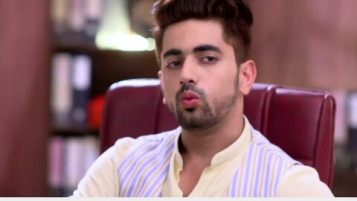 Neil : Try it ( he sees her troubles expression ) what's the matter can't you chew , Try it
Avni covers her mouth with her hands and goes away .
Neela : What Neil ! you made her sad
Neil : You should thank me that I saved you from this kind of bring breakfast .
Avni comes back after a moment , Neela " You both sit down I just go and cook something okay "
Avni goes and sits silently on the sofa , She picks up the newspapers and those sheets covered her face , she's uttering something continuously
Neil exclaims " Neela aunty is there some radio here "
Neela from inside the kitchen answers back " Radio nope , We don't have any radio here , Why ? "
Neil : Oh okay
Avni murmurs again to herself " He needs to see a doctor and get his ears checked "
After a few seconds ….
She removes papers from over her face and finds out that he's still looking at her .
She makes irritated expression and hid her face again .
Neela comes out from kitchen " Come have breakfast "
Neela " Come Neil , Ahiana "
Avni's eyes are still fixed on a advertisement on newspaper Neil comes to her and knocks over the paper " Hello somebody here "
Avni slides away the paper from over her face " what happened ? " She says with agony .
Neil : I think you should see a doctor your ears doesn't respond to sound
Avni : I think you should keep your mouth shut sometimes it would be beneficial for whole universe .
Neil : Come let's have breakfast , Aunty is calling us
They both goes and sat on table , Neela removes the lid from the vessel from which some warm and delicious aura is coming .
As soon as she removes the lid , They both spoke " Wow ! Poha ! My favorite "
Avni raised her arm and reached towards the big spoon inside the vessel simultaneously Neil does the same thus , Neil holds Avni's hand .
They both look at each other .
Neela : Oh that's cool you both love Poha ! wait let me serve you .
Avni hurriedly digs into the food , And after having a bite she happily shows her satisfaction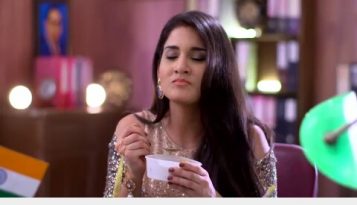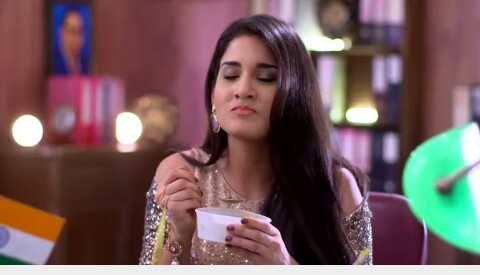 Avni : wow it's too yummy
Neil notices her face " my avni also used to be happy like this after having Poha " – He says to himself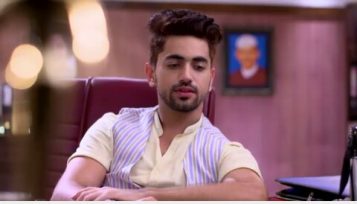 AT Neil's HOUSE ….
shweta Hits Dd " Oye ! Ahiana who's this girl "
Dd : She's a very clever girl , A thief , Even Neil Sir can't catch her
Shweta : Oh that is why my super cop always is busy
Dd : Yes , Okay mata Ji ( aunty ) so I think I should leave now
Shweta mutters something to herself " Gilrs of this generation are just like fox , Even police can't catch them , Oh god save my tillu please "
Dd while walking outside says to himself " Where has sir gone , I had such an important information to give to him " He is holding a brown colored file , ' Case No.123 ' was written on it .
Dd calls Neil " Hello sir Ji "
Neil :Yes dd , I'll be there within a few minutes
Dd : Good news sir , I've got a brilliant news about Alia
Neil : Brilliant news ! What did you got to know about Alia !
RAGU'S POV …..
Ragu and Derek are assembled on chairs .
Ragu bangs his hand on table " What could I do now , My brain is getting worse day by day "
Derek : How can we make boss understand that we're not able to bring her back
Ragu : My whole life is distorted , We used to be a famous band , But don't know what is in this Alia
Ballu comes in " Hey you both , Do some work , Get ready for next show
Derek spoke to himself slowly " Think of the devil and the devil is here , Here comes boss's servant "
Ballu hears him commenting on his arrival , He goes to him with sudden moment and grabs His chin " Hey ! What you spoke just now "
Derek " Nothing sir , Nothing "
Ballu : Hey you both boss's head is hot as iron so you both better go and find our Alia
Ragu : How ! how ! you only tell me
Ballu : Go right away to Mumbai , And do whatever you can and get her here , Am I clear to you both
He goes from there giving them an ultimatum .
Ragu sees his arm which was injured badly " Now it's getting on my nerves , I can't bear this all anymore now , Now whatever I've to do I'll get her back "
AT SUKOON GHAR ….
Neil : what did you got to know about Alia
Avni was in great shock to hear this
Neil : Hello Dd , Are you there ( He finds the call ends )
Neil : Oh call's end
Neela : Who's this Alia
Avni is badly sweating till by now
Neil : She's a famous playback singer from London , She sings in a famous band Alias
Neela : Oh wow
Neil : Don't know A few days ago she came here to India with her group
members but from airport she got missing
Neela : What ? really Well , Ahiana you also are from London , You must be knowing Alia
Avni spits food from her mouth " Akhhh Akhhh " food stucks into her throat
Neil gives her a glass of water , " Are you okay ? "
Avni rises up " I just come " She goes away to washroom .
She moves in washroom and frantically turns on the water tap , Fills her hands which were joined bulged in with water and smashes water onto her face .
She looks into mirror " He's that police man who's finding Alia , He's that police officer whom I met that day at airport , Oh god "
Avni : No I can't let him know that I am Alia , I'm Ahiana no , No I am Avni , But no I'll be Ahiana only .
She got mad , She touched her face looking into mirror " If police got to know they'll send me back , No noways "
Avni says to herself : I've to do something
Avni comes out she had clenched her fist .
Neil : okay then I should leave now
Neela picks up the tablewares and goes into kitchen .
Avni followed him , Neil is walking on footpath and he's talking to Dd on phone
Neil waves his hand to hire a taxi , A cab comes and stops right in front of him .
He opens the door and remained out , He has turned to opposite direction .
Neil : what Dd , You told mom ! About .. Oh god Okay now I'm just coming in few minutes there
He turns back to enter in and he's shocked " You ! Here ! "
It's Avni who is in there " Why is this your privately owned car ? "
Neil : Nope but I don't like to travel with anyone else , I'd like to be alone
Avni in her mind " For sure he has to talk about the case "
Avni : Okay then you can hire another cab
Neil : For your kind information I booked it before you
Avni : oh for your consideration Mr. You just called the cab and stood talking on phone , But I came and told the man that I'll be travelling through this car , In short, I booked it first , Isn't it bhaiya ( driver )
Driver Smiles " Absolutely yes madam ! "
Neil : Do your work okay
Avni : You're IPS officer , And if you'll reach late what your juniors will learn from you
Neil sits down beside her and the door collided
The car took to road .
Avni " By the way why don't you travel with your Jeep , Government must have given you
Neil : Oh wow , why are you thinking about me today
Avni : I'm not ! just was asking
Neil : For my personal work I don't use Jeep as it's given for public service
Avni : Quiet impressive
Neil gets a message , He
Is looking into his phone , Soon her realizes that the girl sitting just adjacent to him is tilting little towards him and is having a look at his phone .
Neil " Hey ! I'm not your boyfriend that you need to keep an eye on me
Avni : I'm not at all interested in making you my boyfriend is that clear
Neil to himself " Today why's is she so curious and acting like James bond , As not I but she were a police officer
Avni to herself : whatever happens I'd never let any clues about Alia to fall into your hands
The driver asks " Madam Ji where you've to go "
Avni : First please drop This Mr. To his place
Neil's eyes grew dim with suspicion " No thanks , But you only said Na you booked it first so leave her first "
Avni : No no , I'm ordering you drop him first .
Driver : Okay
Avni sees Neil staring at her and she thinks " Now why's this Akroo police wala watching me like this "
Avni shouts : Why do you always go on and stare at me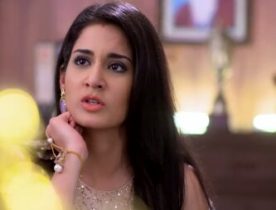 Neil : Police wala hoon ! Police wale ki nazr ek bar jispar adh gyi so adh gye ( I'm a police officer you see and if once he's curious about someone he'll keep on tracking him / her )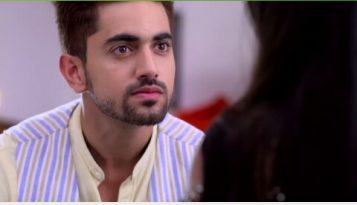 The car  stops at traffic lights where Avni sees a little poor child being beaten by a man at some distance.
Avni suddenly opens the door and goes there .
That man has cruelly held his tattered cloths and he's crying , A little poor child .
Avni goes to him and stopped him from doing so .
Avni : what the hell are you doing ?
Man sorely answers " This stupid came in front of my car to clean the mirror , Thank I applied brakes , Or else he would have died and because of him I would be in jail
Avni : He's a little child , He's forced by others to beg , We all need to make these kids understand
Man : Really these poor people are a big trouble for our country , We should just kill them ( That man grabbed the little boy and slapped him )
Avni shouts " Hey what are you doing " She Holds his collars " Just keep your hands under control or else I'll tell you how to do it "
The man got enraged he squeezed Avni's neck " Silly girl don't you know who am I "
Avni : I don't know to know either ( She replies in low and suppressed tone )
Avni kicks the man in his groin part and he's pushed back
Avni : Don't you dare to cross your limits now
That man was red hot by now " You'll not sit quietly now I think , You want to fight with me really "
He tooks out a gun from his pocket and points it over her forehead .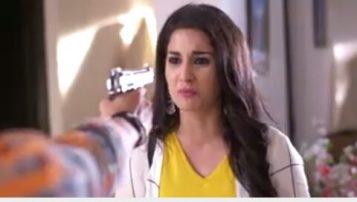 Avni : Gun , Haha I'm not afraid at all , Shoot me come on ! let people around see how a man shoots a girl who stood for Truth
Man : You're trying become a super hero , Wait , First I'll kill this kid only Beacuse of whom all this happened
Avni screams No and she covers the child .
The mad and overly furious man points his gun towards her , And a sound of ' Boom ' is heard as if a bullet is fired from gun . The whole crowd is shocked and dumbstruck .
<<<<< To be continued >>>>
---
Hey how was the episode . Please don't remain silent do comment whatever your thoughts are , Please guys show some love to today's post by hitting ?? icon . Pleading once again to comment . Ignore my mistakes , I know i did so many . Good night love you all . Happy Summers ( vacations if you have ) ???

Warning: A non-numeric value encountered in /home/ftpusers/tellyu/public_html/wp-content/themes/publisher/includes/func-review-rating.php on line 212

Warning: A non-numeric value encountered in /home/ftpusers/tellyu/public_html/wp-content/themes/publisher/includes/func-review-rating.php on line 213