Kaira Ek Ehsaas Kaira FF Episode 12
Hey all thank you so much for understanding me and loving this ff. Here is next episode.
Episode starts
Naira wakes up

and panics to not find Kartik near her. She jumps off the cot and rushes out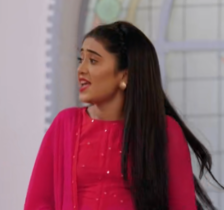 Naira: Kartik…Kartik…Kartik..kahan ho tum?
She runs to the kitchen and finds it empty. She gets worried . Naira walks to the door and finds it open
Naira: Kartik…Kahan ho tum? Kartik….Kartikk
Hearing her Swarna and Dadi come
Swarna: What happened Naira?
Naira: Maa did you see Kartik? He is nowhere to be seen
Swarna: Ill call him wait
She dials his number and calls him. But the call is not accepted making Naira more worried
Naira: Maa..what if he is in any problem? He will be alright na maa
Manish: Naira dont panic like this. He will be fine. Its me who sent him on work. You relax
Akhil in a whisper: What work bhaisab?
Manish: Arrey I just said a lie. Didnt you see how worried she was. Let her relax. This idiot would have gone somewhere and will be safe only. So no issues. His behaviour was like this for past months we know it but Naira wont right thats why she is worried.
Akhil: You did it right bhaisab.
Naira goes to her room with a gloomy face. Vedika is worried for Kartik but enjoys Naira's sadness.
Meanwhile Kartik reaches Leela's house. He knocks the door . Leela sees him through the window and starts to cry
Kartik: Sister Leela please open the door. Please
Leela musters courage and opens the door. On seeing Kartik her courage melts and she falls on his feet weeping
Kartik: What are you doing ? Please get up ..please
Leela : God has punished me for my sins sir..I made a big mistake. I should not have done it. Sorry
Kartik is confused
Leela: I lied that your daughter is dead and sold her…I gave you so much pain thats why God gave me the pain
Kartik is shocked and in mind: So the call was true
Kartik: Is it the truth?
Leela: I wont lie anymore sir. I lied that your daughter was dead fate snatched my son away from me. Im sorry
Kartik: If you feel so much why didnt you tell me before I came
Leela: My husband was the one who called you sir..we thought of telling the truth but it was very difficult to tell it on phone sir. We knew that you will trace us thats why we disconnected the call in middle.
Kartik: Where is my daughter now?
Leela: With Pawan Kumar.  I gave it to him
A man comes there
Man: Sir..
Kartik: Detective Ritesh. So happy to see you
Ritesh: I heard what she told sir. Pawan Kumar is a child traffiker. I will trace him out and get your daughter soon sir
Kartik: I trust you. Till then don't tell this to anyone else.
Ritesh: Sure sir.
Goenka house
Naira is in the garden waiting for Kartik. She suddenly feels a presence behind and turns
Naira: Mansii
Mansi: Bhabhi..
They hug
Naira: So good to see you here
Mansi: We missed you bhabhi.
Naira takes her inside and Mansi hugs everyone. Vedika comes to her
Mansi: Who are you?
Vedika is shocked
Surekha: She is Vedika Mansi
Mansi: Kaun Vedika? What is she doing in our family?
Surekha: Arrey Kartik has taken her responsibility as her father..I told you na
Mansi: Oh yeah yeah..woh kya na after bhabhi left bhai was shattered so were we. From then I did not apply mind in the happenings of here. But bhabhi heard that you are back with baby and I came as soon as I could. Sorry could not attend the Naamkaran.
Naira: No issues Mansi
Mansi: Where are babies And Gayu di?
Naira: Up in the room.
Mansi: Ill meet them
She runs up
Surekha: Where is Anmol?
Mansi: Meeting muma..will come in evening
Dadi: Childish girl. Naira chalo its time for your evening food. Only if you eat well you can feed the baby na
Naira: No dadi till Kartik comes I wont have anything
Swarna: Arrey Manishji told na he sent Kartik for the work
Naira: Maa I know that yet I did not receive even a call back or text back from him. Im worried and in this I have no mood to eat.
Evening 6 pm 
Kartik reaches home. On seeing him Naira runs to her room and locks herself. Vedika hugs Kartik. Kartik is shocked
Kartik: Vedika whats this?
Vedika: I was worried for you
Kartik pushes her away and walks in
Swarna: Where were you? Did you know how worried Naira is ?
Kartik: Maa sorry an emergency work
Swarna: Dont tell anything to me. Naira is upstairs go and convince her first
Kartik walks up and knocks the door
Kartik: Naira please open the door jaan
Naira: I wont. How dare you go without informing me?
Kartik: Oh fo that means you did not see the note on the dresser
Naira: What?
Kartik: Haan go and see
Naira rushes to the dresser and finds a note
Note: Naira..Im going out for an important work. Will be back by evening. There network issues are prevalent so wont be able to call or text. Dont be worried and stay happy
Naira has tears and opens the door. Once she sees him closer Naira throws herself on him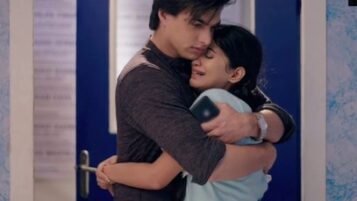 Naira: Sorry Kartik. I was
Kartik: I knew it thats why I left a note there on the dresser so that you can see it as soon as you wake up
Naira: Why there?
Kartik: You always check yourself in the dresser once you wake na thats why
Naira: Idiot once I wake up I check on you and if you aren't there other works dont go normally and today I did not go to the dresser
Kartik: Thats why you did not see it..but I heard that you did not eat anything from morning. Is it true?
Naira nods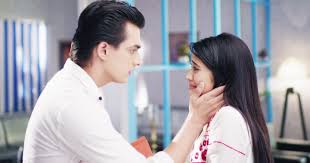 Kartik cups her face with his hands
Kartik: Itna dar? Par kyu?
Naira: It has no reason mendak.
Kartik: Now come Ill feed you. (In mind: Naira I went for our daughter. I have almost found her. She will be with us in a day or two. I know you will be so happy to know that but once I get her then Ill inform you)
Kartik feeds Naira and pampers her.
PRECAP: GOENKAS REJOICE. AND ITS SAAWAN MILNI
HEY GUYS HOW DO YOU WANT VEDIKA TRACK TO END❓ DO TELL ME IN COMMENTS BELOW