KAATIL ~{A Revengeful Love} S2 SHOT 36 (Happy birthday mahi Di)

Warning: A non-numeric value encountered in /mnt/nfs/home/ftpusers/tellyu/public_html/wp-content/themes/publisher/includes/func-review-rating.php on line 212

Warning: A non-numeric value encountered in /mnt/nfs/home/ftpusers/tellyu/public_html/wp-content/themes/publisher/includes/func-review-rating.php on line 213

This episode is for mahi Di Happiest birthday to you sorry I am late ??
May your all wishes and dreams comes true ????
?????????????????
Episode 36
The Episode starts with everyone getting shock seeing the scenario Infront of them the blood from sidhant thumb falls on her nose tip too even Sidmin was shocked with sidhant's sudden act …
Sakshi who was in semi-conscious state started breathing heavily diverting everyone attention towards her ..
Doctor doctor what happen to her Sid shouted seeing Sakshi in that state while Neil was consoling him ..
You all go out doctor stated while kush held Jasmin hand taking her from there Rohan went with them too while Neil consoled sidhant taking him out from there …
They all come out and stands waiting while kush was angrily eyeing sidhant and was moving towards him when Jasmin held his hand more tighter he looked at her back while she nodded in NO tearfully Rohan signed kush to calm down while they all waited outside …
Soon doctor was out while NeSid ran towards them ..
What happen to her doctor is she fine ?? Neil asked ..
Calm down she is fine now she needs proper rest don't worry she will be under observation for sometime doctor said and left ..while all of them sighed ..
Kush looked at Jas and took her from their without anyone's notice while Shweta looked at Rohan ..
Thank you so much for coming with us Sakshi is fine now you can go bhaisab she said while Rohan nodded ..
If you need any help call us Rohan said folding his hands and left from there while sidhant eyes were searching for jasmin who disappeared from there ..
Neil kept a hand on his shoulder bringing him back from his lost world while sidhant looked at him ..
What happen ??? Why you didn't informed me sidhant and what's this neil pointed towards his pricked thumb applying cream on it …
Wo sidhant started to say he told him everything how he felt after having that drink how he was going from there about Lisa and every thing while Neil was listening to him without interuppting him ..
.
Next scene :::
Kush drove off to taneja mansion with jasmine while jas was worried about others reaction she wiped off the blood from her nose and was remembering sidhant state and what all happened today she was scared as she never saw kush this much angry ..
Bhai Bhai plzz drive slow Jas said pleading him while he cooled down soon they reached TM …
Come kush said while jas nodded and left inside …
Shanaya Avni adeeba Kiara Ahaan was sitting worried about Sakshi …they were hell worried for jasmin who was lost since hours… .they didn't knew anything what happen in hospital soon kush reached there ..
Where is jasmine kush ??? Did you find her ? And how's Neil maasi Avni asked as soon as she saw kush stepping in ..
Yeah she is fine now out of danger kush replied calmly ..
Where is jasmine Ahaan too asked the same question while kush stepped aside revealing Jas who was taking baby steps Bowing her head down …
Jas Avni said running towards her where you disappeared suddenly Haan you don't even have idea how much worried we were for you Avni said while jas was still looking at the floor soon Avni made her face them as soon as they all looked at her they were shocked too ..
What's this ??? Ade asked touching the stained blood in her hairline ..
Who had done this ??? Whose blood is this ??? Kiara asked coming forward all the while jas was numb to react on anything …
That sidhant kush shouted angrily fosting his hand he closed his eyes remembering that scene again Infront of him ..
What ??? Is this true how did this happen and no one stopped him from doing so ? Jasmin say something Avni shouted …
What she will say I'll tell what happen kush said narrating Sakshi lie and then sidhant filling her hairline ..
They all are blo*dy liars first his mom had lied and then that sidhant I wish to kill him that time but she stopped me I don't believe in these marriages can't be done like this I'll end everything here only kush said turning towards Jas ..
He was going to wipe the blood but jasmin holds his hand and stops him from doing so …all were shocked seeing her ..
Don't do this Bhai …Jasmin said
Why ??? Kush said by the time Rohan too reached back home and looked at Jas and kush who were standing Infront of each other ..
Sidhant asked my permission for me he hadn't forced me Bhai this all happened with my will Jas said closing her eyes scared of their reaction ..
What the hell ??? How can you do this without asking anyone you took so important decision Haan kush asked ..
Yes Bhai I did I Wanted To Marry Him she ended …
No you can't do this I won't let you do this ever I can't see your life getting spoiled get that in your brain…kush ended pointing finger towards her ..
You can't take my life decisions Bhai you can't Jas said ..I decided that I'll marry him she ended ..the fight turned into clash between them both ..
Just stop it you both I am still here Rohan shouted …
Mamu see her na now you only make her understand don't know what happened to her today kush said ..
Kush calm down I'll talk to her Rohan said …he turned towards Jas ..
What happen jasmin ??? You are hiding something from us ? Why you gave your approval for wedding you also know sidhant right Rohan said ..
I don't know how it happened Mamu trust me I want to do this Jas said …
And I won't let you do this kush declared ..
You can't stop me also I have full rights to take my life decisions Jas said kush was taken back with her changed behaviour ..
What you meant ? Haan do hell with you I'll not come in between kush said going to his room Jas stopped in midway backhugging ..
Bhai plzz you have always supported me plzz today also support me Bhai I don't want to hurt you Bhai but see na it's good I can be a company to Avni Di too in that house moreover we will know the part from sidhant side too plzz understand Bhai support me once Jas said ..
Kush gently separtes her from himself moving back to his room without saying anything all they could hear was a loud bang of door closing ..
Everyone go and sleep I don't want any more arguments Rohan said while they all departed back to their rooms ..
.
@ hospital :::
So this happened I foughted with mom and then her this condition I requested Jasmin and she agreed too and helped me to fulfill my promise sidhant ended ..
Hmm this all happened within a day strange about Jasmin she agreed so easily Neil said ..
Haan she didn't left my side even for a second I don't know what would have happen to me if she didn't stayed here Sid said while Neil looked on …
.
Next scene ::
@ taneja mansion :::
Rohan was sitting thinking deeply while shanaya too comes there and sits beside him ..
What happen ro ?? I know you are hell worried about Jas and kush don't worry soon their fight will end you know na kush is like kunj only he gets angry easily don't worry they will patch up soon shanaya said ..
I am not worried about them shanaya I know them both even if they both doesn't concile Avni adee Kiara and Ahaan is there to end their fight I am worried about Jas stubbornness I don't know if we should give her approval for it or not Rohan said ….
But you didn't said her anything that time I thought you agreed for their wedding shanaya said ..
Yeah it's true I didn't said anything you know shanaya when she was telling that she will definitely marry sidhant somewhere her behaviour resembles to twinkle how she foughted with me to marry kunj at any cost ..she trapped herself into his hell now Jasmin is doing same …but the truth here is their kunj used to love twinkle but was blind in his Revenge and here sidhant doesn't love her Shanaya how she will come out of the cage Rohan said ..
I can understand your worry Rohan whatever happens ..happened for good only that time also nothing was right but at the end twinkle and kunj was together twinkle was the one to set him back so may be this time jasmin too may be she thought something which she is not sharing with anyone she is grown up Rohan if she has something in her mind we should support her ..and if at all she falls somewhere what we are here for ?? We will set everything back she is our child Rohan shanaya ended ..
May be you are right but still we need to think about it Rohan said while they both looked on …
.
@ kush room ::
He was angrily punching the bag in his room remembering everything ..how can she say this Haan she didn't even thought about us once she had grown up still she will remain a small baby for me but no don't know what magic that bastard did on her why don't she understands I wanted her to stay safe and happy I don't want to loose anyone after maa and papa kush ended angrily hitting and moving towards window…
Plzz babaji give some mind to her he said looking at the sky …
.
@ Jas room ::
Jasmin was crying hugging twinj pic while Avni comes to her and sidehugged her ..
Stop crying Jas what happen you can share anything with me Avni said while jas turned Avni wiped her tears and looked at her …
I don't wanted to hurt him(kush) Di but what I can do he was not listening to me at all I just wanted to know everything I can't sleep di whenever I reaclled that day I want to end everything and this can only happen by this wedding I don't know what happened to me I saw that shade to sidhant which no one knew Di his vulnerability the way he was scared and worried about his mom I don't know how I said yes for the wedding …Jas ended
Do You Love Him ??? Avni asked suddenly while jas looked on wide eye ..
No what you are saying I don't love him I just want to know his side which only I can learn by being his wife I wanted to know him fully Di plzz understand Jas said while Avni hugged her ..
I completely understand Jas don't worry dont take tension we will find some way don't worry about kush too he will be fine soon Avni said as they sisters relaxed in each other embrace ..
2 days passed Sakshi health was better and she was back to "S VIHAR" Sidhant was taking care of her each n Everything at Taneja mansion Rohan have his approval for Sidmin proper wedding making kush more frustrated he was still not talking to Jasmin while she was making attempt to make him understand her point but was unable too …
.
@ s Vihar :::
Sakshi was been at home while sidhant went to her room ..she saw him and smiled ..
How are you now ? Sid asked sitting beside her ..
Fine more than fine now I am so happy sidhant that you kept my promise Jasmin is really a good girl and will be perfect for you I can imagine your happy family with her Sakshi says with her eyes sparking with the thought of her son happy family whom she always saw suffering ..
Hmm yah you take rest Sid said ..
No I don't want to I am going to taneja mansion with Shweta Didi and Raj Bhai for discussing your and Neil wedding preparations omg I m so excited Sakshi said making sidhant smile disappeared ..
Haan but now take rest sidhant said and left from there ..
.
@ taneja mansion ::
Jas was sadly sitting in room trying talking to kush but he left ignoring her tears started coming out of her eyes .. she sees her phone ringing and sees the caller id…she wiped her tears and picked up the call ..
Hello ..she spoke lowly ..
Hi Jasmin sidhant said from other side ..
Why you called she weeped while saying
Are you fine ? Sidhant asked her ..
Hmm yah she sounded normal
Wo I wanted to ask you really you wanted to marry me ??? He ended ..
You forgot what you did in hospital Jas said ..
I don't believe this things wo I just got somewhat filmy that day what I can do actor Hu Sid said while she smiled slightly ..
Hmm yeah she said ..
So tell me ? Are you really willing to marry me ??? He asked ..
I don't know she replied ..
What ? He said ..
Wo ..she started to say
Anyways maa and others are coming so I wanted to ask you this if anytime you want to back off you can he said ..
Okay anything else ? Jas asked ..
Nothing much okay then bye Sid said ..
Bye she replied they ended the call they never a normal conversation since they met …
Next scene :: @ night
Sakshi shweta Raj Khushi left for taneja mansion to talk about wedding preparations while NeSid were left at home …
Sidhant was talking on phone with someone while he heard a voice ..
All forgot me Haan the voiceover said while Sid turned and looked at someone .
Vihaan Sid said ending the call and hugged him ..
(The man was revealed to be vihaan Gupta sidhant paternal cousin )
You all forgot me naa where is Badi maa as soon as I got to know about her health I came here vihaan said worriedly ..
Don't worry vihaan maa is fine now she is not here she went to TM to talk about Neil and my wedding Sid said ..
What your wedding also I came on right time then vihaan teased him ..
Hmm yeah pretty right time Sid said..
It's time for celebratation then bro alcohol girls see how much fun it will be vihaan ended smirking ..
No sidhant you are not going anywhere Neil declared from behind coming downstairs as soon as vihaan saw Neil his smirk disappeared with fake smile ..
Sid looks at Neil while he continued the designers are coming to select our wedding suits so yeah you can't go anywhere sorry vihaan Neil ended smiling at him ..
It's okay Neil I was just saying waise congratulations for your wedding too he said while Neil looked on ..
Thanks Sid come I have some work with you and vihaan you know guest room you can go and take rest then maasi will come you meet her then Neil said ..
Haan vihaan go I'll be back to you soon sidhant said ..
Sure vihaan replied .. while NeSid left ..
Everytime I wanted to destroyed this sidhant this Neil comes as his saviour first I have to make Neil out of my way then I can focus on sidhant…vihaan said with hatred and left ….
.
Next scene :::
They all were sitting discussing about the wedding functions in Taneja mansion everyone were present there except Ahaan and kush as they went out for an meeting ..
I am so excited Neil and Sid wedding on same day Sakshi said ..
Yeah it will be amazing as the both brothers stayed with each other since the start since childhood Shweta replied while they all smiled …soon they left after discussing ..
.
Day after their meeting the preparations for both the weddings started with all the hustle bustle in both the families they were Happiness as well as sadness too Avneil were really happy and excited while Sidmin were still confused because of their silent feelings …vihaan was trying level best to destroyed Sidmin wedding and to spoil sidhant image ..
Finally the day of Sangeet arrived the function was arranged grandly for the friends and family in S Vihar no media was allowed there as they made enough of their rumours and spices about them the function started …
Jasmin and Avni was beautifully dressed they were made to enter with Kiara and adeeba along with their other friends while NeSid eyes were stuck on seeing them they both forgot the surroundings around them ..they were back to reality when music started playing with full volume they both smiled sheepishly ..
Finally you are also going to be murder Neil teased sidhant as he remembers how sidhant was teasing him ..
They also performed on the respective songs while everyone were busy chattering and talking together …
Avni got a message from Neil asking her to come upstairs while she left Jas on seeing her moving decided to follow her ..
Avni went in corridor and was looking for Neil when saw vihaan standing there with smirk …
You ?? Where is Neil ??? Avni asked ..
Why you want Neil even I am enough handsome or more than him vihaan said winking ..
What's rubbish is this Avni said ..
Ahh no rubbish you are for REVENGE from sidhant right vihaan said .
What ? Avni was shocked ..
Yeah I heard your convo with Jasmin vihaan said smirking ..
I'll help you in Revenge but you have to give me something too he said moving closer to her but was hit by something he turned and found Jas standing with the vase in her hand ..
You vihaan said ..his vision started to blurr still he holds jasmin tightly choking her neck ..Avni move forwards and pushed him pulling jasmine off his cluthes he falls off the balcony …while jas and Avni was shocked ..
Vihaan falls into the grass in which the electricity wires was present causing him to get a shock while he screamed having everyone attention they all ran towards him all the guest started gossiping … sidhant sees him and sat on floor Neil made the wires out from there ..
Who did this how you have fallen vihaan Sid asked while he was unable to talk he was lying in pool of blood with the left out energy he pointed towards Avni and Jas who was angrily smirking at him from balcony (he took panga with twinj kids ye to hona hi tha ???)
before anyone could see they hide …vihaan went unconscious
See who's there Neil said ..while the servants left ..
Someone Avni and Jas managed to join them all …the function ended and everyone left from there …
Vihaan went into coma while they all decided to have the wedding on same day as already they were late ..
.
Wedding day :::
Finally the day arrived after so many difficulties they all were ready the preparations were done the bride and groom was ready too Neil and Sid was slaying in their sherwani stealing everyone's heart while jas and Avni was also robbing everyone heart with their eternal beauty …
Jas was sad as kush still wasn't talking to her …they were ready to go
Bhai plzz now to talk to me Jas pleaded him while kush turned unable to keep his anger more he hugged Avni and Jas tightly ..
I can't believe you both are getting married he said ..I don't want you both to fall in any trouble he said ..
Don't worry kush we will retain each others strength there Avni assured him ..
You both have to promise me something kush said ..
What ? They both asked ..
If at all anything happens you both are going back with us London kush said while jas and Avni looked at each other ..
Promise the said while the trio joined hands ..
Now don't cry let's have some family time Ahaan said taking pics after sometime they all left for the venue ..
Same happens at S Vihar Sakshi and Shweta happiness knew no boundaries they were really happy for NeSid while khushi teased them ..
I came here for one wedding but got to enjoy two Khushi said smiling ..
Huh you spoiled my life Sid said while they fought again they also went to nevue after sometime ..
SIDMIN mandap was arranged inside while that to AVNEIL was outside as the both couples decided …they mahurat was of same time …they brides and the groom's were made to sat beside each other while they looked on AVNEIL complement eo Happily while Sidmin was lost in eo soon the wedding rituals were completed and both of Neil and Sid tied the nuptial chain around their necks ..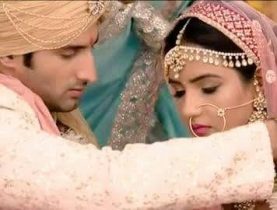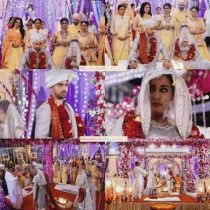 The priest declared them " HUSBAND AND WIFE"
After so much of crying they bid bye to taneja family and left with them ..
The post wedding rituals were carried out after that Sidmin and avneil was sent back to their rooms ..Khushi took Jas to Sid room as she came to S Vihar for first time while Neil lifted Avni in bridal style taking her to their room ..they both smiled at each other …
Jasmin entered Sid room and saw it decorated she moved towards dressing table taking off the jewelry while sidhant who just entered looked at her standing on the doorstep ..
Screen freezes on Sidmin and avneil …
_____________________________________
So how was the episode ???
Hope you all like it finally their wedding from next post wedding life ?
Thanks to all who commented on last and liked too ..
Happy birthday to you mahi Di again ..
Ignore errors no proof read share your views ?
Bye allahafiz. ???

Warning: A non-numeric value encountered in /mnt/nfs/home/ftpusers/tellyu/public_html/wp-content/themes/publisher/includes/func-review-rating.php on line 212

Warning: A non-numeric value encountered in /mnt/nfs/home/ftpusers/tellyu/public_html/wp-content/themes/publisher/includes/func-review-rating.php on line 213