KAATIL ~{A Revengeful Love} S2 SHOT 33
??????????????????
Episode 33 …
Taneja mansion ::
The Episode starts with jasmine adee and Kiara returning back after their shopping had been done they entered the house it was also a lavish mansion they all get in and kept their shopping bags asside when their care taker comes there and handover them juice while the trio girls sat …
It had been so much fun after so long spending time with you both adee said while jas and Kiara smiled ..
But missed tani very much Kiara said ..
Agreed adee replied …
But where are they they haven't come still I should call them Jas said thinking ..
Let it be Jas it's Big day for her I wish we would have accompanied them too Kiara said …
Yeah I told her but she said after everything will be finalized then she will introduce us to Neil adee replied…
They sat their Talking when jasmin gets a call and it flashed "bhai" she picks up the call …
Haan Bhai say what happen Jas asked ???
Where is she ? Mamu Mami came na is everything fine ?? He asked from other side ..
Yeah Bhai don't worry they went to Neil house only when you are coming back Mamu asked about you jas said ..
Haan I'll be there soon take care and call me when Mamu Mami and she comes back he said and ended the call …
Why they are taking so much time it's already late let's make something adee said while jas and Kiara nodded ..
They went in kitchen after changing into their comfy clothes and started preparing messing everything there …
.
On the other side ::
Ronaya along with Avni too reached TM and they get in while hearing their voice Jas adee and Kiara came out of kitchen …
What's going on ?? You all in kitchen shanaya asked unbelievably while they smiled sheepishly ..
Leave it do tell us what happen ??? When is the wedding adee asked pulling Avni towards her …
Adee plz I am tired I'll talk to you later plz Avni said but Kiara and adee both nodded in no …
Jasmine sees Avni and came Infront of her she cupped her face what happen Di ??? Is everything fine ??? She asked with concerned while Avni hugged Jas ..
Yes I am fine don't worry I just need sometime Avni said breaking the hug and running towards her room ..
What happen to her papa ?? Kiara asked Rohan while he makes I don't know expression ..
She was so excited to go there but don't know what happened to her suddenly shanaya said
Leave her for sometime she will be fine Rohan said ..Arey where is kush ??? He is still not here he called us to come here as soon as possible but he himself went somewhere Rohan ended ..
Haan he called me sometime back and said he will come back soon Jas said while Rohan nodded …
Let's have dinner then Kiara said while ronaya said they already had it at Neil house and left for their room …
Jas Kiara and adee had their dinner all the while the gossip queen's were silent and was hell worried about Avni ..
.
@ Avni room ::
Avni was laying on bed facing the ceiling something was bothering her so much ..she was crying badly missing someone when gets Neil call she was surprised seeing his call and wiped her tears and picked up his call ..
He..llo she said slowly ..
Are you fine ??? The very first question Neil asked surprising her more …
Means ?? She aksed
I am noticing you since the moment you came to my house you were lost somewhere is something bothering you ??? I promise to ease your all problems he said …
Yeah no.. no it's noth..ing like that Avni replied
Avni are you crying ?? I am hell worried about you Yaar I am coming to your house right now I think something is wrong I'll be there soon Neil replied ..
No no Neil listen I am fine just having some headache Avni lied ..
Are you sure about it ?? See Avni if there is anything you are worried about just tell me I am always there for you Neil said with concern …
Yes she replied I'll sleep now she said and ended the call without even hearing his reply ..
What happen to her suddenly man let it be I'll meet her tomorrow Neil said keeping his mobile aside and laying on bed …
Soon the night flew away with Avni in her unknown sorrow Neil ronaya Jas everyone worried about her …
The another morning they all wake up while shanaya prepared breakfast for them still Avni didn't came from her room making everyone worried for her …while jas got call from someone ..
What ??? Okay I'll meet you she ended the call while Rohan looks at her ..
What happen ? He aksed ..
Nothing Mamu it's some director call asked me to meet up Jas said …I'll go there and come back soon she ended and Rohan nodded ..
Take care he said..
I will Jas replied giving him her dollar smiled …and left ..
Now what we will do ?? Kiara asked ..
Let's go for shopping again and this time we will take Avni also with us adee replied ..
But why she is not coming out of her room Rohan said worriedly ..now only he can talk to her he ended
.
On the other side ::
A handsome s*xy guy(same guy who was with jasmin in previous episodes) walks down the resort after completing his meeting he walks with his pa(Nik) …
I am going back make sure the terms and conditions of this project completes soon the guy said …
Mr Sarna someone called him from behind while he turned and looked at the source of voice to find a beautiful girl Infront him ..
Yes miss malhotra he said ..
I heard you are leaving for Mumbai ? Is that true she asked ..
Yep it is I have something more important there he replied ..
Oh I was planning a party tonight for the partnership of our this consignment she replied ..
Sorry but I need to go it's urgent I am literally very sorry he said while she smiled ..
It's fine she replied ..
But dont worry we will meet soon he said
Ok Mr Sarna have a nice journey she ended turning back ..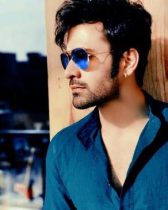 Kush you can call me kush he said while she smiled and left …
Soon he got a call and was shocked to see caller id …
I am dead today Mamu will surely kill me ..babaji save me okay he said and picked up the call ..
To finally Mr kush Sarna got time to pick up my call Haan Rohan said from other side ..
I am sorry na I have to come here urgently for this meeting plzz forgive your superman kush pleaded ..
Okay okay I forgive you now come back soon your twin needs you at this moment Rohan said ..
What happen to her is she fine ??? Everything was good at Neil house na ? Does her parents or Neil have any objection kush asked ..
You just come here and know everything we a are waiting for you Rohan replied ..
Okay I'll be there with you all till might we will have dinner together kush said and ended the call ..
.
@ Mumbai :::
Jas reached the location she got the call from and went inside to find a director and some crew with him ..
Ah Jas come here he replied ..
Vishal sir ? You called me what happen Jas asked taking a seat Infront of him ..
After seeing your wonderful performance in your previous project I wanted to direct you for another project Vishal (the director replied) …
What ? Jasmine asked unbelievably ..
Are you sure she asked ..
Yes I am damn sure he said ..
I wanted to know everything about it then only I can say sir Jas said and got busy in knowing everything about her upcoming project ..
Oky I am ready for it Jas replied ..
Good decision Vishal ended and there Jas was signed for her another project ..
But who's my co star ?? She asked ..
Wo I didn't thought about it still as this project is gonna start after few months so dont worry as soon as I get someone I'll inform you Vishal said while jas nodded and left from there …
She went from there to a temple which was on the outskirts of the city where not much crowd was present she went inside and folded her hands ..
Babaji plz prevent me from doing anything worng and going on wrong path show me what's right and wrong I can't forget that day but I don't want to see HIM in pain too plzz help me she prayed and turned to go when bumped with a lady she was reveled to be Sakshi …
I am so sorry Jas quickly apologized and pick up her belongings giving sakshi back ..
It's okay beta she said and was surprised to see jasmine ..
Jasmine ? She murmured
You know me ? Jas asked .
Yeah I saw your movie Sakshi replied ..
Oh sorry Jas said ..
Don't apologize repeatedly ..Sakshi said..
Haan Jas didn't knew what to say …
I must say you are very pretty Sakshi complemented her ..
Thank you aunty Jas said ..I should leaves she ended ..
Haan ..arey wait Sakshi said ..
What ? Jas asked ..
After 2 days its Neil engagement we will be really happy if you join us too she invited jasmine ..
Who are you ? Jas asked ??
I am Neil maasi she ended ..
Okay I'll come Jas smiled and left from there …while Sakshi smiled and went to pray …
.
@ taneja mansion :::
Kush reached TM and went inside where ronaya were already present in hall waiting for him while adee and Kiara in their rooms ..
I am here kush said while ronaya smiled and hugged him ..
How are you ? Rohan asked
Fit and hot maamu he winked …
Carbon copy of kunj shanaya said ..
Yes after all I am kush kunj Sarna he replied ..
Where are those devi's ??? Kush asked ..
You leave all that first go and see tani she was much disturbed since last night Rohan said while kush ran hurriedly jasmin too joined them and went in room ..
Kush opened the door of her room with another key and he and jasmine went inside and sees Avni sitting near the window seeing outside ..
Tani ?? Kush said and went towards Avni she turned to his voice …and immediately hugged him ..
What happened ??? He asked while she started crying ..
Why this happened with us she sobbed while jas passed her glass of water ..
Calm down calm now tell me what happen he asked …did Neil said something you told him about you na that you real name is not Avni but tani Sarna ??? Kush asked …
While Avni nodded in no I went to tell him that yesterday about everything that we are here for revenge from sidhant but some fans came and I forgot to tell him Avni said ..
Then ? What happen why you are crying Rohan asked sitting beside her …
Sidhant she managed to say ..
What he did now ?? Kush asked with anger …and jasmin looked on and sat Infront of Avni ..
He is Neil brother she said while they were shocked ???
What ? Jasmine was the first one to react they looked at each other …
But he is khanna and sidhant is Gupta Kiara said ..
Yes they are maternal cousins Avni replied ..
Sidhant is Neil life if we hurt sidhant indirectly Neil will be hurt too Avni ended palming her face ..
Why you are worrying we will stop this revenge game here itself jasmin said
Haan nothing is important than your happiness if mumma papa would have been here they would have taken this Decision only hai na maamu ? kush asked Rohan ..
Yes Avni or I say tani nothing is important Infront of your happiness for us Rohan ended …
But we can't forget that mumma papa is not here just because of that sidhant only Avni ended angrily …while everyone stayed quite …
Rohan reacalled that day few years back when got a call from twinkle …
Hey twinki how's you waiting for you kunj and jasmine to join us for new year celebrations Rohan said ..
Bhai I do..n't think we.. will b..e there twinkle voice was shivering ..
What does that mean ?? Rohan asked worriedly ..
Don't kno..w Bh..ai I have a request plz look after my kush tani and Jas as your own twinkle ended ..
Rohan heard bullet shots and he was shocked when the call disconnected immediately …
He came out of his thoughts a tear escaped from his eye while shanaya kept a hand on his shoulder ..
If you get weak today who will handle these all she whispered sadly pointing towards jaskuni(Jasmin kush Avni)
Yeah no one can forget this Jas said I was the one to witnessed that she said and went into flashback ..
Flashback shows :::
Kunj was pacing in room worriedly while jasmine who was nearly 18-19 years old was sitting munching her chips ..
Why your mom is not picking up my calls ah this siyappa queen kunj said trying again …
Papa she will come back soon my mumma is so strong Jas said smiling ..
Haan Haan I know how much strong she is still i am worried she is my wife my life kunj winked ..
Haww I am jealous of mumma she had such romantic husband Jas said while kunj smiled …
You are too much to handle alone if kush and tani would have been here they would have handled you easily kunj said
Don't worry papa we are going back na me Bhai and Di will give your privacy back Jas said smiling …
Haan but first let your mom come out flight is also on time and this siyappa queen why she needs to shop at this hour kunj said irritatedly …
He sat talking to kuni for sometime on video call along with Jas but he was worried about twinkle too ..
When he gets a call from her listening to other side he was shocked ..
Twinkle twinkle I am coming …don't worry I'll be there soon kunj said while jas was worried too seeing kunj …
What happen she asked ..
Nothing Jas I'll come soon you take care of yourself kunj said pecking her forehead and went ..
Jas decided to follow him and followed his car suddenly her cab broke down in middle leaving her aghast ..she was hell worried for twinj …
She started to walk from there and reached near cliff she sees a number of goons present there all of their guns pointed towards the couple who was reveled to be twinj …she heard bullet shots and was shocked she was standing at distance she started moving forward when heard another bullet shot from the gun which was In hand of sidhant she saw his face and also saw twinj falling off the cliff after getting shot …she was shocked …before she could reach the end of cliff all the goons and sidhant disappear from the other side …
She started looking off for her parents and started screaming …
Flashback ends …
We can't forget that jasmine was in trauma for an month when we went back India after mumma called Mamu and saw her in that condition we can't forget that na avni said crying ..no one has her answer even she was confused one side was her love Neil and other side was her parents death revenge …
Now you only decided Avni what we have to do now ???? You love Neil so much we have to left one thing for another kush said ..
I can't leave Neil also he taught me to love again to smile again after mumma papa death when I went Paris I met him there we became friends and was so much happy it was start for our careers as models after that project was end we were separate I missed him like anything in those 2 years and when I found him again on the sets of kaatil I couldn't define my happiness we both were happy when we confessed and even that day when he proposed me for wedding I dont want to loose him at any cost and in that fear I said YES for the wedding and Also thought that in this marriage preparations we will forget our sorrow for sometime but it is also linked with sidhant Avni ended ..
Okay let's forget it Avni kush Jas remember one thing you can't blame someone until you know their side too we still didn't knew that why sidhant did that Rohan said ..
But Mamu how can you forget your sister died because of him Jas said ..
Yes I remember Jas but every coin had two sides I tired making you all forget this revenge game as because of this only twinkle and kunj had to stay away for many years ..my suggestion is first try to know about him then we will think what we have to do and about Neil if you dont wanted to marry him and can live without him just say it now itself or else get ready you all are going for shopping tomorrow as your engagement is fixed after 2 days only remember Rohan said ending their confusion while Avni nodded …
We have understood what you are trying to say we will keep this in our mind kush said and Avni and Jas nodded…
Good that's like my babies Rohan opened his arms while jaskuni hugged him ..
That's not fair we are here too adee and Kiara said while kush noticed adee ..
Arey arey you are also here supermodel chudail he said while adee hits him he called them too adee Kiara and shanaya joined them on hugged too
Screen freezes ..
________________________________________
Heyyya i am back again ???
So it's our twinkle aka Jasmin bhasin birthday ?????
Hell excited to see her and Zain in KKK ?
Thanks to all who commented like dislike on last …and those too who guessed Avni was tani (manshi Di and ssk ?)
Yes Avni was tani Sarna I'll refer to her as avni only ?
What will JasKuNi decide now ????
Will they continue their Revenge or try to know sidhant side ??
What made sidhant kill twinj ??
To know more stay tuned ?
Bye allahafiz ???