JOURNEY OF LIFE – Yeh Rishta Kya Kehlata Kai (Episode 3)
Hi friends iam back with 3rd episode😊😊..but characters are big , I could not add every scenes related to precap yesterday..sorry for that …
journey of life episode 3
at Goenka house:
Dadi recalls prerna's harsh words and cries…
FB IS shown:
Dadi calls prerna while she travels along with anurag and tells all the happenings….(another fb)
Few guests come inside Goenka house and…
Suwarna:hello ..can I know who are you all??
Guest 1: we are rich people in this town and we are raichands…and we came here for prerna's alliance and by the way iam grooms father David…
Suwarna:kindly take your seat please and I will call brides mother…
suwarna brings surekha …
Surekha: welcome…
David: it's ok …we came here for your daughter's alliance
Surekha: iam really happy to hear this but iam sorry that prerna went out…
David: Its no  problem..we'll see next time…
Surekha: can I see the groom?
David: yeah ofcourse…
david shows the groom and says he is 45 but….(before he could finish surekha and suwarna looks angry at David)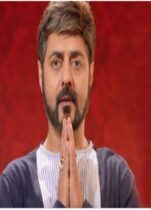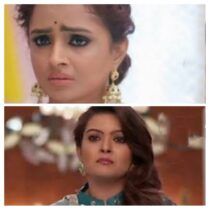 david: I think you are uncomfortable with his age but he is 2nd richest person in Udaipur and also he loves prerna a lot as he met and talked with her before…we also accepted his love. I think you all know that love does not need any age or looks but it needs only heart…and my son loves prerna wholeheartedly and also we guarantee you that prerna will get all our love and will be happy in our house….and so kindly….
Grooms mother: Actually we know about kartik and for sure we will offer katik a CEO position in one of our company…and now it's your decision….
 surekha is happy and readily accepts their alliance…
Surekha: we are okay and we will talk about marriage once prena comes okay?
David: ok..
grooms family leave and then…
Surekha: dadi ..iam so happy that my daughter is so lucky that she got offered from a royal family and you know that rich people always keep their daughter in law like diamond…now prena is going to become a diamond..WOW…also iam happy that kartik got a chance to get a job which will help him to turn normal
Suwarna: whatever you decided is okay but if prerna rejects then what will you do?
Surekha: if she rejects ,then we must make her fall for groom so that she will marry him…
Dadi: you are right surekha, for first time my daughter in law took right decision..
Suwarna: surekha just look for prerna's happiness and iam not worried about kartik as he can get other chances too but if prerna marries forcibly then she can't live happily..so decide along with prena
Surekha: don't worry suwarna..I will give suprise in such a way that she won't reject him
Dadi: okay now I will inform prerna…)a one fb is over.tells all these to prerna and requests prerna to marry…
Dadi: prerna are you ready?
Prerna shouts and cuts the call(shown in previous episode)
Dadi cries…..
Surekha: I know how to handle prerna..so you don't worry dadi…
Scene shifts to anurag's car..
prerna tells everything to anurag whatever dadi said and requested her to marry an aged man…and prerna cries inconsolably…
Prerna: Anurag …my family is wrong. They are thinking that rich people are giving happiness but I know confidently that love can only give happiness and not money…..it's true that I talked with that person but I talked with him thinking as a uncle..but how come that be a love for him???if they marry me with him forcibly then I will surely die…
anurag keeps his finger on her lips and both stare at each other's eye ford a minute…
Anurag:please don't talk about dying.. ofcourse they are wrong but at the same time you are wrong too…instead of dying you solve the problem by proving your point and I will surely help you in this matter okay?
Prerna gets courage and says:thank you soo much mr anurag…
Anurag:it's my duty prerna..I don't need any thanks…okay now I will leave you in the college and we will discuss some plan to make your family realise in evening..
saying that prerna and anurag look each other for a moment and and anurag starts driving…prerna smiles seeing him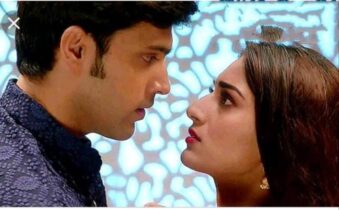 The scene freezes on both of their faces
singhania house:
Arjun drops teni in her house and goes driving..
Teni: mumma and papa,iam so happy now
Akshara hugs teni and says: I know it..ur bff won right?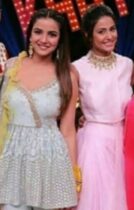 teni: yes and also i got my crush's phone number..yeyyyy
Naksh: I will never let your crush turn into your lover miss.barbie…
Teni: excuse me mr.funny star..I will soon bring Keerthi as bhabhi here
everyone including naira laugh at their funny moment and then teni gets into kitchen and suddenly…
Naira: Teni..I've made kachori for everyone and you also taste it..
Teni tastes it and says: wow,superbbb… Naira pls become my sister na so that I can enjoy with you and your kachori's everyday…
Naira in mind: after 22 years, I feel as if my heart blossomed with flowers…
Teni: what are you thinking naira?….come lets go to my room and I will introduce my cousin Arohi and we three will enjoy there…
Naira: actually I have work..I have to clean kitchen…
Akshara:naira beta…I see you also as my daughter only..so go with teni and enjoy yourself.and already you have worked for 2 hours and that's enouh for you…
Naitik: your soft and good character  made you as daughter of this house…so you have rights to enjoy anytime and anywhere and so go and have great time…
Naksh shakes hands with naira and says: your my 2nd sister and so you have rights to torcher teni and go and torcher her…
Naira becomes emotional 🥺🥺 and gets remembered of her tortures by mystery lady…and she goes with teni…naira ,teni and Arohi enjoys and they finally click selfie together…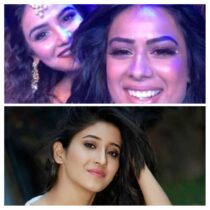 Arohi: by the way..pls bring your family here so that  they won't have the feeling of maid and they will also enjoy with us okay naira?
Naira face turns emotional and says: ok bye..I have to go home and I will talk with you both tomorrow..
saying this naira runs away…
Teni: I saw her some pain in her eyes when you were asking about her family..I think there is something fishy..
Arohi: yes ..I too recognized her..we have to help her anyways and first we should find her problem…
Teni agrees with her and scene freezes on both their faces
Bhanusali house:
Parth: mom..where is Keerthi?dint that fool drop Keerthi yet?
Simmi: Actually Keerthi went to her friends house..she phoned and informed me so please don't shout at teni…
Parth:but if anything happens to Keerthi then I won't spare teni…
scene shifts to their hall…
Anupam: what are you planning now tara?
Tara:To propose deep…
Anupem: I will never let you propose deep tara…one day deep will come to know about your truth tara and then I will smile seeing your reaction and also remember that that day is not so far…
Tara: I will never let that happen and that day won't come in even in your dreams…
Anupem:iam the proof of your deeds of what you have done with Arohi…be aware of that and I can expose you at anytime….
Tara smiles and says: I can stop you even by killing you and be aware of that bro…( In mind: I will never kill someone life but I can kill their mind bro)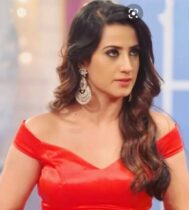 This shocks anupem and the scene freezes on both their faces….
precap: deep proposes tara. Naira tries to jump down from the cliff to die herself