Hi friends iam back with 13 th episode… please share your opinion after you read…☺️☺️..
At sudha's house:
rocky arrives before sudha which shocks naira and sudha…
Naira in mind: he is the one who sudha shared about my past and told that he is her son…then why her own son is against sudha??.. whatever it is atleast her son is good…
Sudha: my dear son rocky… what's this? What is this suprise?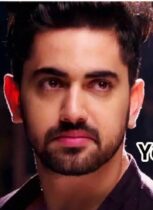 rocky: enough mom…sorry sudha..
sudha is shocked at his angry tone…
Sudha: what happened my dear?
Rocky: don't you have any shame?
Sudha: rocky…how dare you talk to your mother in this way…
Rocky: who told you that you are my mother?my mother is only vanaja Sehgal and not a culprit…
sudha gets angry and shocked..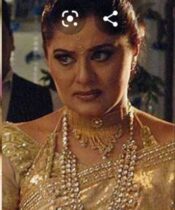 sudha: who poisened your mind rocky?
Rocky: it's god who poisened me…
Sudha: don't you want your mother?
Rocky: I don't need any culprits in my life…you spoiled three lives miss sudha.
this shocks naira, sudha , akshara and kartik…
Sudha: three lives?
Akshara: sudha.. this is your karma..even your own son is against you..
sudha gets furious..
Sudha: shut up akshara…you took away my love and don't you have any shame??
PARALLEL SCENE
naira ,kartik gets shocked and rocky smiles…
Naira whisper to kartik: miss.sudha loved my father and so she tried to ruin their marriage..but sudha is telling that she loved aunty's husband..is sudha loved someone again and did same mistake as aunty told that sudha made problem in her marriage?
Kartik: there is something fishy..I think there is connection between you aunty and sudha..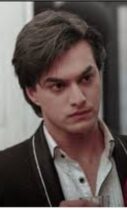 kartik: actually sudha loved your father and tried to ruin your mumma and Papa's marriage during her pregnancy but she fell down and gave birth to rocky and was separated and to revenge your mumma and papa miss.sudha stole you right?
Naira : yes…
rocky who was standing behind naira and kartik hears them and comes to them…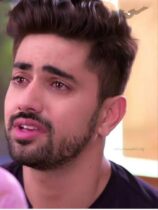 rocky: naira…still you dint understand the relation between you and akshara aunty?
naira looks confusingly at rocky..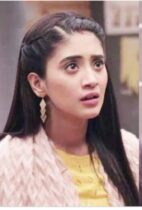 Naira: what?
Rocky : akshara is your mother who thinks you are dead..miss.sudha dint tell your mom's name but I found out in birth certificate as I was searching for proof against miss.sudha..
this shocks kartik and naira…and naira gets emotional..and remebers their first meeting in temple…
Kartik: i told you there is some connection right? See finally Krishna Ji made the connection true..
naira breaks down…
PARALLEL SCENE
Akshara: don't blame others for your mistake miss.sudha..and that's why God made your son away from you
sudha gets more furious and blasts the truth out..
Sudha: akshara..stop your tongue..do you know i was happy till now bcz I took revenge what I needed..
Akshara is confused: but we got married finally then what did you do?
Sudha: dint you remember your child's death?
akshara thinks and remembers how doctors informed that her child died..
Akshara: is that you who killed my child?
Sudha smiles and says: I dint kill but separated..do you know who is your daughter?
Akshara is shocked..
Sudha: you was near her but dint know your motherhood with her but you felt the daughter feeling of her…
akshara immediately looks naira with tears and naira's tears comes out seeing akshara and nods her head as yes…
naira and akshara immediately runs and hugs each other…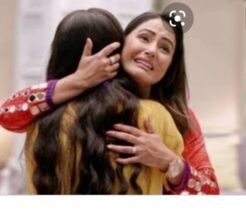 seeing this kartik and rocky smiles…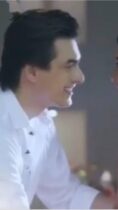 sudha who watches them gets more anger..
Sudha: I should not have blasted..I told her because she was so happy and to make her guilt I told her truth…shit..
Kartik and rocky: you are under arrest miss.sudha..
naira and akshara break their hug ..
Naira: miss.sudha..you deserve only jail..see how God made the situation to know my truth by your own son and your own mouth…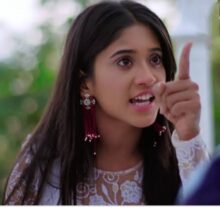 akshara: miss.sudha ..however you separated but fate lead us to be together forever…
rocky comes toward sudha…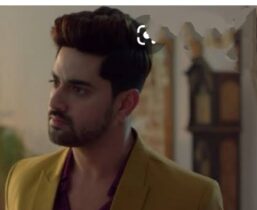 rocky: miss.sudha..whatever it may.. but I have some relation with you and so inorder to show our relation respect I myself will help you to put lockup in your hands without any pain…
thus rocky locks up sudha and police takes away miss.sudha…
THE SCREEN FREEZES ON AKSHARA NAIRA ROCKY KARTIK'S HAPPY FACE…
at some party hall..
tara comes and waits near the place where deep asked her to come and after some time deep arrives along with..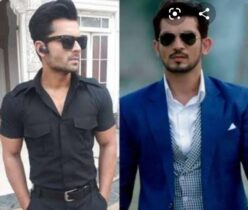 tara sees them together and gets shocked…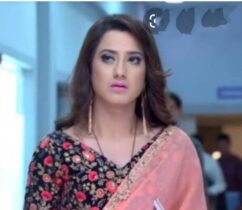 tara sees both deep and mr.x in drunken state (deep acts as drunk but mr.x is drunk)
tara goes to them…
Tara: hi guys..how you both..??
Deep: a.. actually
Mr.x: physically…
Deep: mentally..
tara gets furious..
Tara: I know you both are drunk and that's why you two are blabbering…
Deep (in stammering voice): hey miss.tara..i want to go to toilet and so I will go and come and so you enjoy sometime with mr.x okay darling…(deep smiles in a shaking way to show tara that he has drunk really)..
saying this deep goes somewhere and hides behind the pillar and takes his phone and switches on the voice recorder to record Tara's voice…
Tara: mr.x …how did you drink? And how did you come with deep?
Mr.x (in shaking and stammering voice): why that silly questions tara???huh..let's enjoy the party ..come..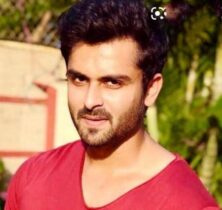 mr.x tries to pull tara to dance with him..but tara gets furious..
Tara: idiot..stop it..I hate parties!!
Mr.x (in a drunken voice): ohh..babyy what happened??when you did wrong with Arohi..I mean when you planned to separate Arohi and deep ,you told me that we will organize party if you succeed in separating them and what happened now??you separated them with your silly idea and now not coming to party??I too was involved in separating them so you should do some favour na bcz I helped you..(haha..) laughs mr.x in drunk state..
tara gets tensed on his words as he is bursting truth due to his alcohol effect..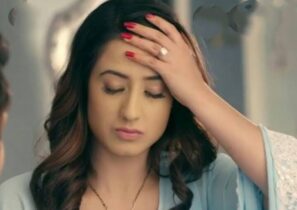 tara in mind: ohh god..this idiot is blabbering..thank god deep went to toilet…
but deep who was standing behind pillar records Tara's truth of making deep and Arohi separate and smiles evilly as if he won the battle…
THE SCENE FREEZES ON DEEP'S EVIL SMILE..
precap: Nivedita becomes hyper.keesh moments.deep and mr.x's meeting's fb is shown.teni goes to coma