Jab kismat Ho Likha Milna!!!! "JANMASHTMII special OS" by Anee
Happy Janmashtmii to all my friends….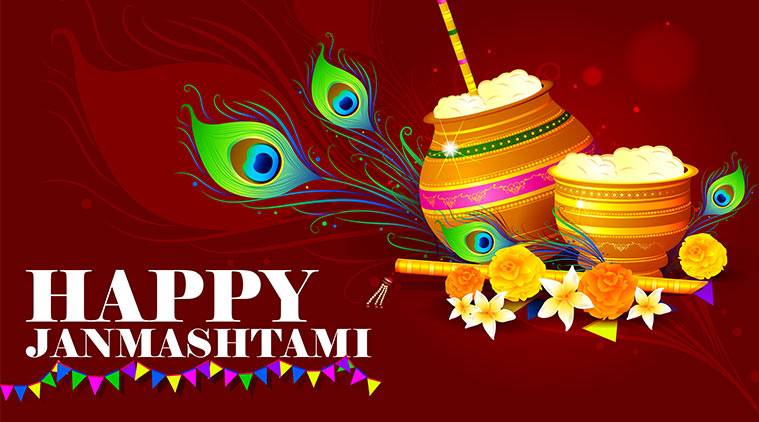 So basically I wrote this os on the special occasion of Janmashtmii…
This is very big festival of Hinduism…. That day Our BHAGWAN SHRI KRISHANA TOOK BIRTH on earth…
We are celebrating this day in full of joy and prosperity…. we pray to GOD that GIVE us write path to LIVE.
HAPPY JANMASHTMII
JAI SHRI KRISHNA.
---
So guys today I'm going to write all dialogue in Roman Urdu.
---
Let's Begin
A girl named sanchi were entering in Janmashtmii function with her family.. She wore LONG blue lahenga with orange dupata…. her hairs were half pinned … suddenly her slippers betray her… she sit down to fix slippers…
Isha: sanchi Dii chalo na… dekho der horahii hai
Sanchi: (fixing her slippers) isha dekho na yaarr meri hjutii nikal gayii hai… I have to fix it right now otherwise yeh mujhe tang kartii rahegii in the whole way… log dekh kar hassenge yaarr…
Isha: Dii ager seat nahii mili na toh humen peeche baithna padega yaa fir khare(stand) hona padega…
Sanchi: Dekho mummy papa ja rahe hain na age tum jao aur mere liye seat roko main abhi aati hun..
Isha: lekin di ap ko pata kaise chalega khum kahhn baithe hain??
Sanchi: tum jao I'll search you… ager nahii mile then I'll call you. Okay??
Isha: Lekin dii…
Sanchi: ab jao isha. Now go Isha
Isha: Okay… lekin jaldii aana okay??
Sanchi: nods.
Isha went
After few minutes sanchi stands up. She collided with a boy
Sanchi: ouchhhhh!!!
The boy sees her
She suddenly took two step back.
Boy was still seeing her
She moved and went from there. Boy remained there by looking at her.
Boy's sister pragya tapped him
Pragya: kabir bhaii kahan khogaye…. chalen??
Kabir realized his position… and suddenly that word comes out from his mouth… han??
Pragya: maine kaha bhai ander chalen… warna seat full hojayengii… jaga nahii milegii humen aur main khare hoke poora function nahii dekhna chahtii…. Dekho Mom dad bhi ander chale gaye..
Kabir: acha merii nautankii chalo.
They went inside…. They sat on the seats… and function was going to start than kabir's eyes went on girl she was sitting exactly in parallel seats of them… not front but side parallel.
That girl was sanchi…
Kabir sat on the edge of row… they had some gape between other row and Saanchi sat on the edge of other row… they could easily see each other.
Kabir was staring at her. While sanchi didn't noticed him. He was consistently staring her. But once sanchi eyes went on him she felt awkwardness… she tried to ignore him but she felt very uncomfortable.. She again looks to kabir he gave her sweet smile. She makes weird face and moves face away..
Kabir nods while smiling.
She again looked at him she found he was still staring at her.
sanchiL: (thinks) kiya Lafanga ladka hai?? Ghoore ja raha hai… iss kii sath bhi to hiss kii behn hai na… sharm nahii atii isse??
She says to isha that she want to sit her place.. Please exchange your seat with me… Isha agrees. Both exchanges their seats…
Kabir was seeing all this… he nods with smile..
After sometime Saanchi was going to drink water from water cooler… but on the same time kabir stood not intentionally but by chance.. Both stands in front of each other for just few seconds sanchi ignores him and took her path while kabir was also going to drink water.. Kabir walk behind her…
They reaches to water cooler kabir stood far from her… first she drinks water and went then kabir came and hold same glass from which Saanchi just drunk water.. He looks at glass smile and drinks water in the same glass.. Then he found a anklet on the ground…. And he remembered it is sanchi's anklet cos he saw this anklet in her ankles…. He reaches on the same place where he found Saanchi went with her family cos function finished… he search for sanchi but didn't found her anywhere…
They reached home… kabir was very upset… pragya asked some questions from him but he didn't replied..
And he directly went in room.. He sleeps on the bed without took off shoes…sanchi's face was roaming in his eyes.. From that he wasn't able to live in peace…
After one week finally he got success by finding her social media account…
Kabir: (holding lap top… lying on the bed) yeah!!!! finally I found you… maine tumara naam suna tha sanchi Dii tumarii behn bula rahii thii tumen iss naam se…
Kabir thought to send her friend request… he was about to press friends request button then suddenly he stopped..
Kabir: nahi nahi ager maine use friend request bhejii toh yeh kabhii bhii accept nahii karegii… I know bcos she not know me. Nahii main request nahii bhej sakta bagair request ke us ka timeline toh dekh sakta hoon ager us ne block kar diya toh?? Nahi nahii.. main yeh nahi hone desakta.
Just like 3 months passed
Kabir still remember her… her everything her every moment was still freshen in his thoughts..
Kabir was straight lying on the bed… and was thinking about her..
Kabir's POV.
Yeh kiya horha hai mujhe main?? 3 mahine hogaye hain lekin aj bhi uss ladkii sanchi kii yaden taza hai mere dill main…. Aise toh main pagal hojaunga… main use bhool kiun nahii pa raha hun… mujhe laga yeh mera sirf attraction hai… but nahii yeh toh din b din haavii hotii jarhii hai mere dil pe… kiya horaha hai mujhe?? Kahin mujhe us se pyar toh nahi hogya hai?? No aisa nahii hosakta… main who bhi pyar bilkul bhi nahii kabir .. no way..
He denied a lot his feelings towards her…. But it was not easy.. But he was consistently trying to not think about her….
Kabir's POV
Nahii humare samaj main pyar karna allow nahii hai… ager maine usey bata bhi diya that I loves her… toh who mera pyar kabhi bhi kabool nahii karegii… aur main apne pyar ke liye us kii izzat ke saath nahii khel sakta… mujhe use bhoolna hi hoga..
Before 3 moths that anklet he always keeps in his pocket but that day he keeps it in the drawer.
Kabir: ab na hi yeh payal mere dil ke qareeb rahegii aur na hi mujhe us kii yaad ayegii. He closed the door.
3 months passed… again
Kabir was suffering from inside…. His heart was paining.. But he choose to remain silent just for her reputation… He was suffocating…
One day pragya comes to him and gave him one envelope…
Kabir: what is this pragya??
Pragya: bhai this is girl's photo with whom papa fixed your alliances..
Kabir shocks
Kabir: whattt??
Pragya: yes bhai.. That's true.
Kabir went to his papa… who confirm him that the fixed his engagement… and this is his final decision.. He needs to obey it.
Kabir didn't said any word to his father and went from there…
Kabir after lots of thought.. Finally decided to marry that girl.. But he didn't opened that envelope and without seeing the girl he agrees for marriage…
Days passed.
One day kabir massaged to Saanchi..
Chating:
Kabir: Hii
Seen by sanchi.. But she didn't' respond
Kabir feels guilt.
Kabir: listen don't mind you can talk to me. Actually tumari ek cheez mere paas woh main lautana chahta hun.. That's it.
Seen by sanchi.
Sanchi: cheez??
Kabir: (gets happy to get response from her)… yeah I have your anklet… yaad hai jab tum Janmashtmii ke function main paani peene water cooler gayi thii wahn gir gayii tumari payal.. Main tumen wahiin launtana chahta tha par tum chalii gayii thii..
Sanchi: wonders… so meri payal AP ke paas hai??
Kabir: haan aur maine boht sambhal ke rakhii hui hai… tum mujh se mil kar woh payal le ja saktii ho.
Sanchi: mil ke??
Kabir: haan ager koi problem na ho toh hum mil sakte hain..
Sanchi: but!!
Kabir: venue tum decide kar lo kahn milna hai.
Sanchi: umm okay… so hum xyz park mil saktey hain.. subah 6 baje.
Kabir: done
Chat closed
---
Next morning
Saanchi reached park with isha and she found kabir was sat on the bench.
Saanchi: Hmm isha tum jao main abhi aati hun
Isha: okay dii
Sanchi reaches to him he gets really happy to see her…
He stands up.
Sanchi: Ap itnii jaldii??
Kabir: nahii main toh yahn subah 4 baje se baitha hua hoon.
Sanchi: kiya?? She shocked subah 4 bje se to ap uthe kab??
Kabir: actually sari raat mujhe nend nahi aayi… aur ajkal aati bhi nahii hai.
Sanchi: kiyun??
Kabir: khair chodiye yeh lain apnii payal… humesha isse apnii jeb main lekar ghumta tha. Finally aj apne sahii haqdaar ke paas ja rahii hai.
Sanchi: smiles.
He smiled back and went from there.
---
Engagement day…
Kabir was ready on the stage and girl was coming….. Guest took side from in front of him his eyes sees a beautiful face coming towards him… in grey suit.
He mesmerized by her beauty he didn't believed on his eyes it was that girl whom he loved so much.. Yes it was none other his Saanchi… that girl with his parents fixed his alliances…
Saanchi reached to him.. Then pragya shows him the pic of girl that kept in envelope….
Kabir gets really happy he didn't believed on his destiny…
Engagement function went successfully…
At night they met on the tarrace..
Kabir holds sanchi's hand.
Kabir: JAB KISMAT MAIN HO LIKHA MILNA…. USSE KOI NAHII ROK SAKTA….
Sanchi: nods with smile.
Kabir: I LOVE YOU SANCHII
Sanchii: I LOVE YOU TOO KABIR.
Both hugs each other passionately..
Crackers cracked in the sky.
HAPPY ENDING.
---
So guys I hope you all will like this OS.
Ager pasnd aaya hai doston LIKE kardo… ager zyada axha toh COMMENT kar ke batao.
Bye tc.
Anosha (Anee)