It was a mistake to love you.. Chapter 15
Hey guys! This is Pavithra here! I am back with my ff.. And I am damn sure that everyone has forgotten my ff and everyone won't be loving this story anymore.. I am really sorry for not updating for over a month… I was clean busy.. Probably not!! Thanks to those commented in my last chapter.. Hope u guys like this one..
___________________________________________________________
Recap: Keerthi starts to hate Madhav… Keerthi falls down and Madhav caressed here.. School closed..
___________________________________________________________
During vacation….
Keerthi (in mind): why I am so bothered? Why am I so sad? What is bothering me???
The diary entry she wrote when schoop closed.. The first phase of vacation…
2nd April….
Diary, I loved him so much and I still have a love left. I don't know why I had loved him. I don't really know. The worst thing is he is love with someone else. I really thought that he loved me. Diary, this must be the year that will help me hate him! You know!!
This vacation I am always unhappy. I don't know why. My mother always says to have a pleasant face but how can I? I don't know. What all happened in this whole year are just sad happenings..
My love, my first love just one way is going to end. I haven't seen him for weeks. And I don't want to. I was wasting my time loving him. I have stopped thinking of him always. But I know diary, I won't be able to leave my desire to get him. And no one can take it..
My life was filled with just love for him all these years. You know, I want to just leave it but I can't.. That's the problem..
Hell me hate him completely. What the hell did I do to suffer for him?? That's all . bye..
On May..
Keerthi (in mind): how fast did the vacation go? Huh? And it was too bitter for me, just because of him. Sirph uske vacharse. See… I thought.. I would hate him this vacation.. But I couldn't.. Is this my fate?
Another day she starts writing her diary just as usual but it changed into what she wanted.. She hates Madhav completely..
7th May
Diary, I have started hating him, u know, I don't know how I got so much power to hate him. I have got a huge will power. Don't know from where or how. Maybe even God doesn't want us to be united. Diary, I haven't loved him, it was all my feelings… Or I am trying to forget those days.. I don't know diary… I lived for him for 5 years and not anymore. I hate him.. But still I do have a bit feelings left for him.. If I hate him completely I will never speak about him.. This makes sense that I still have feelings for him.. Those 5 years were just a nightmare.. If I haven't stopped it here I would have been there to die for him.. This is to you, monkey..
(She continued writing. But this time more forcefully, more larger letters just like scribbling.. She was getting into her aim.. Yes she was hating Madhav completely..)
She continues…
All those 5 years I had only you in my heart, sirph tum, no one else…
Last line:-
I can't even imagine that I have loved you.. Per aab, me tumse sirph naphrath kartha hun.. Suno.. Sirph aur sirph naphrath..
(Now her eyes was red and there were tears rolling down..)
Keerthi closes her diary. And she simply cries.
Keerthi: no, I won't cry.. I want waste one more tear for him.. This I the end of The Madhav phase of my life.. I hate you… You said you hated me and now see I also hates you..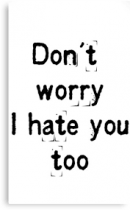 She felt quiet relieved now..
****
After some days.. She was cleaung her table.. She finds some papers.. She takes papers one by one..
In one paper,
Madhav, I love you… And I will always love you.. I know……. (She couldn't read anymore)
She crunches the paper ..
She goes to the pooja room.. There was lamp lighted.. She burns the paper and says..
I hereby end all connections with you..I hate you Madhav.. Whatever happens in my life I will always hate you.. Jab tak ye zindhagi hai.. I will always hate you.. Years before I sat in the same place and said the opposite. But now its changed.. And its over forever..
****
Keerthi hates Madhav completely…
___________________________________________________________
PRECAP:- School reopens….Madhav ready to tell Keerthi his feelings
___________________________________________________________
Hope you guys liked it.. I know you guys hasn't liked it.. Because me myself has found this too boring… I guess it will become more interesting after two or three chapter s as there is a twist coming..
Ignore the spelling or grammatical mistakes. Ignore the short forms, of any…
I remember you all again that this story doesn't have any happy ending. I mean in this story you won't find the leads united… To know more about this story check out intro revised..
You guys must be thinking why I am showing 'time flies by' not the real scene. Because it will be too dragging. That's why! Soon it will be back to the real scenes!! Because a major twist is coming!!??
I will try to update as soon as possible. Do let me know what you think of the story by dropping in a comment. Don't forget to hit the like button. I want all your love and support… Thanks for reading…
By,
Pavithra?