IT HURTS TO LOVE (SwaSan) CHAPTER 3 by Marsuu

Warning: A non-numeric value encountered in /home/ftpusers/tellyu/public_html/wp-content/themes/publisher/includes/func-review-rating.php on line 212

Warning: A non-numeric value encountered in /home/ftpusers/tellyu/public_html/wp-content/themes/publisher/includes/func-review-rating.php on line 213

IT HURTS TO LOVE (SwaSan)
CHAPTER 3:
Today was the best day of my life when i enjoyed to the fullest and the whole credit goes to sanskar. We just returned now as sanskar said we made a plan at weekend and we visited so many places. He left to his house after dropping me here and i changed into my night wears. I bought few dresses for office wear. Sanskar was forcing that he will pay but i didn't allowed because he had already done alot for me. Since morning I'm smiling like an idiot. I was worried that who will support me in this unknown country and I'm blessed to have sanskar. I heard my phone vibrated and i picked it from the table and it was an unknown number. When i came here, i changed my number so it must not be saved. Let's see who is there. " hello" i said after receiving the call. " swara!!" Someone said my name and the next instant i whisper " parth" he is parth, i can never do the mistake of not recognizing his voice. My heart beat increased and hands started shivering. " swara how are you?? And why you left me??" He asked politely which is very rare. He just know how to shout. " from where you got my number??" I asked controlling my tears. I'm not going to be weak atleast not in front of him. " that doesn't matter first answer my questions" he said getting irritated.
" I'm very good because you are not there with me and your second answer i left you because you don't wanted this relation and i was no one for you" i told him fighting with my tears. " it's not like that swara, i must have said in anger. You are my wife and most important for me" he said. I didn't said anything because i just don't want to talk to him. I should cut the call but he is too stubborn that he will keep on disturbing me till i responded. " please give me one chance i will not repeat it. I will never fight with you or never shout at you" he was pleading. " how many times you will say the same thing?? I got tired of giving you chances from last one year so please let me live peacefully " i said angrily. " okay i know you will forgive me and i will come soon to you sweetheart" he said and fear engulfed my heart when he said he is coming. I don't want him. " and don't talk to boys" he said. Huh!!! He can never change. " i love you " he said before cutting the call.
Parth is such a dramebazz and i won't come in his sweet words this time. It is more than enough and i will not go back to him. How he can be so normal after whatever he did to me?? I was no less than a slave in my in laws. I would prefer to die than going back to that place. Forget it swara!! I'm not scared, let him do whatever he wants. I should gather some money so that i can apply for the divorce. I closed my eyes trying to sleep. My mood totally got spoiled with his call. This man can never let me live in peace.
AFTER TWO MONTHS:
My life is going normal. I used to go to office and then come back. The best part in the office is spending time with sanskar. He always makes me feel happy. Trust me! His wife will be very lucky to get such an awesome husband. Why can't i get him?? Shitt!! What I'm thinking. I mean to say why i didn't got a husband like him. Parth is completely opposite to him. Parth!!! He didn't call me after that night and that's great. I forgot about him but it's strange that he backed off. It is good that he is away from my life and that's why there are no problems. I closed my eyes and sleep took over my senses.
He stepped close to me and his one hand wrapped around my waist while he lifted his other hand till my face. His thumb rubbed my cheeks and i closed my eyes. I shivered when his lips touched mine. He pressed my lips under his and softly kissed me. "San..skar " i mourned when he bite my lower lips.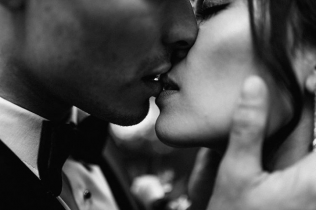 Sanskar!!!!!!! Ohh god!! I sat on the bed sweating badly. I placed my palms on my cheeks controlling my breathe. What did i just saw??? I kissed sanskar…NOOOO! Holy shit! How can i see such a dream. Sanskar is my friend and friend only. I should not think all this about him. This is wrong, very wrong. He is my boss and I'm married. Though i will break that relation but still i can't think all this. It was a dream which i have to forget. What if sanskar gets to know he will break friendship with me. I will never tell this to anyone. Neverrr. I quickly got up and after getting ready went to office.
I was silently praying that i should not meet him. Please god! I won't be able to look in his eyes after what i saw in my dream. I was walking towards my cabin when he called me from back " swaraa wait" he shouted. Ohh no, i can't run now. " good morning sanskar" i give a fake smile and wished him nervously. " very good morning baby" he said flirtingly. My heart skipped a beat when he narrowed his eyes and has a smirk on his lips. OMG!! His lips. He is so handsome.
For God's sake!!! Shut your stupid brain swara. " umm.. i should go to work" i said. I should leave this place before i think beyond this. " why are you blushing?" He asked touching my cheeks. " wohh nothing, bye" i said and ran to my cabin. Why the hell i was blushing??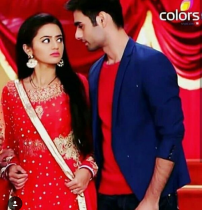 I sat on my chair and gulped the glass of water. I'm feeling guilty for thinking like this with sanskar when I'm married to parth. I closed my teary eyes. I should not care because he also sleep with other girls. But I'm not like him. Forget that cheap man. I don't feel anything when every night parth sleep with other girls because i don't love him. He is not loyal at all and i never expected also. Let him enjoy his life. I used to feel upset that he is insulting our marriage. Though it doesn't matter to us but still it is a pious relation which that jerk had spoiled. Now he is pretending to be innocent.
" swara" sanskar enter inside my cabin with a confused look. " why you ran away??" His questions started. Now he wanted full clarification. What should i say that i had a dream of our kiss. " just shut up" i shouted to my brain. " how rude!!" Sanskar said. Shit! I said loudly and he thought i said to him. He left the cabin. Now he will be angry. I ran after him.
"Sanskar wait" i held his hand. He had pouted his lips. He is such a kid. " i didn't said to you please I'm sorry" i held my ear and he smiled. It is very easy to pacify him. He look at my hand which was on his chest. I realized that to stop him i rested my hand on his chest. I was going to take it back when he help my hand. I looked in his eyes and i can read naughtiness. He should not do some thing to embarrass me. " sanskar" i whisper his name when he lean on me. Our dream kiss flashed in my mind. He lifted his hand and bought it to my cheeks. " don't worry i won't kiss you" he pat my cheeks slightly and winks. I was numb when he said that while he was laughing. Idiot!! He went to his cabin. Ohhh god what all this is happening!!!!.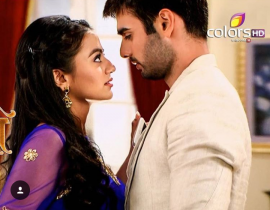 To be continued….
Precap: sanskar's pov
Please leave your comments and tell me if you are liking it or not??? With each chapter story will be revealed. I'm trying to give regular updates so please you also try to be active and comment.
Thank you

Warning: A non-numeric value encountered in /home/ftpusers/tellyu/public_html/wp-content/themes/publisher/includes/func-review-rating.php on line 212

Warning: A non-numeric value encountered in /home/ftpusers/tellyu/public_html/wp-content/themes/publisher/includes/func-review-rating.php on line 213