ISS PYAAR KO KYA NAAM DOON -TWINJ: EPISODE 15
Episode15:::FINALLY ????????
?????????????
After one week later kunj and twinkle still didn't talk to each other very much just formal conversation just because of work.
So today is Purushottam birthday bash. He throws very huge party at his mansion which make Yuvi and Kunj very happy. They just wanted one single chance to go Purushottam house so there they can find out something which proof kunj and yuvi fathers are truly innocent they didn't do anything which blame Purushottam put on them and run from there.After make their life's hell.
Scene1 ::
start from Taneja office..
Yuvi or kunj along with abeer or twinkle they were sitting in twinkle cabin while vikram went out of the town due to some work.
Abeer: finally half work is complete what you guys thinking to give Purushottam sir in gift.
Kunj:nothing till now. I'll give him something really very big which he remembers in his whole life never ever forget.
Abeer: sorry??
Yuvi:kuch nahi abeer.Just normally he'll give him good present..
Kunj:yes abeer what about you.
Abeer:till now I didn't plan twinkle why we both go and bring gift for him.
Twinkle:hmm take mehar na.
Abeer:Arey you know she is just busy in kids your son troubled. Don't know whose devil blood he is???. Twinkle hit on his hand playfully and slightly look at Kunj.
Twinkle: think in heart you are right abeer devil blood because of him look at this real devil small devil come from his factory sadu. Let's go.
Abeer:do you guys wanted to come with us.
Kunj: no yaar you both go. They both left while kunj and yuvi sit in frustration.
What to do yaar here in some months this project will over if we didn't get any proof against him than forgot everything.
Yuvi: kunj that paper and click shows he is cheater without their permission he take the signature.
Kunj:one thing I know Yuvi about my Papa he never sign on anything without read the papers in this also something I told you na is fishy.That we'll find out soon now let's go I'm totally frustrated man.
Yuvi: kunj don't be sad.truth always comes out in the end.No matter how hard anyone tries to hide it or stop it lies are just a temporary delay to inevitable..
Kunj:true Yuvi. Leave this today lets go meet with chiller party.
Yuvi: chiller party or else pidhi..
Kunj: yes pidhi don't know Yuvi why I felt so happy when I'm around him seemed like my whole world is happy when I see him my whole day went so good.
Yuvi: issliye I told you many times adopt one baby. Try like me??. Kunj look at him.
Kunj:acha like you no baba??.Ch both went to Romir school and waiting for them come out.They see ammar and Romir coming outside both holding each other hands. Kunj and yuvi see and smile.
Yuvi:they both reflecting like us I mean have a same features..
They both come Romir see Yuvi run to him landed on his arms while ammar see kunj and make faces. Kunj went to him.Hold his hand.Ammar jerk his hand.
Ammar: leave me.
Kunj:uff.Someone is angry with me hoo. I'm sorry ammar I know you call me but I didn't come see I'm so sorry he hold his both ears and sit-ups for him.
Ammar:okay fine. I'm going bye I'm not in good mood.. he about to go while kunj lift him.
Kunj: Arey why. See I come just because of you. Wanted to spend sometime with you.
Ammar:so soon you remember me even I call you but you didn't come why?? Everyone is bad no one loves me he started crying. Kunj and yuvi went towards car Kunj make him sit on car hood.
Kunj:what happened you both fight. He look at Romir and he nodded in no.Than what happened my chatterbox today.He wiped his tears and nose Romir shocked.
Romir: see Papa kunj Chachu. He clean his nosey ho ho.
Yuvi:with laugh he understood. Why???.
Romir: you remember last time when my nose flowing I tell him to Wiped but not he screamed and make fun of me now see he clean ammar nosey why?? He is so Partial. Kunj and yuvi look at each other's.
Kunj:this all bhed bhav you were teaching him na..
Yuvi: why I'll teach him he had mind and eyes he can see it if your Aditi is here even she'll too says same babes?..
Romir:babes Papa hehehe.. while ammar think they all making fun of him..
Ammar:you all making fun of me huhh crying more??..
Kunj:no no ammar no one will make fun of you shut up you both father and son. Now tell me why you are so sad.
Romir:Arey his mamma scold him so..
Kunj:ho so what ammar my mom scold me every time they scold us why because they love us so much. So don't be sad your mamma too love you so much. She had right on you na.
Ammar: acha only me..
Kunj:hmm yup.Now don't like cry baby my player. Let's go and had fun today. Kunj kiss on his cheeks they sit in car while kunj tell ammar driver he'll drop him home.
Kunj driving while ammar sitting on his lap kunj have difficulties in drive but don't care. Romir and yuvi see kunj.
Romir:in low voice Papa see kunj Chachu.
Yuvi:why??
Romir:he is so different with ammar why?
Yuvi: this question even I have baby but see your kunj Chachu is happy na what else we wanted..
Romir:True..
Kunj: where we'll go.
Romir:kunj Chachu lets go for shopping you know new toys collection comes.
Kunj:okay.They went to mall and went inside Romir and ammar run in toys shop.
They were seeing so many cars toys.
Yuvi:kunj look at this too.
Kunj:so beautiful na Yuvi.
Romir:Papa this is so good I'll take it.
Yuvi:today I'll not say anything you can anything because your kunj Chachu will pay for you ???. Kunj see him.
Kunj:saala.. I'm not like you kanjoos. ?.
Ammar:what about me I don't have anything. Kunj bend down on his knees.
Kunj:Arey mere little siyappa king why you so worry when you have your KUNJ BANK.
Ammar:hehe you are bank. ??..
Yuvi:yes ammar.This bank open for you 24/7hours???.
Kunj:chalo let's see other things too. They select toys.. but what ammar wanted that toy is not there he making muffed faces. What happened ammar didn't you like.
Ammar:no dost I wanted that car he show him poster I told my mamma bring for me but she is busy.
Kunj: ho now we'll buy he went near shopkeeper. Please can you show me this car.
ShopK:sorry sir this car is out of the stock.
Kunj: Arey please try na.
ShopK: really sir it's already limited stock.
Kunj:okay. Kunj turned and see ammar who's  face drop down. Ammar don't be sad we'll take other car.
Ammar:no I wanted this only..
Kunj:okay.We'll see in other shop. Like this they check in whole mall but car is out of the stock.Too cheer up ammar mood they went in food court..Yuvi call Aditi she too come and Joint them.
Aditi: hi guys without me you all enjoying..
Romir: hi Aditi aunty…
Aditi:hi Romir.My cutie pie she kissed on his cheeks how's you.
Romir: great. Kunj and yuvi give smile..
Aditi:she look at ammar who is this new handsome ??..
Yuvi: he is kunj new bestie..?..
Romir: mine first..
Aditi:what happened god your friends is so small can't reached till your waist ?.
Kunj:chal..
Aditi:still what's your name handsome..
Ammar:ammar..
Aditi:nice name.soon their oder comes.
Kunj:let's have ammar.
Romir:we are to here ??..
Kunj:bade kamine maa baap ka khoon hai yeh toh ??.
Yuvi:jada mat bol.. Kunj and yuvi feed both ammar and Romir While aditi look at them open her mouth kunj and yuvi laugh and feed her too.
Romir: I'll too. He feed Aditi..
Aditi:aww ??.Really you are not like this Yuvi kamina. Who snatch someone food ???. While having ammar choke Kunj patting on his back.
Kunj:care fully drink this water. Kunj make him drink water and wiped his face. Aditi see kunj.
Aditi:god he is so happy.
Yuvi:hmm you just see today only Aditi our Kunj is so different with ammar he forgot everything just become kid like him.This smile come because of you now because of ammar to.
Aditi:right Yuvi I didn't see BF like this before in these years even not with Romir. But with this baby totally opposite Kunj.
Weshe kunj BF from where this carbon copy of yours come I'mean Ditto copy of you.How this can happened..
Kunj:anything can happen in this world.
Aditi:still bro same features can't you see.
Ammar:Arey why you people have so much problems if we look like same. He is my dost.. cuddles him.
Aditi:oyy he is my bestie. Just than Mahi was in mall her eyes went on Romir and see and went towards them.
Mahi:hi guys give them surprised.. Mahi see Aditi. She sit beside kunj. Aditi you are here..
Yuvi:yes mahi we all come..
Mahi:you didn't call me.
Kunj:mahi she come with me not with your husband so. Kunj pulled Aditi in hug.
Mahi:why I'll kunj just normally. My baby Romir you didn't miss mum alone with Papa. Mahi friend come. Arey mahi lets go na.
Yuvi:yeah mahi you should go your friends calling why you wasting your time here. Mahi give death glares to Yuvi and went..
Kunj:this mahi is impossible.
Romir:now let's go and play.
Kunj:hmm.Before your devil mother come in low voice ???..chal mere bacha party.Kunj holding ammar and Aditi hand resting her head on his shoulder while Yuvi too Romir he gestured Aditi.She look at him he make pouty lips.Aditi blushed.Yuvi held her hand too.They went outside of the mall and sit in car.They went to Aditi house.it's properly Kunj house Aditi and daee jaa staying here.they went inside daee jaa see them get so happy..
Daeejaa: today you all together arey my Romir too come.She cupped Romir face and caress his face.. mera bacha how's.You never bring him Yuvi.
Kunj: if his mother will know na she'll? twist Yuvi neck. Aditi and Kunj laugh out at Yuvi.. they all sit..
Yuvi:Arey daee jaa meet with this small Kunj ??..daee jaa look at ammar. Who sitting on kunj lap quietly.
Daee jaa: who he is..
Romir:I'll introduce him. He is my best friend Ammar now he become Kunj Chachu best friend too.And Kunj Chachu is so mean. ??..
Yuvi:waha mere lala great speech.who teach you this your mother or that nani??..
Kunj:none of them less yuvi???..
Ammar:dost why we come here..
Kunj:aeshe hi.. Aditi come and sit beside kunj.. resting her head on his shoulder while ammar see this he push her.
Ammar:don't come near my dost..
Aditi: why he is my dost.. cuddling him more and more while Ammar pushing her more and more??. Others enjoy it.
Yuvi:haa kunj little possessive wife??.
Aditi:look at him kunj..ammar stand on kunj lap and hugged him fully and showing his tongue to Aditi.
Ammar:he is my dost only ??.,
Romir:don't worry I'm here.aditi open her arms and Romir run to her and hugged her tightly while Aditi too cuddles him and tears formed in her eyes.Kunj pulled her in side hug. Yuvi click their pictures..they went in garden and playing games Aditi had blindfolded on her eyes.
Ammar:catch me.. ??..
Romir:yes.. they running and pushing Aditi while she didn't catch them. All laughings. Daee jaa come outside and admire them.
Daee jaa: hey wahe guru ji please always my kids stay happy like this only.See them they are so happy if Is Yuvi or kunj and Aditi Kunj who make my aditi laugh smile give her new reason to live.. Yuvi see kunj and both kids busy in their self he pulled Aditi take her in side behind trees.Hold her from waist tightly and went near her ear..
Yuvi: hii sweetheart  making fun of me .
Aditi: Yuvi tumm leaves me please she removed blindfolds and look at Yuvi. What is this if they see us.
Yuvi: I'm tired to listen this line. Let them see na what kunj said Kuchh to log kahenge logon ka kaam hai kehnaa. Chhodo bekaar ki baaton mein kaheen beet na jaaye lamha.. in very cheesy way.
Aditi:so cheesy ??.. her hands around his neck. So mr Yuvraj Luthra ji. We playing game so shall we go.
Yuvi:leave this boring game let's play our game he winked at her ??.She slap him.
Aditi:shameless.
Yuvi: I'm sorry mahi you know.
Aditi:Arey leave na I didn't give her shit. Weshe bhi i hardly meet with her. Kunj didn't let me go at Sarna Mansion because he knows them even I too.
Yuvi:really Aditi you are lucky you have kunj. He is best..
Aditi:yes Yuvi I always thank to god he send BF in my life. He always care about my feeling never let anyone hurt me. I did some good work In my Previous birth that I have you and kunj. She hugged him.
Romir give voice Yuvi and Aditi they both shocked went towards them.
Ammar: where you both gone what about game??
Yuvi: woh.
Kunj: what's going on??he giving them suspicious look ?..
Yuvi: kya. Let's okay bacho.
Aditi: and I'll bring tea okay.. she went inside kunj and yuvi playing with ammar and Romir last they get tired.And lay down on grasses Romir and ammar jumped on kunj and yuvi. Both screamed in laughing way.
Kunj: ouchhhh..
Yuvi:what your mother eat Romir ?.
Kunj:should I tell??.
Yuvi:I'll asked usha chachi about you?.
They both lay down on Yuvi and Kunj. Aditi and daee jaa come.
Aditi:come let's have snacks and tea for uncles ??. They all sit in garden. Ammar and Romir eating snacks.
Yuvi:kunj what about party..
Kunj:haa kunj call his driver.
Driver: yes sir.
Driver:drop them their house safely.
Romir: I'll tell you our house address okay.
Ammar:okay bye dost. He kissed on kunj cheeks and give hugs to all.
Kunj:and take your toys too.
Romir:Teri car heehe??..
Ammar:huhu.
Kunj:bas bas aapne baap ki taraha pani me aag lagane ka kaam mat kar??.,
Bye.
Aditi: see ammar he turned Aditi Kissed on kunj cheeks show ammar???..
Ammar:I'll see you later. Triple eyes? he said this and run from there while Yuvi and Kunj laughing like a maniac.. ????..
Aditi: don't laugh so much. Okay they went inside thinking what to wear while kunj and yuvi Check aditi dress not exposing outfit??.
Scene3…
Twinkle and abeer come back from shopping and sit while mehar too come..
Leela:you both come:.
Rt:where is ammar:.Just than Ammar come Leela and Rt see him give smile.
Twinkle:where he went?? Ammar come inside and servant holding shopping bags.
He sit in side didn't talk..
Mehar: Twinkle your little devil went for shopping alone. Leela and Rt went towards him.
Leela:where my baby went..
Ammar:woh with Romir. Bas.
Leela: ho this toys.. who give you this??
Ammar: Nani my dost ne dilaya hai mujhe.
Rt: okay ammar But you should in formed us na:.
Ammar: I'll come okay. He run upstairs..
Abeer: what happened him today.
Mehar: mamma and baby fight hoo?. Rt and Leela see all toys.
Rt: it's so expensive. Who is this ammar friend..
Twinkle:don't know Papa..
Leela:go twinkle apologise him.
Twinkle:hmm. She went upstairs and goes in room and see ammar taking off his uniform twinkle went to him. May I help you ammar see her.
Ammar:no I'll. Twinkle take him to bed and make him sit on her lap.
Twinkle:my baby still angry with mamma okay see mamma sorry. Tears escaping from ammar eyes..
Ammar:you are so bad my dost is better than you he understood me but not you. Twinkle laughs.
Twinkle: sorry my baby cry because of me please forgive mamma.
Ammar: okay I forgive you. While twinkle get shocked how so suddenly he forgive her otherwise. Twinkle has to pleased him lot did so many things to get his forgiveness today so quickly.
Twinkle:today you forgive mamma so easily really you forgive me..
Ammar: haa I forgive..
Twinkle: so soon why??
Ammar:my dost told me.Don't feel bad when mamma scold because it's her right on you that's why she scold you she loved you too.
Twinkle:hoo your dost is very good I too wanted to meet with him..
Ammar: my dost is the best..
Twinkle: haa you and your dost is best. Again sorry my bacha she kissed on his face all over and hugged him.Just because of this kunj I scold him his anger come out on him sadu I'll not forgive you.
Aur my baby where you went today.
Ammar:I went for shopping with my dost than his house we all play like always do lots of Masti my dost buy so many toys for me.
Twinkle:this dost is very good man.Who spending so much money and time on you. I'll buy your favourite car.
Ammar: I check everywhere no stock.
Twinkle:ewww we'll see again okay.Now come let's get freshen up.Twinkle give him bath and get ready.. ammar went in fuzail room and both maamu and Nephew playing games in PSP.. While twinkle selecting what to wear for tonight party..
Purushottam Deewan fully busy party preparations he wanted everything is perfect in his bday party.
Puru:I don't want anything happened wrong at last moment..
Pa: don't worry everything will happen as per your oder sir..
Aditi and Kunj or Yuvi make plan something which help them.
Kunj:see aditi.You have to do this..
Yuvi; don't do over acting madam.
Aditi: Arey Don't worry I'll do perfectly seduce ??:
Kunj: But be in limits okay..
Aditi: acha ji before only so possessive ? . She moved her fingers on Yuvi and kunj face sensually already two handsome in my cage???..
Yuvi: before party only her seducing mood on???.. they all get ready for party fully. All set to go Deewan mansion.
Twinkle and mehbeer reacher Deewan Manohar they went inside and see the arrangement it's really lavished. They went towards puru who standing with many peoples around him.
Puru: hoo finally the shine of my party come twinkle.
Twinkle: happy birthday sir..
Puru:thanks beautiful.. he hugged her and check out twinkle fully.
Abeer: happy birthday sir.. he give him gifts.
Puru: thanks come let's enjoy the night..
Kunj and yuvi or Aditi come together and see Deewan mansion
Kunj: just wait for this moment when we'll come here you make this mansion after break someone life's this mansion each roof standing on our tears..pillars
Yuvi:True. Soon we'll break your mansion. They went ahead while Aditi in aside..
Puru: where is my stars.
Kuvi: here sir. They turned and see kunj and yuvi standing while having smirked smile on their face… they went towards them and hugged him.Happy birthday sir god bless you..you got everything which you deserve it..
Puru: thanks lot even you too.. where is my gift I'm really curious for your gift kunj.
Kunj: don't worry sir I'll give you the best gift till ever don't worry you'll never forget my gift.
Puru: acha now I can't wait..
Yuvi: you have to wait woh kehte hai na sabar ka phal meetha hota hai..
Abeer:right. Let's take the party ahead. Puru that friend who see twinkle and he just scanning twinkle with lust eyes.Kunj look at twinkle mesmerising to see her beauty she really looking breath taking.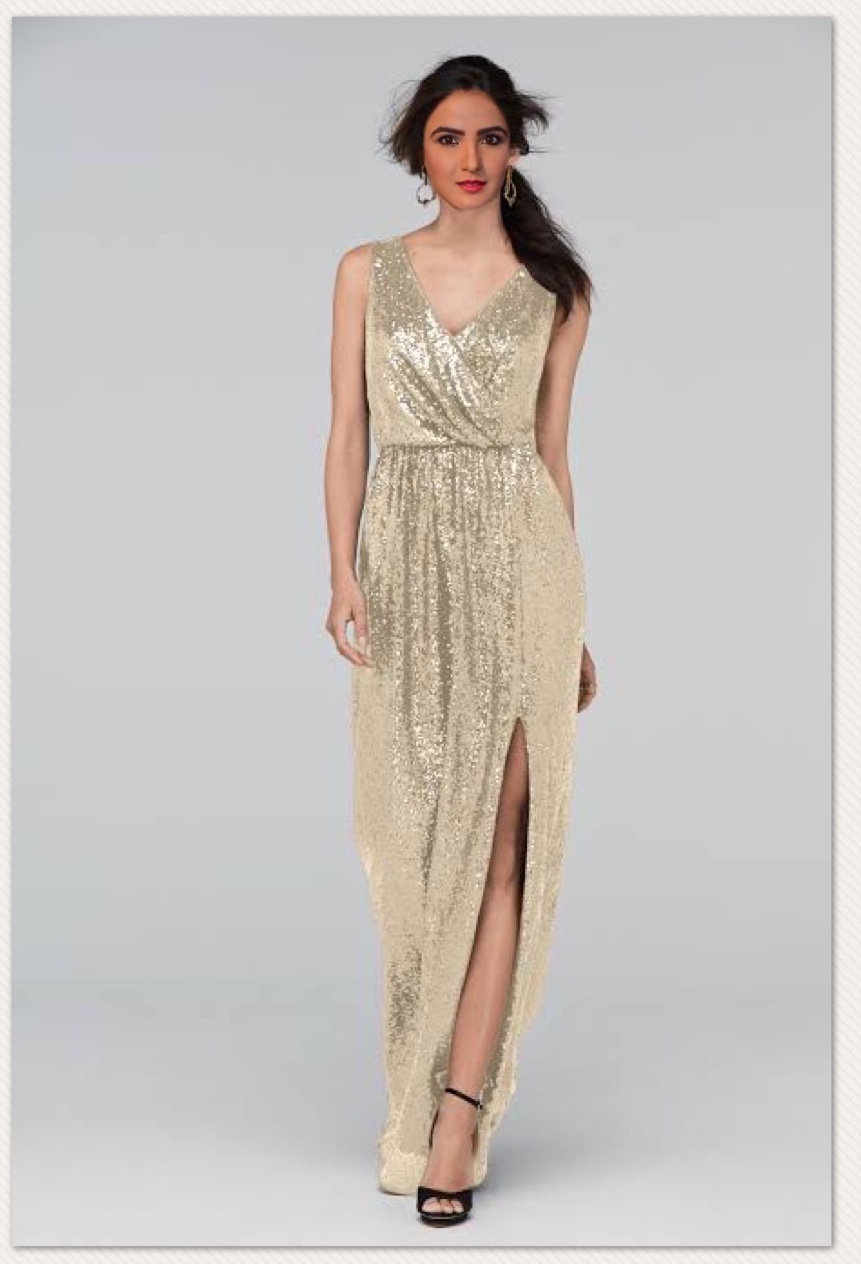 Kunj and yuvi turned and see all guest they all just Purushottam type people even girls too come here for this all man's
Just for their fun's.
Yuvi:whisper in kunj ears kunj see this all peoples.I mean who can he calls.
Kunj:kutte ki khushi me kutte hi aayege na.Same here too. Where is aditi man..
All enjoying party twinkle and Kunj share eyes lock many times but turn their gaze. Kunj carry mock look.He and yuvi very careful don't have drinks.Kunj was thinking about twinkle.Peoples drinking and smoking playing gambles.
Puru: let's play gambles guys he takes twinkle due to her Yuvi and Kunj went.
Kunj try after all you love challenges. Try once gamble..
Kunj:sure.Kunj started playing with Purushottam. Don't worry I'll not lose. Because har na I didn't learned.. Kunj win the gambles one by one. Kunj take the mike hi everyone look at  here we all are to celebrate our Purushottam Deewan bday bash so.Here I'm kunj Sarna have small gift for him.So here is my gifts. Yuvi call someone waiter come and give everyone  masquerade face mask. Kunj turned the Purushottam unashamed party in masquerade party. Everyone see face marks.
Puru: what is this..
Kunj:sir wait na..Lights went off.All wear their masquerade face mask.spotlight on Everyone standing in side. All look at in centre.Where a girl standing her back facing to everyone as soon as Purushottam and his shameless friend see.Girl they all get happy as well excited.
Purushottam look at Kunj and give him thump ups.. ??.. While kunj and yuvi share smirked look. Girl turned and her face is not visible because she too wearing masquerade mask Purushottam still in shocked how kunj do this all. Kunj look at Purushottam his knows what he think actually who he give party arrangement work kunj and yuvi give him extra money buy him tell him do whatever they wanted not Purushottam in start it's look like what he wants..Song started.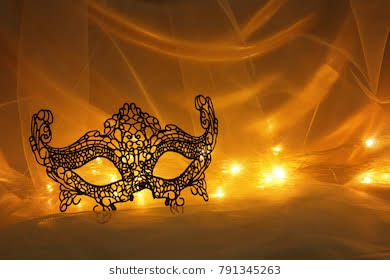 Life is a masquerade. Everywhere you look are people hiding behind masks.     
???????????????????????????????
                Raat mein hi jaagte hain
                 Yeh gunaahon ke ghar
                 Inki raahein khole baahei
                  Jo bhi aaye idhar
                       Aa haa…
( aditi was sing and dancing and went towards everyone she take the bottle and all mans see her she went near them they all forward their empty glass she give smile and filled their glasses.)
             Yeh hai gumraahon ka rasta
                 Muskaanein jhooti hai
                 Pehchanein jhooti hai
                  Rangeeni hai chhayi
                  Phir bhi hai tanhaayi
                  Kal inhi galiyon mein..
( background dancer come with her and lift her.she roaming around all chairs. Pulled Purushottam in centre and dancing with him in very lusty way.) she make all dance together give kunj hand in twinkle hand. All stand and dancing. Kunj look at twinkle face..
Twinkle:very cheap gift like you.
Kunj: it's none of your business. Sorry for last time now don't poke your nose in my work.
Twinkle: why what you upto do..
Kunj: listen twinkle leave this party Im telling it's not a good place for you.
Twinkle:even it's too not good that I'm dancing with you type of man.. Kunj twirl twinkle. Man come and started dancing with twinkle in bad way but twinkle didn't say anything. Aditi see this she went near them and pulled that man he come with her.Twinkle take breath and look at inside many of hooking up in side she get shocked to see the Scenario..
                In masli kaliyon mein
                 Toh yeh dhoom thi
                 Jo rooh pyaasi hai
                 Jismein udaasi hai
                   Woh hai ghoomti
                  Sabko talaash wohi
                  Samjhe ye kaash koi
               Yeh hai gumraahon ka rasta
                   Muskaanein jhooti hai
                   Pehchanein jhooti hai
                    Rangeeni hai chhayi
                    Phir bhi hai tanhaayi..
(While in music and dance Purushottam cut his cake and feed everyone while Yuvi and Kunj didn't have they had in front of him but immediately throw it in side.aditi come and feed Purushottam cake with her hand. He pulled her and make her too have but he deny it… Purushottam friend take him in side.
Man: I wanted this girl puru..
Purushottam: sure but payment
Man: don't worry he give him cheque.
Purushottam: great go and take her she is yours. Both laugh out..
Aditi gesturing Kunj and yuvi.. they both went in side and started finding something.
Yuvi: kunj I don't think so we'll find something here..
Kunj:try na before end..they both checking drawers.. just than something falls down kunj and yuvi take and heard someone coming. Both run from there. Aditi hug Purushottam..
Purushottam: let's enjoy the night why waste alone..
Aditi: in seduce Voice I'm ready let's go and make it this night memorable..
Purushottam:cute chick.
                    Halke ujaalo mein
            Halke andhero mein jo ik raaz hai
                Kyu kho gaya hai woh
            Kya ho gaya hai ki woh naraaz hai
         Aye raat itna bataa, tujhko to hoga pata
                             Aa haa…
                 Yeh hai gumraahon ka rasta
                      Muskaane jhooti hai
                      Pehchanein jhooti hai
                       Rangeeni hai chhayi
                    Phir bhi hai tanhaayi (x2)
Waiter went towards twinkle.
Waiter:MAm Someone calling you.
Twinkle:who calling me.
Waiter:name is kunj.
Twinkle:why he calling me..
Waiter:don't know mam.. he left while twinkle think than she walk towards stairs while Aditi taking Purushottam tooo..
Twinkle went in room and someone come and lock..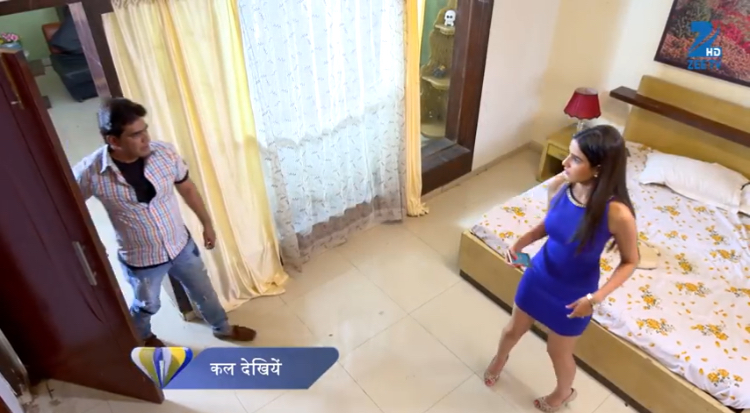 Twinkle: Kunj where are you.. man come and give twinkle back hugged she get shocked.
Man: baby finally you come. She turned and look at man..
Twinkle:who are you.Side please let me go she about to go but he held her hand. What nonsense is this..
Man:how can I leave you. 10k I give for you.Tonight you are my property..
Twinkle:what 10k..in  whom..
Man: that Kunj Sarna. Twinkle get shocked.
Twinkle: what kunjj. Please let me go.
Man:no baby. How can someone leave you that would be idiots.I'm dying to make you mine.You are very expensive. But you are god best creation. He looking her head to toe twinkle feel so bad. He cupped her face while try to jerk his hand.
In another room. Aditi push Purushottam on bed and he laugh out. She come top of her.
Purushottam: what's your plan..
Aditi:to kill you with my hotness.. Purushottam moving his hand on her body.
Purushottam: why you are so covered let's wear something else..
Aditi: I don't need I'm already very hot. You should change.
Purushottam: yeah I'm too thinking same. Purushottam went in washroom.
Aditi: chii.. I'll do something before he come back. Aditi lock the washroom door from outside and she started checking Purushottam wardrobe and drawers.She got one dairy and some papers.What is this I hope this work out for BF.than her eyes went on something she get shocked to see in wardrobe Kunj and yuvi father and some other man photo too there. She take it. And put in her bag. She spray something in room due to this spray Purushottam little bite dizzy.
At down kunj finding twinkle everywhere.
Kunj:where this girl went babaji.. he get tensed he went towards abeer and asked him about twinkle. Abeer where is twinkle.
Abeer:I don't know kunj. Someone call her so.
Kunj:what I warn her still where I'll find her. Yuvi let's find her please before something happened wrong with her.
Yuvi:what about our mission.
Kunj:revenge is not important than her..Kunj and yuvi started finding twinkle everywhere but not find her. Kunj heart beating started fast. Please god save her.
Kunj went for rescue to twinkle..
In room man push twinkle on bed and come top of her while twinkle screaming and crying badly.
Twinkle; please forgot sake leave me.
Man:don't cry I'll not do anything just love your body.Twinkle push him started throwing things at him.Don't do this you'll make it hard for me.he garb twinkle hairs and slap her so hardly blood started coming from her lips.He tore her sleeves twinkle get shocked.
Twinkle: please help me… screaming.
Man:no one'll come here too save you baby here is normal if you go in any room you'll find makeout ?..laughing like a devil. He throw twinkle on bed and started forcing her twinkle protesting herself but all went in veins..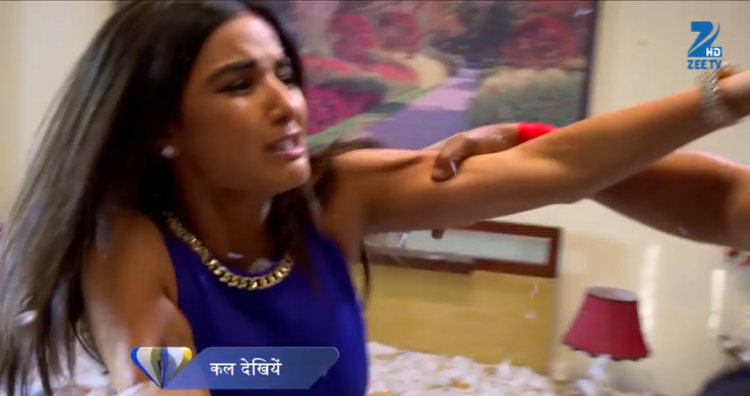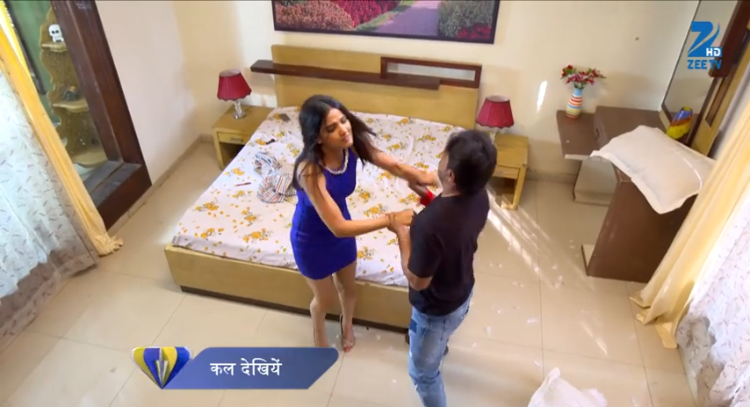 Kunj: where she is.. he check in one room and find girl and man makeout..he shut the door and running here. And there just than he stop and heard screaming voice is coming..
Twinkle:kunjjjjjjjjjjjjjjjjjjjjjjj..
Kunj: Twinkle ki awaaz hai yeh toh. Kunj went towards door and keep his ears near door and listen twinkle screaming. He try to open the door but door locked. Shit. No no. He see hair pin in side he take and try to open the door after so much finally kunj unlock the door and open the door with jerk and see twinkle on bed and man forcefully with her he get hell shocked. Twinkle struggles. Man turned and see kunj.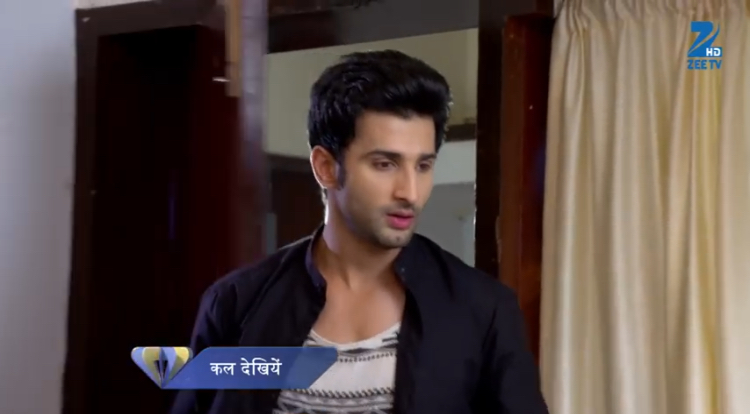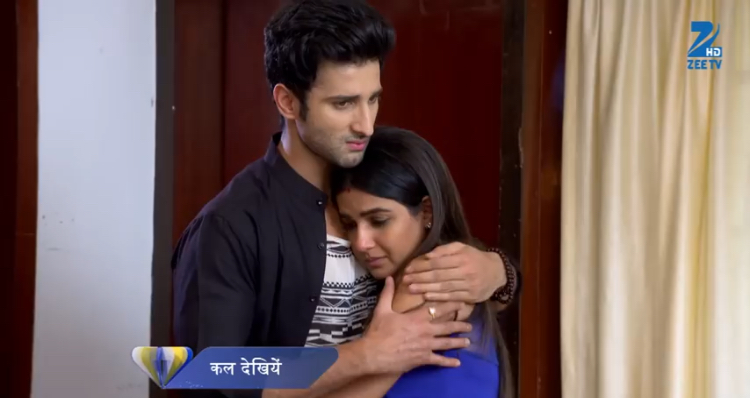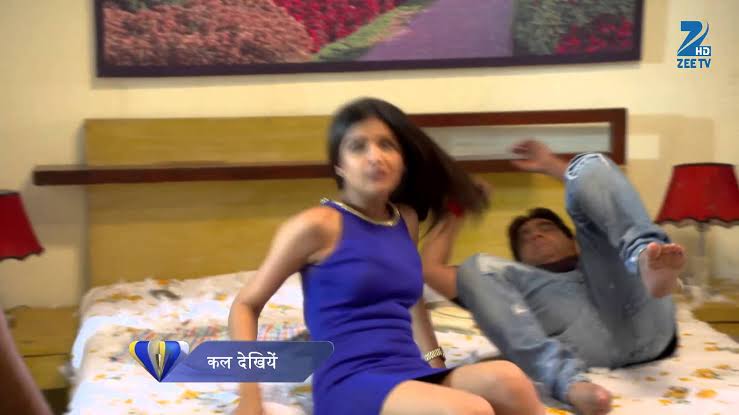 Man: hey what is this.
Kunj: you buster..
Twinkle: kunjj. She push him and run to kunj and hugged him tightly Kunj..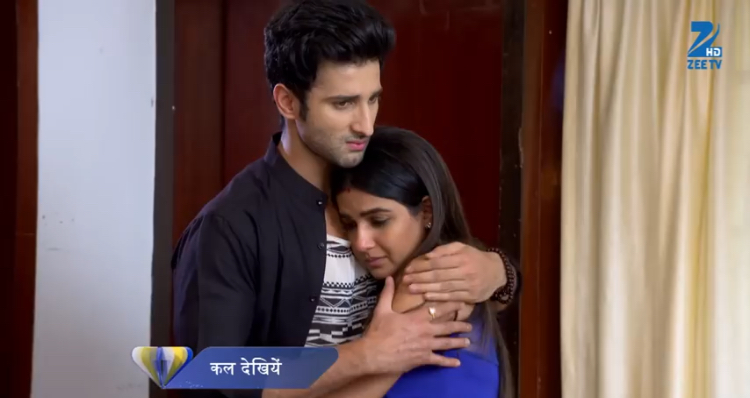 please save me.. Kunj look at that man with anger his anger limit cross today he see twinkle keep her in side and that man try to touch twinkle..
Kunj: don't try to touch her I'm saying you nicely.
Man:acha you'll stop me haa. I'll pay for her.
Kunj: she is not that what you thinking go somewhere else not here..
man:why you have so much problems.i know she is not that whore but I wanted to enjoy with her.Let's share her Kunj slap him so hardly he land on floor.Heyyy you'll gone.. he started fighting with kunj while kunj didn't leave him too back make his eyes blue and black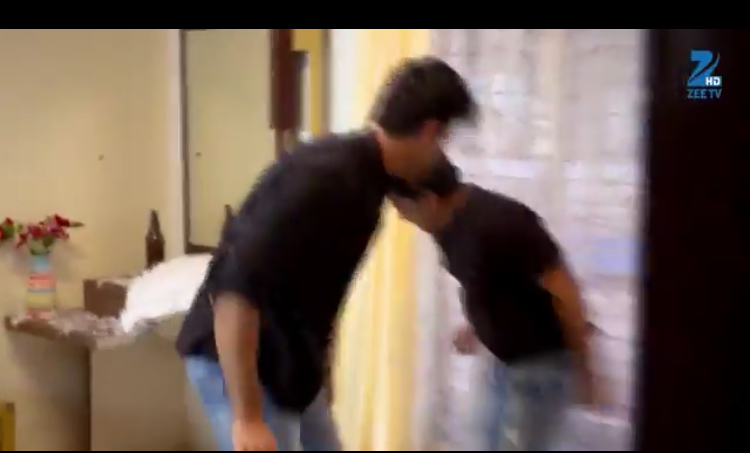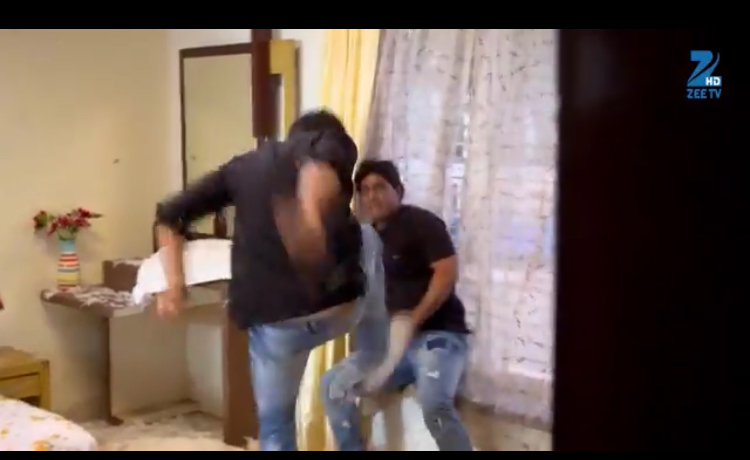 .Kunj take the bottle about to hit him but twinkle scream.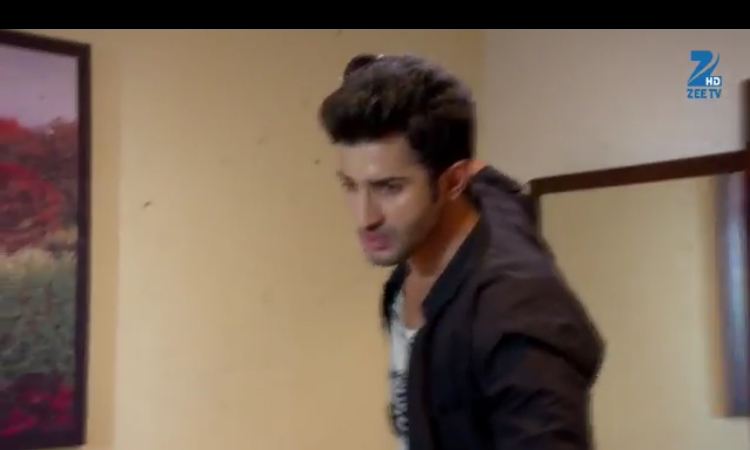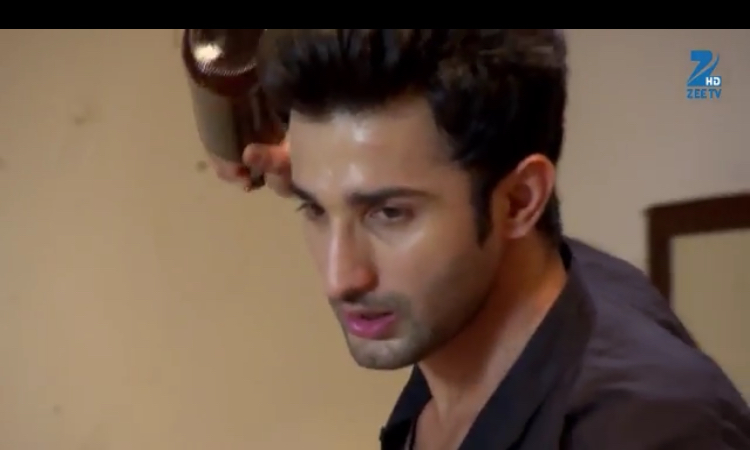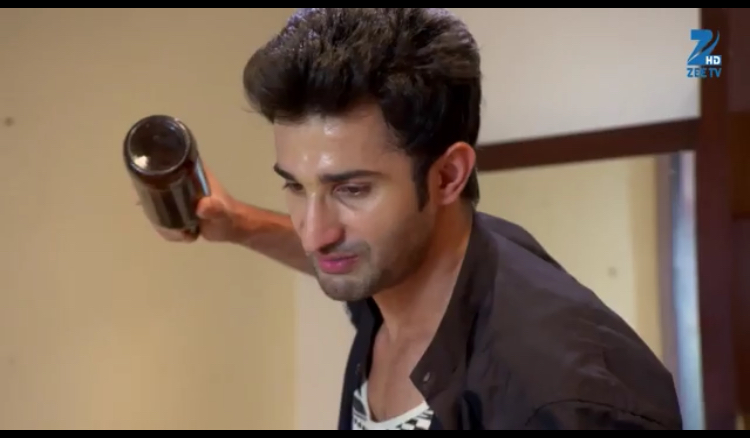 Twinkle:kunjj no.. please..
Kunj:you buster you'll buy her haa he throw that bottle on floor.How dare you. He again hit him.he get unconscious
While twinkle started sobbing so horribly cuddles herself and sit in corner.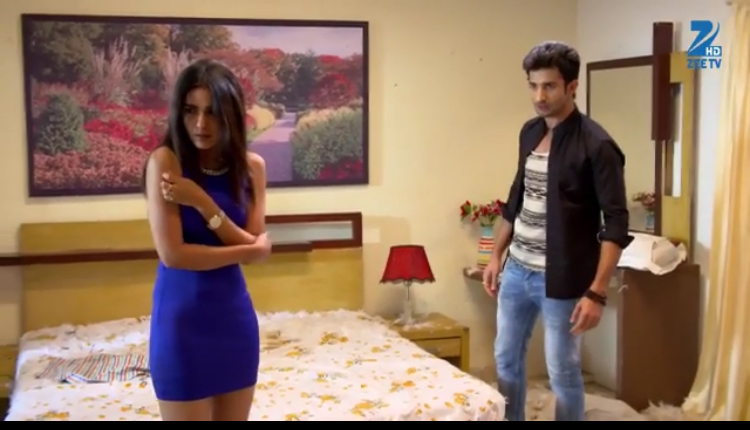 Kunj see her feel so bad he take the deep breath and went towards her removed his blazer and make her stand with his hand and make her wear his blazer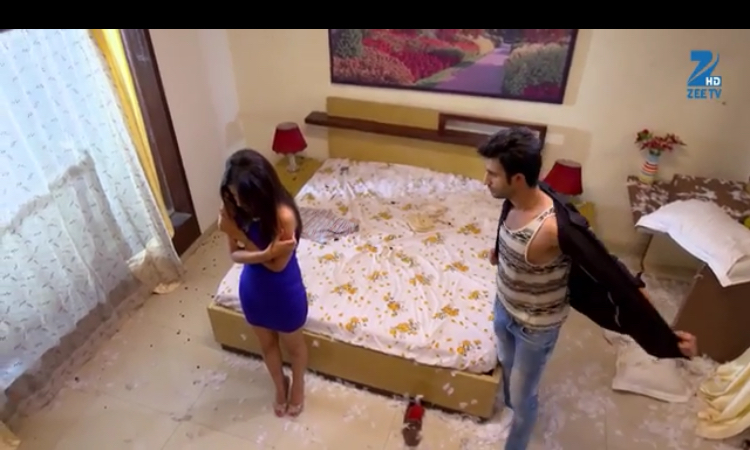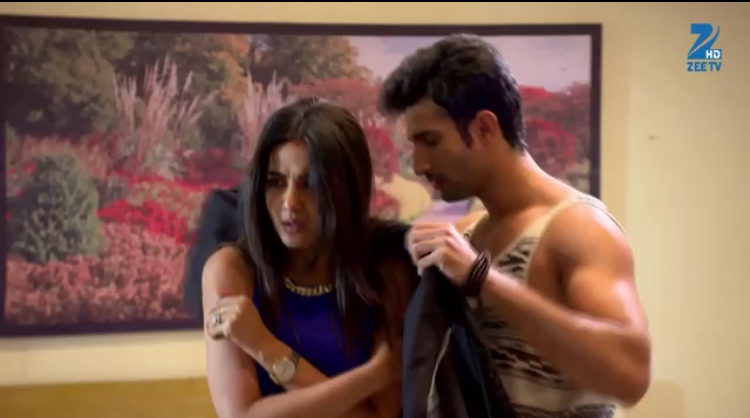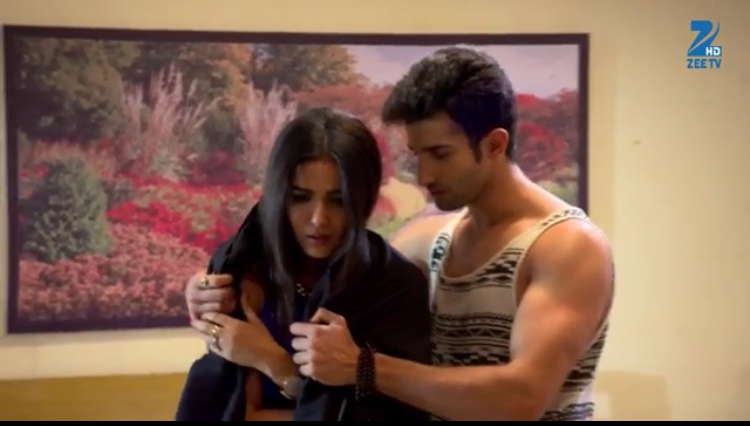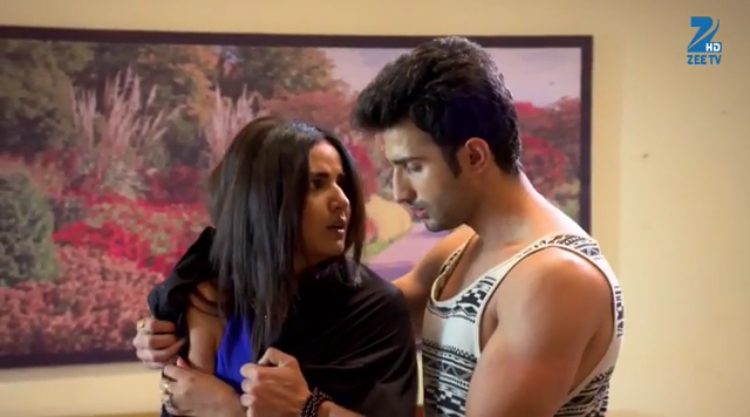 Kunj look at twinkle lips blood oozing from her lips he closed his fist.That he don't wanted to happen that only happened.
Kunj:are you fine na..just nodded her head in yes.. he take her downstairs till now while party and Deewan mansion turned into brothel place.This all  weren't guest but girls are pr*stitute and showing their whoredom.twinkle crying slightly.. abeer and Mehar see twinkle condition and get shocked Aditi and Yuvi come and look at Kunj. They all went outside.
Yuvi: what happened?? Twinkle push kunj and looking at him with anger..
Twinkle:how dare you stoop so low Kunj Sarna haa.Kunj get shocked.
Episode freezes on twinkle face while kunj Num. Find a mask and wear it well so your true identity no one can tell .. life is likes this only many of do this..
The closing years of life are like the end of a masquerade party, when the masks are dropped.?????????
__________________________________
hows you all. Hope enjoy the episode.. let's see what will happen now next..???
give your views please.. allahafiz bye ??❤️