ISHQBAAZI DIL SE– CHAPTER 10– IS SHIVAAY JEALOUS??
Hi guys!!!!!!!! I know I m super super late in posting this and I m really sorry for it and will try in future to update regularly…….
Thanks to everyone for commenting and liking my previous posts…. And please continue to do so…….
Link to previous episode: all episodes are here
---
Daksh was holding Anika by her waist and Anika was trying to free herself out. Just then Shivaay enters and had an uncontrollable fit of anger.. And before he could calm his inner self and think, he spoke…
Shi: MR. KHURRANA!!!!! I think u don't have manners or don't have an idea on how to behave with unknown girls…
Dak: No No Mr. Oberoi!! I have manners and that too better than urs or else I wouldn't go and interfere someone's talks… And regarding Anika, I know her so she is not unknown…
But still, that cheapo hadn't left Anika's waist… On listening his sentence, Anika and Shivaay see each other when Anika signs that he was lying and both glare that CHEPADA!!!! Daksh senses it and realize on where he went wrong…
Dak: I mean I don't y but I feel some special connection with her… As if I know her from quite a long time!!
Shi: But u know her only for few minutes so u should leave her (indicating towards his hand which was holding Anika's waist) U know just telling the reality…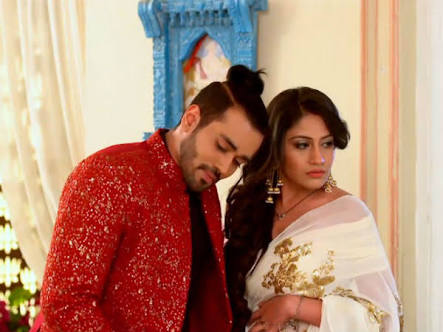 Daksh releases Anika and goes towards counter and Anika is left with Shivaay…
Shi: Let's go or else we will miss the…
Ani: Thank u…
Shi: For what???
Ani: for saving me from that cheapo!!
Shi: It's OK… I would have done it for any other girl.. Shall we??? (pointing towards counter)
Ani: U go ahead…
Shi: Y?? Cancelled the trip??
Ani: No…. (pointing towards sprain) with this I can't walk fast..
Shivaay holds her hand and starts to walk without saying anything….
Back in Delhi,
Dev reaches Sona's home greets her parents and shouts…
Dev: Sonakshi!!!!! Wake up yaa.. I knew u wouldn't have woken up so came early…
Sona comes sleepily outside and smiles seeing her Dev and looks at watch and….
Sona: Shit!!! Shit!! It's 10:30 and I m not even ready… I have to take a bath (places her hand on her hair) Oh No!!!! have to wash my hair, get ready and reach airport all within 2 and 1/2 hours….
And she runs inside her room leaving her parents, siblings and her Dev in splits..
Back in flight, Shivaay indicates Rudra to sit with some stranger and goes to sit Anika…
OmRi were sitting together and Daksh and Neil… Daksh and Neil were fuming with anger on seeing Shivaay sitting with Anika.
Om (speaking very close to Gauri's ears): r u scared of the flights??
Gau: Oh r u trying to be flirty???
Om: whatever u think ( and pecks on her cheeks to which she blushes and wraps her arms around his)
On Daksh and Neil's seats,
N: How's Shivaay with Anika???
D: That guy is very interfering… He didn't even let me talk to her properly…
N: What?? Didn't he come with us???
D: Yeah and I tried to take advantage of the situation but he suddenly came and started shouting… Just do something or else he'll become a major hinderance for our plan…
N: Don't worry he has a surprise waiting for hin in Delhi…
On Shivika' seats,
S: U ok?? I mean ur leg???
Ani: Yeah I m completely fine.. Go and sit on ur seat..
S: I m sitting over here only… (blushed )
A: Ooo (smiles to herself) Then sit!!
Shivaay sits and smiles at her..
Flight is about to take off and suddenly Anika holds Shivaay's wrist tightly and closes her eyes simultaneously… Shivaay looks towards and gets completely lost in her innocence and that cute face…
As the plane stabilizes, Anika gradually opens her eyes and leaves Shivaay's wrist… Shivaay also got distracted and looks here there…
A: I m sorry!! Actually I m scared when the plane takes off and lands down…
S: It's Ok…
In Delhi,
Dev: Sona !! I think u r done for today… Come on!!
Sona: Just a sec let me complete my mascara…
Dev: ( after sometime) R u making mascara solution or applying it??
Sona: shut up ( and she steps out)
Dev couldn't control himself and blurted out.. : Looking S**y Babes!!!
And suddenly hears the giggles and realizes the number of people around.. Out of shyness, he pulls Sona to car and they both leave…
Sona: Dev, we also have to pick 'her'…
Dev: No, we r going straight… Ask her to come timely….
Sona: Ok!!!
Precap: Who's she??? What's Neil's surprise???
Author's note: thank u guys for ur wonderful support and love…….. Please do comment on this story… Both negative and positive comments r invited… Also do like the story..