ISHQ SUKOON BHI HAI AUR JUNOON BHI (Chapter: 4)
SORRY GUYS I HAVE BEEN A LITTLE BUSY FOR LAST TWO DAYS SO COULD NOT POST ANOTHER UPDATE
BUT HERE I AM WITH ANOTHER UPDATE
LETS GAT STARTED…..
so after a heated arguement with kabir, riddhima was going through the files vansh gave her . they looked at each other and had a brief eye lock
then vansh's phone rings , he picks up the call and say we will be there tommorow .
he turns towards riddhima and says " riddhima, pack your bags we have to go to goa for a very important meeting . angre will give you the files read it get it signed by me "
she says " sir… but.."
vansh says " no, if and but , riddhima this deal is very important for me "
she says ok I will pack my bags and meet you at the airport "
RIDDHIMA'S POV
she reaches her apartment and receives vansh's message that meet me at the airport in 2 hours
she says " 2 hours , this man doesn't know that girls need time to pack their bags "
she packs her thing fast and keep all files
VANSH'S POV
he has reached the airport and his private jet was ready
he looked at his watch and says " why is she taking so long , these girls take so long to pack bags just for three days meeting "
just then his eyes saw something very mesmerizing and his heart skipped a beat
IT WAS RIDDHIMA . He couldn't understand what was this feeling but was very certain that this is something special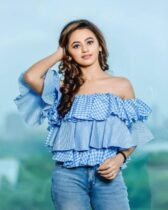 she looks so pretty and damn hot
vansh asked her if she is ready and read the files
she said " yes , you just have to sign it "
they boarded the flight and in sometime they were in goa . they went to the hotel , vansh asked riddhima to freshen up and keep the files in his room .
they went to their respective room and riddhima took a bath , got dressed up and went to vansh's room t0 give the files .
the door of his room was open yet she knockned but vansh was in washroom so he did not reply . she thought that she will keep the files and go .
So she went inside and kept the files as she turned around vansh came out of the washroom , he was standing shirtless . she looked at him , he was looking damn hot and was wet  . suddenly she realised that he was shirtless and turned her face to the other side .
she felt embarrassed and said " Sorry sir , I just came here to give the files  I though you have gone somewhere so I came inside "
he said " it's ok miss riddhima , now if you can pass on the shirt to me "
she took the shirt and was giving to him without looking in that direction
he got a grip of the shirt but there was water spilled on the floor and he slipped , riddhima was holding on corner of the shirt so she fell down too.
she had closed her eyes and when she opened it , she saw the most handsome face in front of her . IT WAS VANSH . she was on top of him . there bodies were so closed that they feel each others breathe . riddhima's one hand was on vansh's chest so she could even feel his heartbeat  . they had a brief eye lock
they silence was broken due the knock at the door . it was angre , he came there to call vansh for the meeting .
riddhima went to her room and vansh got dressed up .
they left for the meeting which was to be at a beach .
PRECAP: RIDDIMA IS SEEN TALKING TO A MAN AND VANSH ASK HER HOW DOES SHE KNOW HIM . IS THERE SOMETHING SHE IS HIDING.