So guys I am back 🖐️
Let's start
Riddhima (shouted from washroom)- what is this vansh?
Vansh- what riddhima.
Riddhima- This.
Vansh- what this sweetheart see I don't understand what are you saying 😉.
Riddhima- shut up vansh and tell me what you have gifted me this 👇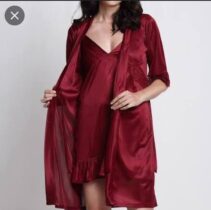 Vansh- what Sweetheart this is the best gift I have given you for our honeymoon.
Riddhima- this is the gift of honeymoon.
Vansh- of course sweetheart
Riddhima- this 3piece set.
Vansh- Yes the s*xiest outfit for you.
Riddhima- no I will not wear it.
Vansh- you have to.
Riddhima- No I will not.
Vansh- rather you don't have any option.
Riddhima- I have.
Vansh- what??
Riddhima- My saree which I wore and come with you.
Vansh- No that is wet in the washroom right bcz floor was wet that's why you saree also get wet. So how can you wear that?
Riddhima- Yes my saree is wet but I will wear wet saree but not this.
Vansh- if you wear your wet saree. So I myself will tear that and then you have to wear this till we reach our home. Now it's your choice.
Riddhima- no ways. I can't wear this in front of family and dadi/maa. What they will thought.
Vansh- So, wear  this right away in front of your husband.
Riddhima (sadly)- OK I will wear it.
Vansh (happily)- Yeahhh!!!!!
After sometime Ridhima came out by wearing the gift which vansh gave it to her and seeing her in that dress vansh was mesmerized by her beauty.
Riddhima- what happened vansh?
Vansh- nothing sweetheart. Just planning what to do next.
Saying this vansh pick riddhima in his arms and placed her on the bed and was about to come over her and stop thinking of the baby and laid beside her started nuzzling her neck and giving her wet kisses all over her body and making her as his Sweetheart once again.
(I don't know about romantic scenes so please sorry 🥺).
Next day in the morning 🌄
Ridhima woke up the first due to sunlight and goes to freshen up and was hell tired due to last night. So she started……
Again suspence 😜
Sorry but I don't know anything related to romantic scenes 🙂.