Ishq Ka Rang Safed Review: Gripping tale supporting widow remarriage and right to relive
Ishq Ka Rang Safed is a new show on Colors. It beings a social message of widow remarriage. Like its hit show Balika Vadhu, this show also promises to be one of the unconventional show presenting a unique love story between a bachelor guy and a widow. It raises the question on why should a widow spend a simple life after her husband's death, when his death is not in her control. The main lead Dhaani spends a widow life in the ashram by leaving all the worldly desires and adornments like any girl of her age. Dhaani lives in the guilt of her husband's death, which happened accidentally. She is young, pretty and a positive soul who lost her happiness and living after becoming a widow.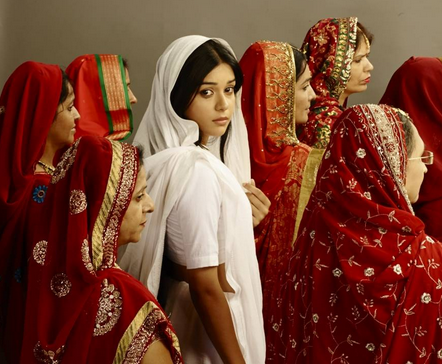 The show is set in Banares and the lovers meet at the Ganga shore. Viplav Tripathi is the grandson of Mahant Dasharath Tripathi. His grandpa has a big image and respect in Banares. He is religious head of the place. Viplav has come from America on vacation and meets Dhaani. Their destiny brings them together. He is mischievous and his pranks on her makes her land in troubles. This makes Viplav realize how he is responsible for creating problems in her life. He sees a new world around him, which is manipulative and harsh on the widows. He becomes the hero in her life to take a stand for her and thus fill colors in her plain life.
Main Characters:
Dhaani: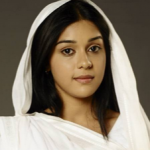 She is a sweet, simple and honest girl. She became a widow at an early age. She lives in guilt by the mistake which caused her husband's death. She is beautiful and also good hearted. She left all the dreams to adorn good clothes and ornaments after her husband's death. She stays in the widow ashram with her mother Dulaari and Badi Amma. She is leading a dignified life in the ashram by obeying all the rules of Dharma. She also keeps all the good values and traditions. She is determined and a fighter, when it comes to stand against wrong. But she limits herself to speak her mind, unlike Viplav.
Viplav Tripathi: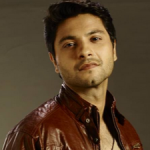 Viplav is smart, flamboyant, carefree and spoilt guy. His grandfather Dasharath never lets him accept his mistake and apologize to anyone for his mistakes. Dasharath asks him to live a king's rule in his Banares and fills ego in Viplav. Viplav has his grandmother Sushma who is like a friend for him. Viplav is good hearted and realizes the harsh realities of Dasharath's rule. He supports the women and respects them. Viplav turns out to be brave hero for Dhaani, who fights against all odds for her respect. He never stops himself from speaking his mind and is not afraid of Dasharath. He cares for Dasharath's health and is mistaken about Dasharath's true face.
Mahant Dashrath Tripathi: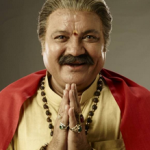 He is an orthodox, selfish, cunning religious pandit of Banares. He heads the city with his old traditions and dominates them on the name of Dharma. He is clever and manipulative. He does not respect women. He believes women are just to cook and clean home. He ill treats his wife Sushma and hates the widow Dhaani. He could not bear when his grandson Viplav goes to apologize to Dhaani and opposes to it. He punishes Dhaani by provoking the pandits to take revenge from Dhaani, by sealing their temple. He puts the blame on innocent Dhaani and clears Viplav's name from the mischief easily. He knows how to play safe well.
Sushma Tripathi: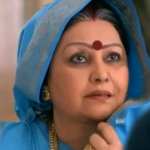 She is Dasharath's wife. She is good hearted, kind and righteous woman. She is often shown crying and bearing the punishment of her bad fate to be his wife. She is hurt seeing the mean selfish side of her husband. She still holds a power to make her grandson Viplav follow the right path. She gives values to Viplav to respect women and save them from troubles. Though Viplav's mother is a negative person, Sushma turns to be a friend for her grand children Viplav and Shalini. Her son Shambu is obedient and positive person.
Tripurari: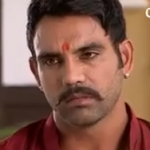 Tripurari is the goon who shows his good image to everyone. He works for Dasharath and respects him as his father. He is the only one who knows Dasharath's true face and is his right hand. He is the one who executes Dasharath's evil plans and keeps him updated about the changes happening in Banares. Tripurari is not liked by Viplav's mum. He does not enter Dasharath's home and still holds importance in Dasharath's life. Tripurari makes the pandits against Dhaani and provokes them to burn widow ashram and beat up Dhaani.
Cast:
Mishal Raheja as Viplav Tripathi
Eisha Singh as Dhaani
Arun Bakshi as Mahant Dashrath Tripathi
Dakssh Ajit Singh as Tripurari
Khushbu Thakkar as Shalini Tripathi
Vidya Sinha as Sushma Tripathi
Garima Shrivastav
Pratima Kazmi
Story So Far: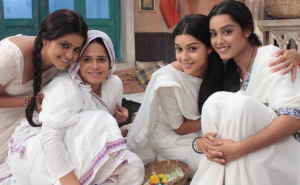 The story is set in Banares. Viplav is shown with his friends at the ghat. They see a lady and bet on her age. He dives in the water and follows her. He meets Dhaani and asks her age, telling her about the bet. She scolds him and tells him the importance of Prasad. Viplav tells his friends that his Dada ji Dasharath has kept his birthday party at home. Dasharath comes to the ghat and prays along the group of pandits. The water pot falls from his hand and Dhaani picks it. She gives it to him. Dasharath asks her to fill Gangajal in it as its inauspicious for a widow to touch the holy water pot. Dhaani then comes to her ashram and tells her Badi Amma about the incident at the ghat. Dhaani stays with many widows in the ashram, along her mother Dulaari and Badi Amma.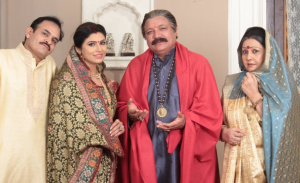 Dasharath comes home and throws the water pot touched by Dhaani and shows his anger. Viplav's family has Dada ji Dasharath, Dadi ji Sushma, parents and his bubbly sister Shalini. The widow's life is shown in the ashram where they are not allowed to eat good food too and punished for their husband's death and bad fate. Sushma asks Viplav for his marriage. He says he has no plans right now. The widow customs are highlighted in the ashram. Viplav's birthday is celebrated at home. Viplav does some charity on his birthday. Dhaani and Viplav meet again and argue. She refuses for the clothes he is giving everyone for charity. Viplav gets angry on her refusal and throws red holi on her. Dhaani cries seeing the red color on her white clothes and gets shocked. Dhaani tells Viplav that he did a sin to insult a widow. She says Lord will never forgive him and he asks her why is she showing attitude to him for a small thing. She calls him Rakshaks and he gets humiliated infront of his friends. Dasharath's more colors are shown.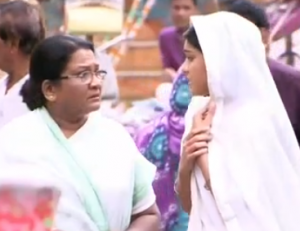 Dhaani comes home with color on her clothes. Dulaari beats her as its sin for a widow to have color in her life. Dhaani cries and says she is innocent. Badi Amma takes her side. Viplav and his friend spot Dhaani doing morning puja at the ghat. He goes to her and adds wine in the water pot. He says it will be fun now. Dhaani does the puja and is about to pour the wine on the Shivling. The pandit smells the wine and stops her. He scolds Dhaani for dong this adharma. The people get angry on her. The pandit asks inspector to arrest Dhaani. The inspector sees the CCTV footage and also Viplav putting the wine in the pot. He says this can bring bad reputation to Dasharath. He sends someone to inform Dasharath.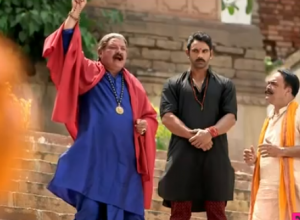 Viplav accepts his crime in the police station. Dasharath gets angry knowing this. Viplav clears Dhaani's name. Dhaani scolds him for his mischief. She gives him a good lecture. Viplav does not understand her problem. Sushma asks him to apologize to Dhaani and sends him. He fails to apologize. Dhaani runs seeing him. Dasharath scolds Viplav for spoiling his name. He asks him never to accept his mistake and apologize to common people, being Mahant's grandson. He scolds his wife Sushma for spoiling Viplav's mind. Dasharath meets Tripurari and makes a plan. They shut the temple for one year and tell the pandits to remake the temple and maintain its purity. Dasharath blames Dhaani for making the temple impure. Tripurari provokes them to take revenge from Dhaani and sends them to the ashram to beat Dhaani and burn the ashram. Dhaani gets a work to make Lord's clothes and garlands. She gets busy doing the work along with others widows. The angry people come to the ashram to beat her up.
Our Take: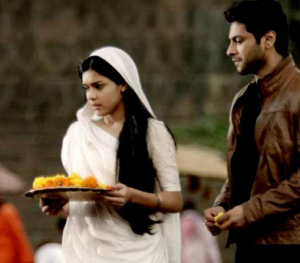 The show has multi-layered concept. It shows a big transform in the mindset of the carefree Viplav who has not seen the whole picture of biased people. He turns into a powerful intense guy after falling in love with Dhaani. He becomes the typical hero who always protects his love and stands against all problems. While Dhaani will be undergoing a big change from being a widow to Viplav's wife. The show will be breaking the orthodox norms of a widow's life and highlight the customs. The social message lies in the show. A widow is regarded to bring curse to the man she remarries. This myth is broken by this show. Viplav goes against all such myths and holds Dhaani's hand for lifetime. The screenplay is good with strong character definitions. There is a contrast in the leads and yet so subtle love story to form between them. The city of Banares is shown well. Though the story gets tiring to see Dasharath's bad schemes, it also grows interesting to see how the character of Viplav is growing towards a rebellious heroic one. Mishal Raheja is superb in this full fledged role and his chemistry with Eisha Singh is magical. Eisha Singh is awesome as Dhaani, depicting the sufferings of a widow. The supporting cast is good. The show has veteran actress Vidya Sinha. She is graceful in her portrayal. Arun Bakshi as Mahant Dashrath Tripathi will be remembered as the new villain of the small screen. The title track is not much addictive, but still it is convincing according to the theme. It was an impactful concept and will stay in people's heart for bringing the social cause of widow remarriage.
Overall: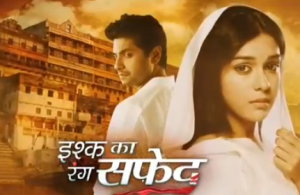 The show portrays orthodox traditions, widow customs and Dharma trends which still prevail in few places. It inspires people to see how a weak widow gets determined and stands for her pride. The second chance in Dhaani's life with Viplav's entry will be a captivating journey. Viplav would be breaking all the boundaries and rules of the society to marry a widow. Given the good concept and portrayals, the show is a good watch with a good cause. It is a wonderful attempt from Colors channel and earns a special point for the concept and leads chemistry.
Our Rating:
3 out of 5
Feel free to post your reviews in comments below. All off-topic comments will be deleted.