Ishq Aaj Kal (Love at these days) – Episode 5 (Rocky's Birthday)
The fifth episode of my fan-fiction Ishq Aaj Kal is here. The episode starts with,
Rocky's house,
Aliya and Avni are making fun of Rocky. Mansi and Roumil are laughing. Rocky reaches there and asks, "What drama is going here?" Aliya says, "Nothing, bhaiya. We are just talking about Shivangi bhabhi. We are just imagining how are you flirting with her." Avni continues, "When our bro is in mountains waiting for bhabhi, bhabhi comes behind Rocky and she hugs him. Then, Kyunki tum hi ho, ab tum hi ho(recites song in a funny manner).." Rocky says, "You guys are too much. I won't allow Avni to go for college trip" Avni pretends to be crying. Rocky stammers, "Aaliyaa… too". Aaliya says,"Don't worry, bhai. I won't go for any trip. I always make fun of my cute brother." Rocky hits Aaliya's head lightly. They hugs.
In Rocky's room,
Shivangi rings Rocky, "Rocky, do you know what day is on tomorrow?" Rocky says, "Yeah, of course. Its my birthday. So, what have you planned?" Shivangi says, "Fool, none will reveal before birthday. Wait till tomorrow. Do one thing, Rocky." Rocky asks, "What?" Shivangi says, "You must obey whatever I assigned you to do.Promise me." Rocky replies, "Really. Never. You're a crazy girl. Who knows? Even for noodles drama, you may be taking revenge from me." Shivangi blinks, "Please trust me, Rocky". Rocky replies, "Its crazy to trust you. But only for tomorrow." Shivangi kisses and says, "Thats sweet".
Night, 11.30PM
Someone enters Rocky's room. Rocky is sleeping. The stranger hits Rocky's head and put into his car. The stranger ties his legs, eyes and hands. The car moves to the forest. The stranger makes Rocky wake up and remove the blindfolds from his eyes. Rocky shouts, "No, Why are you taking me to this scary forest?Someone save me. I may die. Its so dark. Someone lit the fire." The stranger removes the cloth from his face. It is Shivangi.
Rocky screams,"Shivangi, are you crazy? Why have you brought me?" Shivangi answers, "Rocky, you know onething. From this birthday onwards, you are going to free all your tiny and big or useless fears." Rocky replies in a sarcastic scary tone, "So, I have become a toy in your crazy plan." Shivangi continues, :Rocky, I know this is ghost forest. But it is just a myth. I also know you are scared of darkness even you lit a lamp in your bedroom. So, you are going to overcome this fear." Rocky mumbles, "Holy shit." Shivangi takes a large cake and asks him to cut the cake. She frees his hand. He cuts the cake and give a piece to Shivangi. Then they applied cake on eachother's face. Rocky hugs Shivangi. Shivangi caressed his head. The tune plays (0.20 – 1.10)

The next day,
Shivangi takes Rocky to his house. Shivangi thinks, "Thanks to Ruchika aunty, Mansi aunty and Roumil for suggesting this idea. I know that I could clear all his worst fears." Rocky sarcastically says to Shivangi, "You too have some fears. Let me revenge on your birthday." Shivangi smiles.
Shivangi gives Rocky a box. Roumil asks him to keep his hands in the box for 10 seconds. Mansi says, "First let him open the box." Avni gets the box from Rocky and opens and shows to him. It is full of cockroaches.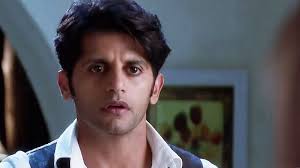 Rocky screams. Aaliya hold his hand and let keep his hand on the cockroaches box. Rocky mumbles, "Durga mata ki jai. Durga mata ki jai…" Shivangi counts till five. Rocky removes hand from the box hurriedly and thinks, "This cockroaches doesn't bite me, surprising. Next time if I see cockroaches, I should put on Shivangi's dress." Rocky smiles at Shivangi. All joins together and shouts, "Fear no. 2, BUSTED"
Shivangi takes Rocky to her house. Ruchika smiles at him thinking, "What a pity my son-in-law.Enjoy your day." Rithik welcomes him. Angad, Divya and Amrita says, "Have lunch, Rocky." Rocky agrees to them. Gautami keeps a two plates of roasted fish. Rocky stares at Shivangi. Shivangi says, "I know you won't like seafood. But now…" Rocky stands up, "Shivangi, Enough is enough." Shivangi reminds his promise. Rocky keeps his face childish and sit on the chair. Rithik asks Shivangi to leave. Shivangi is adamant. Rocky ate some pieces of fish. Somehow he managed to eat one plate. Shivangi says, "Ok, Rocky. Its time for Chicken Biriyani." Rocky feels excited, "Are you sure that the hen is dead or you prepared living hen biriyani?" (Tune plays)

All laughs at Shivangi. Gautami says,"Didi, you are too much." Rocky hifies with Gautami. Shivangi asks them to shut up. Shivangi says, "Don't worry, Rocky. This Biriyani is your favorite. Congratulations, Fear no.3 BUSTED"
At Evening,
Shivangi takes Rocky to a blood donation centre. Rocky exclaims,"Shivangi, please. I am fear of blood. I don't even took Biology group in my 11th grade. Please leave me." Shivangi replies, "FEAR HAS LARGE SHADOW BUT IT IS SMALL. Even I fear of blood, Rocky. So, we both are going to bust this blood fear." Rocky agrees to her after realizing his fear for ghost, cockroches, fishes and darkness is minimized. Even he wishes to bust the blood fear. Shivangi and Rocky donated blood and comes outside happily.
At night,
Rocky asks Shivangi, "Is everything over, madam ji." Shivangi takes Rocky's phone and dials a number and asks him to speak. Rocky is confused but before asking her, someone speaks from phone.
Rocky: Hello,
Other sider: Oh, wow. You're calling me. Thats great.
Rocky senses the voice and cuts the call. Shivangi asks, "Why did you cut the call? No problem. Call him and apologize." Rocky refuses and says, "I am guilty to speak to him."

Shivangi caressed his hair and says, "Rocky, he was your best friend till your 12th std. On that day, you both had a fight. I know this from Roumil. You accept that you are at fault. Also, you both were too young at that time. Its been years now. Please speak to him. Time heals the pain, Rocky. Good friends are like good teachers, Rocky." Rocky hesitantly calls him. He speaks to his friend. They sorted out their differences. The friends are reunited. Rocky sees Shivangi, Shivangi smiles at him. Rocky hugs her tightly. Fear No.5 BUSTED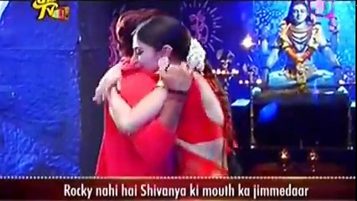 To be continued….