Ishq Aaj Kal (Love at these days) Episode 4 (Noodles Drama)
The fourth Episode of my fan-fiction Ishq Aaj Kal is here. The episiode starts with,
Shivangi Rocky are enjoying the warmth in the fire inside the the small house. Shivangi and Rocky yawns. Rocky says, "Shivangi, Its time now. We shall sleep." Shivangi nods. Rocky says, "Shivangi, you can sleep in the next room which has a small bed and blanket." Shivangi asks him, "Where will you sleep?" Rocky says, "I'll sleep in this room." Shivangi denies, "Rocky, that room is dusty. Its not good to sleep in that room. You can sleep with me." Rocky says, "I don't think you'll feel comfortable with me in one room especially at night."
Shivangi thinks, "He longs only for my love and not my body. He passed the test."
(Raanjhanaa song plays)
Shivangi says, "I have full faith in you, come on." Rocky says something but Shivangi interrupts and drags him to the room. There is two mats. They both sleep in mats leaving the bed aside.
Next day,
Shivangi wakes up Rocky and asks, "Is it possible to repair your car? Even the snow is melted." Rocky denies and says, "We have to change one tyre". Shivangi says, "Its ok. We are getting signal in our phones. Better we ahall inform our family." They both inform and leaves the small hut.
They walked together and reached the streets. They see a small dhaba there. Rocky says, "You are feeling hungry. Shall we eat something?" Shivangi says, "Sure. Even you're hungry than me." Rocky smiles and orders a coffee and a plate of noodles for himself. Shivangi see him weirdly and says, "Could anyone have coffee before noodles?" Rocky takes a plate and mixes both coffee and noodles together and eat it. Shivangi gave a weirdest expression after seeing this. Rocky see her and asks, "Do you want this? It is delicious." Shivangi's unchanged expression signs no.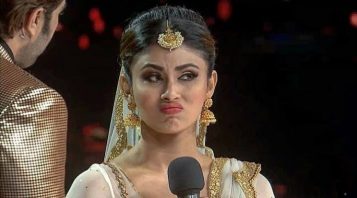 A girl patted Shivangi's shoulder . Shivangi and Rocky see her and it is Meera (Surbhi Jyoti from Tanhaiyan). Rocky and Shivangi hugs her. Rocky asks her, "Do you know Shivangi before?"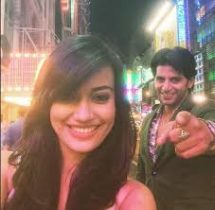 Shivangi asks, "Do you Rocky before?"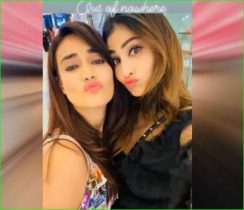 Rocky says, "She should answer me first as I am her best friend " Shivangi says, "No ways. She shiuld answer me first." Rocky and Shivangi starts to fight. Rocky take the noodles near Shivangi and she pushes to Rocky. Rocky laughs at her.
Meera says, "Hello fools, You both are my friends. I am Rocky's neighbour and Shivangi's class friend". Shivangi and Rocky smiles. Meera says, "What are you both doing here together?" Shivangi and Rocky explained the whole story including Noodles Coffee drama. Meera laughs heartily and pats Shivangi.
Meera says, "So, you must eat noodles coffee dish." Shivangi says, "I have tried many different combo dishes in roadside stalls. But this is so weirdest." Meera says, "It is the tastiest dish. Even I hesitate to have this. But Rocky forcibly made me to eat." Rocky says, "Shall we make Shivangi eat, Meera?" Meera smirks at Rocky. Shivangi tries to run. Meera hold her hand tightly and Rocky made her eat the noodles coffee dish.
Shivangi coughs. Meera leaves the hand. Meera says, "How is the dish,Shivangi?" Shivangi weeps.
Rocky says, "I think we should not have compelled her. See she is so sad." Meera becomes dull.
Shivangi laughs suddenly and says, "Its a prank, guys." Rocky and Meera beats her lightly. Shivangi says, "This dish is very delicious, anyways. But Rocky is a fool. He knows that I am a great prankster but he couldn't even guess it." Meera and Shivangi laughs at Rocky.


Shivangi orders the same dish for herself and Meera.
After their crazy breakfast routine, Rocky asks Meera, "Have you found your love?" Meera says, "No…." Shivangi interrupts suddenly and says, "She is lying, Rocky. She always keep on speaking about boys in the school. She must have find a lover." Meera says, "Let me say, please wait." Shivangi says, "Ok, madam ji." Meera says, "I'm married." Rocky and Shivangi are shocked and laughed heartily. Rocky says, "Meera is so updated. But you didn't call us for your wedding." Shivangi agrees with Rocky. Shivangi says, "Who is that guy?" Meera says, "He is everything for me. His name is Haider."
Shivangi and Rocky laughs at her romantic dialogs. They keep on teasing her. Shivangi asks, "Where is your husband, Meera?" Meera says, "He has gone for booking a cab. We are going to Ooty as romantic trip." Meera feels shy. Shivangi says, "Thats great, sweetheart." Meera says, "Love is the thing that gives reason for our living, existence. Love completes ourselves and our partners. We should not only be like life partner but like soulmates." Rocky asks, "Why are you saying this context in this situation?" Meera says, "You'll understand soon."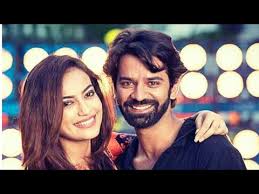 Haider comes there and says to Meera, "There is a cab. We shall go, sweetheart." Meera introduces Shivangi and Rocky to Haider. Haider says, "You both can come in our cab. We'll drop you both at your house." Shivangi and Rocky accepts. They hugs.