Ishq Aaj Kal (Love at these days) – Episode 14 (Fake Accounts)
The fourteenth episode of my fan-fiction is here. The episode starts with,
Shivangi's house,
Its 8'0 clock in the morning.Gautami is dancing for the song Aye Udi Udi Udi song which is heard through Radio. Shivangi enters the room, seeing surprised to see Gautami is dancing. Gautami drags Shivangi and they both dance. The song ends in the radio. Shivangi asks Gautami, "Hey, First time you have proved that you are my sister. What a craziness!" Gautami says, "hey, stop. You're crazy for 24 hours everyday, I am crazy for a special reason." Shivangi – " Oh, my sweetheart. So, Who is the reason for your craziness?" Gautami applies lipstick to her face saying, "Its Rahul. I am going to meet him today." Shivangi says, "Silly reason. Haven't you ever seen him?" Gautami says, "No, didi. I am seeing him today for the first time." Shivangi gave her a weird smile and think to speak something but Gautami interrupts, "Ms.Shivangi, Don't start your tales that Mansi aunty met Amar uncle only at the time of wedding. Ok? We are chatting through video call. Today is the day we are meeting." Shivangi pats her head. Shivangi – "Can't you show your Romeo to me?" Gautami hurries, "I'll forward you through Whatsapp.Bye." Gautami leaves. Shivangi leaves for Rocky's house.
Rocky's house,
Rocky is watching cricket busily with Roumil. Shivangi moves to Aaliya and Avni's room. The three share a warm hug. Avni says, "Bhabhi, you are stunning." Aaliya says, "Yes, its because of Wine's effect." Shivangi says, "Oh, it is not only Roumil's plan of intoxicating me, You both too involved in this plan ." Avni and Aaliya laughs. Avni says, "Let me get cupcakes for us." She leaves. Shivangi gets a message from her phone. She see Rahul's photo shown by Gautami.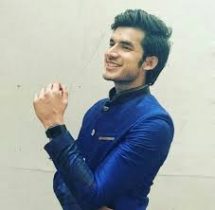 Shivangi murmurs, "Oh, wow. he is handsome. Gautami has chosen a good boy." Aaliya asks, "What are you speaking about?" Shivangi – "Oh, I told you about Gautami's boyfriend Rahul, She is going to meet him for the first time. Its his pic." Shows his pic to Aliya. Aaliya says, "I have seen him somewhere else." Shivangi says, "You might have seen him in matrimonial site." Aaliya denies, "No, bhabhi. I saw him in real somedays ago. something is fishy here." Shivangi says, "Don't confuse yourself. Be relaxed." Avni come there with cupcakes. They had some of the cakes. Aaliya shows Rahul's picture to Avni and asks,"Have we ever seen him anywhere?"
Avni answers casually. "He is my boyfriend, Raghav. Somedays ago, Rudra and you saw him with me. Within minutes, he leaves for some work." Aaliya is shocked. Shivangi asks, "Avni, are you sure that he is Raghav?" Avni nods and see them confusedly. Shivangi says, "He is Gautami's boyfriend, Rahul." Avni is shocked. Aaliya asks, "Can you give some of his photos?" Avni shows one of his photos.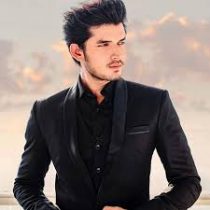 Shivangi is shocked to see both the photos are same. Aaliya and Avni are dumbstruck. Avni cries, "I belived him so much but he decieved him." Aaliya says, "What if both are twins?" Shivangi says, "Avni, Has he said anything about his siblings?" Avni says, "He said that his relatives are dead and he works in IT." Shivangi asks, "Does he have any tattoo or wound?" Avni thinks and says, "In his right wrist, there is a R symbol tattoo." Aaliya says, "How shall we find whether Rahul has R tattoo." Shivangi says, "I have two ways, First is to check his Instagram photos. Second is see him in real." Aaliya and Shivangi checks his social media accounts. Atlast they found a photo where in his right wrist there is R symbol tattoo. Shivangi says, "Rahul and Raghav are same."
Aaliya says, "Now, Gautami is gone for date. What shall we do now?" Shivangi says, "It is common in social media. Some boys or even girls would create fake IDs and flirt with girls and even call them for a date." Aaliya says, 'Bhabhi, what shall we do?" Shivangi says, "We should expose Raghav or Rahul infront of Gautami. We don't know how much girls he is going to decieve." Shivangi consoles Avni, "Avni, don't worry. Take it as an experience. Don't fall into these kind of traps anymore." Avni nods but she didn't stop crying. Aaliya asks Shivangi in a husky tone, "Bhabhi, what is the motive of these social media playboys?" Shivangi says, "Someone do this timepass. Someone do this for money. Someone do this for physical pleasure." Aaliya says, "Bhabhi, what if his motive is dangerous?"
Shivangi gets a text message from Gautami, "Shivangi, I am in love with Rahul. He is so possessive about me. I am going to Nainital with Rahul. Rahul and I needs privacy, so he is adamant to inform you. But I send this text to you secretly. Please say this to parents and make them calm. Sorry, my didi. Now, I am in train with my Rahul. I'll come home tomorrow night. Don't worry." Shivangi is shocked and inform this to Avni and Aaliya. Within two minutes, Avni gets a message from Raghav, "Avni, Shall we go for a romantic trip to Nainital? I know you will agree for the trip. Be ready at tomorrow 6AM. Don't inform this to others please as I want privacy." The three girls are freezed with shock
To be continued….