Ishq Aaj Kal (Love at these days) – Episode 13 (Love is in the air)
Recap:Rocky feels happy and thanks Roumil in his heart for intoxicating Shivangi. He kisses her on her forehead. They share a intense eyelock.
The episode starts with,
Shivangi asks Rocky, "Rocky, you are visible in two forms." Shivangi is high so that Rocky is visible two times. Rocky thinks, "You drunk too much without giving to me, so two Rockys are visible to you. Poor girl." Rocky says, "No, Shivangi. You shall sleep." Shivangi denies funnily and keeps her both hands on Rocky's neck. Shivangi says, "Do you know how much I love you? I love you more than tan90 degree." Rocky thinks, "What is she saying? tan90 degree means…." (Mathematically, tan90 degree means infinity)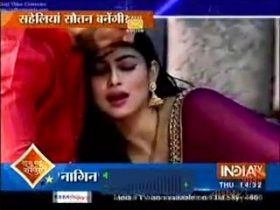 Shivangi says, "Though I love you, I love torturing you." Rocky is shocked and thinks, "Oh, then let me reciprocate it later." Shivangi continues, "You know Rocky, before our first meeting, I saw you thrice. I messaged you that I was in the place where you were. Then, you got excited to search me. But I hide somewhere else. You kept a sad expression on your face when you can't find me. I'll click those photos and I'd laugh with my friends. My friends pity on you. But I never pity. Do you remember, on being fooled by me, you gone inside your car angrily and then you ringed me. During that time, I wrote ' Fool, I love you' in the car glass and ran away." Rocky thinks of that incident where someone wrote like that and he was wondering to find that culprit, "This girl is hilarious than I think, So she is the one wrote on my car glass. I have to stay safe from her pranks. If I even think to prank her, she will kill me and make Biriyani." l says, "I feel sleepy Rocky." Rocky says, "No, dear Shivangi. I won't let you sleep. I'll pour cold water on your head."
Rocky holds Shivangi in his arms and take to bathroom. He pours cold water on Shivangi. Shivangi came back to her senses and shivers. She hugs Rocky. (Roshiv VM plays)

They share an eyelock.
Shivangi says, "I feel headache, Rocky. What happened to me?" Rocky says, "Roumil has made you intoxicated." Shivangi sees him weirdly. Rocky says, "Actually he has planned to intoxivate you and me. But you drank both glasses of juice." Shivangi says, "Seriously, sorry Rocky." Rocky says, "Why sorry? Because of your intoxication, I came to know your feelings for me, romance for me." He smiles and she blushes. Rocky holds Shivangi and he takes her to bed.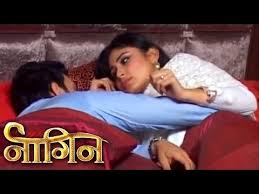 Shivangi says, "Rocky, Did I speak anything wrong?" Rocky says, "You had revealed many things to me." He laughs and Shivangi is confused. Rocky says, "Shivangi, I have a surprise for you." Rocky takes a small jar from his cupboard and he takes Shivangi near window.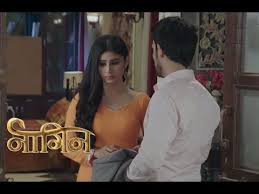 He opens the jar and many fireflies came from the jar.

The night becomes bright because of fireflies. Shivangi smiles and hugs Rocky.
Precap: Gautami says, "Shivangi, I am going to meet my hubby Rahul for the first time. I am so excited." Shivangi shows Rahul's photo to Aaliya. Aaliya thinks something is fishy here.