Ishq Aaj Kal (Love at these days) – Episode 10 (Rocky's punishment)
Recap: Rithik narrates Shivanya and his past to his daughter. Flashback ends
The episode starts with,
Rithik's eyes are wet and Shivangi wipes his tears. Shivangi too can't control her tears and hugs her father. Shivangi says, "Dad,Where is my grandparents?" Rithik says, "My father died last year. Even your aunts and Angad attended the funeral by leaving Gautami and you with me. Shivanya's parents are died many years ago." Shivangi hugs him and changes the topic, "Dad, you know, Rocky pranked me." Rithik smiles. Shivangi narrates the whole prank. Rithik can't even stop laughing. Shivangi says, "Dad, what spell does your son-in-law cast on you? See, you're laughing at me." Rithik asks Shivangi, "So, how are you going to punish my son?" Shivangi sarcastically mentions, "Just watch what I do."
The next day,
Rocky comes to Shivangi's house. Shivangi smiles, "Are you ready for the punishment, dear sweetheart?" Rocky thinks, "There is no wonder even if she beat me with pounder." Shivangi drags Rocky to her room. Rocky asks, "What are you going to do?" Shivangi replies, "I'll eat you." Rocky holds her hands and asks her to look into his eyes. They share an eyelock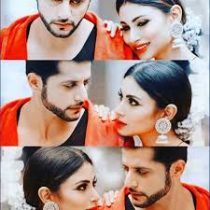 Rocky asks, "Do you love me?" Shivangi is lost in his eyes, "yes." Rocky – "Did you hurt me?" Shivangi replies, "No." Rocky asks, "Did you give me punishment?" Shivangi replies, "yes." She smirks at Rocky. Shivangi says, "Rocky, I won't leave you, now. Just come on." Shivangi takes her makeup kit. Rocky asks, "Oh, its makeup time. So, good. Apply everything fast." Shivangi smirks again, "Rocky, makeup kit is not for me, its for you." Rocky says, "what, is it for me? You're too much Shivangi. I am leaving." Rocky tries to open the door but it is locked. Shivangi sprays something on Rocky. He becomes unconscious. Shivangi thinks, "Time for Revenge"
After an hour, Rocky wakes up. Shivangi smiles and wishes him good morning. Rocky looks at her confused. Shivangi says, "You're looking handsome. Shall we take a selfie." Rocky is still confused. Rocky see his face in mirror.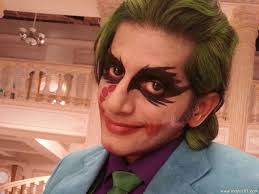 Shivangi asks, "How is my creation?" Rocky looks at her in shock, "Oh my god, what have done in my handsome face? My hair is green. What have you done?" Shivnagi replies innocently, "Rocky, I tried to apply some makeup to you. I tried to make you handsome but you are scolding me." Rocky replies, "Hey, Is any halloween party taking place? let me clean the makeup?" Shivangi holds his hand, "Rocky, this makeup will not disappear soon. let us enjoy for sometime. I called Mansi aunty, Aaliya, Avni and Roumil too." Rocky holds Shivangi and applies the same kind of makeup to Shivangi too. Shivangi looks even more funnier than Rocky.
Rocky and Shivangi had lunch with the same makeup with their family members. All laughs at them. Gautami giggles, "Shivangi, Rocky had a given you a good makeup. You're looking like Ms. Universe." All laughs. Ruchika asks, "Why are you both crazy?" Rocky says, "Becasue Shivangi is making me crazy" Shivangi says, "You pranked me, right. So, I gave you this makeup. Though I am looking funnier than you, no one can give you like this high class makeup." Aaliya exclaims, "High Class Makeups." All laughs.
To be continued…