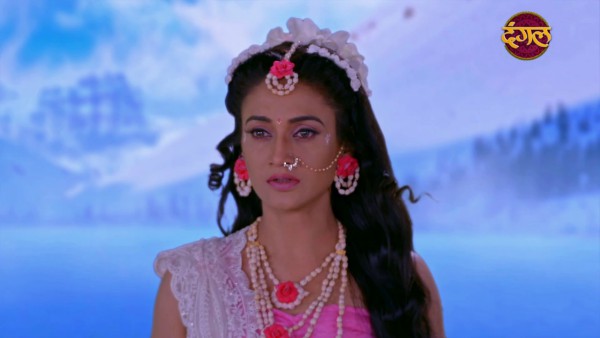 Is Rati Pandey Typecast for Only Mythological Shows?
Rati Pandey is a very popular name in the tinsel town and with her juggling two shows these days, she is busy as a bee. Currently seen in  Devi Adi Parashakti, Rati has her fair share of experience essaying demure characters on TV shows.
In a heart to heart conversation with ETimes, she spoke about how a titular role define itself in the context of mythology, and how do TV actors portray it effectively. She said, "Being an actor, whichever character I have played it has always been a challenge for me," she says. Rati adds, "If I don't take it as a challenge then I cannot perform well. I have always thought about my character as a raw newcomer would in the show, and started from scratch. This is my perception of working for my character. Devi, of course being a mythological show, is the first time I am doing such a role, except in 'Porus' though 'Porus' was a different genre altogether. It was a historic show where I played a warrior. But, I was familiar with the costume and language part because I knew that in mythological shows you have to wear heavy costumes. I always had an apprehension about taking up a mythological show.
Especially because it is a very strong character of Devi with lots of variations. It's not that I am playing one character wearing one costume and doing monotonous scenes. It's Devi, she has 9 avatars."
Is she scared that she will be typecast? And she says, "See, earlier I used to think that you get typecast but now I believe it depends upon the individual, about his/her state of mind and how you put yourself in front of your viewers or the fraternity. In my case I have always said no if I am repeating that character again in my life. So saying no for me turned out to be a good thing, that's why I never got typecast. When I played a character of bubbly girl in 'Mile Jab Hum Tum' I used to get calls for same character for different shows, which I refused. I mean, everyone has different needs and wants. Being in TV doesn't mean your life is not stagnant. There are people who work because the situation forces them to, and they end up saying yes. But I have felt that being an actor I have the privilege of not repeating characters. Otherwise, TV is a small medium, even if you do one small thing you get lot of exposure. I am fortunate to have done different character on TV."