Is Loving You A Mistake? GiNa SS Part 5

Warning: A non-numeric value encountered in /home/ftpusers/tellyu/public_html/wp-content/themes/publisher/includes/func-review-rating.php on line 212

Warning: A non-numeric value encountered in /home/ftpusers/tellyu/public_html/wp-content/themes/publisher/includes/func-review-rating.php on line 213

Is loving you a mistake? Part 5
Aliya:May I know who is this?Is this Ranveer's elder sister?
Diya became upset.Gopi was irritated while Ranveer was tensed whether his marriage truth will be out before Aliya.
Gopi:This is…
Ranveer was tensed.
Diya:I am Ranveer's elder sister as you guessed.
Ranveer was relieved
while Gopi was shocked.
Gopi thought:What did you say now Diya?


Aliya smiled:Nice to meet you.I am Aliya,Ranveer's close friend.
Diya gave her a pale smile:I am Diya.Nice to meet you too.
Aliya:I did'nt know that Ranveer has an elder sister.

Gopi:No Aliya.It's not like you think.Actually Diya is…
Raran tried to divert Aliya's attention so that she won't listen to Gopi saying the truth about his marriage with Diya.
Ranveer:Aliya…you are busy.Right?Guess you want to go for your project work.
Aliya:You are right Ranveer.I need to go with Adi for my project work as he is my partner.
Ok..I am going.Bye.
Aliya went out.
Gopi:Why did you say like that Diya?
Diya's eyes were wet.
Diya:Because I knew that Ranveer too wished to hear the same answer from me as he did'nt want our marriage to be known to his friends.
Diya walked away weeping silently.
Gopi stared at Ranveer:Because of you…for you..Diya lied.
Ranveer:What is my fault?I did not make Diya say such a lie?Aliya thought so as Diya looks mature in cfront of me.
Gopi:But you could have corrected her revealing the truth.But you did'nt say it.Even I could'nt tell her the truth.
Ranveer:Leave it mom.
Ranveer walked away.
Ahem Gopi called Ranveer Diya.
Ahem:We have arranged a fancy dinner for you both at the restaurant Blue moon for tonight.So be ready.


Diya was excited.
She thought:My first date with Ranveer after marriage.Wow.
Diya:Thank you daddiji.
Ranveer:I need to go to my friend's home for combine studies.After that I will come straight to the restaurant at 8 pm. Diya …be there.
Diya smiled:Ok Ranveer.
Gopi:Good that atleast Ranveer did not oppose to join Diya for dinner.
Ahem:Yes.That's nice.
Diya was so excited that she wore a shiny black frock and make up.She reached the restaurant.She was surprised to see Ranveer there.
Seeing her appearance Ranveer was bowled over by her beauty.Diya blushed seeing him gaze at her romantically.
Ranveer:Diya…you look gorgeous.
She blushed.
Ranveer:May i have a dance with you pretty lady?
She nodded smiling.
Ranveer held her hand
and started dancing.
Aate jaate hanste gaate Socha tha maine mann me kahi bar Wo pehli nazar
Halka sa asar karta hai kyun is dil ko Bekrar Rukke challna, challke rukkna Na jane tumhe he kiska intezaar Tera wo yakin Kahi me toh nahi Lagta he yahin kyun mujhko baar baar Ham ham. ham Ham ham. ham


They were immersed in the dance.
Aate jaate hanste gaate Socha tha maine mann me kahi baar Hotho ki kali kuch aur khili Yeh dil pe hua he kiska ikhteyaar Ham.ham .ham Ham ham. ham Woo… woo… woo…( "Golmaal Again").
They sat for dinner.
They both fed each other.
Suddenly Diya realized that it was her imagination.
Diya:Why Ranveer did not reach yet?
Diya rang up Ranveer:Ranveer…where are you?
Ranveer:I am having dinner with my friends.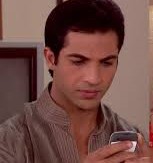 Diya was shocked.
Diya:But daddyji has arranged dinner for us.Right?
Ranveer:How did you even think that I will join you for dinner when I am least interested in you?
Diya's heart was pierced.
Ranveer:Guess you are at the restaurant. You enjoy the dinner.Don't waste my dad's money.
He smirked disconnecting the call.Diya was in tears.
She had the dinner alone.
Diya went back home.
Rashi:How was the dinner?


Diya:It was the best.
Ahem smiled:I knew it.
Gopi :Where is Ranveer?
Diya lied:After dinner Ranveer went back to his friend's house for combined studies.
Rashi thought:Why do I feel that still there is distance between Ranveer and Diya?
Diya went to her room.
She caressed the sleeping Dira.
Gopi:Ahemji…why Diya is not looking happy.
Ahem:Seeing her alone I think that Ranveer did not join her for dinner.Guess she lied to save him.
Gopi:Oh Diya always lies for Ranveer.Infact she even lied to his friend Aaliya that she is his elder sister.
Ahem:What?Diya lied like that?
Gopi:Yes.And Ranveer did'nt even correct it.
Ahem:Ranveer is crossing his limit.Why did'nt you tell Aaliya the truth?
Gopi:I wanted to.But I was helpless Ahemji.
Ahem:Indirectly you are favouring Ranveer's mistakes.That should'nt have happened.
Gopi:You are right Ahemji.I am also at fault.


Ranveer came home late night and slept on the bed.Diya opened her eyes and looked at him painfully.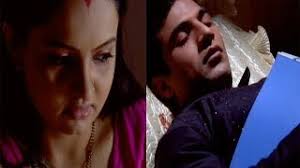 She covered him with the blanket properly.

Warning: A non-numeric value encountered in /home/ftpusers/tellyu/public_html/wp-content/themes/publisher/includes/func-review-rating.php on line 212

Warning: A non-numeric value encountered in /home/ftpusers/tellyu/public_html/wp-content/themes/publisher/includes/func-review-rating.php on line 213