Is Loving You A Mistake? GiNa SS Part 4

Warning: A non-numeric value encountered in /home/ftpusers/tellyu/public_html/wp-content/themes/publisher/includes/func-review-rating.php on line 212

Warning: A non-numeric value encountered in /home/ftpusers/tellyu/public_html/wp-content/themes/publisher/includes/func-review-rating.php on line 213

Is loving you a mistake? Part 4
Ranveer was in the bath room.
Ranveer:Oh no..I forgot to take my towel and new clothes inside.
He screamed:Diya…please bring the towel and dress I kept on the bed.
Diya:Ok Ranveer.
She took them and went inside the bathroom.
She hanged them there.Suddenly she slipped and fell over Ranveer.Ranveer held her tight to prevent her fro falling.They both were under the shower.
Both shared an intense eye lock unknowingly.


Diya was reminded of their school romantic moments.
Flash back…
The school excursion time.
All were busy enjoying in the place they went.Ranveer and Diya moved to a lonely area hiding themselves from others.
Ranveer:Here we have privacy.
Diya:And we can talk for a long time without any tension.


Ranveer:Exactly.
They both were giggling and talking.
Suddenly it started raining.
Ranveer:Oh no..
Diya:We will be completely drenched and catch cold.
Ranveer:We already got drenched Diya.Before it becomes worse let's go.
They held each other hand and started running.But they both slipped their feet while running and fell down.Ranveer fell over the top of Diya.They shared a passionate eye lock.


Ranveer tucked her wet hair strands behind her ears.They both started wiping each others wet face.
They both felt different and nice.
Ranveer moved towards her face.They both got into a passionate embrace.
Present…
Suddenly Ranveer broke the eye lock.
Ranveer:Why are you under the shower with me?Just go away.
Diya:Sorry Ranveer.
Diya moved only to slip again and fall over Ranveer.They both fell down.And Diya fell over Ranveer.
Ranveer:Ouch….because of you i too fell on the wet floor.Damn it.
Suddenly their eyes locked onto each others.
They both came back to senses.
Ranveer:Get up from my body Diya.I can't bear your weight.
Diya:Sorry.
Ranveer:Stop saying sorry and leave.
Diya got up somehow from his chest and moved to the side.
Slowly she got up and left.
Ranveer got dressed up and came.
He was shocked to see Dira drawing on the papers of his file.
He screamed:What are you doing?
He beat her shoulders and she cried.
Everyone came inside hearing Dira cry.
Diya:What happened Dira beta?
Dira:Mumma…papa beat me.


All were shocked.
Diya:Why did you beat Dira?


Ranveer:These were the papers needed for my presentation .But she spoiled it.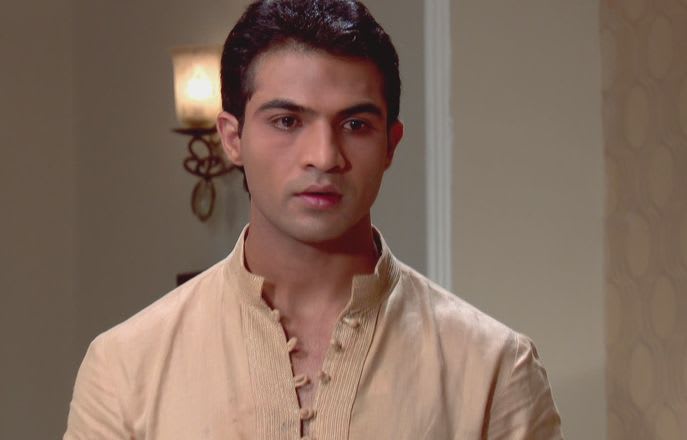 Diya looked at Dira:Dira..why did you do this?Mumma had given you a drawing book.Then why?
Dira:That book is missing.So I took paper from Papa's file.
Diya:That book is in the drawer beta.It's not lost.Don't take papa's papers.Ok?Say sorry to papa.
Dira:Sorry papa.
Ranveer did not look at her.Dira ran out crying.Diya ran after her:Dira…
Gopi:Ranveer…Diya is small.She does'nt understand anything.She did'nt do it purposefully.She does'nt even know what papers they are.That's why she took the already written papers for scribbling.
Ahem:And you have extra copy of the presentation.Right?


Ranveer:Yes.
Ahem:Then why are you angry with Dira?Too bad Ranveer.
Jigar:You were cruel to a small child.
Rashi:Poor Dira.


Gopi:That poor innocent girl loves you a lot.She just joined you in this house.But what did you do to her?I know that you have not accepted Dira as your daughter.If you have a heart atleast in the name of humanity go and comfort her.
Ranveer felt guilty.
Dira was crying.
Dira:Papa does'nt love me.He hates me.Why mumma?Am i that bad?
Diya felt sad for her.
Diya:No Dira.Your papa loves you a lot.
Suddenly they heard from behind:And you are the best child in this world.
It was Ranveer.They were surprised.
Ranveer pulled his ears and said:Sorry Dira.Please forgive me.
He caressed her hand where he beat her.
He wiped her tears.
Ranveer:You are the cutest child in this world.So tears do not suit you.Your smile makes you a Princess.So smile.
Dira smiled.


Ranveer:Yes..that's it.Very sweet.
He pulled her cheeks cutely.They both giggled.Diya smiled.The others who watched it secretly became happy.
Diya:Thank you Ranveer for making Dira smile.You don't know how happy she is.
Ranveer:No need of thanks.


Ranveer walked off.
Night…
Dira lay between Ranveer and Diya.
Suddenly she held both of their hands and kept it on her body o feel their presence while sleeping.
Dira:Both of you don't take hands off me.


Ranveer:Oh no..what is this?
Diya thought:Hope Ranveer does'nt lose his temper because of Dira's tantrums.
Slowly they all slept.
In the morning Diya and Ranveer opened their eyes.They were stunned to see their fingers entwined.
They realized that it happened unknowingly while they were sleeping.They were embarrassed and took their hands off.Dira opened her eyes.When they got up Dira purposefully pushed Diya and she fell over Ranveer.Ranveer held her.
Both became shy and looked at each others eyes.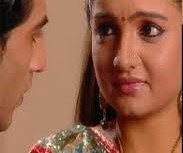 Dira smiled.Ranveer and Diya moved away from each other and smiled at Dira shyly when they saw Dira looking at them with a naughty smile..
Aliya came to Ranveer's house.
Gopi came:Hi Aliya…
Aliya:Hello aunty..
Aliya touched her feet.
Gopi:God bless you beta.


Aliya:Actually I had taken Ranveer's book to take down notes.I came to return it.


Gopi:Ok.
Ranveer came:Hi Aaloo.
They both had a friendly hug.Diya came there watching it.She could not bear it.
Ranveer took the book from Aliya.
Suddenly Aliya saw Diya.
Aliya:May I know who is this?Is this Ranveer's elder sister?
Diya became upset.Gopi was irritated while Ranveer was tensed whether his marriage truth will be out before Aaliya.


Warning: A non-numeric value encountered in /home/ftpusers/tellyu/public_html/wp-content/themes/publisher/includes/func-review-rating.php on line 212

Warning: A non-numeric value encountered in /home/ftpusers/tellyu/public_html/wp-content/themes/publisher/includes/func-review-rating.php on line 213