INSTAGRAM FARINDSHIP Ft. MANAN PART-9 By Kanfi
Yaar…I'm really nervous..Like I havent sung for last 3-4 years…What if everything…….no no……Should I take the chance..?I still can back out no…!?
Nandini yar relax…..Why are you thinking this much…?I know you are awesome…!And you'll perform amazingly…Trust me….
Promise..?
Promise….
So tell me which song have you chosen?
Hmmm…..You'll get to know….wait ??
Okk….I wont tell you too?
Ok?
Nandini yar….!
Ok fine….But let me tell you one thing,that song will be dedicated to you….
Ha ha ha
What's this reaction?
I know you are lying…Why would you dedicate the song to me…?
Because….
Because….??
Nothing
Hey……
Manik…..
What happened…?
Yr I was kidding….
Ok Sorry….?
Go and practice….
No,first you smile….
Nandini,dont irritate me…!
I'm irritating you…??
You are such a drama queen…!
Ok fine….I'm good….
Sure???
Yes baba….
Thank you ❣
Now bye…..
Bye
Listen…..
Yes..?
Wo…..Are you free after the competition..?
Hmmm….yaa….Why….?
Wo…..I've planned something….
Again…?
No….I mean….Its different…
Ok….
Ok…Then meet me at XYZ place
Done….
********
AT VENUE
Nandini's POV
Calm down nandini….You can do this….Dont think much…Manik will be there….Wait,he has said that the song is dedicated to me…Which song is he going to sing….!This Monster Manik…!Does he feel the same way…?No no,what am I thinking …We're just good friends…!Just focus on your performance…
Manik's POV
Finally…Everything is going according to plan…Hope it ends well too…..What if she wont react as I've expected after listening the song…Should I go with that CONFESSION thing…What if she denies….Ohh Manik,just go with flow…..I've to do this,atleast I'll come to know what she feels about me otherwise I'll keep thinking about her whole day…All the best…
_____
Hey nandini,you are going to be next….All the best…!
Thank you….And you will be performing after me and we wont get chance to interact so All the best to you too…!
Thank you…
Is there anything for me in your song??
N…nno……ooo……Why would be there anything…Its just normal….
Ohhhkkkk…..
_____
ON STAGE
Nandini's song–Lae dooba from Aiyyari
Nandini was all set to sing and Manik was there in audience..
Mainu ishq tera lae dooba
Haan ishq tera lae dooba (x2)
Aisa kyun hota hai
Tere jaane ke baad
Lagta hai haathon mein
Reh gaye tere haath
Tu shaamil hai mere
Hansne mein, rone mein
Hai kya koyi kami
Mere paagal hone mein
Mainu ishq tera le dooba
Haan ishq tera le dooba (x2)
Nandini's eyes were lowered throughout​ these lines…She first time looked up and their eyes met and a shiver runs down her spine….
They were just looking into each other's eyes,forget where they are and it seemed that she is singing just for him…
Har dafa wahi
Jaadu hota hai tu jo mile
Ho… sab sanwar jaata hai
Yaara andar mere…
Ik lamhe mein kitni
Yaadein ban jaati hain
Main itna hansti hoon
Aankhen bhar aati hai
Mainu ishq tera le dooba
Haan ishq tera le dooba
Mainu ishq tera le dooba
Haan ishq tera le dooba
××××××××
You can listen the song here,its awesome
And her song came to an end bringing the curtain down…The whole auditorium was echoed by applause breaking their eye contact…
Nandini came to green room breathing heavily and recollecting their moments…
Now its Manik's turn
Manik's song-–Dekha hazaron dafa from Rustom
Dekha hazaro dafa aapko
Phir bekarari kaisi hai
Sambhale sambhalta nahi yeh dil
Kuch pyaar mein baat aisi hai
Lekar ijazat ab aap se
Saansein yeh aati jati hain
Dhoondhe se milte nahi hai hum
Bas aap hi aap baki hain
Listening these two verses,Nandini couldnt resist herself and ran from the green room to have a live view……Manik was looking constantly at her which made her blush hard….
Pal bhar na doori sahe aap se
Betabiyan yeh kuch aur hain
Hum door ho ke bhi paas hain
Nazdeekiyan yeh kuch aur hain
Dekha hazaro dafaa aapko
Phir bekarari kaisi hai
Sambhale sambhalta nahi ye dil
Kuch pyar mein baat aisi hai
Nandini was constantly smiling and thinking that he has dedicated this song to her…Manika came down the stage,forwarded his hand ,Nandini give her hand to his and ask he asked her to give him company and they sung last line together…..
Dekha hazaron dafa aapko
Phir bekarari kaisi hai (MANIK)
Sambhale sambhalta nahi ye dil
Kuch pyaar mein baat aisi hai (NANDINI)
××××××××××
Listen the song,actually it was a duet song so I've founded male version by this amazing singer
They ended the song being lost in each other's eyes….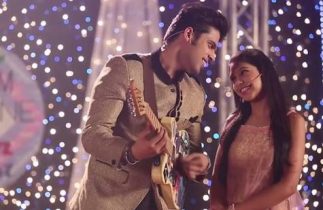 ______
PRECAP–Winner and Confession
Heya guys…Hope you are doing well….So did you like the update…?One more update…!!
Do vote and comment….
Lots of love
Kanfi