INSTAGRAM FARINDSHIP Ft. MANAN PART-7 By Kanfi

Warning: A non-numeric value encountered in /home/ftpusers/tellyu/public_html/wp-content/themes/publisher/includes/func-review-rating.php on line 212

Warning: A non-numeric value encountered in /home/ftpusers/tellyu/public_html/wp-content/themes/publisher/includes/func-review-rating.php on line 213

<audio> (song sung by Manik)
After listening the song,nandini just smiled but didnt reply anything….
Ms.Murthy will you reply now..?
I said sorry n….!.?
Ok?
I was just teasing you back…
Ok listen na,I've something to share with you…
We know that we've chosen different paths in our life but we cant deny it MUSIC is a part of our life….Our college,concerts we used to live it…
Exactly yr….I do miss those days but its too late now I cant go back to those days….
So yeah,there is a competition going on,some talent search type….So I was thinking lets participate and relive everything….
Manika,it's been six years,I dont sing now….
Ohh come on,just practice is needed and your aams is also there na…
Please please…
Hmmm ok fine….So we'll participate as a pair??
I wanted that too but there isnt any pair or group entry…So we've to give entry as a individual…
Ok,so when is the competition….?
What….?How'll I manage everything….I've exams too…!
Ok we can do this…I've exams after two weeks and I was thinking of deactivating all SNS for a while so can I focus there,so now I'll extend it and will practice for the competition…
Ok done,I'll manage…
What do you mean by deactivating your account..??
We wont talk ?
I think it means the same?
No way…..
Yr how can you do this…!!!You can manage the schedule no….?
No,I've decided and its final…..And dont worry I'll come back with a bang…
Its looking like that only….!
Nothing….Go and deactivate your account…Study well and practice for competition too…..!!
Are you done…??
You can call me n whenever you want…!!
Wowwww…..I can call you but you wont..?
Yaa yaa I get it….!
Ok fine….
Dont talk if you dont want to….
Bye…..
Arrree wait,wait…..Now you dont become angry bird…..
Its ok….I understand…
Miss me……?
I knew,this tricks always work??
Faking anger
Ok go now,otherwise I wont let you go…..
Deactivated??
Listen na I'll miss you too…..
Ahaa you've became so smart,all because of me …
Nandini's POV
Hope I'll be able to give my 100% at exams as well as competition…And this one month gap wont affect our friendship….!
_______
Heya guys,I'm back…..I know it was a small update but will post next part soon…
Keep loving the story and dont forget to vote ans comment….Do read Author's note below….
AUTHOR'S NOTE
So I'm here with a confession….This story is actually real….I mean whole plot and conversations except few scenes like singing,punch,kiss,nandini crying on call,it was all to just keep the essence of serial KY2….
And I'm really glad you guys have loved it…
There are so many more things which has happened hereafter,parting away then meeting again,some highs some lows,happy times ,emotional ones but amidst all one thing was constant our FRIENDSHIP and we are still really good friends but I wont be able to write everything here as its a short story and I want to keep it simple and sweet….
I'll end this book in 3-4 updates….From next update it'll be purely FICTIONAL…I'll give Manik's POV too……Realisation of love and confession and I'm damn sure you'll love that 3-4 updates…??
Do vote and comment silent readers…
And this amazing cover by sana aka thedreamsoul?…..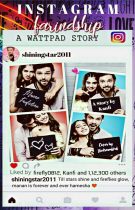 Lots of love
Kanfi

Warning: A non-numeric value encountered in /home/ftpusers/tellyu/public_html/wp-content/themes/publisher/includes/func-review-rating.php on line 212

Warning: A non-numeric value encountered in /home/ftpusers/tellyu/public_html/wp-content/themes/publisher/includes/func-review-rating.php on line 213