INSTAGRAM FARINDSHIP Ft. MANAN PART-8 By Kanfi

Warning: A non-numeric value encountered in /home/ftpusers/tellyu/public_html/wp-content/themes/publisher/includes/func-review-rating.php on line 212

Warning: A non-numeric value encountered in /home/ftpusers/tellyu/public_html/wp-content/themes/publisher/includes/func-review-rating.php on line 213

One month has been passed..And it was very difficult for both of them..It is not just they've became habit of each other but there was something missing in their life…It was not like they have not talked even at once,Manik used to call her…..
In this lapse of one month,they've definately realised how important they are for each other especially Manik…!
Finally nandini's exam has ended and they've decided to meet one day before the music competition….
______
Manik's POV
This one month,ahhhh……I dont even want to think about it…..Finally we'll meet tomorrow…I dont know what this feeling is but she has became really really very special…I used to miss her messages,her anger,her laughter,her smile,,,man I've missed her so much…I've lots of things to say….Should I express my feelings….?Ohh come on Manik what are you thinking….Just focus,focus…..We are going to meet after a month and I dont want to spoil this moment….!!
Nandini's POV
Finally exams got over…I hate these exams….So we are going to meet tomorrow….I've so many things to share….I've missed him so much but did he..?Nandini,dont think much,of course he did…!What if he'll be upset because of me as I was the one who has said that we wont talk till exams…!What if I am not that much important in his life….!What if……..Calm down…Just go with flow…..Everything will go perfectly….!
_____'
Hiiii
Hiiii…..I was thinking about you only….?
Like seriously…You are still copying me…!
??
What…?Dont give me that look…?
Are you angry..?
Yes….very much…..You've just decided that we wont talk and you didnt….I know it was your exams but couldnt you make time for us….!?
(Laughing on the other side)
Manikk…….
What Maniik……What if I've done this…..
I've also missed you….All this was important…..
And I wasnt…..right…?
No its not like that….You are important…
Come on nandini……I dont think so……!.?
Nandini……?
Nandu..?
What happened…?
I' m SORRY….?
I dont need your sorry…...(msg didnt receive)
Hey,what happened….!
I was kidding….?
Nandu…..
********
Hey,what happened…?
Nothing…..(with a sad tone)
Then why have you gone offline..?
There wasnt anything to talk…It was all my mistake…I've lost you,its fine….You dont need to call me…..
Big big words.…..(started laughing)
What…?
I was kidding idiot….You dont need to explain anything to me,I understand you….!
What…?You are such a……..
Awesome guy,I know……
Shut up…..I hate you…..!
You n….You just wait….I wont come tomorrow…
Arre….You are threatening me….!
No I'm not….I'm just informing you…!
Ohh please madam….Dont even think to pull these kind of stunts….I'll reach your hostel…!!
*Imitate him*
I'm serious….
Do whatever you can….huh…I wont come….Bye….Good night….
Arre….nandini……
*Call ended*
Listen….I'm sorry ok….Dont you dare to cancel tomorrow's plan…!?
Are you talking to me..?
Yes….please…!
Ok..I'll think?? let me sleep now ….
??????
What..?
???????
Ok ok……I'll come….
??????
??You are n stupid….
Yes I'm????
**********
Nandini reached first at the venue and was waiting for Manik…!
Nandini's POV
Where's he….!It's been half an hour….!He isnt receiving the call…!!
A boy came towards her and gave her a bouquet of white and red roses….She asked him who has given it but soon he left…..There was a card in the bouquet….She opened and read it…..
"FOR THE MOST SPECIAL PERSON OF MY LIFE"
Reading the note,she blushed but soon became normal as it was a public place…
"Where are you Monster Manik"
Suddenly all lights of the place got switched off…!Someone held her hand and directed her to move in a direction….
Manikk…..what are you doing……?
Shshhhshhh…..
He closed her eyes with his palm and all lights were switched on again…
Whats happening…. ?
Patience nandini…..
She removed his hands from her eyes and the view infront of her eyes astonished her…She was just standing there with an awwwwwweee expression.….
The place was decorated with red and white balloons,nandini's photos were hanging from balloons to create a chandelier over a table… A big cute teddy bear was there and on a board it was written ONE YEAR OF TOGETHERNESS…….A light music was playing on the background…..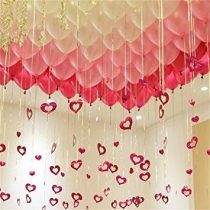 Seeing all this,nandini couldnt control and just hugged him as tightly as she could…He too reciprocated…Soon she realised and broke the hug to avoid awkwardness….!
All this,I mean…!
Yeah,so we'd starting talking the same day one year back so I just wanted to do something special….You liked it no?
I loved it…..Yeah I know but I've brought something so simple and you did all this…..
Nandini,for me emotions matter….!
Ok,this is for you….
She handed him a gift….He unwrapped it and found a band with "Manan" written on it and a wooden frame "YOU ARE SPECIAL" carved on it…!
I loved it….!
Then both settled down and enjoyed the yummy food and some chit chats returned to their respective places as they've practice for the competition….
________
PRECAP-Competition….
Heya guys…..So loved the update??
Dont forget to vote and comment….!
Two more updates ..?

Warning: A non-numeric value encountered in /home/ftpusers/tellyu/public_html/wp-content/themes/publisher/includes/func-review-rating.php on line 212

Warning: A non-numeric value encountered in /home/ftpusers/tellyu/public_html/wp-content/themes/publisher/includes/func-review-rating.php on line 213