Gauri : Om , please don't look at me this way
Omkara : Why ?
Gauri : When I looks your eyes I feels like I have lost myself in them . Seems your eye pupils are reading my soul.
Omkara : If you feels so then I will capture you in my eye imprisonement and won't allow you to go away. I couldn't take my eyes from your eyes as there are certain things which you can't openly tell to me but your eyes are depicting me so well and I am able to read that one through my eyes .
Gauri : What my eyes are telling ?
Omkara ; For knowing it you have to read my eyes .
Rikara share an intense eyelock
Saathiya instrumental plays …..
Omkara : Will I get the gesture of love , at least now ?
Gauri : Oh Om!!! You are so desparate to have it.
Suddenly some one knocked Gauri's room
Gauri : Om, chale jawon….
Omkara : Kasie ?
Gauri : Jaise aaya thaa bilkul waise
Omkara : See I will get a back pain if I again jumped the gate , climbed the pipe and entered through the balcony to your room.
Gauri : Wait !!! I will do something. For now just hide at the bathroom. Go fast
Gauri opened the door and sees Chaachi
Chaachi : Why you opened the door so late ?
Gauri : I was at bathroom.
Chaachi : Tonight I am going to sleep with you beta
Gauri : What ?
Chaachi ; Your Chaachaji's snoring sound irritates me a lot. I want a calm sleep, not a noisy one. You don't have any problem naa ?
Gauri : Problem toh nahi hein…..Chaachi , actually water….I mean see the jug . It's empty .
Chaachi ;  So go and bring water .
Suddenly  a man came out from the bathroom. He was wearing a turban
"Aunty Ji paani mein leke aata hoon. "
He was making a weird expression
Chaachi ; I think I have seen you somewhere
" Aunty Ji hum toh newly appointed servant hein jee. Bathroom clean karne aaye the"
Chaachi : Is it ? What's your name ?
" Rikara Singh "
Chaachi : Ajeeb naam hein. Gauri have you heard this type of name before ?
Gauri :No Chaachi. Oye Sardar Ji….Go and bring some water  . At downstairs turn left ,there you can find the kitchen . Go fast.
"Ji Madam "
He leaves. Gauri feels relief in mind .
Suddenly she gets phone call from Omkara 
Chaachi : Kiska phone hein ?
Gauri : Rikara singh kaa phone hein
Chaachi : Chal baat kar
Gauri : Hello
"Madam Ji , you need ice water or boiled water . Or do you need juice ?"
Gauri : Chaachi , this servant is new.He doesn't knows anything. Let me go and check.
Chaachi : Ok beta
Gauri goes to kitchen
Gauri : Omkara why you are here ? You have to leave . I just managed by lying to Chaachi . And what's that name Rikara Singh ?
Omkara : Yaar what I will do ? If chaachi caught me she will ask so many questions. Actually I find your scarff hanged at the stand and suddenly I got the idea to do it.
Gauri : By the way I just loved this get up. We have seen in old films hero goes to meet heroine by changing get up when she is angry . Feels like you are Rajesh Khanna and I am Sharmila Tagore , and Aaradhana movie is running here.
Omkara suddenly lifted Gauri in his arms
Gauri : Omkara what are you doing ?
Omkara : Oye Kudi, tu banegi naa meri Vohti ?
Gauri : Ek number kaa Paagal Munda , tujhse byah nahi karunga toh aur kisse karunga ?
Omkara : Oye Balle balle balle!!!!
Gauri : You are so crazy, Omkara.
Omkara and Gauri take back their postions. Om removed the scarff and waved his long hair
Omkara :By the way today I am very happy. Pranati and her parents united, all misunderstandings got solved .
Gauri : True Om. Omkara, I have to tell you an important thing. Spandana is leaving
Omkara ; What ? But Krish ?
Gauri : Omkara, we can't force Jeeju. Spandana is not ready to tell her feelings too.
Omkara : No one can stop her from going!!
Gauri : Don't know Omkara. Krish Jeeju is right at his perspective, but we feels sad for Spandana too.
Omkara : I hope God will show us any way.
Gauri : I am also praying to God, you made me very much happy by coming as my heart's thief today.
Omkara : Really, if you liked it then this thief will always enter at your room and heart in nights .
Gauri : Om!!
Omkara and Gauri smiled
Omkara : Bye, good night
Gauri : Good night Om, See that's the back door .You can go through that way, no one will find you
Omkara : Okay
He waves his hand and leaves
On the other hand Spandana had packed all things. She went to meet Tarini.
Tarini ; Spandana
Spandana ; I have booked tomorrow morning's train. I need to go back.
Tarini : You won't tell Krish what you feels for him .
Spandana : Krish can never see me at that way, I will only tell good bye to him as his good friend .
Spandana goes upwards to Krish's room for meeting him
Spandana : Krish!!
Krish looked at her
Spandana came near Krish. Krish was silently arranging his books and things in room
Spandana : Krish take your medicines in time. Don't take over stress. And when you feels everything is fine join back to your office
Krish : Office !!! You really think now employees will like me ?
Spandana : Krish!!
Krish : They are aware about what happened to me. They will never love me, never respect me because I am mental ,hey naa
Spandana : Why you are thinking so negative ?You are fit and fine now ,and don't think that way. Your employees always respect you, love you . they will be happy to see their boss back in work.
Krish : Do you have that much trust in me ?
Spandana : Yes, Krish. See tomorrow I need to leave. It's been long I haven't met my bhaiya- bhabhi. So good luck and if you need any help just call me , I will be here .
Krish : Because of you only I faced the reality of my life, I will always be grateful to you. I will miss you a lot, Spandana.
Krish touched her shoulder. Spandana looked him emotionally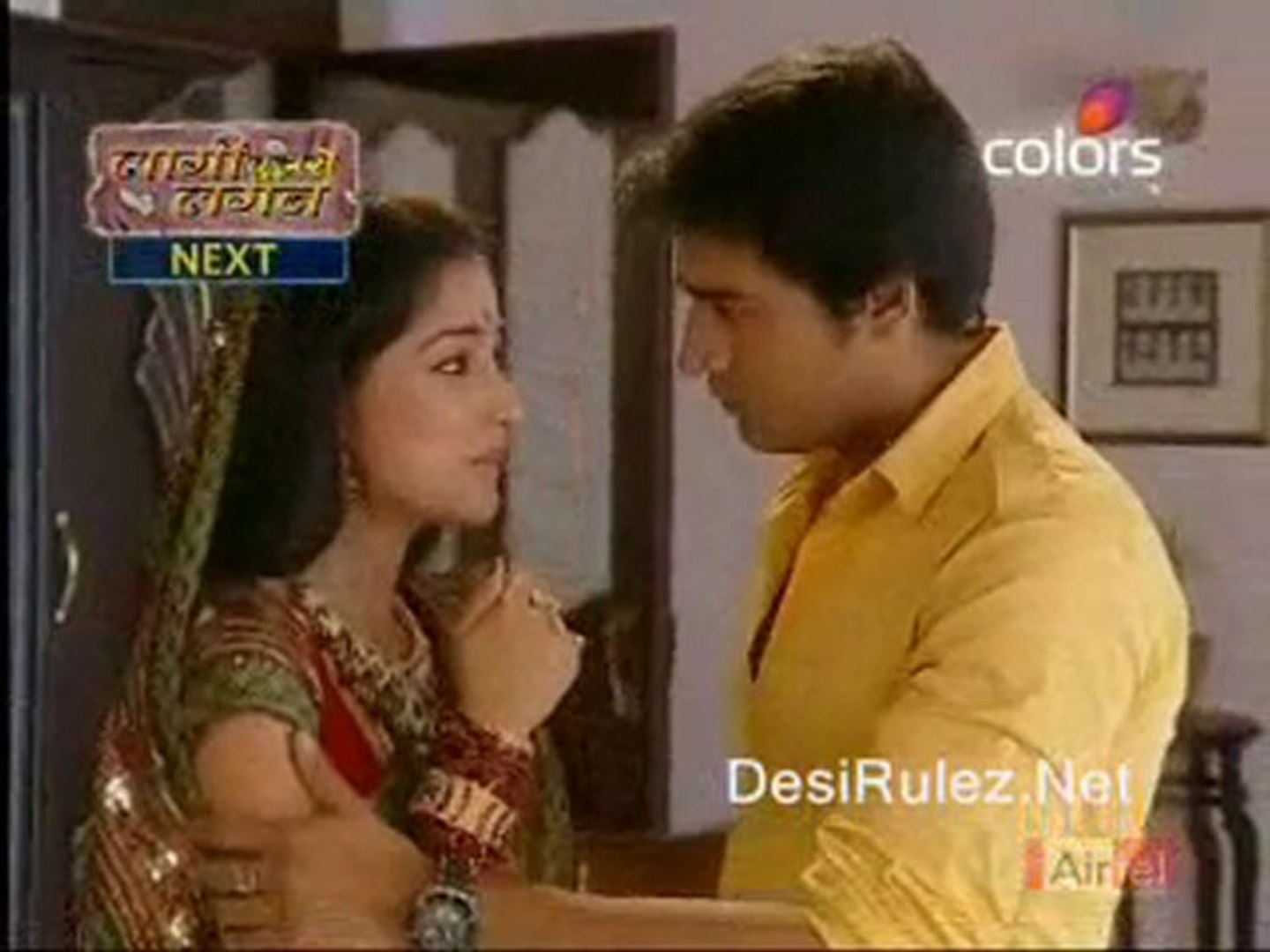 Jud chuki hein tumse yaadein
Bhool paana mumkin nahi
Pehale toh bas ek ajnabee thaa
Phir toh ban gaya saathi tera
Abb naa toh rukta hein dil kee dhadkan
Abb naa toh bhaata hein kuch bhi humein  plays….
At Oberoi house 
Tej : Maa your medicine
Baljeet : Always Pranati brings this in time.
Tej : She has given me the time schedule Maa.
Jhanvi ; Maa, your milk
Baljeet : Today I feels our heart's burden have become less. Our both children are happy now. Now just we want Krish beta also starting life in a new way.
Tej ;It won' t be easy for him.
Jhanvi : He is young, I guess Spandana is right for her . But it solely depends on what is his decision only.
Baljeet : Tej puthar I am thinking of doing engagement of Om and Reyansh. What you say ?
Tej : Idea is nice. We will ask them if they are ready or not .
Baljeet : That's right. Jhanvi-Tej, Puthar tum log jaake so jawon. Good night
Tejvi : Good night Maa.
Tejvi goes to their room and started looking at the photo album of Om and Reyansh's childhood
Jhanvi ; I can't believe that our children grown up so fast, Tej
Tej : Time goes like that. Now they will bring two beautiful bahus too. And see after marriage what if they will make you and me as Dada and Dadi ?
Jhanvi : How cute it will be ? Maa will be Pardadi. It's the most lovely thing.
Tej : Jhanvi you gave me the best gift as my sons , Thank you
Jhanvi ; Tej, not just me you also give me the best gift as them . We both gave them birth
Tej : But you took more pain, It's not easy to carry babies in womb.
Jhanvi : Every woman undergoes that stage and when the baby comes all pains will be melted and what we find is our baby's smile only.
Tej : Moms are lucky, god has choosen them for this process , dads are also lucky , but moms are bit more lucky
Jhanvi : Tej, you are so sweet. Because of your support , our love we did so many things as best for our sons.
Tej : And we will do it now also for our sons and our bahus.
Tej held Jhanvi closer to him, she looked him. They both had a romantic eyelock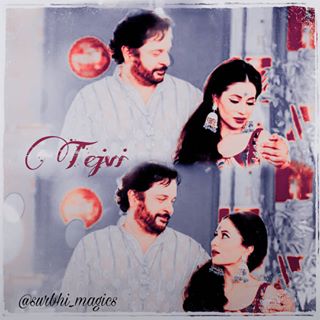 At Pranati's house 
Pranati : Dad have a look
Pratap sees Pranati in saree and gets surprised
Pratap : You looks beautiful beta
Pranati : Mom gifted me this saree and this hair style is also done by Mom.
Pratap : Wow Shobna you just made her so pretty.
Pranati : Mom -dad now you both go to your room and see the surprise
Shobna : Surprise , aisa kya surprise ?
Pranati : Just go inside and see
Pratap and Shobna goes inside and surprised to see the decorations
Shobna : Beta, you decorated room as if we are newly married couple
Pranati : So what, today you both opened your feelings and I am very much happy. I want to make it special and I thought better than this there is no other surprise.
Pratap : Pranati, you are so much caring daughter . Even though we both
Pranati ; Dad, it's over. Today you both are going to celebrate this night with full of love. Mom-dad promise me that tonight you both will be very romantic and whatever happens you both won't leave each other's hands .
Pratap and Shobna held her hand and nods their heads
Pranati : That's my mom-dad
Shobna and Pratap looked each other with a smile and entered inside the room.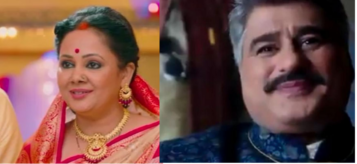 Pranati closed the door and walked to her room. She started reading the fairy tale given by Reyansh . It was about King Mayurnath and Queen Manjula's love. While reading Pranati imagined herself and Reyansh at the places of both King and Queen
An : Only few more episodes are remaining . I feels much pleasure while writing this ff as I was able to portray so many characters in this one. After much search I got pic of Kunal in a King get up and I am happy that I was able to add it. What you felt seeing him in that get up ? And if any one knows the story of Mayurnath then tell me that also…Happy reading guys.