I desire you Part 8 BeHir SS
I desire you Part 8
Anurag was nervous about Sumitra's and Mahir's arrival.
Anu:Prerna,all arrangements are over.Right?
P:Anurag…don't get tensed.Everything is alright.
Finally Sumitra and Mahir arrived.
Anurag and Prerna could'nt take their face off Mahir.His face had love,affection,humbleness,simplicity and innocence.
Anu:Come inside please..
They got inside.
Sumitra:We have come here for my son Mahir.
Anurag and Prerna smiled.
Anu:We know and we are grateful for that.
Sumitra:Before we get into a relationship I have to confess something.
They all became serious.
Sumitra:Mahir is not my real son.He is my step son.
Anurag,Prerna,Sooraj And Manjari were shocked.
Mahir became dull.
Sumitra:But please don't reject Mahir just because of this.Though he is not my real son he is like my own son.After his mother's death his father married me to look after him.From then I have given him love and affection.
Anurag and Prerna smiled.
P:Your love for Mahir is seen on your face.We are happy to get a son in law like Mahir.
Mahir smiled.
Sumitra:Thanks a lot for accepting my Mahir.Where is Bela?I am dying to see Bela.
Manjari:We will bring Bela now.
Manjari went inside.
Manjari and Kalyani brought Bela.Mahir could'nt take his eyes off her.She was looking gorgeous in her blue saree.Bela blushed seeing Mahir looking at her romantically.

Bela touched Sumitra's feet.
Sumitra:I have to admit that my Mahir has chosen an Angel.I liked Bela very much.
They all were happy.
Sumitra:Now let us fix their wedding.
Anu:Why not?We are so happy.
Mahir looked at Anurag and Prerna emotionally.Then he fell at their feet.
Anu:What are you doing?
P:Get up beta.
MAHIR:I don't have words to thank you all for giving me Bela.She is the most wonderful gift I have ever got in my life.I can't live without her.I promise you all that I will keep my Bela happy.
Sumitra's face became dull.
Anurag became emotional:Beta…Bela is gifted with the most precious thing like you.
Prerna smiled.
Mahir and Bela were very emotional.
All were very happy.
Sumitra got irritated seeing Mahir and Bela exchanging romantic glances.
Sumitra:Now we have to leave.Thank you all.
Mahir and Bela became sad.
Sumitra:Don't be sad children.Very soon the wedding will take place.Then you both will be together forever.Till then can't you guys bear a small separation?
Mahir-Bela smiled.
Mahir-Sumitra left.
Kalyani tickled Bela:Wow Bela…finally your marriage is fixed.
Sooraj:Hey…Bela..you tickle Kalyani back as her marriage was fixed long ago with her NRI boy friend Malhar.
Kalyani blushed.
Bela tickled her.Kalyani Bela laughed.
Yash-Meera's haldi function…
Meera's skin was glowing because of the haldi paste.
Kalyani:Meera,i heard that haldi makes the skin glow.On your wedding you will be very beautiful and Yash will be flattered.
Meera blushed.

Bela was smiling at Meera.Mahir was watching her and smiling.Bela saw him smiling at her.She blushed.
Mahir went near her and whispered:You are so beautiful that looking at you itself is a beautiful feeling.Your eyes are so beautiful…
She blushed.
aa.Nkho.n kii gustaakhiyaa.n maaf ho.n
ik Tuk tumhe.n dekhatii hai.n
jo baat kahanaa chaahe zubaa.n
tumase ye vo kahatii hai.n
Mahir rested his chin on Bela's shoulder.
MAHIR:Are you shy?
She was even more shy.
Bela walked away slowly.She was still blushing.Mahir followed her.
aa.Nkho.n kii sharm-o-hayaa maaf ho.n
uThii aa.Nkhe.n jo baat naa kah sakii.n
jhukii aa.Nkhe.n vo kahatii hai.n
aa.Nkho.n kii gustaakhiyaa.n …
Bela reached another room.Mahir stood close to her with a smile.
kaajal kaa ik til tumhaare labo.n pe lagaa luu.n
haa.n cha.ndaa aur suuraj kii nazaro.n se tumako bachaa luu.n
Mahir whispered in her ears:I love you Bela.
Bela blushed.
o palako.n kii chilaman me.n aa_o mai.n tumako chhupaa luu.n
khyaalo.n kii ye shokhiyaa.n maaf ho.n
They smiled at each other.
MAHIR:Today is Yash-Meera's haldi function.Let us have haldi Bela.
He took haldi from the near by bowl and slowly put it on her cheek.
haradam tumhe.n sochatii hai.n
jab hosh me.n hotaa hai jahaa.N
madahosh ye karatii hai.n
aa.Nkho.n kii sharm-o-hayaa
The way he put haldi softly on her face was romantic and sensuous.Bela kept looking at his expressive romantic eyes.
ye zi.ndagii aapakii hii aMalharat rahegii ai he
dil me.n sadaa aapakii hii muhabbat rahegii ai he
Their eyes got locked onto each other.
Mahir's hands travelled from her fingers to the shoulders romantically.
Suddenly Bela took haldi and put it on his face.Mahir was happy as it was a surprise.Bela smiled.
BELA:I love you Mahir.

Though Mahir knew about her love for him when she said that for the first time he felt different and happy.
They shared a romantic eye lock.
in saa.Nso.n ko aapakii hii zaruurat rahegii
haa.n is dil kii naadaaniyaa.n maaf ho.n
MAHIR:If you love me then marry me Bela.

She blushed:Very soon we will be married.Right?
MAHIR:I can't wait anymore.Marry me now.
BELA:What?
He saw flower garlands being made there for the wedding decoration.He took one and put it around her neck.Bela could'nt believe it.Slowly she smiled.She took another garland
and put it around his neck.
ye merii kahaa.n sunatii hai.n
ye pal pal jo hotii hai.n bekal sanam
MAHIR:Now we are married Bela.

He wiped the haldi on her face with his tender lips.She closed her eyes.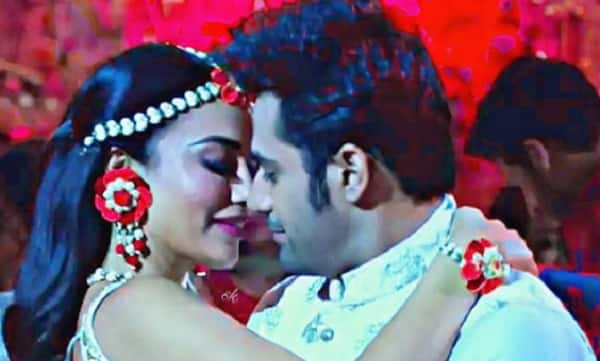 With her finger sensually she wiped the haldi on his face.
He caressed her skin.She kept blushing.
to sapane na_e bunatii hai.n
MAHIR:No one can separate us.
She looked at him emotionally.
They looked at the romantic couple's sculpture on the wall.Then they looked at each other romantically.
Mahir made her sit on his lap.They got lost in each other.
aa.Nkho.n kii gustaakhiyaa.n …(Hum dil de chuke sanam).
At night Bela was thinking of their secret wedding and smiling.
Mahir was also not able to sleep thinking of the wedding.
MAHIR:I miss you Bela.Even for a moment I don't want to be away from you.