ISHQBAAZI– DIL SE– CHAPTER 2- The Fight Gets Uglier
Link to previous episode:
Shivaay was in a bad mood due to test results in which he scored really bad (in 8th we don't have much tension except marks). Though by shouting he felt relieved but was quite guilty to have shouted on Anika. On the other hand Anika was used to being insulted by her friends due to her innocent behavior or sometimes by her parents for scoring less or misbehaving tht too in front of everyone. But she had never expected it from 4 people in life- Shivaay, Om, Dev and Sonakshi…. On being shouted in front of everyone she felt bad..
Meanwhile in recess Shivaay went to talk to Anika…
Shi: Ani, I m sorry yaar.. test ke results tabhi aaye the and I was quite upset with it so when u came, I got irritated and vented out my anger…
Ani: (looking away) No, it's ok.. (taking steps forward)
Shi: where r u going ha??
Ani: I have some work toh jaana h..
Shi: Anika please yaar…
Ani: wht please??? I know u were upset but iska yeh matlab toh nahi na ki u will shout, ha?? Abhi I m also upset toh main kya karu?? Shall I shout?? U have ur method of showing anger and I have mine so leave me alone for some time… Please
Meanwhile'
Dev: Hi Sona!!! What happened??
Sona: Hi!!! Nothing..  y??
Dev: bas aise hi just asked… By the way kal who kaun tha??
Sona: who?? Tht guy who came in break to MEET ME(she emphasized the last words)??
Dev: Hmmm…
Sona: Boyfriend
Dev: Tera boyfriend hai, yeh mujhe kisi ne nahi bola…
Sona: (Laughing Uncontrollably) So cute!!!! Mera nahi h woh.. Meri cousin ka bf hai, woh mujhse kuch kaam tha…
Dev: (Blushes) okkk by the way I wanted to talk to u about something.. Just don't get angry or upset or sad or… U know na??
Sona: U r at loss of words I think.. Joh bolna h na jaldi bol ok?? Curiosity jaga di..
Dev: (clearing his throat) umm…  woh… umm…
Dev's pov:
Bol bhi de ab, Kya soch rahi hogi woh chal bol
Dev: Sonakshi, I have crush on u ..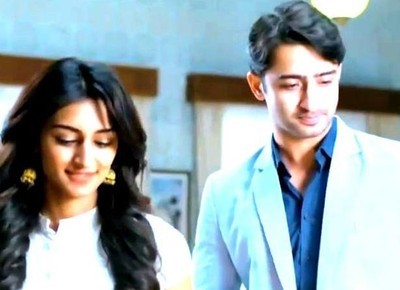 Sona: (blushing) I also have crush on u
Gauri interrupting: Aur maine sab sun liya… thank god!! maine sab sun liya kitne chuppa rustom ho yaar tum log na kabhi kuch bola, na kabhi hints diye… chiii
Dev and Sonakshi got embarrassed and walked away..
After some days, Anika and Shivaay had started talking…
But things got awkward when Anika confessed to Shivaay about her crush on him and Shivaay didn't say anything.. So they started avoiding each other and talked very less. This was silently enjoyed by Neil and Svetlana. They did everything to create misunderstandings between them and succeeded too. They would masala to things to make talks even more messier between them.. The term thus ended on a very sour note for Shivika who later ended up frequently fighting.
9th standard started,
Tia Kapoor was a new admission and new sensation among boys due to her attractive and seductive features… Her tone of talking was always flirtatious which irritated most of the girls.. One day Edgy 8's full group were sitting in ground and were having a hell of fun when suddenly Anika was hit badly on nose by basketball (GUYS it's basketball so it hurts really bad I m a victim myself) and her nose started to bleed continuously…
Ani: Who the hell is that??
Tia: Sorry darling it was my mistake..
Tia's pov: A very nice mistake
Ani: Mistake?? I know u very well.. This darlo varlo will not work on me…
Shivaay interrupts: Anika, calm down.. Just go to nursing room and get ur wound dressed. Simple!!!
Ani: Yeah right.. Now I can't even shout on someone if I m hurt??
Shi: What's the use of shouting when damage's done??
Anika was fuming with anger and an otherwise calm Anika picks up the ball and throws it with full force on him…
Shi: What the f***??? R u crazy??
Ani: Why r u cursing???.. The damage is done…
Saying this she runs towards nursing room leaving everyone shocked. Shivaay was hell angry..
Days passed and the fight between SHIVIKA was getting worst each passing day..
And one day, Anika came school with swollen eye as if someone had hit her badly on eye…
PRECAP: What happened to Anika??
Author's note: Do comment on how it is and also point my mistakes so that I can improve. Please like and comment. Thanks for reading..