Abir:what was you saying?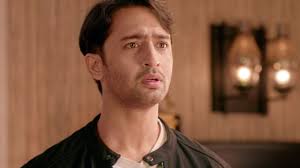 Kuhu lowers her head and stands crying.
Abir:Kuhu tell me it's a lie! Tell…
Kuhu is unable to say and react.
Abir: Calm down Broo… you are super cool like me. Just tell me it's a lie. I won't ask you anything .
Abir insist her. Kuhu shouts.
Kuhu: it's not a lie, it's a truth.
Abir:How dare you cheat us! I am not going to spare those who hurts my loved ones.
Kuhu: please bro. Please hear me out.
Abir: No way kuhu!
Abir walks in. Kuhu panics and goes behind him.
Abir gets hesitant to reveal as he sees the whole family happy and spending time together.
Abir:How can I say this? How will I make them unhappy?
Abir gets helpless infront of his families happiness.
Kuhu stands behind him.
Abir takes Kuhu with him and walks far away.
Abir:I want to know why did you agree to this marriage if you don't want to get married to him?
Kuhu:I…
Abir:don't cry! I am just here for an answer.
Kuhu: I am sorry…
She reveals…
Kuhu:Hello… How dare you eat one piece from my pizza? I will complaint and throw you out of the house, just wait and see. You don't know me,idiot
Unknown: Excuse Me…
Kuhu cuts the call. He calls back.
Kuhu:sorry won't work.
Unknown:who is going to say sorry ? You are dialling a wrong number madam. I am not the one.
Kuhu cuts and checks.
Kuhu:oh God !
Kuhu calls him back.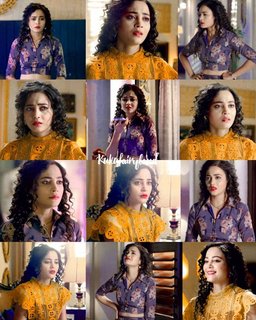 Kuhu: I am sorry, I just said like that…
Unknown: I would suggest one thing mam, let it go… the pizza matter. He would have done a mistake. Forgive one.
Kuhu:I have paid for it. How can I let it go?
Unknown: Mam, someone time we should let it go, it's better to become a loser than a winner sometimes.
Kuhu: sir, is it possible?
Unknown:if pandavas have won the gambling game, there would be no mahabarat.
Kuhu and the unknown person talks…
They starts enjoying each others company.
Reality,
Abir:Are you talking in your sense?
Kuhu: yes I am…
FB…
Kuhu and the unknown have arranged many meeting plans and fails to meet.
From the beginning,itself all are being adverse to them.
Kuhu admitted injured Mehul and missed her meet up.
Like this each and every meeting of them was postponed.
Still they formed a bond between them slowly.
Reality…
Abir:she should have informed us. It's not justifiable act.
Kuhu:to whom? Badipa and Badima won't understand. Mishti will ignore me saying Kuhu ki craziness. It's easy to say bro.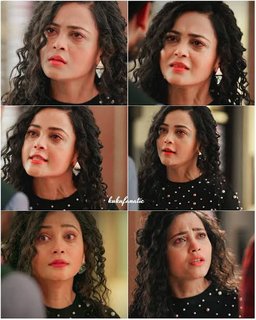 FB…
Kuhu:hello you didn't called me yesterday, was you so busy?
Unknown:yes ,I am. I won't be able to call you again.
Kuhu:Matlab?
Unknown:I am ending this unknown relationship!
Kuhu:How can you!
Unknown:sorry! I am sorry.
He cuts the call. Kuhu calls him back. He doesn't answer.
Kuhu:how dare he end this relationship like this?
She broke down and gets angry in her stupidity.
Reality..
Kuhu:out of that anger,when Badima asked me of the alliance. I just said yes. Then,I realised it was Kunal. I never intended to hurt him.
Abir:then, forget that unknown and move on. My nanko will keep you happy.
Kuhu: there is something else left.
FB…
Kuhu is sadly getting ready for her engagement…
Unknown calls her.
Unknown:How dare you? You messaged me I Hate You and let me go. Is this how you see our relationship?
Kuhu:what should I do? You hurt me and ended our relationship. Then you are asking how dare me?
Unknown: I just wanted hear I love you from you so I just played a prank. I wanna give a name to our this unknown relationship. You let me go like this, I thought if hearing love you, but you. . .
Kuhu gets shocked. Mishti enters.
Kuhu cuts the call. Kuhu gets engaged to kunal.
Reality…
Kuhu:I tried to go on with the fate. I tried to call him. But I am getting realised that he is my life. He is like my papa, I want him to leave
Kuhu breaks down. Abir stands helpless.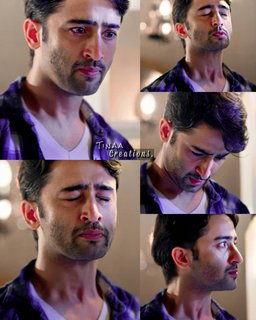 Abir:what are you going to do? Elope with him?
Kuhu stays mute.
Abir:what did he say?
Kuhu: he said I love you too. Let's be together.
Abir: what should we do now?
Kuhu: please help me broo…
Kuhu hugs Abir. Abir stands helpless.
Abir:My Nanko should live in a loveless marriage. I will help you for my nanko, not for you.
Kuhu clears her face. Both walks into the function.
Mishti:what was you two doing alone? Kuhu your friends are here. Go…
Mishti sees Abir and smiles.
Abir is disturbed and can't look at her.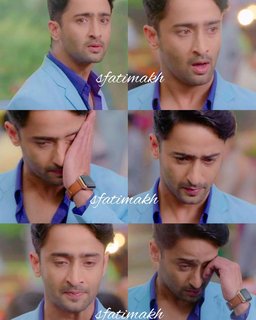 Mishti:kya hua, both don't look good?
Kuhu smiles with a heavy heart.
Function ends…
Abir is sitting alone by a lakeside.
Abir:This is a tough situation for me, I want to be strong.
Mishti:Abir..
Abir sees her and hugs her emotionally.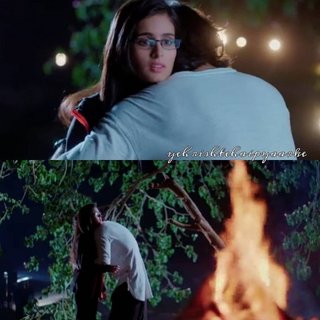 Abir (thinks):I wish to inform you,but can't as I can't see you helpless like me. Let this matter be with me.
Mishti also reciprocate.
Abir gets back after sometimes.
Mishti:you look disturbed in the party itself, kya hua?
Abir: woh kuch nahi.
Mishti:you are lieing, you look into my eyes first.
Abir:it's difficult to…
Mishti tries to turn and his face but fails. Abir resist her and they both fall down into the lake.
Abir holds her close and gets her back to the bank of river,
Mishti shivers, Abir hugs her and warm her.
Abir:I asked you not to be adamant.
Mishti:I am adamant.
Abir:don't be so stupid again.
Mishti:I will.
Abir frowns. Mishti also frowns.
They smile and gets back…
PRECAP:WILL KUHU'S DECISION END MISHBIR'S LOVE?
Hello,
Mishbir fan,i don't know whether you was a fan or not…let it be. Thank you.
Thank you Nitya,Avni,Meghna(actually my name is Meghna… i had shorten it Meghu),shivani, zingo and shital chauhan.
Risho123, glad to know you are reading this ff. Thank you so much…