HO GAYA PYAR TUMSE let's feel it…. (shot 42)
Mishti and Abir is all confused about the feelings of the respective partners…
Vishwamber:we can leave,right?
Mehul:leave after holika dahan,please.
Jasmeet: why not, let's stay.
Nishant:Maa… you come after holi celebrations.
Jasmeet makes a face.
Nidhi:she is right. It's Mishbir and Nishki first holi,right?
We can celebrate together.
Badima: we can come tomorrow.
Kaushal: if you want to then, let it be.
Maheshwari family leaves.
Parul: Mishti, please come to help. No preparations have been done
Mishti goes to help.
Preparations are all doing well…
Mishti tries to find Abir amid her work.
Abir is not getting involved in between the preparations.
Mishti tries to go to him. Mehul stops her.
Mehul:let him be alone.
Mishti doesn't understand why did he said so.
Mishti goes behind Mehul.
Mishti: papa,what is this? Why did you stop me?
Mehul: he doesn't like holi.
Mishti:what!? I have noticed he loves celebrations.
Mehul: He doesn't like holi, he would say that his mother took away all the colours from his life. Then what will he do with holi colours.
Mishti feels bad for Abir.
Mehul:I never asked him to celebrate with us.
Mishti: papa, I think you have to ask now.
Mehul:it will hurt him.
Mishti:the pain should heal by time. We together should do holika dahan.
Mehul: May be New relationship change the old habits,right?
Mishti smiles…
Mehul goes to Abir and Mishti keeps an eye at them amid her works,
Mehul:beta,I never insisted you to celebrate but I have to now.
Abir:sweetheart… l
Mehul:it's Mishti's first holi in this house, I can't let her down. So please give a thought.
Abir: okay sweetheart… I will try to.
Mehul:I can't force you. It's all your wish.
Mehul walks away. Abir looks at Mishti.
Abir (mind voice): sorry Mishti! I can't do it.
Time arrives for Holika dahan.
Mishti (thinks): Abir is seen nowhere. So he will not come, may be the wound is deep.
Everyone does pooja.
Parul:Mishti come forward.
Mishti comes forward.
Abir stands beside her. Everyone smiles seeing him.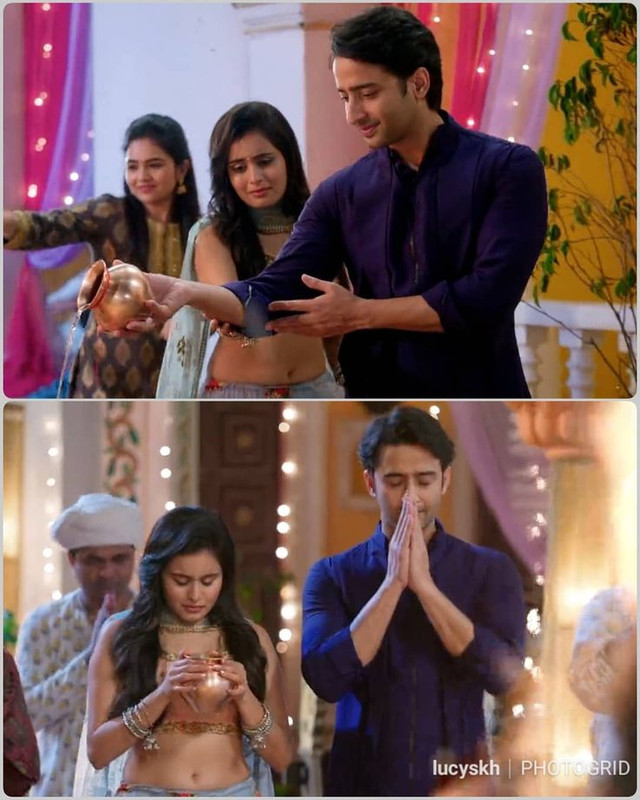 Mishti is happiest, Mishbir together does rituals.
Abir is not seen happy. Still he participate
Mishti (thinks):Abir… thanks for coming. I will bring back colour in your life tomorrow.
Abir (thinks):you should not be sad because of me,Mishti.
They finishes and everyone is happy.
Abir is sitting alone in his room. Mishti comes from behind to apply colour.
Abir holds her hand and drags her to bed.
They see each other.
Abir:what was you doing?
Mishti: you know it.
Abir:I don't like it.
Mishti:you said that you need to be with me,right?
Abir nods.
Mishti: even I need you with colours in your life.
Mishti applies colour on his face. Abir gets saddened.
Abir: I don't like colours. It's not colourful as it looks.
Mishti:May be with your perspective.
Abir suddenly breaks down and cries. Mishti hugs him tight and consoles him…
Abir:Ma. . .
Mishti: what?!
Abir:Maa left me in a colourless life. I am stuck here.
Mishti forwards her hand.
Mishti:I have colours in my life. I am ready to share. Come forward.
Abir looks at her.
Abir:it's difficult to do so.
Mishti:not impossible,right?
Abir holds her hand.
Abir keeps his head on shoulder.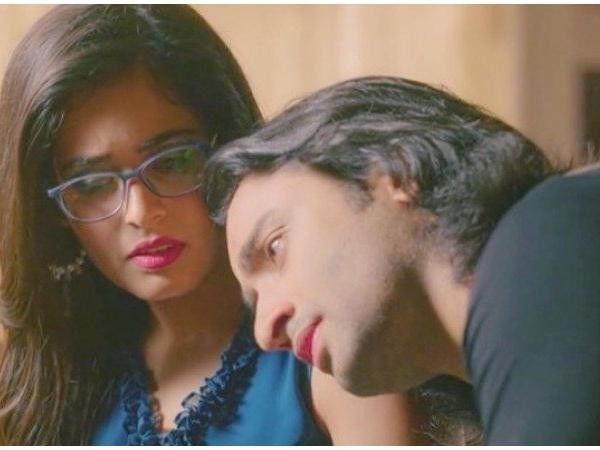 Abir: when ma left me, everyone started taunting me. My friends would say that I am a bad boy,so she left me. Someone sympathetically look at me. It's all hurting.
Abir shares his sorrow, Mishti feels sad hearing all that.
Mishti still becomes his healing medicine for his pain.
Abir slowly gets into sleep… Mishti cares for his face and slowly makes him sleep.
Mishti:I know it has not been easy for you, but from now, it's gonna be easy. I promise.
Mishti kisses his forehead and sleeps beside him.
Next morning,
Abir wakes up and finds a letter.
Letter: your sorrow ended yesterday. Today is holi a new beginning. Start with a smile. I am waiting for you to smear you in colour.
Abir smiles.
Abir goes down getting ready. Everyone is surprised to see him.
Abir:Happy holi everyone..
Kunal pinches himself.
Kunal: Happy holi bhai…
Abir looks for Mishti.
Parul: what is this magic?
Mehul: Mishti's magic…
They smile. Abir walks in search, Mishti is hiding. Mishti tries to put colour on him . Abir moves and apply on her face.
Abir:it's not easy to apply colour on me,choti motu.
Mishti frowns at him. Abir turns to go.
Mishti: stop nah,Abir…
Mishti slightly leans towards him. Abir looks at her.
Mishti:shall I ask you something?
Abir:yes!
Mishti:I will whisper in your ears. Mishti tends towards him and applies colour with her cheek on his.
Mishti: khadoos,don't be over confident. Happy holi.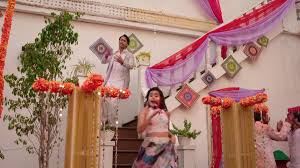 Mishti runs. Abir smiles realising her prank.
Maheshwari family arrives. Everyone greets Happy holi.
Everyone is covered with colours in mean time.
Nishant, kunal and Abir has been drunk by the special drink.
Abir:Nankoo, I want your advice. I am in love with Mishti, how should I express it to her?
Kunal smiles.
Kunal:you are asking now?
Nishant:so late.
Abir:I got the courage now. I don't know whether she loves me or not.
Kunal:you got courage by drinking this,right?
Nishant:so,ask her to drink it and confess real emotions will flow.
Kunal and Nishant smiles.
Abir goes with the drink and serves everyone…
The whole family is drunken.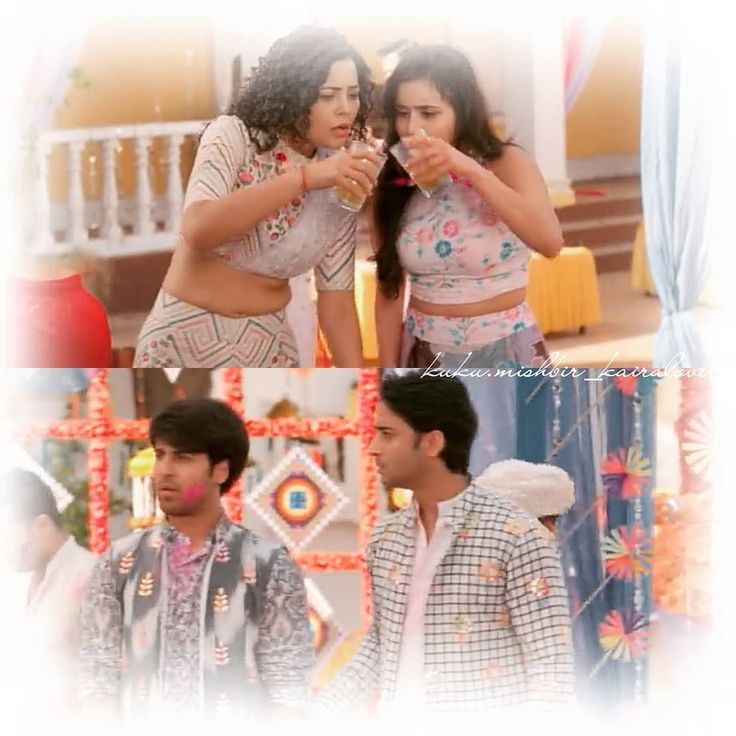 Kuhu starts crying…
Kunal:why are you crying? I love vibrant smart colourful Kuhu.
Kuhu:all of you are cruel,you snatched my sister from me.
Kuhu hugs Mishti. Mishti starts crying.
Abir:don't cry Mishti. I am with you.
Kuhu:no one is with me.
Kunal:I am with you come to me.
Kuhu and Mishti: we want to be together. #sisters bond
Parul smiles crazy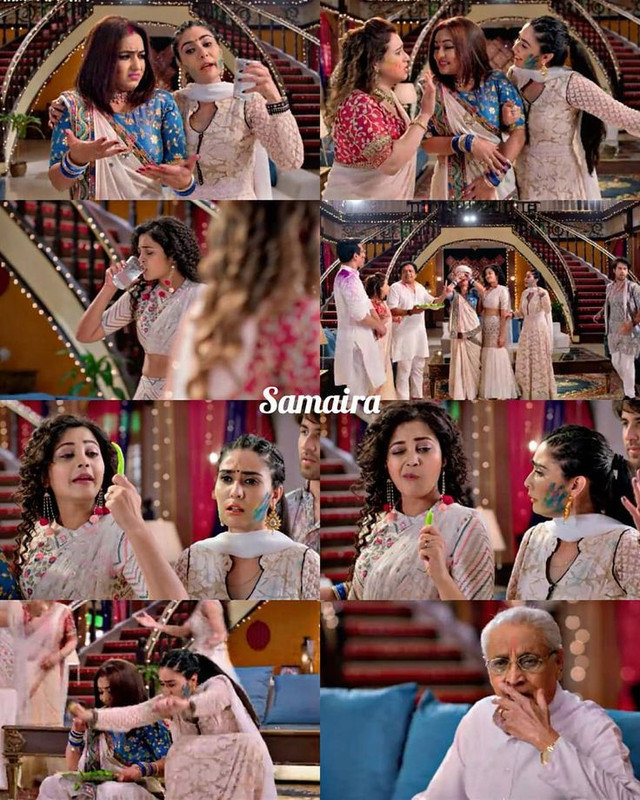 Parul: I have an idea. Kuhu come join our family,
Mehul:what do you mean?
Parul: look kunal Kuhu how beautiful jodi. Let's bring her as kunal's bride.
Mishti:then,she will be with me.
Mishti kisses kuhu.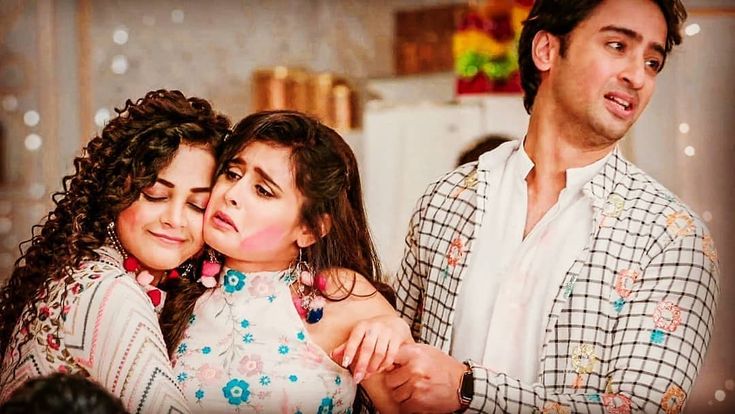 Badima:I should agree,right?
Badima looks at kuku.
Badima: They are looking more cuter than Mishbir.
Badipa:no! Mishbir is the best.
Jasmeet:both are best. But Mishti kuhu jodi is great.
Mishti kuhu hugs,
Abir: Nanko, you said that she will confess after getting drunk. Look now. The sisters are hugging and kissing.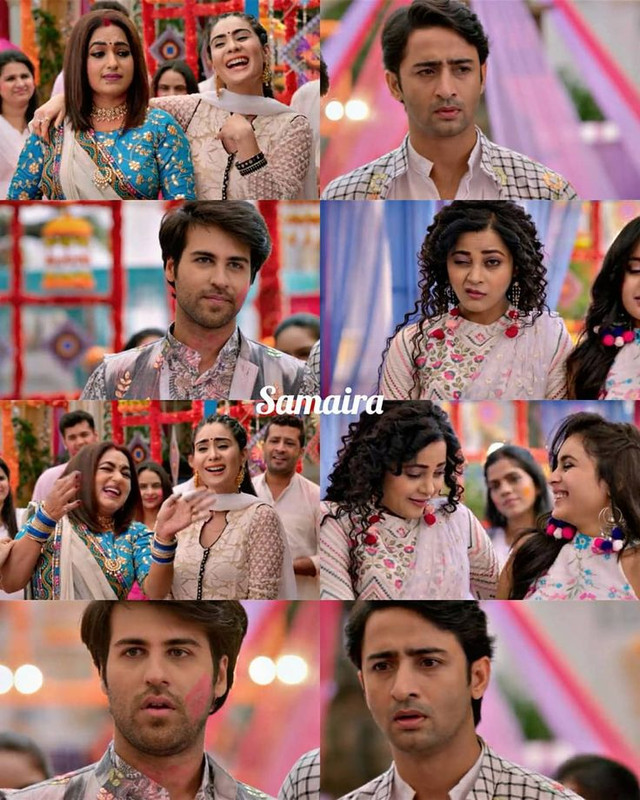 Kunal:let's also hug and kiss.
Kunal hugs him.
Parul: what about my idea?
Badipa: Good one. I like it.
Nidhi:kunal will bring kuhu…
Mehul: kuhu… are you ready to come?
Kuhu nods yes.
Kunal:then I will come in horse with barat….
Kuhu:I will get into the horse.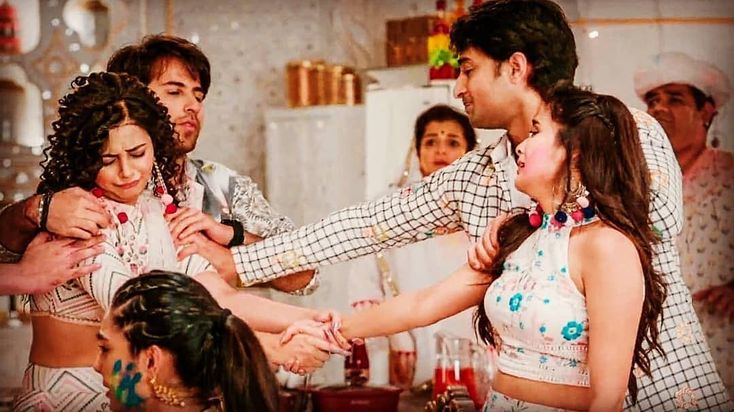 They act to go in horse.
Parul:we will join hands again.
Parul hugs Badima.
Nidhi:is there any girl left for my Atul?
Jasmeet:why?
Nidhi:then,all Maheshwari family can shift here along with us.
Kuhu:# happy family
Amid the moments , Mishbir goes missing…
Scene shifting to them…
Abir:I will tell you something. I have given them drinks.
Mishti smiles…
Mishti:you naughty boy.
Abir: you have to say something bolo…
Mishti: when did I said so?
Abir:you don't have nothing to say.
Mishti says no.
Abir gets sad.
Abir: okay then I will say.
Mishti:let's sit there.
Abir: you came to my life unexpectedly, but became a part of my life. I realised that people enters in our life for a reason. You are my better half.
Abir kisses her hand. Mishti shys.
Mishti:I will say the rest. . . At the moment, I felt the love between us, I felt like high in the sky.
Abir:by sharing my sorrows I felt relieved, you made my happy holi,Mishti.
Mishti:when you was fighting for me, I felt I am in the most secured hands.
Abir:whenever you support sweetheart as yours,I feel I have come here as an SIL.
Mishti:-when you stood up for my dreams, I felt my dreams are on your eyes.
Abir:but when you flirted with Niel, I felt to keep you in a locker.
Mishti:same here,when you was with that so called pooja.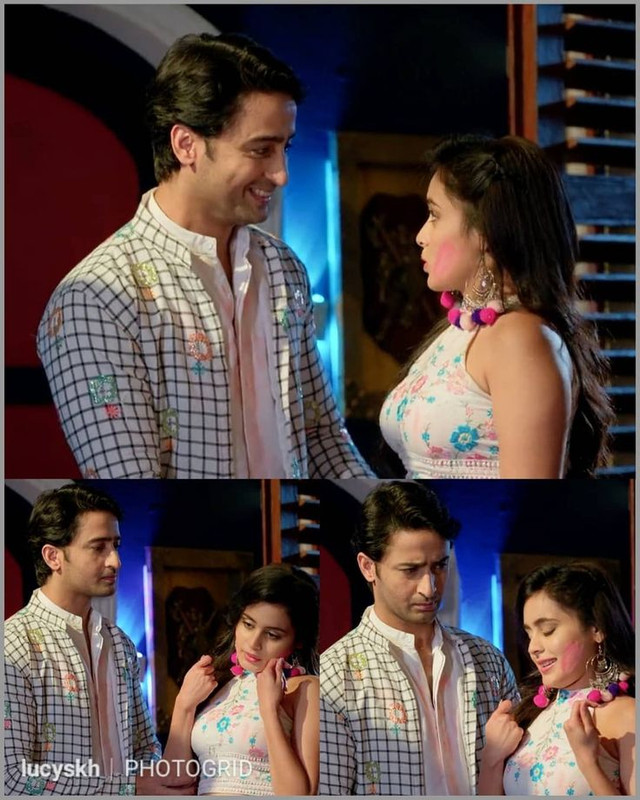 Abir:shall I tell you a truth?
Mishti: yes!
Abir:you was looking hot in that saree.
Mishti:then,why didn't you said before?
Abir:I said it now, you also tell what's inside your heart?
Mishti:I won't, you tell.
Abir:I can't wait anymore… I lo…
Mishti:stop! Think once again. I am choti and motu.
Abir:what if you are choti,I will lift you like this.
Abir lifts her up and swirls.
They fall on bed.
Abir: I will go gym, you remain motu.
Mishti smiles. They look each other.
Mishti:I lov…
Some loud music interrupts.
Abir:they started music…
Mishti:come let's dance….
Mishbir goes down,
Kuku is already dancing… Mishbir joins them.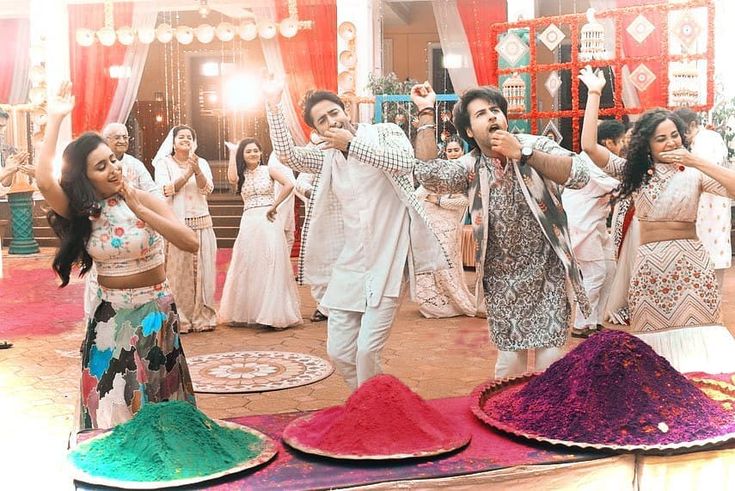 The whole family is dancing crazy…
PRECAP: MARRIAGE FIXED?!!!
I find it better to have holi celebrations, hope no one find it odd.
Hello, felt so happy when you all liked the realisation of love, I will try to make confession more good.
Thank you kruthika,Nithya, Mishbirfan, Avni,Ananya ,Riya and Zingo.
Avni,I am not writing any other ff till now… but I am thinking to write one… but you know I am super lazy😜