HO GAYA PYAR TUMSE let's feel it…. (shot 34)
Rajvansh house
Jasmeet and Nidhi are blaming each other.
Ketki:stop it please!!
Nishant:we married by our wish,we will never disturb you. Please don't fight in our name.
Ketki and Nishant folds their hands.
Nidhi cries shouting and cursing Nishant.
Jasmeet:Nannu… my son,will you leave your mom for her???
Nishant looks away from her,
Jasmeet cries,family holds her.
Mishti:family is very important,Nannu!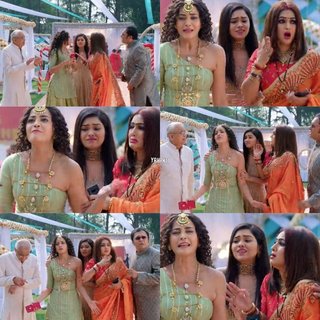 Abir:you can't leave like this!
Ketki:what else bhai? They are all fighting over us.
Mishti:it's not over,it's for you two!
Ketki cries.
Nishant:okay,fine. Can you please accept our relationship?
Nidhi:I will die,it's better.
Nishant:we got the answer. ketu,are you ready to spend the rest of my life with you?
Ketki nods yes.
They hold hands.
Nishant:we will leave. Thank you.
Jasmeet goes to kitchen and holds a knife. Everyone gets shocked.
Nishant:what are you doing? Keep that away.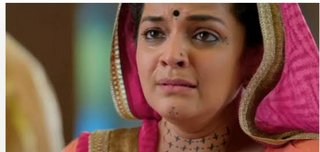 Jasmeet:You are going,how do you care?
Ketki:don't say like that,please…
Jasmeet:you don't talk to me!
Nidhi:let her die. Why are you scolding her?
Mishti:how can you say that? We can't let anyone die.
Nidhi:she will be your chachi,but no one for me.
Nishant:don't do stupidity maa,please
Jasmeet:I have been living for you, if you can leave for that chudail,then why can't I?
Kaushal:be careful on your words,she is our daughter.
Ketki cries.
Badima:we can discuss,just calm down beta…
Jasmeet doesn't listen.
Kunal comes from behind and holds her hand. Abir takes the knife from Jasmeet.
Kuhu:calm down,chachi! Please.
Jasmeet cries. Ketki and Nishant feels bad.
Mehul: it's all should be over now,enough of all! It's now time to give blessings!
Kaushal:how can we?
Mehul:if they have married by their wish,it's upto them now.
Nidhi:I can't,she is a fool,Nishant would have made her fall
Jasmeet:why should my son?
Dadu:why are starting from the beginning?
Badipa:I think Mehul is right.
Jasmeet:you too? I have dreamed my son wedding.
Kuhu:we can have all the rituals again.
Jasmeet:shut up Kuhu! It's also about my bahu.
Kunal: your bahu should love your son,right? She loves him,that's why they got married.
Nidhi:what does he have to marry from this family?
Jasmeet:like if your daughter is princess? She is a divorced girl,her husband left her… there are many stories in town.
Nishant:Mom!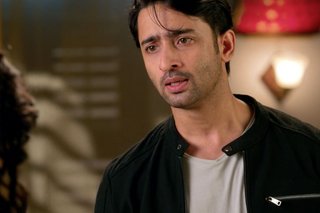 Abir:enough now! She is my sister. You can't insult her.
Jasmeet:there is a reason!
Abir:we can't bear this !
Mishti:Abir,why are you raising your hand against my chachi ?
Abir:can't you hear what she told?
Mishti:she did out of frustration,you should have understood.
Abir:can't you see Ketki is hurt?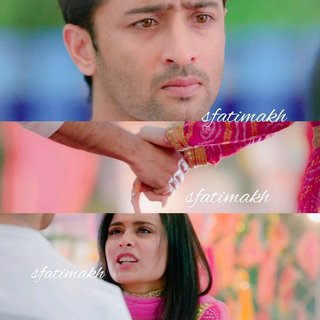 Mishti:really? Can't you see Jasmeet chachi would have dead today
Abir:it's better,she splits venom.
Mishti:What is your family members doing then?
Abir:My family?I always consider it ours!
Mishti:I don't think so Abir! You should have thought of them too.
Abir:you too didn't!
Mishti:it's equal for us two.
Nidhi:dekho,how she is taking their side?
Mishti:why can't I? They too are important.
Ketki:don't fight for us,bhabhi.
Mishti:you should have thought before wedding.
Abir:why are you blaming her?
Mishti:why can't I? Girls should be careful in every step.
Abir:like if boys don't have any trouble?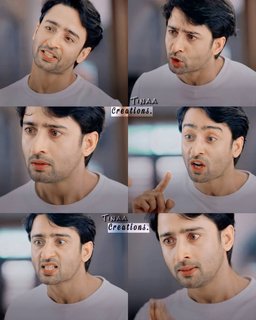 Mishti: yes,but girls suffer more.
Abir:do you think Ketki is wrong?
Mishti:yes she is.
Abir:then,what about Nishant?
Mishti:he is less guilty than ketu,as…
Abir:bas! You are taking side of your house.
Mishti:you think so,I don't care.
Abir:she is never a burden on us. She will stay here
Mishti:who asked her not to? She married by her wish. It's all upto her.
Abir:why are misbehaving?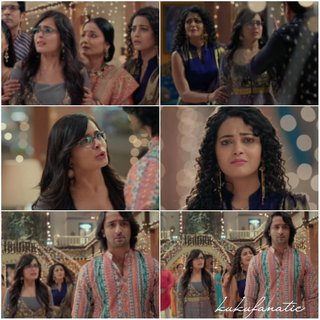 Mishti:I have not till now.
Kaushal:why are you fighting over ketu and nannu?
Abir:we are just clearing things mama ji!
Parul:How can you raise voice like this in front of husband,Mishti?
Badima:she got angry, please forgive it.
Mishti:why are you pleading,I have not done anything wrong?
Abir:why are you shouting at my mom?
Mishti:I am not shouting,you are!
Abir:this cannot happen in this house!
Mishti:why can't this happen? If it's wrong, I will raise my voice.
Abir:then get out of the house and Say it !
Everyone looks on tensed.
Mishti:why should I get out?
Abir: first get out,
Abir drags Mishti out holding her hand.
Everyone asks him not to do so.
Abir:because it's Rajvansh house!
Mishti:even I have a house,I will show you.
Parul:will you leave for this issue?
Mishti:I didn't leave,your son asked me to get out of his life.
Mishti cries and leaves with her family.
Nidhi blames ketki.
Nidhi:your brother's marriage broke because of you,listen to me at least now!
Abir:it's not because of her! Think of yourself and understand.
Abir goes in and wiping his tears.
Everyone stands sad.
Ketki:I think you should be with your family.
Nishant:how can I leave you here?
Ketki:you should!
Ketki cries and runs away.
Nishant leaves sad.
Maheshwari house…
Badipa:it should not have happened!
Mishti is crying, kuhu is consoling.
Jasmeet:Nannu,why don't you think before doing?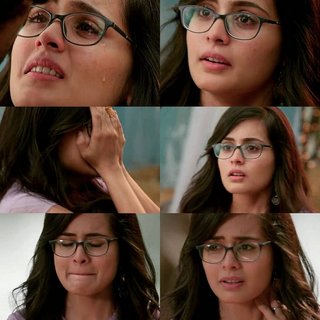 Mishti:if you are feeling,it's Nishant's mistake?? Keep your mind calm and think.
Mishti goes upstairs. Jasmeet looks upset.
Mishti is cycling along a road in the evening.
Mishti reminisces the incident.
Another cycle comes alongside her.
Mishti sees the rider and smiles.
Yes,it's our prince charming Abir,
They both smile seeing each other and apologies.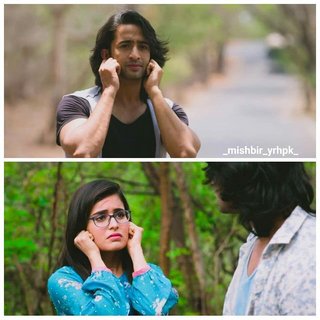 Abir:How is the master plan?
Mishti:doing good.
FB….
Abir remembers initiating a fight between them.
Abir(whispers): you just support me and fight.
Mishti:what? Fight!
Abir initiates. Mishti supports him as he asked.
Both fight.
Reality
Mishti:do you really think our fight matters?
Abir: let's hope so!
Mishti:what's next?
Kuhu and Nishant sees them from a distance.
PRECAP: WILL MISHBIR'S PLAN BACKFIRE???
I would have given a mini heart attack,sorry dears😅