Hate turn into true intense love twinj os happy birthday sameera
Happy birthday sameera
?????????????????
Wishing you a beautiful day with good health and happiness forever. Happy birthday!
"Happy birthday to one of my best friends. Here's to another year of laughing at our own jokes and keeping each other sane! Love you and happy birthday!"Sameera my raj ddlj?????? my fff Queen ? this os I dedicated to you and specially write for you… hope you like….
Hate turn into true intense love OS
?‍???
The story of kunj and twinkle Both is die heart enemies of each other's both studying in same university even in same class too.. don't know both have problems with each other's.they study in London staying in hostel.while Yuvi and Kunj , rish, naman or Aditi is the best buddies..story started from university .. twinkle Taneja one and only child of Leela and rt Taneja .Kunj single son of tej his mother die in car accidents when he is 10 year old.. now tej living in Germany just come London to meet Kunj once send money for him every years .. they both belonging from Punjabi families.. Their names coming in riches families of India ..Kunj who is always in his zone loved sports to play..while twinkle loved dancing and all's. Both of friends is good friends of each other's.
LOndon university @. Everywhere students chilling out making fun of their friends.. camera went on one group.. it's KYNRA.. Kunj Yuvi Rishi Naman Aditi. (You can imagine aditi as Kalki koechlin.. ) aditi is totally like boy. She is least interested in girly things just for name she is girl otherwise wearing boys clothes. She is life of kunj and yuvi or Rishi or Naman they loved her like anything four of them celebrated valentine day with her first???.. Let's started the story… camera zoom on their faces.. Kunj laughing on Naman. He tell him about his last night with his gf just for one night ??..
Kunj: epic what she did with you?? Naman: she is very faster than me ??.
Rishi: awww????.. give her number to me bro.. even I too want to see her action ??..
Yuvi: still you didn't done Rishi… Just than one girl passed from here Rishi look at her and get lost in her hotness?. She wears mini skirt with crop top her milky skin tempting all boys' heart.. ?. Rishi: what a girl she is…
Kunj: chal bat lagate hai.. Rishi: okay baby??Rishi always win saale..??.. Kunj: chal.. my dear ??.. rishi Went and see that girl her name is Lilly. Rishi went towards her and try to started conversation, but she didn't look at him just busy in herself?…
Rishi: ? idea.. he looks at Yuvi and Naman they understand what he'll do it.. Yuvi and Naman went and stand on the bench. Yuvi: hey guys today our rishi bat with kunj on someone so let's he'll get chance to dance with her or not will you cheer for him.. all started screaming loudly in yes.
Naman: great… if he wins than Kunj Sarna will give party to everyone tonight ?.. Rishi lose than he will do strip dance. Rishi looking at them get confused he didn't get ready for this all..
Kunj: Rishi Rishi..????… Lilly was busy with her friends..
Aditi: shameless saala.. Rishi take cap and hide his face . He went behind pillars started singing the song allah maaf kare.. Tauba Tauba Tere pyar mein Lut gaya Iqraar mein ( foreigner girls started dancing along with Rishi..) Tujhse mohabbat ho gayi Allah maaf kare Tauba Qayamat ho gayi Allah maaf kare
( Rishi took flower went to Lilly show her flower while she looks at him get confused) Oh…..!
( everyone laughing to see him) Tujhse mohabbat ho gayi Allah maaf kare ( Rishi hold Lilly hand but she pushes him give him naughty smile).. Tauba qayamat ho gayi Allah maaf kare
( Rishi run behind her while she run ahead) Dekha tujhe toh saansein ruk gayi Sajde mein yeh aankhien jhuk gayi
(Rishi took hand mirror and show her face try to praise her beauty she just blushing) Teri ibadat ho gayi Allah maaf kare
(Kunj: saalo ) Tujhse mohabbat ho gayi Allah maaf kare Tauba qayamat ho gayi Allah maaf kare ( girl were standing around Rishi he gives lovely kisses on their cheeks pointing his hand on Lilly in way he wants to give her too)
Tauba Tauba tere pyar mein…. Lut gaya Iqraar mein….
(Lilly press her lips in no)) Yeh din jawani ke dil ki kahani ke Aise bitata hoon main
(Rishi took striking and running behind her) giving roses to everyone)
Tere khayaalon main Apne sawaalon main Uljha sa jaata hoon main [x2] ( Yuvi too come started dancing with him)
Girl : Ho ladte ladte aankhien lad gayi Dil ki baatien aage badh gayi
( she took flower from Rishi while he started jumping in happiness) while Kunj get shocked) aditi laughing..
Thodi shararat ho gayi Allah maaf kare Meri toh sudh-budh kho gayi Allah maaf kare hey hey…
( Lilly started dancing with Rishi he spin her fastly winking at Kunj give him flying kiss to hidly.. )
Tujhse mohabbat ho gayi Allah!
( Lilly hands around Rishi neck)
Maana zamaana yeh deta hai taana Yeh thoda awaara hoon mein
( Rishi took Lilly near his gang and show them to her)
Jo bhi hoon jaisa hoon Aisa ya waisa hoon (Proudly fixing his collar)
Abb toh tumhara hoon main [x2]
( bend down on his knees hold her hand and kissed on her hand) Ho…
lilly:. aate jaate dekhoon tujhko Jaane hua hai yeh kya mujhko
(Lilly pulling Rishi cheeks kiss on his cheeks)
Sabse baghawat ho gayi Allah maaf kare ( Rishi wear his sunglasses entangled their hands tightly)
Saari sharafat kho gayi Allah maaf kare e e..
( Rishi give everyone winning smile) Tujhse mohabbat ho gayi Allah..
( Lilly give kiss on his lips quickly..) Just than Yuvi went on maya he just shocked to see her she was coming with her friend ridhima. He turned and look at Rishi who were enjoying it with Lilly happily.. Kunj too see maya and started laughing loudly..to imagine Rishi condition ???..
Aditi: gaya?????.. maya was slightly far from them.. they four of them rush to Rishi Yuvi whisper in his ears.. Yuvi: abey Teri Maa aagi.. Rishi smile disappears immediately ???.. He to look at maya and take deep breath. Than he looks at Lilly who cuddles him::
Rishi removed her. They all run from there fastly as much as they can…
Lilly: what happened to him just now he praised my beauty.. maya and ridhima Look at crowd and get confused..
Maya: what happened here why they all standing like this???
Ridhima: leave it something happened here.. Rishi and Kunj , naman Yuvi aditi hide behind pillar.. while Rishi breathing heavily ???…
Yuvi: ufff bach gaya??..
Kunj: hmm shara nikhal deti ??.. allah maaf kardeta but maya not
Naman: Rishi Teri kitni fhat ti hai maya se????..
Rishi: heheheh shut up battery ?.,, just than they heard their class ring bell. All ran and take their bags went in their class room.. Take their seats.. just than twinkle come there with chinki.. she looked at Kunj who laughing loudly.. she makes faces on him.. Take her seat beside maya.. Kunj eyes went twinkle he to make faces on her.. Murmured siyappa queen.. later professor entered in class all student get up wish him good afternoon.. while kunj gang sitting peacefully.. professor look at them..
Professor: you people are special PM will come for you haa… other's laugh at them.. Kunj see twinkle smiling face at him.. They all get up and looking at professor. Professor: whose people are interested in my class they can sit if not than kindly out of my class I don't want any kind of disturbance… all boys get up.. Kunj and Rishi , yuvi Naman give their books to aditi and other one sadaf she is to their good friend..
Kunj: write my notes too…
Rishi: mine too.. twinkle look at them.. Aditi: you people didn't attend any class always we did your work.. why???
Yuvi: Arey humara match hai please.. They keep their books on the table and ran out of the class…
Twinkle: sadu… They all went in garden and all boys come and toss the match with coin. Tanveer VS Kunj team…tanveer win toss. All took Their place.. This university principal is very strict type of man.. whole university scared of him.. Soon cricket match started.. one boy come took bating while kunj doing balling.. other for fielding… they all enjoying lot. One by one all boys out..
In class [email protected]
Chinki: till now I didn't understand one thing this kunj and his friends didn't study but always get good marks in exams huhu.. twinkle: right yaar.. good for nothing. They are not good,,,
Maya: I don't know what problem kunj and twinkle has with each other's ??. Ridhima: both of them equal… soon their Class end they all went.. in garden.. see them.. now it's kunj team turn they all took their place.. Kunj looking so hot in his clothes whit shirt with blue pant. While his blue coat he tied around his waist wearing cap too. It's their uniform compulsory… Rishi doing batting while other boy balling..Rishi hit the ball its 4 they all get happy.. like this they just winning.. now kunj turn he doing batting tanveer doing balling he did his best to out him he can't.. Kunj just giving 6 pe 6.. they all laughing… soon kunj team win…
Kunj: awww tanveer????..
Twinkle: impressive mr Sarna.. All sit on grass. While tanveer brought beer ? bottles for everyone he gives them for cheers… Alcohol isn't allowed here when university going on still they all drink. Kunj Gang one day not live without alcohol they wanted drink at any cost their all money went on this all.. bottle is their partner is crime ????.. Like this whole day passed night come. As per bat Kunj loses, so he gives party to everyone.. all enjoying it.. maya come kunj throw beer bottle after see her..
Kunj: shit maya??.:
Maya:done Kunj or else you wanted more ha…
Kunj: hmmm. Rishi come there..
Rishi: Kunj I win bat he saw maya and quite…MA…ya…
Maya: yes me which bat…
Rishi: Kuch nahi baby… just normal between us… Lilly come there and hug Rishi while Kunj and Yuvi closed Their eyes..
Maya: hey how dare you hug my BF..
Lilly: Your BF what he is mine just today he and me become GF and BF… Rishi friends controlling their laughs..
Maya: acha.. Did you have proof..
One girl: yes I have she show her video everything is recording in this video what Rishi did today..,maya see and get angry on him and while Rishi just making helpless looks?????.. Kunj hide his face behind Aditi hairs laughing he look at yuvi and naman???… Three of them. Smirked out ??… Maya hold Rishi collar and Throw beer on his face.. Aditi make omg look. Twinkle: now what happened to maya.
Chinki: Rishi did something..
Maya: you ass hole… how dare you… now wait what I'll do it…
Rishi: no baby it's just for fun… asked your brother too..
Maya: hehe very funny brother even he too like you.. Kamino charo ke charo Ek number ke…
Yuvi: why she alway abused us too along with Rishi ???…
Naman: haa saalo rishi ki wajshe Humari be insult hu..,
Kunj: let them continue let's enjoy it.. they all went on dance floor and started dancing funnily.. just than twinkle bumped with Kunj..
Twinkle: can't you see and dance properly. Kunj: same to you drama queen..
Twinkle: you sadu.. maya is right you are too shameless ???..
Kunj: jaada mat bol??, you silly girl.. Twinkle push him while Kunj hold her hands tightly…,
Kunj: don't mess with me just some months is left than I'll not see your face. Twinkle: same… both started fighting no one listen due to loud music.., Later In midnight they all went to their hostel rooms…after they changed and sleep Next day like normally Their class going on..
class [email protected]
Teacher teaching them. While they all doing Their work. Kunj and yuvi sitting together on one bench while Naman and Rishi behind them.. they play game in laptop. While others doing Their work. Twinkle eyes went on Kunj and see him that he was playing game and smirked just than see principal come into their class…
Principal: good morning my all students what is going on.. after hearing principal voice Kunj and all stand up closed the laptop … today I come here for some important work I m happy my all students is so cleaver that they fill alcohol in their normal water bottle drink smartly.. all boys face colors fade… Kunj looking at Aditi face..
Rishi: see I Told you people I getting feeling bad see..
Yuvi: chup saale jab bi tujhe maya ki maar padti nai tab tab Kuch bura hota hai.. principal call peon and give him Oder to check everything.all started sweating like hell…
Kunj: ek aur idea flop kardiya iss ne.. Naman: think something Gaya one month ke liye suspend hum sab.
Rishi: if amma will know she'll kill me.. Last time she called and knows-everything about me.. didn't give me single penny. Kunj: same pa too.. Throw me out. Peon come and check it out he smell bottle and alcohol smell is coming out from bottle and he handle over the bottle to principal. He looked at that boy with anger eyes.. Like this all boys bottle check it found alcohol inside in their bottle now Kunj and his friends is left..
Yuvi: Kunj used your brain.. fast. Kunj took his bottle and see something and give smile which make Aditi and all confused.. Aditi: pagal hogaya hai Kya..
Kunj: hmm kunj see twinkle bag is open her eyes is on other side. He slightly bends down and hide Their bottles inside in her bag and closed it.. stand like proud peoples.. now peon come to them twinkle smiling..
Peon: give me your bottle..
Together : we don't have bottle today we didn't bring..????..
Twinkle: what?? Peon: let me check your bags happily they show Their bags to him.. sir nothing they have..
Principal: okay call those people… Twinkle surprising looking at them..
Twinkle: how can this possible I just saw Aditi she drink rum from her bottle.. Bell rings all went out of the class. While twinkle and maya along with Chinki Ridhima they all went in canteen to have something..
Rishi:aww Kunj maangaye tujhe.. they too went in canteen.. Kunj see twinkle and they too sit beside them..
Kunj: twinkle give me your bag??? Twinkle: why??? And tell me where you hide your bottles ha you lair..
Kunj: don't worry siyappa queen.. I'll show you.. where I hide bottles… while others giggles..????… Kunj snatch twinkle bag from her hands and open it and take out their bottles and show her while they all girls get shocked…
Kunj:see twinkle..
Twinkle: you when did you do it this ha? Kunj: when you imagine us that principal hanging us with the fan..?? That time I did it.. thanks for saving us.
Yuvi: yes twinkle yaar..
Maya: you people Don't have any shame.. Yeh ek nalaiyak hai pointing her hand on Rishi ????… they all started laughing… hoooo even you three too same. Harami from where you learned this haa
Yuvi: rishi???..
Maya: hoo he is your head.. maya abusing them badly twinkle and other enjoying it.. Yuvi: abey Rishi Teri girl friend humari aeshe bezati Kyu karti haii
Maya: I'll do it what you'll do it haa.. Lusty mans ladki dekhi nahi muh se paani aana shuru….
Rishi: maya that video is fake.. don't know which blo*dy did it..
Aditi: your bestie ????.. kunj and Naman Yuvi going backwards Rishi looking at them…
Rishi: you rascals…
Kunj: this two did Rishi not me…
Yuvi: just for fun ???…
Rishi: wait kamino.. whole night I heard her taunts and gaali ???… they three of them run from there Hurriedly… while Rishi too run behind them.. Girls went to see them.. Kunj and yuvi running like wind… Rishi coming to them only..
Rishi: today I'll not leave you all.. Naman hides behind ridhima..
Naman: ridhima save me I'll not cheat you next time please.. Rishi took out his shoes and throw at naman..????…
Rishi: maya you are right they deserved your golden words ???.. while Kunj and yuvi stand breathing heavily.. Kunj lost in twinkle laughing face.. even he doesn't know why??? Rishi look at them.. You two wait.. I'll break your gesture them in cheap way…Rishi took ball from aditi hand kunj and yuvi look at each other face and understand.
Yuvi: Rishi nahi yaar …
Kunj: same too..
Rishi: sorry my babies… Yuvi keep his hand on his private part… but poor Yuvi. Rishi Throws the ball and which hit on a perfect place..
Naman: good shot…
Yuvi: f**k in pain..
Rishi: now kunj.. where you'll go now.. Kunj see down he didn't waste any seconds.. he jumped down landed on ground. Perfectly..
Yuvi: lambi lanoko wala bach gaya..
Kunj: bye ????…
Aditi: heheheh.. still Rishi throw ball at him while kunj catch …
Kunj: thanks… at dinner time all students come for dinner… at their mess… everyone standing in line taking their food just than Kunj come and see twinkle she too standing beside him.. both look at each other give tashan look to each other's.. they took their food plate and take their seats everyone sitting together having their food while all the time Twinkle and Kunj ogled to each other quietly.. just than Mahi come and take her seat yuvi look at her and get happy..
Yuvi: jaan you come back..
Mahi: yup Yuvraj.. twinkle and Mahi is cousin sisters while Mahi is Yuvi gf both loving to each other's.. Yuvi feeding Mahi. Twinkle: aww Yuvi you are so good teach something to someone huhu… taunting to kunj..
Maya: right twinkle.. it would be good if principal caught them.. now they all will sleep on roads ??..
Kunj: tu ??.. maya look at him give him angry look..
Maya: don't call me with tu I'll tell him.. Rishi and yuvi or Naman giggling while Kunj making puppy faces…
Kunj: you always give me damki…
Rishi: my poor future saala?????. Maya: yup give some respect to your big sister kunj..
Kunj: what about your Rishi…
Maya: he is impossible…
Twinkle: next time don't do anything like today you people did… sadu Sarna… She complete her dinner and went to place plate back.she about to going to her hostel room just than someone come and take her in backwards.. he was kunj.. Kunj pin twinkle against wall..
Twinkle: what nonsense is this ???
Kunj: nothing twinkle Taneja..
Twinkle: today you save because of me what you'll do next time..
Kunj: let's see when time will come.. did you hear that quote keep your friends close but your enemies closer ??what I'm doing it. You are my enemies me too yours…
Twinkle: good one.:. Don't forget I'm Twinkle Taneja.. not like other's university girls that I'll come in your traps..
Kunj: even I'm not like that boy you were thinking.. I'm the least interested in girls if not than girls roaming round Kunj Sarna baby???…
Twinkle: don't call me baby I'm not your baby get it.. Kunj; okay sorry I'm apologized… but remember one thing don't dare to come in my way. Twinkle push him and give him roared look.. Twinkle: same to you.. she went from here. While Kunj ruffles his hairs..
Kunj: what something special in her which attract me lot but I hate huhu. He too went his room.. and sleep next to Yuvi who was busy in phone chitchat with Mahi.. after two days later in university some running race compilation is there.. All come and standing.. Kuvi and risman. Standing in group.. Rishi: who will win haa???
Yuvi: can't say anything everyone is good.. specially this two brothers… Naman: we wanted that winning prize.. Kunj: haa lets play smartly. They went near to tanveer and cherry.. started blabbering..
Kunj:: aaj race me ghodo ke saath gadhe bhi daudege…
Yuvi: matlab smirkily…
Rishi: Arey gadha ????..
Naman: I'll not run…
Kunj: great… tanveer and cherry listen this and started thinking.. soon all students take their place all set for race.. twinkle and other's girls were cheering up for them. Kuvi and risman looking at each other face… race started all running fast.. while kuvi and risman walking like lazy all get confused.. ???.:.
Aditi: What happens to this boys ha.. Maya: yes why they walk like tortoise ???..
twinkle: losers…. tanveer and cherry look at Kunj and all's they too started walking like them.. while Rishi and Kunj get happy… they were in middle all get tired… Kunj gesture his friends and they tie up their shoes laces..
Kunj: Bhaag… they four of them run like wind all get shocked.. Kunj turned and look at tanveer giving him devil smile.. It's their strategy… just for them they said this all..
Tanveer: shit…????… while girls happy for them… Kunj reached the finishing line first it doesn't for them who will win they just wanted anyone in their group… principal give winning prize to kunj and he took it and happily went to his friends…
Rishi: aww kunj…
Tanveer: you all didn't do good now you people are donkey… Together yes we are?.
Rishi: we want to win this race at any cost see we win it and it's doesn't matter who is donkey…
Kunj: humne yeh nahi bola ta who will win this race he was donkey.. ???.. I'm mean today donkey will to ran along with horse ?????.. we are winner ????… they said this and went to girls,.
Kunj: see maya I win…??..
maya: congratulations bro.. nice plan… Rishi: everything is fair in love and war.. twinkle see kunj and give smile.. Like these days were passing kunj and twinkle fighting less now..today is Christmas party in university.. all students get dress up nicely today no rules and regulations are there… do whatever they wanted… All students enjoying the party everything is going on swing.,, having drinks dancing with their friends some kissing too… just than twinkle entered there went to chinki who standing with maya and all's.. Kunj eyes went on her get lost in her beauty she was looking at hot in this attire… Kunj didn't blink his eyes for a second.., many beautiful girl is there but kunj eyes just landed on twinkle every time…
Yuvi: looking hot twinkle kesh ko maarne ka iradha hai.. winking at Kunj ?.. he ignored it and went to take his drink.. they did shots compilation. Twinkle drink so many shots become like mad. While Kunj see her give smile in alcohol effect.. they all went to dance floor started dancing cozily. Kunj hold twinkle hand..
Twinkle: kya hai ab..
Kunj: kuch nahi… he pulled her near to his chest… went to his ears and whispered in husky voice.. God must've been showering off when he created you ?? Twinkle blushed so hard,,
Twinkle: acha don't try to flirt with me.. Kunj: no G.. I'm not flirting but being extra nice to someone who is extra attractive tonight ???..
Twinkle: nice one.. she said went to tanveer started dancing with him they both dancing cozily which seen by kunj he didn't like the way tanveer touch her.. he drank one by one in one go… Kunj friends busy romancing with their partners.. Now it's enough for kunj he went to twinkle and take her hand started dancing with her she too happily with him.They both lost their sense just live these moments with each other's.. outside snow fall starts twinkle see and went outside.. Kunj too went behind her she twirls itself feeling so good kunj Mesmerized with her cuteness.. he went to her.. twinkle throw snow ice on him.. they both playing together like crazy.. just than hostel warden come and see twinj.. Warden: what Miracle happened today how they both together see them laughing rather than just fighting with each other's. Good to see them..: she went from there while twinkle run and went outside of the university.. Kunj too.. Kunj: Twinkle wait I'm too coming… both entangled their hands went walking on roads.. they come outskirt..
Twinkle: where we come…
Kunj: don't know… kunj eyes went to motel hotel.. they went inside kunj take room key.. both fully drenched in hangover… they went in room…
Twinkle: good we find place to stay… tanveer i miss him. Kunj heard this and hold her from her shoulders..
Kunj: why you miss him ?in jealousy… Twinkle: why should I tell you.. do you have any problem haa.,
Kunj: yes very much.. when you don't like me how can you like him haa…
Twinkle: hmm when did I said that I didn't like you haa.. it's you who Always arguing with me. Kunj pulled her near to his face.. Kunj: acha??… he caress her face. Both blinking their eyes just… without wasting any seconds kunj lock his lips with twinkle..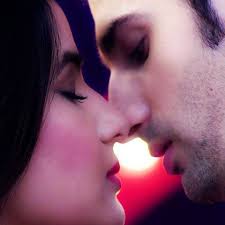 both started kissing each other passionately like today their lips get perfect place… twinkle rubbing kunj hairs smoothly… they both going in backwards Twinkle fall down on bed while Kunj top of her.They didn't break the kiss.. Nibbling each other lips.. twinkle caressing his hair smoothly enjoying the way he kisses her making her lips wet.. Later they both broke the kiss due to lack of oxygen.. Kunj look at twinkle face while she too.. just smiling… like mad.. Kunj tucked twinkle hairs behind her ears kissed on her cheeks.. bite too. He press his lips on her face every where. Twinkle taking hot breath.. Kunj nuzzles his face in her neck started kissing on her neck like he was just dying for this… giving her wet kisses and leave love bites too twinkle moaning his name loudly.. Feeling every beat of this moment.. Kunj entangled their fingers tightly rest on bed.. twinkle eyes were closed and living in pleasure. Kunj leave twinkle neck garb her lips again giving her French kiss while twinkle too giving him same reaction.. (they both unaware what they were doing right now…) kunj bite her lips and soothing the pain too. Later Twinkle come top of kunj and kiss on his cheeks bite on his neck.. Kunj enjoying her style of torture… Kunj rolled down her come top of her again.. twinkle back facing to kunj. He aside her hairs kiss on her nape.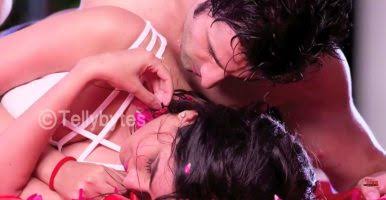 Twinkle clutch bedsheet., Kunj one hand holding twinkle hand.. he gives wet kisses on her shoulder and bite her collar bones twinkle Haaaa…. Kunj turned twinkle make her face to him. He looked at her from head to toe.. while twinkle lock her hands around kunj neck., kunj fully come hovers her soon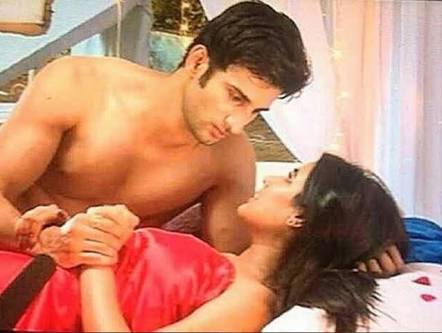 they undress and Kunj and twinkle get engaged in intimate.. they Both become wild totally forget everything just remember what they do it,,,what pleasure they getting whole night fills with Moan and Groan pleasures… screen blurred.,, Otherside in [email protected]
Everyone sleeps here and there due to alcohol while some of the sleeping with each other,,, next morning sunlight come on Their face.. scene went in room.. mahi and yuvi were sleeping together in side Rishi and maya cuddling each other's.. naman resting his head on ridhima shoulder.,, warden come and throw water on them.. they all wake up with jerk.. Looking here and there didn't remember what happened last night..
Warden: wake up it's your home… She said and left.. they all sit down holding their heads which spinning like hell…
Rishi: omg last night we drink out of the limits…
Yuvi: hmmm.. shit where is kunj…
Rishi: hoga yehi…. just than ridhima remember today their important project submission is…
Ridhima: guys lets go before we late for our project if professor will come than we all will be gone.. they all just rushed to their rooms and take freshen up within no time.
At motel [email protected]… Sunlight coming on twinj face disturb their sleep. Both wrapping in white duvet. Kunj sleeping on twinkle while twinkle tightly cuddling kunj.. their clothes scattered in room.. just than twinj wake up open their eyes together. Just vision didn't come clear.. twinkle look at Kunj and he too her.. see in which position there are.. both get shocked to see like this. Kunj come on bed while twinkle just looking here and there.. warped blanket around her body tightly. Both don't know what to say they didn't expect they both will find itself in this condition together most… Twinkle see room condition and their clothes.:
Kunj: wohhhh.. he wears his plant and went in washroom while twinkle immediately get up and sit.Wear her clothes just than Kunj come out of the washroom and look at her both looking at each other having many questions in their mind …twinkle get confused to see the place how they come here what happened with them, so they did this.. kunj went outside hold his head remembering what actually happened.. slightly he remembered he went to do payment till than twinkle come to him.. just than chinki call twinkle she picked up her call and talk to her.,
Chinki: Twinkle where are you yaar come fast you know today is last date of your project submission.. twinkle get shocked she did so hard work for this project.. twinkle; chinki I'm coming wait.. she hanged up the call and went to Kunj near.. Twinkle: kunjjj..
Kunj:yes( awkwardness happened between them today slightly) Twinkle:our project did you remember today is last date for submission..
Kunj:f**k I totally forgot about project.. Twinkle:let's go before our class started… They come out of the motel and went outside to find taxi..!!!! they both try to stop many taxi but one stop they both get tired. Later they walk and Kunj see one car and pleased him that give them lift.. Kunj pleasing so cutely that which twinkle laugh to see his cuteness.. he agrees to give them lift., kunj get happy and show thumbs up to twinkle. They both hurriedly sit in car soon they reached university and went to their rooms get ready later they about to went in class just than twinkle stop.. Kunj: what happened??? Twinkle: Kunj I leave my bag in my room only..
Kunj: you go I'll bring it,,
Twinkle: no no.. Kunj: go please… Kunj run and twinkle went in class everyone was looking at her specially her and Kunj friends… she went to chinki and take her seat and sit.. she didn't say anything because she doesn't have any words.. while Kunj went and take twinkle bag and about to coming in class till than professor come and tell everyone get ready their project CD he will see first and send ahead… Kunj and stand waiting for teacher permission.
Professor:Arey mr Sarna you get late where is your teammates… haa? His eyes went on yuvi or Rishi and Naman.. HO they are here good to see them… so what I'll do with you haa. Always late in every class you were not interested in your studies.. Look at your sister she is so clever.
Kunj: uff sir will you let me entered in class or else..
Professor: or else means???
Kunj: nothing bye… carry on.. sir… he throws twinkle bag while Rishi catch it and went from here in attitude while his all friends too went behind him..
Rishi: huhu you old man ???..
At garden Kunj sitting and playing with. Pens. Just than his gang come and sit beside him..
Rishi; Arey kunj..
Kunj: you all here why???
Yuvi : because you are here so we too.. Kunj: what about your projects….
Rishi: soch lege kuch na kuch..??.. Aditi: yes they share group hug..
Naman: up.. In class all students give their project and went out of the class while Twinkle feeling bad for kunj this project is very important for them.. later they all went in canteen sit and having food., Rishi: weshe where were you last night.. just than Kunj and twinkle chock together… both looking at each other's and remember what happened between them..
Kunj: woh…
Yuvi: haa so suddenly you and Kunj disappears from party..
Kunj: we went somewhere not in sense so stay in motel bas..
Maya: hoo.. twinkle get up and went from here. After sometime later Kunj just thinking about last night it's so difficult for them to digest this.. whose always fighting like cat and rat.. Kunj come in garden and see twinkle sitting. He went to her and sit beside her started conversation.
Kunj: Twinkle I want to talk to you about last night… she looked at him…
Twinkle: what???
Kunj: whatever happened it's just we are not in sense I'm sorry for that…
Twinkle: we are equal Kunj.. neither I stop you. Forget about everything… twinkle get up about to going while kunj held her hand..
Kunj; but I don't want to forget anything twinkle… Twinkle: means…
Kunj: I want to tell you… just than chinki come and take twinkle with her.. Like this month passed kunj started feeling for twinkle after that incident it's very tough for him to stay away from her her touch left magic on his heart.. Same with twinkle too both forget their fights.. They all busy in their exams preparations. At night kunj get frustrated now he can't control on his self… he just went to twinkle room.. he went in girls hostel quietly before anyone saw him.. he knocked the room door while twinkle was all alone in her room., she open the door and find kunj standing in very depressive condition..
Twinkle: Kunj..
Kunj: twinkle.. I need to talk to you.. he entered in room and closed the door with jerk..
Twinkle: Kunj are you okay… Kunj: no.. he went closer to her and hold her tightly their faces is very near to each other's…
Twinkle: what happened to you why you behave like this haa???
Kunj:Twinkle I can't live without you.. twinkle give him surprising look…
Twinkle: kya..
Kunj: haa Don't know what happened to me… he cupped her face… looking into her eyes desirably. Kunj rubbed his nose Against her.. twinkle closed her eyes.:: Twinkle: Kunj please go from here why you do this…
Kunj:no I can't it's so difficult for me to stay away from you after that night what magic have you done on me…
Twinkle: Kunj it's your need saying please understand… he garbs her lips kissing her passionately while twinkle numb for sec to see kunj and get lost in his touch.. they both become mad kissing each other like hell…. Kunj pulling more in himself… twinkle get tired she pushes Kunj .. Twinkle: Kunj….
Kunj:what.. even you wanted same what I wanted twinkle..??
Twinkle: no she turned.. it's just a mistake you take it seriously… he went near him.. Kunj: tell me one thing don't you feel good when I touch you.. just now you didn't stop me… she look at here and there.., Twinkle:okay yes…. Kunj started behaving madly..
Kunj: I needed you twinkle..
Twinkle: Kunj please stop… what wrongs with you.. you go from here before anyone sees you.. he didn't listen her.. twinkle went near him.. cupped his face okay kunj we'll talk later now you go look at yourself what have you done with you haa.. Kunj went near twinkle neck.. rubbing his face against her neck. Now it's become very hard for twinkle too.. she closed her eyes and tears fall from her eyes…
Kunj: I LOVE ? You don't know when it's happened really my hate turn for you in love… twinkle smile painfully….
Twinkle: even I too love you kunj… she hugged him tightly.. never think whom I hate so much now I fall in love with him.. Passionately they hug each other's caressing their bones…. just than someone knocks at door.. twinkle get shocked she wants to break the hug while Kunj didn't let her go… Kunj please leave me see someone at door.. you go we both stuck deep trouble… twinkle forcefully break the hug.. go kunj from window.. you hide please somewhere..
Kunj: okay.. he went and hide in wardrobe while twinkle went and open the door find chinki..
Chinki: why you take so much time haa. Twinkle: washroom me ti… chinki went inside.. twinkle so scared…
Chinki: Twinkle lets go out before exams. Twinkle: hmm. Just than wardrobe door open itself kunj seeing perfectly… twinkle hugged chinki. While she get confused… Chinki: twinkle what happened..
Twinkle: nothing yaar just missing mom and dad.. while kunj slowly come out of the wardrobe and went towards window… twinkle didn't let chinki break the hug.. kunj give flying kiss to twinkle while she smiled and blushed too.. kunj jumped from window.. immediately twinkle break the hug…
Chinki: uff twinkle…
Twinkle: I'll come she went in washroom and look at her face in mirror touch her lips feel kunj touch… blushed. He is not bad that much.. ??… DESPO.,,i love you sadu… after sometime later Kunj waiting for twinkle just. His friends come and look at him …
Rishi: what happened kunj After Christmas party you behave so weirdly.. Kunj: arey nothing is like that…
Aditi: it is.. kunj..
Yuvi: tell us kunj..
Kunj: arey I told you na., while kunj see twinkle coming he get tensed and biting his nails in nervousness…
Kunj: guys don't want to do study haa. Rishi: what about you…
Kunj: I'll come in 10 minuets…
Naman: Kyu Teri girl friend aanewali hai kya ????
Kunj: huhu..battery… yuvi see twinkle and Kunj were looking at same direction. He understood and take everyone from here… uff finally they went… twinkle come and stand looking at Kunj awkwardly…
Kunj: what happened???
Twinkle: nothing… they both went behind trees so no one can see them.. they sit down on grasses..Kunj holding twinkle hand tightly…
Twinkle: ab bolo…
Kunj: Kya… he kissed on her back palm. Twinkle: Kunjjjj come on point…
Kunj: I'm on my point already winked at her… twinkle I'm serious for you..
Twinkle: acha??.: even I'm too Kunj.. I never think this day will come in my life we both sitting like this..those always behind each other like they'll kill each other's.. Kunj:same still im behind you but in other way???… she gives him slap playfully.., one night change our life:. I'll give you love that no one give their lover… Twinkle: awww. She pulled his cheeks.. Kunj kissed on her forehead… they both staying for sometime in each other embrace.. Kunj just playing with twinkle hairs.. now Kunj let me go chinki calling.. Kunj I have one question.. she become serious really.
Kunj: yes..
Twinkle: if you too like your friends.. I mean you understand na what m I talk.. I don't want even you too doing double timing..
Kunj: did you saw me one timing karte hue???????… she nodded her head in no… twinkle don't worried about this thing even i too don't like but don't think my friends is characterless.. Twinkle: I know maya and Rishi together you always save him itself after he cheated on your sister why??? Kunj Smiled..
Kunj: I know this even I know Rishi too me and he grown up together all.. he is best for maya di..no one can't make her happy like him haa i know his heart slipped every soon:. Maya knows him how he is.. after that she love him and I'm not in this all.. he is my bestie bas and she is my sister at home… I'll never cheat you.. twinkle promise you Love is a beautiful rhyme that can never be explained.
Twinkle: stop your cheesy lines??.. Kunj: I hope that one day you'll come to realize,How perfect you are when seen through my eyes.???. He pecked on lips.
Twinkle: bas now go and sleep focus on your study..
Kunj: you know me first Kunj hi aayega.. ????..
twinkle: hmmm cheating kar ke..
Kunj: so what.. they both left and sleep.. Twinkle and Kunj spending time with each other's due to this their love increased Till now no one knows about twinj.. Itself yuvi too didn't disclose this.. he knew everything about them.. after they all busy in their exams soon their exams end it did their level best.. one week later their result come out and Kunj and Rishi performed very good.. others too.. their convocation happened.. tej take maya and Kunj with him back Germany. While rt and Leela too. Twinkle and Kunj didn't get chance to talk with each other's tej knows from somewhere Kunj loving some one.. twinkle and Kunj crying for each other's.. didn't say ufff.. they left for their places Germany and India…. 2 months passed tej get ready for maya and Rishi wedding.. while Kunj become lifeless man twinkle didn't pick up his call even not replying to his messages. Maya and Rishi marriage happened and they live happily.. Aditi went Dubai and settle down..
Kunj: dad let me go India please..
Tej: why??? Kunj: I love her I promised her.. Tej: this all just nonsense Kunj see maya today what she got to marry with Rishi.. I find the best boy for him..
Kunj: so what they love each other's dad.. But you can't understand this.. you are is heartless man.. you just love your wife not us.. jaanvi is tej second wife who always fill tej ears against Kunj and maya..
Tej: give respect her she is your mom.. Kunj: she isn't dad..my mom die… you never love us first send us to boarding school later university you never cared about me and di how we are haa today you wanted to take our life decision… just than maya and Rishi come there and see everything tej about slap Kunj but maya stop tej.. Maya: no dad..
Tej: see your brother he doesn't have manners to talk with his parents..
Jaanvi: tej leave him..
Kunj: shut up don't come between us you are just my father whore Kunj get slap from maya. All get shocked.,,
Rishi: maya..??? Maya: don't dare to speak one more.. she hold his hand take him in his room.. Kunj started breaking the things.. In India.. twinkle always thinking about Kunj and about those days she spends Kunj she trust on him give herself to him many times… tej did fake message to twinkle from Kunj side that everything is over between them twinkle totally break down.. many days she stays in her room. Feel so bad.. later she makes herself busy in rt business. Whenever twinkle see Mahi and yuvi together Kunj face come in front of her eyes…
2 year later.. Time passing more Kunj totally become crazy man.. he always drinks crying for twinkle don't know where she is.. yuvi didn't tell Kunj because after listing twinkle about Kunj messages… Kunj make himself mad little bit long hairs long beards looking like some broken man.. he didn't do any work just doing time pass. One day he went and see one man singing so beautifully. Tej of friend who is music composer he listens Kunj voice become fan of him he knows he is broken heart and music come perfectly from broken heart touch people heart. He approved Kunj and he gets ready for this..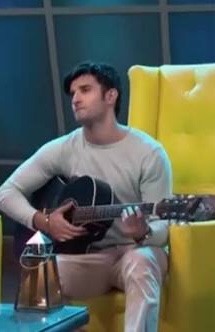 surprisedly his music album get super hit he become girls heart beats… tej never expect he saw his son one day like this.. Rishi and maya try Their level best to come out Kunj from his pain. Kunj never told girl name he loved twinkle… he become rock star who started living in everyone hearts. Now music become his life he feels good when he sings.. in one hand he had drink bottle in other hand his guitar ?… Other side twinkle missing Kunj all time in her heart she makes him alive. Rt and Leela brought many alliances for twinkle but she rejected them.. tell she didn't want to marry anyone.. twinkle suffering from dangerous disease Aplastic anemia In this disease bone marrow he hematopoietic stem cells that reside there are damaged which find very rare.. she can't do any work more feeling weak.. her parents did best to save twinkle.. Kunj get chance do music concert in India.. he come.. Twinkle cousin is Kunj very big fan.. Everyone knows Kunj from KS name… Riya cousin: twinkle di please take me in ks music concert..
Twinkle: who is he now??
Riya: you don't know him twinkle just wasted your life.. he is sensation of music.. his very word telling about his pain. Even I'll call Yuvi bro and Mahi too Twinkle: you know about my health I'll faint anywhere..
Riya: don't worry I'm with you.. twinkle agreed for this.. Kunj sitting somewhere having beer in his hand..
Kunj: Twinkle where are you see I'm here in these years I'm Miss you see I didn't see any girl you are first and last.. I never thought In this simple love story become so difficult and give us pain too.. Kunj see twinkle photo.. next day he all set for his concert… while Amritsar just waiting for kunj see him once… people become like they are mad behind kunj..hug Audiences come for kunj.. even Yuvi and all too..
Yuvi: Riya where is your rockstar..
ha Riya: He will come soon.. just than lights went off..Kunj come wearing losse pants with blue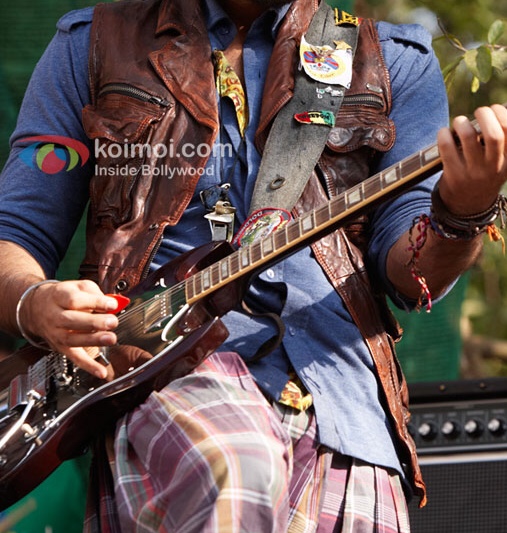 shirt his intense look make him more handsome and painful for his beloved once… Kunj started his music he played his guitar his nails too used to he gives them pain every time… Kunj full face come on screen in big., all girls hooting kunjjj kunjjjjjj… when Kunj pictures come twinkle and yuvi get shocked to see him like this.. Kunj started music.. he sings sunn raha hai.. his all songs for just twinkle only.. tears coming from twinkle eyes after see him.,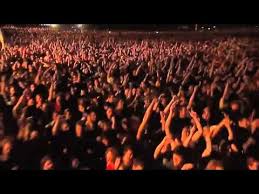 She managed herself watch kunj Listen his song and see crazed for him to see people's.., he sings and wiped his eyes.. Twinkle run from here and cried hard,, Twinkle: he come Why now nothing is left..??????…. Yuvi consoling her., Later Yuvi and twinkle get out all in formation about kunj from Rishi and maya.. they were shocked to see him like this..: Yuvi went to kunj and meet with him asked kunj why he make himself like this.. Kunj: time sab karwa deta hai.. in these years you never talk to me once..
Yuvi: I'm sorry I'm help kunj., One day kunj see twinkle and hold her hand take him side..
Kunj: Twinkle. He get so happy to see her after so 2 years.. he immediately hugged while twinkle didn't stop him too she wait for this moment feel his warm ness.. they cried so much in each other's embrace… Kunj cupped twinkle face.. Twinkle I miss you so much.,
Twinkle: heheh Kunj.now you cared for me., what happened that day..
Kunj: Twinkle my dad isn't good he didn't see us together just because of him I made myself this… in this years one single second not went I didn't miss you., Twinkle: good story KS rockstar..you play with my feelings. She said this and went from there while kunj crying.. Both of them crying for each other's.., Twinkle hospitalized Kunj know about this he didn't care about his music concert. Just went and see twinkle who laying on bed unconscious. He aksed Yuvi and get shocked he knows about her disease she doesn't have time.. now this make kunj more broken.,
Kunj: I can't lose her she has to live for me..
Yuvi : than why you didn't come for her.. you said nothing is left between you and her.. Kunj; i didn't say anything like this.. Even I called her always but she didn't answer to my calls.,
Yuvi: what about the message..
Kunj: which message Yuvi show him.. he had screen shot.. Kunj get shocked because he never did any type of message to twinkle. I didn't message this Yuvi..
Yuvi: what are you serious kunj.
Kunj: yes I'm.. I know who did it.. Kunj call tej and tell him that he wanted him to come India right now if he wanted to see him alive. Tej from next flight he come India and Kunj asked tej tell him he did, kunj slap him and cried.. what type of father you are., just because of you she is in this condition tell tej everything even he to get sad and shocked too.. when doctor give time to twinkle, kunj can't digest this fact he tries to commit suicide while rt stop him tell him he is only the one who save twinkle.. just for twinkle Kunj stop, praying for her all times.. Kunj sitting and worried about twinkle he has shots.. just than Rishi and maya along with Yuvi come and see him.. he play piano..
Yuvi: stop and leave this bottle it's just give pain to you more kunj..
Maya:yes nothing will happen to her kunj,,it's harmful for you
kunj :Main marne ke liye nahi peeta … peene ke liye marta hoon (I don't drink to die … I die to drink) Kunj get up and took twinkle big photo.,
Yuvi: you love her this much
Kunj: Love, romance, passion are nothing else but words … but when I met her … these words got the value.. twinkle is reason I breathe.. Kunj open next bottle and drink in one go even he Can't stand on his feet too..
Rishi: mat pe..
Kunj: This habit will not go away now … she is like a wife who will stay together and trouble, and also won't give a divorce. Maya hugged Kunj to see his condition she cry for his brother…
2 days later twinkle get conscious all went to see her. But her eyes finding Kunj only.. he come Nd sit behind her.. took her hands in his and tears dropping on twinkle hands..
Kunj: twinkle please become fine for me I can't live without..
Twinkle: you are just cheater huh..
Kunj: twinkle I didn't do anything this all my dad did with us Rishi and maya told her everything twinkle get shocked.. Looking at Kunj..
Twinkle: I'm sorry I misunderstood you.. Kunj: it's okay..
Maya: now tell us about your love story how it's started twinj look at each other's and give smile. Kunj tell them about Christmas party that night how they intimate all just shocked give omg look. Rishi: you are faster than me saale.. Tell them each and everything.. Kunj Leave music for twinkle.. he started taking care of her he didn't let her alone for a second.. first make himself normal for her.. twinkle was happy with kunj and sad as well she doesn't have time.., kunj make her believe that he'll not anything happened to her.. after see kunj and twinkle love tej you melted apologize to twinj.. just for twinkle Kunj forgive tej.. Now it's twinkle surgery time come she hold kunj hands looking tensed..
Twinkle: last time hug me kunj as much you wanted kiss me I'll not stop this time. Tears escaping from twinkle eyes., Kunj: he cupped her face nothing will happen to you and yes you are right you can't stop me to kiss you and more.. twinkle slap him.. they share kiss and twinkle went for surgery.. while all family members just worried about twinkle Kunj was hell nervous..,he went to hospital mandir and pray for twinkle. 4 hours later operation room times went off and doctor come out and Kunj rushed to him..
Kunj: Doctor how is twinkle now..
Doctor: we can't say anything everything is god hand and wait for twinkle get conscious..he left and doctor shifted twinkle in icu room.. Kunj went towards icu room door and see twinkle through glass see her she connect with many machines.. twinkle taking deep breath her sound of breath coming out and understand her pain.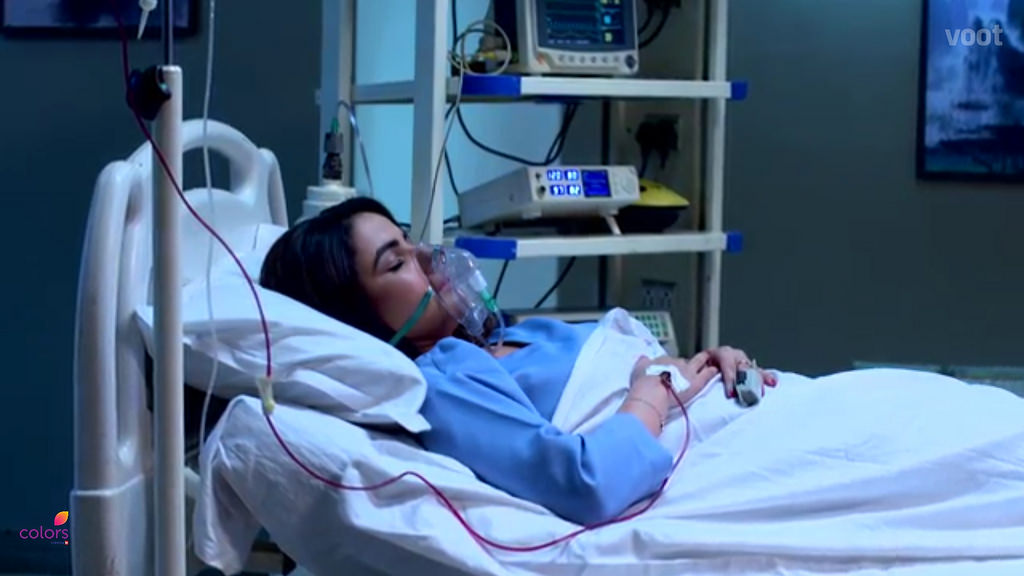 Kunj wiped his tears and left for somewhere… while Yuvi went behind him… Kunj reached his concert pLace everyone was waiting for him.. he took his guitar and went to stage pour water on his face and throw the bottle in side… Yuvi look at him and become sad.. Kunj started his song and sing Nadaan Parinde… song in Every line of song kunj remembering twinkle just her face coming in front of his eyes when she take her deep breath in icu room., tears coming from kunj eyes like rain… he sings so hard each word of song describing his pain and love for twinkle… all fans sad for him… just than Kunj see that twinkle standing in front of her.,, she smiled too even Kunj too back.. when he realized it's just a dream… while Yuvi get call from Rishi and get happy he rushed towards kunj and tell him that twinkle is safe after listing this kunj like he gets his life back today.. he completed the song beautifully and throw his guitar and hugged Yuvi.,
Kunj: Yuvi I got my life back..
Yuvi: yes kunj your love win today.. they both went to hospital fast.. Kunj was hell happy like today he got something really special that make him this much happy.. before fall in love with twinkle until and unless kunj never known love wali happinesses… he went to icu room and look at twinkle who giving dollars one smile.. he just hugged her tightly everyone smiled…
Twinkle: see you save me now you have whole life for your romance ??. In low voice kunj smiled cum laugh.. he kissed on her forehead..
Kunj: you give me meaning of life twinkle… now don't go anywhere .. she nodded..
Tej: I'm so happy to see you both happy.. Maya: yes Papa.. after week later Twinkle get fully fine she went home till than tej and rt decided twinj marriage…
Bg music.. please listen..
Tum ko paa hi liya
Maine yun
Jaise main hoon
Ehsaas tera
Paas main tere hoon
Tumko paa hi liya
Paa hi liya Maine yun…
they tell to kunj and twinkle too they get so happy finally their love to get name.. Today is twinj marriage.. twinkle get ready beautifully and look at in Mirror herself even Kunj too at other side.. Finally two enemies fall in love and fight too.. twinkle and Kunj come down and sit in mandap pandit ji started mantar.. Kunj put Varamala in twinkle neck and she too.
Later they stand for 7 vows started taking vows around holy for promising to each other's they be always with each other's.. all showering flowers on them after this they sit again kunj fills twinkle hair lines..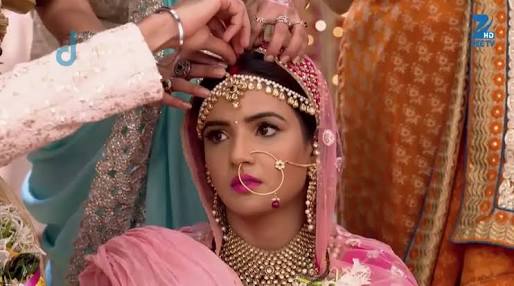 Tum ko
Jahaan main
Jahaan pe apne
Seene se laga le
Main toh hui ab tere hawaale
Aaa…
Bandishe naa rahi
Koi baatein Tum ko
Tum ko paa hi liya
Paa hi liya
Maine yun
Jaise main hoon ehsaas tera
Paas main tere hoon

Make her wear mangalsutra symbol of their love which always protecting them from all devil eyes.. pandit ji declared them husband and wife twinj look at each other and give smile remember their university fights and that motel night all pain and tears which they bared in these years.. they fall for each other very soon but become one which take little bit time..twinj went to stage while media and paparazzi is too..
Kunj: see my love twinkle she didn't love because I'm rockstar before this when I'm normal man… she is just a siyppa Queen didn't know when she become my heart queen ????…
Twinkle: even you too I call him sadu and now I loved his all saduness ????. Both joint their heads Rishi and yuvi making of Naman.. they all laughing… Later at night twinj send to their room.. They both entered and look at room ambiance it's so beautiful.. they both sit.
Kunj: they just wasted their time we celebrate our first night years ago?????… twinkle push him on bed and come top of him..
Twinkle: acah ji.. wasted think mr Kunj Sarna..
Kunj: why Mrs twinkle Kunj Sarna.. now we again celebrate ????.. they kissed each other's and smile… our hate turn into love… after one week later kunj nominated for best singer ?‍?… twinkle and Kunj and his all family and friends went for award function.. Kunj name announced for best singer of year. He get up and hold twinkle hand take her with himself on stage. Kunj received award and give to twinkle..
Kunj: The heart got a language, the eyes got dreams … in love, life got its meaning my twinkle… they both give smile to everyone after award function end twinkle and Kunj walking on roads rain going on.. twinkle wearing saree she looking more beautiful…
O o o …
Tum ho kahin toh
Kahin pe bhi ab naa dhoondna mujhe
Main har jagah milungi abb tujhe
Tum ko paa hi liya
Paa hi liya Maine yun
Tu jaaniya main jaanu ye
Saath main tere hoon
O o…
Tum ko paa hi liya
Paa hi liya maine yun
Tu jaaniya main jaanu ye
Saath main tere hoon
just than twinkle sandal break it she take in her hands… Kunj see this and smile… he cupped her face both looking at each other passionately. Kunj take out his coat and covered their face under coat both engage in kiss…..
Twinkle: thanks for everything kunj..
Kunj: same me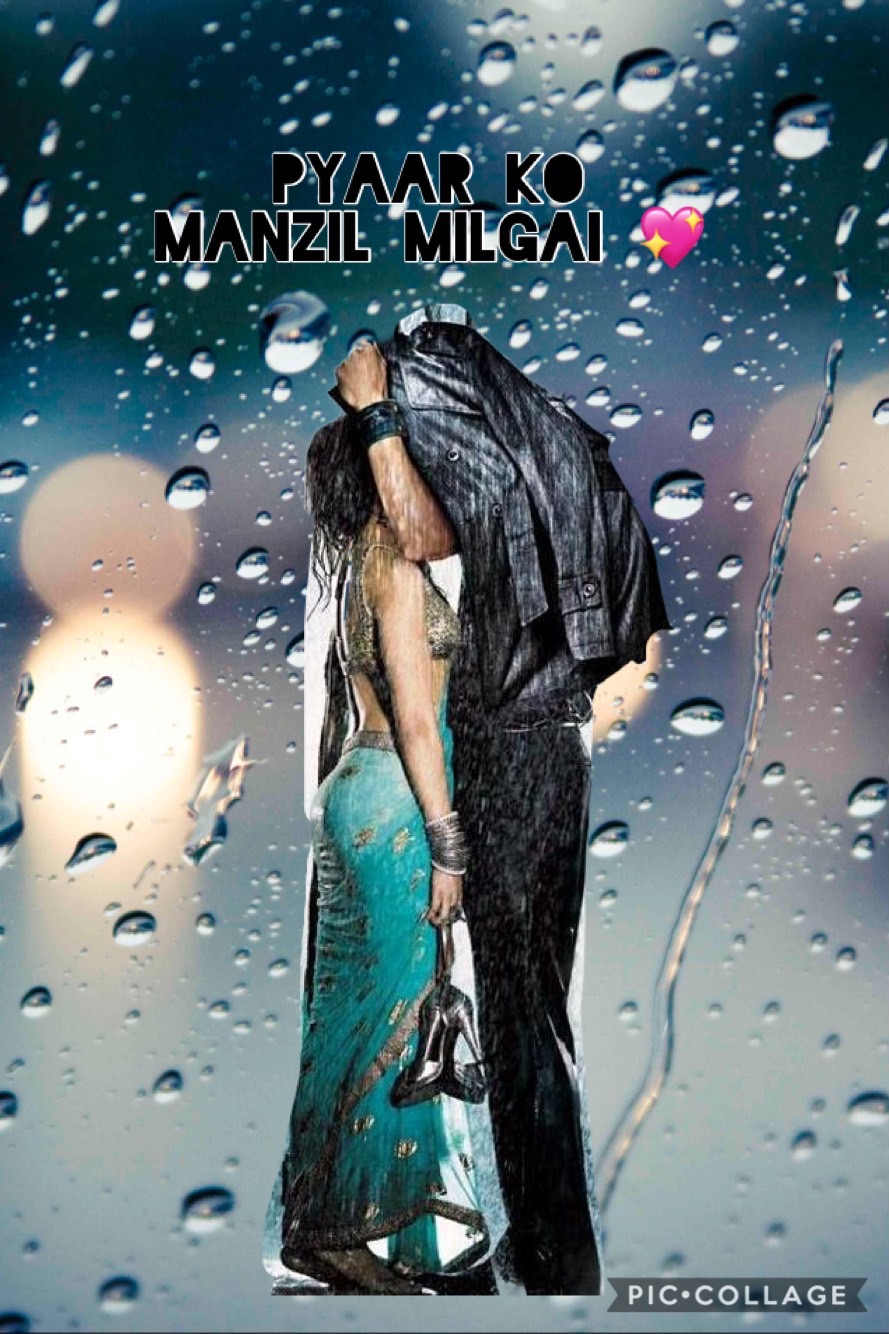 END … nafrat jada der tak raha nahi shakti even pyaar bhi jada der tak nafrat me. Nafrat ko pyaar me badalna padta hai.. and pyaar nafrat me badal ta hai but soon become same hate never stay forever us ko marna padta hai.. Together:pyaar jeet gaya nafrat ke shamne… ????nafrat ko pyaar ki lafz Milegaye… scene freezes on their smiling faces… _________________________________ Love is a game that two can play and both win by losing their hearts ♥️?…______________________________________ Leave any mistakes please.. how was the os???? Okay and again happy birthday kamini…miss Rahman ??????? your whole life fill with sweets and laughs ……..this story I thought very long back as ff but didn't get chance to write so now write in os….
bye love you all..