HATE ? REALLY (A RagSan Fanfiction) Chapter 20

Warning: A non-numeric value encountered in /home/ftpusers/tellyu/public_html/wp-content/themes/publisher/includes/func-review-rating.php on line 212

Warning: A non-numeric value encountered in /home/ftpusers/tellyu/public_html/wp-content/themes/publisher/includes/func-review-rating.php on line 213

Here is the last update:
Flashback is in italics and bold.
Sanskar waited on his laptop skype to get connected to Ragini. Finally it was connected when Ragini picked up the call. "Why are you video calling me?" Ragini asked confused and Sanskar chuckled. "Just to see your annoyed face" he said and she rolled her eyes.
"He he very funny. Why do you think you can bring only annoyance on my face?"  she asked him curious. "Because as in your view I'm an annoying jerk" he smiled and she chuckled. "Itne bhi bure nahi ho tum" she said shyly and tucked the hair strand behind her ear.
"So why did you call me?" she asked breaking his trance. "Um" he looked down embarrassed. "I was just checking if my secretary knows about skype calling" said he. "Like what do you think I'm from stone age?" asked she. "I don't think but I know that you are from stone age" he chuckled and she glared him.
"How lame was that joke?" she said giving him a bored look. Suddenly her eyes looked behind him. "Sanskar that" she stopped. "What?" asked he turning behind. "I felt…" "Lado" she heard her Dadi's voice. "Okay Dadi is calling for dinner good night" Ragini spoke. "Now after seeing your face at this time will I get sleep" he was speaking without realizing when Ragini stopped hearing him and cocked her eye brows.
"I mean Maa says we should not see chudail faces in the night as we get nightmares" said he and Ragini glared him. "Get lost" she disconnected the call.
After closing the laptop he walked inside the room from the balcony and fell on his bed staring the ceiling smiling when Laksh entered his room.
***.***
Sanskar turned the steering wheel at a turn. "Why was she so sure that I did not send the text" he was confused. "I did not send that message that means some one else sent the message." he narrowed his eyebrows.
***.***

"Sanskar Bhai" he heard Laksh and moved his head up. "Laksh you got your consciousness. Let me get the doctor" he was about to move when Laksh stopped him holding his hand. "No Bhai. This isn't the time" he whispered. He looked around and found the nurse in the ICU facing her back. She was about to turn Laksh immediately wore the oxygen mask and acted like he was still unconscious.
Sanskar looked over his shoulder at the nurse who was analyzing other patients. She walked out of the ICU. "She is gone" Sanskar whispered.
"I know who was hearing our conversation and who placed the scorpion in Ragini's room that night" he whispered and Sanskar's eyes widened. "I have to act unconscious till the master mind gets caught. You can follow that person and get to know who is the master mind behind all these" he whispered.
"You saw the person who pushed you?" asked Sanskar. Laksh nodded his head painfully. "Who was that?" asked Sanskar and Laksh looked at him for a moment before revealing as the revelation will scatter all the relationships.
***.***
Sanskar stopped his car with a screech when he remembered Laksh's revelation. "Why did you do this?" he whispered painfully.
He had parked the car outside Badi. "Uncle" he found Shekar who was outside and walking swiftly. "Sanskar. Thank God you came" said he relieved a bit. Sanskar looked at him puzzled.
"Just now I got a call from police station" Sanskar's heart felt dead in that moment as he stared at Shekar blankly.
"Maa was there. She was found by the police on the road unconscious and hurt and…" he sobbed. "And?" Sanskar held Shekar's shoulders. "And Ragini has been kidnapped" Sanskar's hand fell down as he felt his world collapsing.
"No" he whispered nodding his head. "So I was going to Police station" said he. "Come uncle" said Sanskar offering him lift and Shekar sat in Sanskar's car and he drove to the police station.
"Maa" Shekar walked to Parvathi who was sitting on a bench with a band aid across her forehead. "Shekar" she immediately hugged her son and burst into a bitter cry.
"Lado" she spoke in between her sobs. "Nothing will happen to our Lado maa. Keep faith in Kanha ji" Shekar consoled her. While they were busy shedding tears Sanskar walked to the officer who was standing and talking over the land line. "Damn" he cursed and banged the receiver.
"Excuse me" Sanskar's voice made him to turn. "Hello Mr. Sanskar Maheshwari" Rudr greeted Sanskar. "Did you find any clue about Ragini?" Sanskar asked restless. "We tried tracing her phone but it was turned off just near the kidnapping spot. We have put the city on red alert. And they cannot escape the city" he said as tension covered him that he was helpless.
Sanskar placed his hand over his forehead tensed. He closed his eyes feeling utterly helpless. After he took a deep breath his eyes opened when something stuck his mind.
"That house" he said and Rudr looked at him confused. He started walking from there immediately. "Stop Mr. Maheshwari" Rudr walked to him. "Do you know anything about the culprits?" asked Rudr and Sanskar stared him.
"I guess I know but I'm scared if I involve you they might harm Ragini" Sanskar spoke helpless. "Fine. I will keep it unofficial. I'm worried for her" Rudr's words made Sanskar to look at him. But he was not in a situation to waste time thinking why the ACP was worried about Ragini. Might be he was genuinely worried as so many incident keep happening with the women.
Sanskar nodded his head and Rudr followed him. Sanskar drove the car to the area where the house was located. "One problem" said Sanskar stopping the car at a far place. "There are CCTV cameras which will alert them" Sanskar said and Rudr took out his phone and walked to the electric pole nearby.
"Basu. Get the electricity line of the pole no. 21 of the MG Road area disconnected till I inform you back" said he over the phone. After some time the electricity in that area was disconnected. Sanskar and Rudr walked to the house.
"I just know that this house belongs to him. But he doesn't stay here really" Sanskar walked inside the dark house. He turned the torch in his phone ON and they started analyzing the house. "No nothing is there" Rudr announced after five minutes of search. 'I think he has moved everything as he was alerted due to Ragini's invasion last time' Sanskar spoke in his mind.
"Getting the name of the person who resides here will take a day" said Rudr. "And we don't have that much time" said Sanskar worried.
"But I know how to reach him" Sanskar said and Rudr looked at him. "Thank you officer but from here I will take care of it" said Sanskar walking to the car. "This case is under me. So if you know anything you are obliged to share it with me" Rudr demanded.
"I don't want to involve Police in this" said Sanskar helpless. "Basu. Get the lines working" he spoke over the phone and disconnected it. "You want it or don't want it Police will be involved in this Mr. Maheshwari. It's about a girl's safety and I cannot waste time arguing." Rudr looked at him determined.
"I understand" said Sanskar sitting in the car and Rudr sat beside him. He drove to the place he had in his mind. "Here?" asked Rudr getting out of the car. "Shh" Sanskar dragged him and they hid behind the bushes when he saw the person coming out of the hospital.
"Just be quite" said Sanskar as they walked hiding behind the bush following the person. Rudr nodded his head and walked silently.
They reached a dark place. "This is the place. His real place" said Sanskar pointing at the old factory which was deserted. "Let me call my team" said Rudr taking his phone out. Sanskar held his hand and nodded his head.
"No. He will be alerted and he can do anything to get out of the situation" Sanskar moved his gaze to the abandoned building.
***.***
Ragini was still unconscious and her hands and legs were tied to the chair. She slowly opened her eyes and looked around the dark place.
"Finally" she heard a voice and looked in front of her. The darkness had cloaked his face. "Finally we got a chance to meet Ms. Gadodia" she knitted her eye brows trying to see his face.
"Ahh I have waited for this moment. To meet the girl who can control the ruthless emotionless Sanskar Maheshwari" he spoke and confused her more.
"You are Mr. Private Number?" asked Ragini. "Clever enough" he clapped his hands.
"Sanskar was right about you. You never give up. See now you are tied to a chair and still thinking that you can escape me?" he said and she struggled to get out of the clutches.
"You are a coward moron who can't fight his battle and is using innocent people for your revenge" she spat. "Oh the innocent people you are talking about. Are they really innocent Ms. Gadodia? You have huge misconception" he smirked.
"Mr. Sanskar Maheshwari. I need not tell you why was he here? Don't you know? Of course who knows better than you? You are the one who came to know about his truth. And through you only I came to know that he can be my ally." he spoke and Ragini looked at him confused.
"Don't give me that look. If you wouldn't have challenged him on engagement day hungama I would have never known and approached him" she widened her eyes.
"But alas where I was expecting him to be the strongest pawn in my game. But poor fellow his feelings changed at the wrong time. I have seen love drowning people but he was the first person who was drown due to friendship. Then I have to use you to blackmail him when he said he is no more in this revenge game" when he said that Ragini looked at him shocked.
She remembered how Sanskar warned her to stay away from all this and that slap when she played a prank on him. "That means…" she was lost in her thoughts. "He was doing all that for you. He failed my plan to stop Laksh's marriage" the person reveled and a tear tripped her eye.
"Now also he must be roaming like a maniac searching you" said he and Ragini was still in her thoughts.
"What if I say I don't want to learn" she softly said. He moved his hand and cupped her face. "I will not let you stay weak and wait for someone who will stand beside you. I want you to stand for yourself" he rubbed the tear on her cheek.
"I want you to learn to fight your fears and fight your insecurities" said he and smiled.
She was numb remembering the past. Now everything  was clear about Sanskar's behavior.
"And coming to your ex fiance. Laksh took a loan for his business which doomed. He could not ask his father for help and then I helped him cloaking myself behind a financial company and got him in my team" Ragini looked at him shocked.
"That means" "He was helping you because he wanted to get out of this mess with your help but poor guy have to take his steps back as his brother warned him" said the person and Ragini looked at the ground.
Whom she thought was helping actually was using her and where as Sanskar was trying to protect her.
"They were trying to be over smart with me. So I have to divide them and separate them either by hook or by crook" said he and Ragini looked up.
"So I…" "So you sent your another pawn to do that" Ragini looked at him smirking. "How do you…" " I sure look idiot but I'm not. You should have known it by the way I defended Sanskar and saved him from the case which was actually your plan" she mocked him.
"Mr. Rajat Malhotra. Now come to the light" said Ragini and the person walked to the light and his face was clear.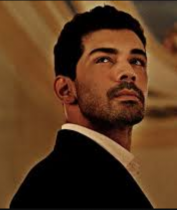 "How do you know about me?" asked he confused.
"The same hukum ka ikka you used" she slightly bent her head smirking. "There she is" he looked back.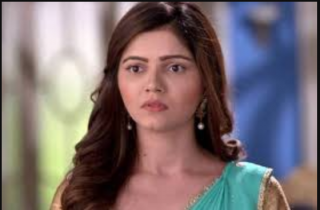 "Uttara Ram Prasad Maheshwari your girl friend. I came to know your name when you kidnapped Swara and hid in the warehouse which belonged to you. So I knew always that you are in this game but I did not knew who was helping you and why?" she smirked and Uttara walked to him and stood beside. "How did you know about me then?" Uttara asked confused.

***Flashback***
"Sanskar that" she stopped when she saw someone in Sanskar's room who took his phone. "What?" asked he turning behind. "I felt…" she was interrupted by her Dadi's voice.
***Flashback end***
"And when Swara claimed that Sanskar had sent the message to Laksh I realized who actually did that and I searched for a link connecting you and Uttara then I realized that Laksh had told me about Uttara's broken engagement to some Rajat Malhotra" she mocked him.
"Smart" Rajat walked to her. "But what will this yield?" asked Rajat leaning to her ear.
"Your story will be over in another" he stared at his watch. "Another 10 minutes" he pulled her chair to a place where three walls built making a small compartment. "This room has the poisonous gas which will kill you second by second" said Rajat smirking as he turned a valve near a gas outlet.
"Uttara lock the door" he said and Uttara walked to Ragini. "Why are you doing this Uttara. You are harming your own family" said Ragini painfully. "I wish had a way out of it Ragini. I just wish" she looked at Ragini and closed her mouth with a hand kerchief and closed the door and locked it. Uttara closed her eyes and let the tears shed silently.
"Aww my sweetheart. Don't worry I'm doing all this for our bright future" said Rajat as he flung his hand across her shoulders.
She closed her fist feeling helpless. She cursed herself as she remembered all her deeds which were against her family just to save herself. Can she fall this low? She hated herself when she remembered Sujata's painful face when she disowned her brother who was always supported her. But she did so wrong with him.
"Why are you doing this Rajat please don't make me hate myself more" said Uttara looking at him painfully. "Because I love you" he cupped her face.
"You cannot love anyone" they heard a voice and both of them looked at the entrance.
Sanskar stood there crossing his arms to his chest and Rudr beside him pointing the gun towards them. Rajat dragged Uttara in a swift of moment and placed the knife across her neck.
Sanskar stood alerted and Rudr lowered his gun.
***.***
So finally the masks have fallen.
How was the chapter?
Rajat Malhotra played by Abhinav Shukla
Uttara Ramprasad Maheshwari played by Rubina Dilaik
How many of you guessed this raise your hand??????
P. S: The mystery has ended but not the story.
Love
Sally ?


Warning: A non-numeric value encountered in /home/ftpusers/tellyu/public_html/wp-content/themes/publisher/includes/func-review-rating.php on line 212

Warning: A non-numeric value encountered in /home/ftpusers/tellyu/public_html/wp-content/themes/publisher/includes/func-review-rating.php on line 213