Guns and Roses #Riansh (Immj2) Episode 3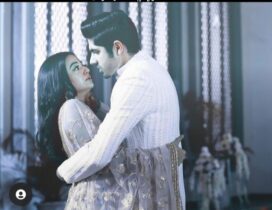 Thanks for your support and comments …..
Keep commenting to my page…….
@Aishwarya Wanjari You want to see vansh confessions absolutely it happen but before this there are more things to be done like their beautiful moments from past as well from present , their argument , care ,obsession, jealousy and love for each other …….so may it will take little bit time and sorry for that ……but i will try to fullfill your wish as soon as I can…….thanks for your suggestion❤….it means a lot to me…….. If you  want any other scene than you can tell and this is not only for her others also can comment for the same……
Episode starts…..
Vansh: RIDHIMA….how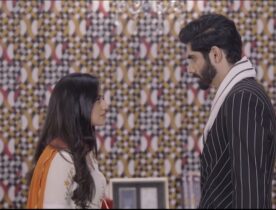 Ridhima : kyu….tmhe kushi nhi hui mujhe yaha dekh kr…..
Vansh : No , I am. I mean when I tried to stop you and you refused my request and ( ridhima cutting his word )
Ridhima : I know you are changed but you started speaking lie that to from me only…
Vansh : Sorry , I forgot ….(again she interrupted him)
Ridhima : wwwooooowwwww vansh you forgot to stop me …..wow kaise kr late ho aise kaam…
Vansh : you are always ready to play with my words…
Ridhima : leave it ……
Flashback
Aryan : Ridhima …stop
Ridhima : what???
Aryan : I have work for you….
Ridhima : I don't want to do any work….
Chanchal: first listen to Aryan than decide .
Aryan: you have to  organise a  party as everyone knows you are brilliant at this.
Ridhima : but…..
Then Dadi and siya also joined ….
Dadi : beta please do na.
Siya : ridhima please
Ragini : please ….please ..say yes
Ridhima :ok…I will do.
Ishani : how can she leave a golden Opportunity to live her.
Dadi : shut up ishani.
Ridhima: but what the occasion?
Chanchal: vansh and ragini's engagement .
Ridhima and Ragini : what??
Chanchal : what do you mean by what? Saadhi se pahele engagement to hoti h na ushme nya kya h.
Ridhima : nothing.(her heart cried )
Ragini : I am supper happy.
Aryan : we are going to market as you are party planner so you also join us .
Flashback ends
Vansh : I am happy to see you here….
Ridhima : stop acting……..here is no one so behave as you are.
Vansh : I don't …..it really means to me
Ridhima : really vansh ….so why didn't you stopped me ….sorry ……I don't want to listen anything as I have lots of work do…..she moves
Vansh : thanks Ridhima …..
Ridhima : for what……. for organising party for your engagement.
Vansh : no, for this amazing dress.
Ridhima : (shocked) how do you know?
Vansh : because I know you…
Both smiled to each other…..
In evening party
Vansh : everyone one is present here but where is she….is she gone. No she can't. I have to check ….should I go to her room….
Ridhima : where are you going ??
Vansh (surprised) :  No ….. No where . you are looking gorgeous like hell (he was not able to move his eyes)
Ridhima : I know ….
Aryan came to them
Aryan: Ridhima you are looking so beautiful.can you dance with me (holding her hand)
Ridhima : thank Aryan.
(Vansh when I complemented her than what she said I know and now she is thanking to him and why would she dance him who is he .she will dance with me as I am her best friend)
Aryan : lets go to stage .
Vansh: she will not go.she is going to dance with me so you leave her hand .(with full of anger and attitude)
Aryan : bhai you go and dance with ragini .she is waiting for you .
Ridhima : yes , Aryan you are right. Vansh ragini is waiting for you. let's go Aryan( ab ayega maza and smiles )
Pairs ; vansh and ragini , ridhima and aryan , ishani and angre
They started dancing …..vansh was looking at ridhima and talking to himself look how she is smiling and kya jaroorat h itna smile karke dance krne ki……mere sath dance nhi krna h or kisi k sath bhi dance kr legi ….pair change hua h to mere pas aana chahiye tha…bt he chose Angre over me……..I am not going to talk her ……
Again pairs change when ridhima came to him for pairing than he left the floor and goes to the pool side .ridhama was socked by his behavior……but she follows him to the pool side.
Ridhima : what happened vansh? Why you came here ? You didn't want to dance with me.
Vansh : I don't want to talk to you .please leave me alone.
Ridhima (very calmly): what I have done ?? Why you  are so angry at me ?
Vansh : why danced with that Aryan ?
Ridhima : not only with Aryan and Angre also.
Vansh : then why you are here….go and dance with them …..they are more important to you….
Ridhima (smiling) : I am here because I know my best friend needed . I think someone is jealous…..I can smell it.
Vansh : nothing is like that.why I will jealous.I am  more handsome ,smart ,cute and hot than them . lakho ladkiya marti h marti h mujh pr……
Ridhima : are you done with your self praising or anything left….you are so obsessed …..
Vansh : you came here to set my mood and what are you doing , irritating me.just leave yaar .
Ridhima : sorry
Vansh : no , sorry se kaam nhi chalega ….
Ridhima : so
Vansh : you have to dance with me.
Ridhima : ok , I will do .let's go .
Vansh : no , not in the party , after the functions you and I is going for night out there we will dance.
Ridhima (shocked): what???? No.I can't .how can I…….
Vansh : ridhima please …….else I will not accept your apology.
Ridhima : ok …..happy…let's join the party.
Vansh and ragini exchanged Rings .
(Ridhima to herself : vansh ko ragini k sth dekh kr mujhe itna dard kyu ho rha ….vansh to bs mera best friend h…..ye kya ho rha h mujhe …..mai ushe kisi or k sth dekh kyu nhi pa rhi …kya h yeh feeling ……kahi mai ushase pyaaarrr…..No ….No …..kya soch rhi hu….wo bs mera best friend h ….aaj bhi wo apne pahale pyaar ragaini se hi pyaar krta .he loves ragini only….) She Wiped tears and moved out of the party and goes to the tarice.
(Vansh noticed her tears and thought why I am feeling low …..kyu mujhe ridhima k ashuon ka dard mahush ho rha h….. pahale aisa kabhi nhi hua h…..why her tears affect me so much….why ridhima why ( he gets a glimp thier movements) …..am i started feeling for her….how )
He moved from there to take fresh air and goes to the taric ….there he saw ridhima and Aryan………
Please do comments ……and give your opinion how I am going…..it means a lot to me. Keep supporting me and don't forget to read my ff and comment.stay safe and stay happy….