GUILT SEASON II (MAIN TENU SAMJHAVAN KI) CH-19
Here is the previous chapter link:
Chapter 18
She was her sister's shadow always. Park or school only thing she used to was hold her Di's hand. Always feared of the surrounding she never wished to get slid away from her sister's hold. "Shona" her brother called her and she turned with a question in her mind.
"At least leave her when she is having food." he mocked her and she pouted at him and her eyes were filled with tears. "Awww" Kumud wiped her little sister's face. "Bhai. What is your problem. Let her be with me na. You are so jealous" she twisted her lips. She hugged her little life and patted her shoulder to console.
"Bacha. Why will I be jealous? You both are my two eyes." he said complaining. "Then don't tease her or tell her to leave me" Kumud warned Vikram.
"I mean like seriously? You have thought how attached she has become to you. What when you will get married and go" Kumud felt her little sister's tightening grip and signed her to relax. "Will see that time. She is my life now and she will be always" said she and hugged her little sister and gave a winning smile to Vikram who looked at her annoyed but then smiled looking at his two parts of heart who were inseparable.
"Shonu. You be here alright and I will take you in the evening" said Kumud making her little sister on the bench in class. "Di" she said in cracking voice. "I promise I will come. But just be here till I come don't go anywhere alright" Kumud asked and she nodded her head with still swollen eyes and sad pout.
"Heyya" someone waved their hand at her sitting beside her when she waited on a bench outside the class waiting for her sister. She looked at him and then turned without giving any importance to him. "So much attitude" he cursed under his breath and looked forward nodding his head. There she came the girl who had the power to stop his heart beat.
"Di" she rushed to Kumud who stood near the bench. He looked at her confused. "She has tongue also to speak?" he nodded his head. "What are you doing here? I had told you to stay inside the class right?" Kumud crossed her arms. Her gaze turned to the person whose gaze she felt.
"And you are with this Gunda?" asked she pointing at the boy. "Oye Hello mind your language alright?" he charged in her direction. "Look who is talking about language jisko khud language ka l bhi nai aatha" she mocked him. "Joke tha?" he asked her with a bore look.
"It was sarcasm. Out of your range tiny brain" she mocked him. "You" he fumed showing his finger. "Bhai" he heard a yell from behind and looked at the small boy who had soaked his pant. "Tune phir apni pant gili kardi Yohan?" he asked annoyed.
The boy started crying bitterly. "Damn" he cursed and walked to his younger brother who hit him with his small hands. "You heartless jerk. Don't even know how to handle the kids" said Kumud walking to Yohan. "Like you are mother of ten kids" he nodded his head. "Shut up" Kumud glared him.
"Look.. What is your name?" Kumud asked Yohan. "Y…yohan" he said fumbling and continued sobbing. "Arrey. Don't cry. Happens. It isn't bad thing" she said wiping his face. When his own brother was annoyed with him Kumud picked him in his arms and walked to the washroom. "Till I come be with my sister and dare you leave her alone" she warned him and entered the washroom where she cleaned him and his clothes.
"What's your name?" asked Sahil to the girl beside him. She did not reply. "Like Di like her sister. So much attitude bharte kaha hai yeh" he said shrugging his shoulders. "Ragvi" she said still looking at the washroom not turning to him.
He looked at her and forwarded his hand. "Hi I'm Sahil" she looked at his hand and then at his face. "Shona" Kumud's voice made her to look behind him where Kumud walked out with Yohan.
"OMG my little bro was in girls washroom." Sahil placed his both the hands on his cheeks. "I hate you Bhai" Yohan cried more. "Shut up you moron" said Kumud glaring him and consoling Yohan. "And he got a lady body guard" said he mocking her. "Shona… Bacha" Vikram came to them and finally there was a pause to their silly fight. "What's happening here?" he asked looking at them confused.
Kumud narrated him everything. "We are getting late. Hand him to Sahil" said Vikram signing at Yohan. "I hate Bhai" he cried and refused to go to his brother who forwarded his hands. "I hate him too Chotu. But the thing is you have to tolerate him all your life. I feel sorry for you but remember himmat e marda tho madad e Khuda. God will surely help you to tackle this devil" Kumud consoled him.
It made him finally to chuckle and Sahil was fuming looking at him. He took his brother in his arms and glared Kumud who was controlling her laugh. She just enjoyed his annoyed face.
***.***
The creaking sound of his room door made Yohan to come out of his past. He turned and found Ragini. "You know what is the last memory I have of Kumud Bhabi?" he was still looking at Sahil's marriage picture. "She was the one who made me smile when my own brother was so heartless to make me cry" he smiled through his tears.
Ragini stood behind him and looked at the photo frame. She felt a tingling sensation in her heart. "She.." he pointed at Kumud who was smiling in a bridal attire. "Sahil's deceased wife" he said and looked at her. "I had very less time with her. I have spent most of my time in London with my grandparents due to financial problems in my family. I was always unlucky compared to Sahil Bhai. You remember once I had told you are lucky that you have your family?" he asked her without turning to her.
She nodded her head. "Because I never was so lucky to be with my family. They reasoned that there are some financial issues and they have to let me grow with my grand mother. She was the only family I had for years. But Sanskar Bhai was the one who never missed calling me every month. Then when he wanted to complete his MBA he joined me in London. He was more close to me than anyone of my family members" said Yohan.
"And now when he wants to forget his painful past and move forward I can't break him again" he hugged her and sobbed. "Yohan" she caressed his back to console him.
"And what about Kavi? You have loved her from the time you understood love" said she cupping his face. "Some love stories are ought to remain incomplete Ragini" he said looking at her painfully.
"And some could be simple but people make it complicated" said she with painful eyes. "Why can't you accept what life is giving you rather than sticking your own stitches in the carpet of destiny" she lifted his head. He looked at her confused. "You love Kavya Yohan and she loves you and there is no other better way than you both coming together. You are spoiling not only your life but that of your brother and best friend's too" he did not wanted to understand this.
He knew only one thing that it was his Sanskar bhai's happiness which mattered to him the most. "Please Ragini don't make me more weak" he pleaded her. "As you wish Yohan" she left him to get immersed in his deep sorrow.
Ragini walked out miffed. She stood at a door where Sahil was holding a picture in his hand. "I so miss you Shona. Where are you? I feel so lonely at times. You know how much Kumud wanted to see you" he turned to look at Ragini who was looking lost. Suddenly her heartbeat felt racing.
Hyperventilating she held the door and her vision started blurring. Before her body could touch the ground she felt a heavy grip on her shoulder and waist. And in a moment her eyes blacked out.
"Baba" she felt herself smiling and running to someone. "Ragini" she heard a faint voice. She sat up with a jerk. "Are you okay?" Sanskar was sitting in front of her and looking at her concerned.
She held her paining head. "It's hurting" she said in a low voice. "Gosh girl what is wrong with you? You faint without intimation" Sahil walked to her with a glass of water. "Sahil you know what? You suck at consoling" he said annoyed.
"I know. But can't help it" said he shrugging his shoulders. Ragini's eyes searched something. Her eyes moved to a photograph on the side table. And she don't know why that face was binding her to an unknown feeling. She just stared at it blankly.
***.***
Vikram was looking at the things in the carton box and wiping the dust over the old photos. He picked a frame and wiped the dust on it. It was their childhood picture.
"She is dead for me. Did you get that. Dead" he screamed at Kumud who was holding him with tears smearing her face. He felt a tight slap on his face. He looked up with his right hand on his cheek.
"She is your sister Vikram. Don't you dare to speak like this about her" Sumi fumed. "She left us maa. She left us for some moron who she met just some years ago. Did she considered us as her family?" asked he painfully.
The crashing glass piece of the photo frame in his hand which pierced his outer skin and the blood oozed out. "What happened?" Sumi walked to his room hearing the cracking voice.
"Why did she go Maa. Why did she?" he asked hugging her when she was looking at his wounded hand. She caressed his hair. "Loving someone is not a crime na Vikky" she asked him.
"It is not mom. But she could have told me once Maa. I wouldn't have said No" he said painfully.
***.***
She took a deep breath and Sriti who was observing her looked at her worried. There were some variations in her pulse rate and her body heart raised and fell on the bed.
"Nurse" she panicked looking at her. She guided the nurse to get an injection which she injected immediately.
Her body relaxed as the injected fluid mixed with her blood and acted on the critical situation. "Relax" Sriti caressed her hair.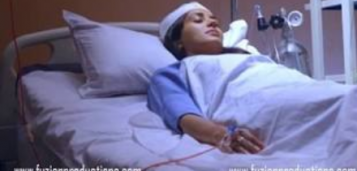 ***.****
Some old answers and some new questions.
Hope you people are enjoying this season 2 journey.
For two things I want thank you guys.
One is for making Ragini adorable character in freaks awards and the second thing is I reached 400 followers.
Thank you so so much for that. 
Wish to meet you soon guys.
Love
Sally ?