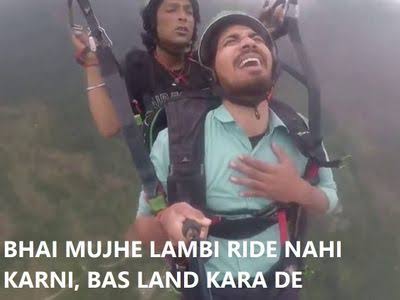 The next season of Roadies is about to kick start. And for the audition guess who has turned up  Remember the guy, who's 'paragliding gone wrong' video went viral on social media? Vipin Sahu the ordinary man, got viral on social media when he went paragliding and freaked out when he was in the middle of nowhere. He kept yelling ,"land kara de bhai" and was scared to death.
The latest promo of the upcoming adventure reality show Roadies Revolution had Vipin Sahu in the audition round and guess what the gang leaders were shocked.
 In the promo Vipin introduces himself as, "People started knowing me as 'land kara de bhai' or the 'paragliding guy'. Gang leaders Nikhil Chinapa, Prince Narula and Raftaar go 'woah' and jump in joy to see him in the audition round and hug him. Raftaar tells that 2019 is known for him.
Take a look at the promo:
https://www.instagram.com/p/B8ic5i-AzoE/?igshid=4dbsl88c3xvc
Roadies Revolution is going to premiere on February 15 at 7pm. Rannvijay Singha will be seen as the Mahaguru this season as well. The theme this year is to bring those people in the show, who have brought a change in the society.