Gods Most Beautiful Gift SIBLINGS – Episode 4

Warning: A non-numeric value encountered in /home/ftpusers/tellyu/public_html/wp-content/themes/publisher/includes/func-review-rating.php on line 212

Warning: A non-numeric value encountered in /home/ftpusers/tellyu/public_html/wp-content/themes/publisher/includes/func-review-rating.php on line 213

CHARACTER SKETCH OF AMAYA
Amaya Vishal Singh Oberoi,24,she is daughter of Vishal,Vishal's wife died giving birth to their daughter. Amaya was born one year after Vishal left Oberoi Mansion so nobody in Oberoi Mansion knows that apart from Priyanka Oberoi's have one more daughter in their bloodline,Amaya has completed her MD-Psychiatry recently.Amaya and Abhay share a relationship like any normal brother and sister,Amaya,always topped in her Academics but was average in sports,as a doctor she wants Psychiatric treatments to be less painful and cheap cost ,as person she is blunt she speaks her heart clearly doesn't cares if it hurts people or not and never hesitates from admitting if it's her mistake
CHARACTER SKETCH OF DEVANSH
Devansh Dayal Agnihotri,27,Devansh is Abhay's childhood friend he shares a good relation with Abhay professionally as well as personally.Devansh helps his father's elder brother to run the family business and overall is a good businessman.Devansh shares good relation with his family members as he is the youngest as well as the only son of Agnihotri's.Devansh and Amaya are in a relationship and everyone in Devansh's family as well as Abhay adores them as a couple
AGNIHOTRI FAMILY
Ranjit Agnihotri:Devansh's bade papa
Dayal Agnihotri:Devansh's father
Suman Agnihotri:Devansh's badi maa
Kirti Agnihotri:Devansh's mother
Aruna Kashyap:Devansh's bua
Gaurav Kashyap:Aruna's husband
Devansh have two sisters Sakshi Ahuja,Ranjit's only child and also she is leading a happy married life in Delhi and Aakriti Kashyap,she is a mystery girl to her siblings Devansh and Sakshi
[Shivaay asked Khanna to find out Abhay's address and Shivaay also warned Khanna]
Shivaay:[Shivaay says in an angry tone]Khanna get me address of Abhay and you better do it fast[Khanna took last part as an open threat to his life so got to work soon Shivaay moves back to his room]
Anika:[Anika came out from the washroom and noticed Shivaay's angry mood and she inquires about it]Why are you angry?[Shivaay tries to call Abhay but Abhay wasn't answering and that made Shivaay more angry in anger he threw his phone and Anika was now worried she walks near him and says]Shivaay what is wrong with you?Why are you so angry? [Shivaay interrupts Anika.Gauri who was passing by Shivaay and Anika's room heard voice of phone crash and entered the room but Shivaay and Anika didn't notice her ]
Shivaay:[Shivaay moves towards the couch in his room.Anika follows and sit beside him Shivaay said in calm voice but his anger was clearly visible in his voice] I have a sister[Anika was confused and got worried about Priyanka she tries to calm down Shivaay]
Anika:[Anika makes Shivaay look at herself]Shivaay look at me[Shivaay looks at her he was still angry and irritated]Shivaay calm down has something happened to Priyanka?[Shivaay remembers the picture he saw on Khanna's phone]
Shivaay:[Shivaay says in distant voice] I am not talking about Priyanka[Anika gets more confused she was about to ask her next question but Shivaay speaks before her] I am talking about Amaya, Amaya Vishal Singh Oberoi[Shivaay looks at Anika to see her reaction but Gauri who was standing there all while breaks silence]
Gauri:[Gauri speaks as she is coming towards the couch]Abhay have a sister[Gauri and Anika took a moment to absorb this truth]
Shivaay:[Shivaay corrected Gauri in his normal tone]We have another sister,Oberoi family have another daughter [Gauri and Anika didn't know how to react to this news Shivaay realized that Gauri was here all while he asks Gauri]Gauri do you need anything?
Gauri:[Gauri hesitated for a moment but she answered Shivaay]Bade bhaiya actually I heard loud noise I was passing by and thought to check what[Anika gestured Gauri to stop]
Anika:[Anika got up from the couch and said]that noise was of murder [Gauri got confused. Anika walked to pick up the pieces of broken phone. She picked it up and showed to Gauri and said]Shivaay murdered his phone ruthlessly[Anika said last part with emphasizing it]
Shivaay:[Shivaay looks at Anika and says]Anika stop it I was angry and I am still angry on Abhay.I am going to meet Abhay tomorrow I will give him choice if he wants to be a part of our family or not and it's better if he decides not to but Amaya probably doesn't even know that she have a family[Gauri interrupted Shivaay]
Gauri:[Gauri she moves beside Anika]but Bade bhaiya we don't for sure whether or not Amaya knows about us or not[Gauri was interrupted by knock on the door]
Shivaay:[Khanna was standing outside the door]come in Khanna
Khanna:[Khanna came in a little afraid and said to Shivaay]sir i got Abhay's address[he hands Shivaay a slip of paper]
Anika:[Anika notices that Khanna is afraid she asks Khanna]Khanna ji why are so afraid [Khanna looks at Shivaay.Anika understands what must have happen she says to Khanna] don't worry Khanna Shivaay may have scolded you but even he knows that he can afford anyone better than you for the job so just forget whatever he said[Khanna smiles hearing what Anika said]
Shivaay:[Shivaay interrupts Anika]so you mean to say that I can't be without Khanna[Anika turns and walks towards wardrobe]
Anika:[Anika takes out clothes for her to change and says]what I mean to say you always need someone to shout at and relieve your frustration.You mostly do it with servants and security guards.And no one would last a day as your security guard other Khanna[Anika goes to washroom to change the clothes and Shivaay asks Khanna not to tell anybody about their new found sister.Khanna assured Shivaay and left from there]
ABHAY'S HOUSE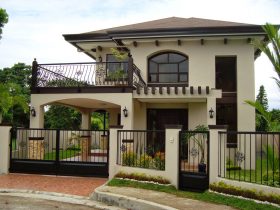 [Abhay and Devansh got out of car.Abhay noticed that Amaya's car is not there he asks Devansh about it]
Abhay:[Abhay says while closing car door] is Amaya gone somewhere?
Devansh:[Devansh also notices that Amaya's car is not there he looks at Abhay and says]I don't know she called when I was driving to hospital to see you she didn't said to me anything about night shift or going anywhere[Abhay and Devansh entered the house]
[Abhay sat on sofa and Devansh went in kitchen to get both of them water]
Devansh:[Devansh handed glass of water to Abhay and sat on sofa]well it's good that Amaya isn't here or else she would have gave us both an earful about your injury[doorbell rings] I'll check who is that[Devansh walked to the door and open it and said] Amaya, hi [Devansh let her in and closed the door.Amaya was carrying brown paper bag full of household stuff]
Amaya:what are[Amaya was about to ask Devansh what was he doing there but then she saw Abhay she noticed small part of cotton bandage which was visible form Abhay v neck t-shirt]Veerji why your shoulder is bandaged[Abhay didn't say anything she walked forward and kept the bag on table and folded her hands and asked]Veerji I am gonna ask you just one more time why is your shoulder bandage[Devansh walk to Amaya and made her sit on sofa]
Devansh:[Devansh sounded as usual as he could]long story short,your brother got shot in shoulder[Amaya didn't took it very nicely though but Abhay and Devansh calmed her down and three of them had dinner prepared by Amaya and Devansh together]
NEXT MORNING
[Shivaay didn't want anyone to know where he is going but Omkara and Rudra insisted on going with him as they knew were he was going.Shivaay let them come with him]
ABHAY'S HOUSE
[Shivaay rang the doorbell door was opened by Abhay]
Abhay:[Abhay was little surprised and worried to see all three Oberoi brother at his home] please come in[he let them in and closed the door]have a seat[they sit on sofa]would you guys like to[Shivaay interrupts Abhay]
Shivaay:[Shivaay says in stern voice]why don't you just cut the formality crap.We want to meet our sister[Abhay was afraid of how would Amaya react when meeting her cousins for the first time Shivaay spoke again]we want to meet Amaya, our sister
Amaya:[Amaya came downstairs but she didn't noticed Oberoi brothers as she was busy talking on phone. As she comes little forward and notices them she says]Dev,I'll talk to you later[Amaya walks forward and stands beside Abhay she looks at Abhay and asks in stern voice]Veerji,why are they here?
THANK YOU FOR READING

Warning: A non-numeric value encountered in /home/ftpusers/tellyu/public_html/wp-content/themes/publisher/includes/func-review-rating.php on line 212

Warning: A non-numeric value encountered in /home/ftpusers/tellyu/public_html/wp-content/themes/publisher/includes/func-review-rating.php on line 213