Family's love and care. #Riansh OS
Hello guys. Here is a new os of mine. I hope you could like it and do tell me your opinion on the comments.
So let's start.
Vansh's POV starts:
My family is number one to me.
I could do anything just for them.
They aren't just the ones who support me and always being with me when I need them, but they are also my backbone who always save me from any danger.
Yes I supposed to be the one who protects them all and I'm the one who is responsible of everything related to the business and their safety and they are being secured by my trials to always secure them, but still I feel that they are the ones who secure me and make me feel safe not the opposite.
They are the ones who give me the courage to be that strong Vansh Rai Singhania.
Without them I will be destroyed completely.
My family is my life.
I wish I could always be able to protect them and fulfill all their wishes.
Because without them there isn't a person called Vansh Rai Singhania.
Today, I decided to make this day just ours.
Just the day for Rai Singhanias.
We will be all together and will remember all our memories together.
I hope this day could pass in the way that I want it.
Vansh's POV ends.
Riddhima's POV starts:
My love to Vansh always increases when I see him caring about his family that much.
I always praise his love and care towards his family.
How he cares about them, how he protects them, how he always thinks about them, and how he loves them.
All those stuff makes me respect Vansh more and more.
I didn't have a seen a man who loves his family in that way.
When we have got married, I was believing that I will never be putted on the same position and priority that he puts on it his family.
But my Vansh has made me a part of his family and had loved me in a way that made me be sure that I'm in the same priority as his family.
He always tells me that I'm also his family.
I always learn from him the real meaning of family's love and care.
He will always be my idol and role model.
Riddhima's POV ends.
Vansh has made the whole family members being at the hale of the house.
None of them was understanding the reason of that gathering.
Ishani: What is the reason of that unexpected gathering Vansh bro? Does there is any special occasion?
Aryan: Do you are going to announce any special announcement?
Angre: Is there any problem boss??
Vansh: Relax guys. There isn't any problem so chill guys. Does there is only the special occasions and announcements or the problems that could make the whole family gather together?!!!
Aryan: Of course not bro, but we were just being surprised from calling us all that suddenly.
Vansh: I just want to spend quality of time with my family. Does this is a sin?!
Dadi: Of course not my child. It is a very good thing from you Vansh. I always love to see you making the whole family together. I'm so proud of you my grandson.
Vansh has came near dadi and has hugged her and has taken her blessings.
Dadi: May God always bless you our backbone.
Siya: So that means that today will be just for the family, right bhai?
Vansh: Yes Siya. Today will be just for the Rai Singhanias. We will do so many things together and we will enjoy till the max.
Aryan: So for this gathering I think we have to plan a party. What do you think guys?
Ishani: Oh party?!!! Perfect idea Aryan! Let's do that.
Riddhima: Yes this will be a very lovely idea and then we could be all together and enjoy our time like Vansh was wanting. So what do you think Vansh?
Vansh: I will agree about anything that could make all the family be together and gather in one place.
Ishani: Perfect. So let's arrange a tiny party just for our family and let's make it at the garden so it could be an outdoor party and it could be more enjoyable.
Angre: Nice idea Ishani. Let's arrange everything fast.
Vansh: This party will be done in one condition.
Everyone at the same time: What is that condition?
Vansh: That we all will do all the preparations together and we will not take any help from our staff. This party is just for us and we will do everything on it by our own and we must do it all while being together and valuing the meaning of the family's love and care.
Everyone has liked Vansh's idea and has agreed on it.
They all went together to start preparing for the party.
They have done all the preparations and the decorations by their own.
They have felt something special and different while they were doing so.
They were enjoying a lot while helping each other to get the perfect look of that party.
Ishani, Riddhima, and Siya were getting the deigns that they want it for the party while Vansh, Angre, and Aryan were printing it and making it at the garden.
Also Kabir, Dadi, and Rudra were helping in arranging the food and the customs that they all will wear it at the party.
They were all working as one person.
They were proving the unity of their family.
They have finished everything in a very short time because they were all working very hard and with a big love.
Afterwards, the party has started.
Vansh and Riddhima have got ready and have came to the garden.
Both of them were happy while entering the party.
Riddhima: I'm sure that you are now very happy while seeing your plan being successful. I'm sure that you are happy now after making the whole family being together and helping each other to plan this party, right?
Vansh: Of course sweetheart. You know how much my family is so important to me and I wouldn't miss this day without spending it with them and the idea of planing this party was just perfect to fulfil my plan as all the family have done everything together and this will increase their love to each other and this what I was wanting it.
Riddhima: I'm also happy to be with my family Vansh. You have given a very loving and caring family and I will always be grateful to you for that.
Vansh: I'm the one who must be grateful to you Riddhima as because of you my family has got completed and my happiness has got doubled as my wife is also being here with me.
They have smiled at each other.
Then they went to join the family and dance all together.
They all have enjoyed while having fun together, dancing, and singing.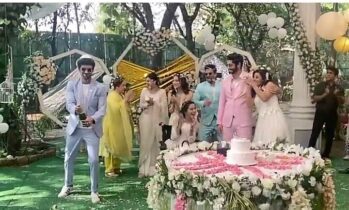 Vansh was smiling while seeing all his family with him and they were all happy.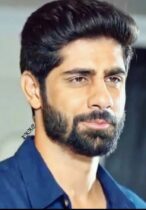 Vansh to himself: The person's power will always be related to his family. The family is the person's strength. May God could bless my family for me forever.
Vansh: So let's take a group picture together to make this day a memorable day that could never be forgotten.
Riddhima: Yeah let's do that.
They all came closer to take a family picture.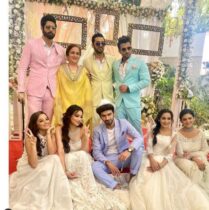 They were all smiling and enjoying the unity of their family.
The end of the os. I hope you like it. This is a very special os to me because I got able to talk about family and their power. They were always be our first priority. Actually, this os I have written it since much time as currently I'm not able to write anything so I'm just publishing the stuff that I have written it before and didn't published it. I hope that very soon I could be able to write new stuff.  I hope you have enjoyed the os. Do tell me your opinion on the comments. I will be waiting for all of yours comments. As all your comments is what encourages me to write more and more os episodes. Your respond here is what will make me know if I will write a new os or not. I hope that you all could break the previous record of my comments here. So please guys keep supporting me the way you are doing. Please guys don't forget your feedback in the comment section below.