FAMILY- THE BOND WHICH NEVER BREAKS. CHAPTER 10

Warning: A non-numeric value encountered in /home/ftpusers/tellyu/public_html/wp-content/themes/publisher/includes/func-review-rating.php on line 212

Warning: A non-numeric value encountered in /home/ftpusers/tellyu/public_html/wp-content/themes/publisher/includes/func-review-rating.php on line 213

A pleasent and warm morning.. for the khuranas.
Dadiji and Dadi are at the hall.. Aditi and shivanya are arranging the table..
Tanvi and kavya comes there..
Aditi : Kavy do you have to leave early today..
Kavya : Yeah.. jiji i have an important meeting today..
Tanvi : Shivu.. you also have to leave early
Shivu : Ha.. actually i have a test today..
Dadaji : What type of test??
Shivu : Today i am going to perform infront of the Yamini Raheja.. and if she likes it.. yhen she will teach me ownwards.
karan : Wow.. i will pray that your dance should be the worst..
Dadi : Karan!!!
Karan : I was joking di.. i know na.. my di is the best..
Sameer : Aw.. what a moment..
The three hug..
Manish and Mahesh comes..
Mahesh : What's going on all are happy..
Aditi : Nothing much their nokjhok that's it..
Mahesh : Where is Adi he is nowhere to be seen..
Dadi : Adi came late yesterday.. so he is sleeping..
ADI'S ROOM..
Adi's room is a complete mess .. things are here and there in his room.. adi is nowhere to be in his bed.. Adi is sleeping in his couch holding whisky bottle.. which was half empty..
DOWNSTAIR'S..
Ragini vomes running..
Ragini : Chotimaa.. Aarti os having a slight fever..
Tanvi : what!!!
Abhimanyu : Don't worry i have given her medicine..
Tanvi : I hope she gets till evening..
Aditi : Tanvi don't worry we will look after her..
Kavya gets up from the chair..
Shivu : Maa… 5 minutes will also come with you..
Kavya : Okay..
Shivanya  goes to her roon and wears a red long skirt and black top with an ethnic necklace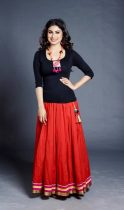 Kavya and Shivanya leaves..
Aditi goes to Aarti's room to check her.. on her way she notices that Adi's room's door was a little open..
Aditi(thinks) : I know adi you don't like any of us entering your room after those which have happened..  but i am your mom . and i can't help it..
She looks on to Adi's room only to find him sleeping .. she see bottle in Adi's hand..
She takes that bottle and goes to washroom and she flows out the drink into washroom
She goes to adi and and starts to massage his hair… Dadi looks on to the scene..
Aditi on seeing dadi stands up.
Aditi : I was just..
Dadiji : No need.. you are his mother and have right on you.. so..
She goes to Aarti's room..
On the otherside..
Kavya drops Shivu to the Raheja mansion..and goes..
Shivu goes to the mansion and asks a servant about Yamini and servant asks her to sit.. and wait.. she sits on the hall.
YAMIN & ANKUSH'S ROOM
On there bed there are many suits with are thrown here and there..
Yamini : What is this Ankush ji.. you have made our room into a mess..
Ankush : Yamini i don't know what to wear in this function.. please choose a one for me..
Yamini  Takes a suit and gives it to Ankush..
while ankush was getting ready..
Yamini : Our kids even don't takes this much time to gwt ready..
Ankush : They are kids that .. they don't have to impress anyone but my case in different .. i want to impress my beautiful wife..
by the way Where are our kids
Yamini : Shristi have an early morning and went to preeta's home.. Arjun is here..
Servant : Sir..
Ankush : yeah.
Servant : A girl named shivanya has come to meet ma'am..
Yamini : Oh.. yeah .. i am comming..
Ankush and Yamini comes downstaris.. Shivanya stands seeing them.. ahe greets them and they also respond
Yamini seeoff's ankush and turns to Shivanya..
Yamini : So .. lets start..
Shivanya : Ma'am..
Yamini : Let me see your dance first then i will devide if i have to teach you or not..
Shivanya : Okay ma'am..
Yamini : I will play a song you have to dance..
Shivanya looks around..
Shivanya : Do i have to dance here.
Yamini : Yes do you have any problem..
Shivanya : No ma'am..
Yamini asks servant to play music and shivanya to dance..
(Servant plays mere dolna song from movie bhool bhulaiya.)
Sgivanya starts dancing..
Just then Ritik comes there in a white kurti with coffee in his hands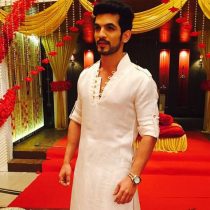 He sees shivanya dancing and gets lost..
Yamini was at the same time enjoying her dance..
Shivanya was taking continues spins in round.. Her leg slips.. she falls over ritik..
Yamini is standing in shock..
Hot coffee which was on ritik hand also falls.on them. Due to the hotness of coffee they boyh screams
shivanya was on top of Ritik.. They share an eyelock..
(Aankhon mein teri song from the movie om shanti om plays..)

Warning: A non-numeric value encountered in /home/ftpusers/tellyu/public_html/wp-content/themes/publisher/includes/func-review-rating.php on line 212

Warning: A non-numeric value encountered in /home/ftpusers/tellyu/public_html/wp-content/themes/publisher/includes/func-review-rating.php on line 213