Hey all here is next episode. Hope you guys like it
Chapter 32: Death
The couples are going on their way. Aman and Roshini reach Roshini's maternal home which is abandoned now. They enter the house
Roshini: Aman its been years since I came here. You know right how ….my…family 
She sobs holding Aman.
He wipes her tears
Aman: I know my dear. I swear that we will avenge everyone. Vansh and Ridhimaa's power is unleashed now. The dark force cant stand long
Roshini: Yes…Vansh has to destroy the dark Lord, for that he needed power which Ridhimaa has given him. All our aim will be fulfilled very soon
Aman takes her inside 
Aman: Lets use floo powder from here
Roshini: Okay..I have it
They throw the powder and : Goenka Villa
They reach Goenka Villa within minutes. Already Karan Preeta, Harish, Avantika, Maya, Chandrika, Aryan, Sia, Ishani,Bani , Veer Sirat and Ranveer are there. Angre and Pankhuri too arrive
Sirat: Angre where are Jiju and di?
Angre: With Meghnand to help Shivaay
Aman: And Vansh Ridhimaa? You left them alone?
Just then Vansh and Ridhimaa arrive
Vansh: Now all of you stay safe. Kartik has messaged me where is what..Ill let you know..we are going to stay till our next move gets clear
Ishani: But bhai the date for Sangeet and Mehendi?
Vansh doesn't answer and walks out 
Maya: Vansh?
Vansh: An important mam. Please take care of Ridhu. The scene freezes 
Gaurav ji's Unidentified place
Meghnand leads Kaira inside.
Meghnand: How long will it take?
Kartik: An hour to 2
Naira: Haan..Meghnand ji can you do me a favour 
Meghnand: Anything dear
Naira: Can I get a Unicorn feather? 
Meghnand: I think its here somewhere..Ill get it
As Meghnand goes away Naira gets busy crushing some leaves. Kartik comes behind her and holds her hand as moves along as she is crushing the leaves. 
Naira: Kartik…dont disturb me
Kartik: Im helping only
Saying this he bends down. She feels his breath on her neck but to the contrary she blush but starts to cry. Kartik holds her 
Kartik: Naira…naira what happened?
Naira: Kartik…this..this potion…killed muma and papa in front of my eyes. Sirat never knew this but I…I saw…..how that Nagesh's men killed Muma and Papa
Kartik makes her lean on his chest
Kartik: Thats why you joined this course na ..we are the only the people who know this potion. We will revenge our parents's deaths
Naira: Of course We will, Ill meger spare anyone involved in their death
Naira says this wiping her tears. She gets back to work
Kartik: Now this is like my sherni
They get into work. The scene freezes 
Forest Shiva Temple
Ritik and Shivanya enter the temple. Their mobile rings. Its Vansh
Vansh: Man..the 
Ritik: Naagmani is safe. Shivanya's sister Meher is taking care of it now
Vansh: Mate…I thought we had time till marriage but now ….
Ritik: I understand mate, marriage has to be postponed now
Shivanya: Yes….
Vansh: Haan mate…but….the sunset need not happen so soon.
Ritik: No mate…the struggle is driving us so it will happen as it happens. 
Vansh: Keep an eye. I don't want Haden gaining it tonight
Shivanya: We will even give our life for it.
Vansh: Ill go to Shivaay
Vansh leaves from there
The scene shits to the tunnel. Kartik and Naira come there with their potion. Shivaay walks to them. Kartik aims his wand at him
Kartik: Password?
Shivaay: Kachori
They hug
Shivaay: Everything is ready Kartik, lets go
Kartik, Naira and Shivaay leave to the hills.
The Hills
Kartik, Naira and Shivaay are at the hills. Vansh too comes there 
Vansh: Kartik Naira all set?
Kartik: Vansh?
Vansh: I know Kartik, Gaurav ji selected you soon after graduation for this task. This potion recipe 
Kartik: Not bad yaar…awesome work up
Vansh: Only twice I failed that was in Ragini case and in judging Shivaay
Shivaay: Ab chalo its time for sunset
Naira: Why do you call this sunset rey?
Shivaay: Naira …once we are done with this all the  dark power will come out and once thats there the world gets dark….which is indicated by sunset. Then only after destruction of the Dark power we get sunrise
Kartik: Thats accurate and crisp mate
Naira walks to the end of the cliff. She takes her wand out and chats something under the breath.
Naira: Shivaay start
Vansh: Ill also come with you. It may be risky
Vansh and Shivaay walk to the other end of the hill side where lies a deep well. 
Shivaay: Ill try to get in to get that thing
Gaurav : No need…I have taken it out 
Everyone turn to see Gaurav with a sword
Shivaay: Sir…
Gaurav: I finished the pending work and did this to do my help to you guys 
Kartik gets the sword and drenches in in the potion he has and gives it to Naira who dips it in the sword she has. Gaurav brings something to her and she is about to pierce it with the sword when the demons attack. Naira is almost pushed off the cliff. Kartik in a reflex runs but he slips a bit but he steadies himself and holds her hand,
within seconds he pulls her into a bone crushing hug. 
Naira: Why did you come like that? What if you fell down?
Kartik: When you are falling down how can I even think of my self. All I thought was to grab your hand as soon as possible 
Naira: Par Kartik
Kartik: Naira..when your hand starts to slip away I become mad…then all my thoughts are to hold it back at any cost for which I can even give my life. If I had fallen..I would have been with you still
Naira: Pagal …
Kartik: Is pagalpan ka naam pyar hai Naira..jeeyenge toh saath mein marenge toh saath mein
Just then he sees a demon coming there, he gets before her and aims his wand
Kartik: Pitradev Sankaranksham
The demon runs away. Kartik sees the sword down and leaps to get it
Kartik: Naira….potion…potion..get it again
Vansh and Shivaay hold the demons at their bay. Gaurav is also fighting hard
Naira gets the potion and dips the sword again in it. Shivaay has the thing Gaurav had and holds for her. Naira pierces it and the blood splashes but its black instead of red. Once its out howling sounds pierce their ears. 
The Goenka house is shown, Thunder hits making Ridhimaa feel miserable. 
Meanwhile in the hills Vansh starts to shout and wail
Shivaay: What is happening?
Kartik: Sun has set. Dont worry he will be better very soon
Kartik, Naira and Shivaay fight the demons. Vansh is unable to get up as his ears are ringing with howls and thunder sounds. But he still manages to push off the demons. Suddenly a hooded figure comes and aims its wand at Vansh
Figure: Mrityu Dansham 
The green light hits but before he could realise Vansh is pushed off and someone else is hit. Vansh realises that its Gaurav ji. He runs to him with his wand
Vansh: Nirastra Bhava
The figure's wand falls off . Hearing Vansh's cry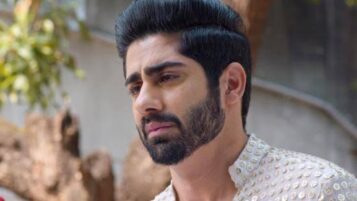 Kartik, Naira and Shivaay rush there. The figure tries to escape but Shivaay and Kartik hold him. The uncover the hoodie
Shivaay: Neil? Tum?
Neil chuckles and disappears from there into the air
Naira runs to Gaurav lying as a dead body and Vansh who is weeping beside him
Kartik and Shivaay too come to them. Seeing Gaurav in that state wells up their eyes. Vansh's cries are as if the whole world would crash down.
Shivaay's mobile rings. Its Pankhuri 
Pankhuri: Adi..here…
Shivaay: Pankhuri sun has set and our light has left us
He cries
Pankhuri: What happened tell clearly..Adi…adi…
Shivaay: Gaurav ji..Gaurav ji
Pankhuri: Gaurav ji ? What happened to sir?
Shivaay: He is dead
Pankhuri in shock: What Gaurav ji is dead?
As she is standing in the hall of Goenka Villa everyone hear and are shocked 
Maya slumps on the floor crying. Chandrika holds her chest weeping. Everyone start to cry.
Ridhimaa who met Gaurav ji only few months back feels as if she lost her long time friend , she starts to cry. The house is filled with sorrow
Pankhuri: Who ..who did it?
Shivaay: Neil
Pankhuri: Him? But? How can he…..
Pankhuri is unable to stop crying that she drops her phone crying.
Vansh is inconsolable. He places his head on Gaurav's chest and cries. The cruel Vansh Rai Singhania has used the same curse on many and saw their deaths with a smile is now crying his heart out. 
The scene freezes on their sorrow
Next Chapter : The leader is gone