Events Of Love GoGi RaHem FS Part 6(Last chapter)

Warning: A non-numeric value encountered in /home/ftpusers/tellyu/public_html/wp-content/themes/publisher/includes/func-review-rating.php on line 212

Warning: A non-numeric value encountered in /home/ftpusers/tellyu/public_html/wp-content/themes/publisher/includes/func-review-rating.php on line 213

Thank you each n everyone of u 4 supporting me in this journey.This SS is ending here.Plz give a detailed comment on the last part.Plz do write ur favourite character,favourite scene,favourite jodi n why u liked them.
Silsila Hai Pyar Ka …Events of love Part 6
Ahem Rashi had a cute daughter .Jaggi Gopi also had a daughter.
Baa and Kokila conducted both naming ceremonies together.
Ahem:She is our sweet heart.So she will be named as Mishti.


Gopi said emotionally:Once I lost my baby.But my baby returned to me as a fairy to spread happiness in our life.So her name would be Pari.
Baa and Kokila smiled.
Gopi completed her studies successfully and joined Jaggi's company in Dubai.
Rashi was singing and bathing Mishti.


Ahem enjoyed watching it.
Ahem:Rashi..why did'nt you bath me like you bath Mishti?


Suddenly Rashi poured a bucket of water on Ahem.
Rashi:You naughty!
Ahem giggled.Rashi too giggled.
Rashi continued pouring water on Mishti.Ahem too started pouring water on Mishti.He sprinkled water on Rashi too.
Rashi stared at Ahem smiling:Ahem!
Ahem smiled cutely.
Gopi was narrating the story of Cinderella to Pari.


Jaggi:Gopi…Pari is a baby.She is too small to understand your story.

Gopi:Don't disturb us Jaggi.Pari is enjoying the story.
Jaggi:Oh really?
Gopi:Don't make fun of me Jaggi.Pari loves fairies…after all her name is also fairy.
Jaggi smiled.He observed Gopi narrating fairy tales to Pari.
Mishti's first birthday…..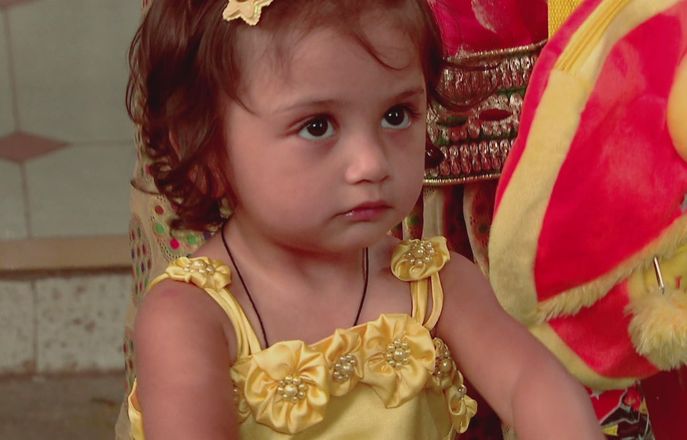 Ahem-Rashi made her wear a pretty crown.
Ahem:With this crown on Mishti really looks like a Princess.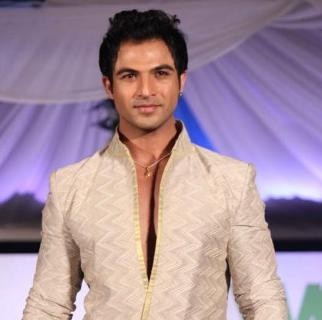 Rashi:After all she is our Princess.


Ahem:Right.
Jaggi and Gopi conveyed their birthday wish to Mishti on video call.
Everyone sang birthday song for Mishti.
Ahem-Rashi cut the cake and fed Mishti.
Gopi smiled seeing Jaggi pampering Pari and playing games with her.
Years passed…
Jaggi-Gopi and Pari got ready to go for outing.
Jaggi and Pari were dressed in red.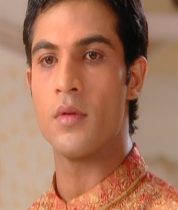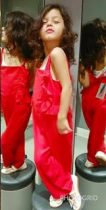 Gopi:Both father and daughter in red.I am out.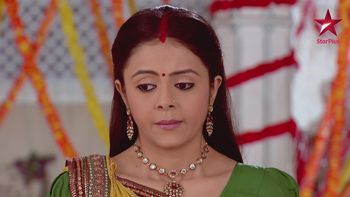 Pari:Don't worry mumma.Next time we both will dress alike.
Gopi:Ok Pari beta.
Gopi kissed her cheek.
They went to the mall..played games in the play area and had dinner together.
Mishti:Mumma…my friends are watching a lot of animated movies.I want to see it.
Rashi:Mishti…watching too many movies is not good for eyes.


Mishti:Please mumma..just one movie.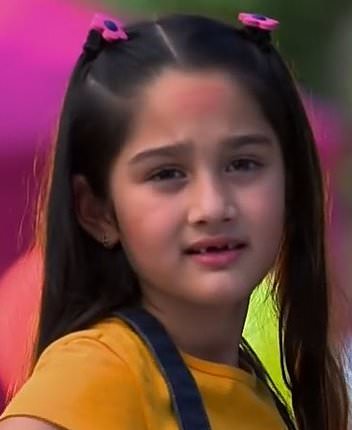 Rashi:Ok…
Rashi:Thank you mumma.
They hugged cutely.
In the cinema theatre Mishti sat on Ahem's lap and watched the movie.
Rashi smiled seeing their attachment.
Pari:Buddy…for tomorrow's party I want mumma and I to dress alike.
Jaggi:That's cool beta.
Pari:But mumma does not wear western clothes.She wears only sarees which I can't wear now.
Jaggi:No problem.We will buy western dress for mumma.

Pari:That's a nice idea buddy.


Jaggi and Pari did shopping for the party and came back home.
Pari showed a western dress to Gopi:Mumma…see…we bought a dress for you to wear for tomorrow's party.
Gopi was stunned to see the dress.
Gopi:Western dress?You both know that i don't wear western dress.I will look horrible.


Jaggi:Gopi…start wearing western clothes too.
Pari:Ya mumma.Won't you fulfil my wish?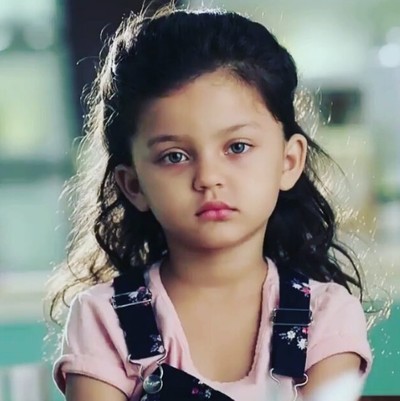 Gopi was in a dilemma.
Jaggi:At least for Pari please agree.
Gopi said yes after hesitating.
Jaggi and Pari did Hi-Fi.
For the party all the three got ready in stylish clothes.Gopi and Pari wore similar dress.


Jaggi was lost in Gopi.
Jaggi:Gopi…you look absolutely stunning in western dress.
Gopi blushed:Really?
Jaggi:Yes.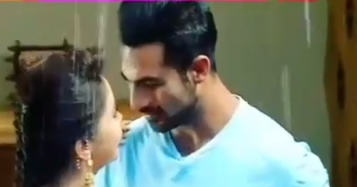 Pari hugged Gopi:After all she is my mumma.My mumma is the most beautiful mumma in this world.
They smiled.
The trio enjoyed the party.
Vacation started…
Jaggi,Gopi and Pari went to India.
Baa,Kokila,Ahem and Rashi hugged them emotionally.


Rashi:I missed you Gopu.
Gopi:I also missed you every second Rashi.
Gopi kissed her cheek.
Ahem:Rashi has time only to talk about Gopi ,Mishti and Pari.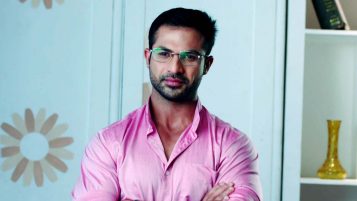 Jaggi:Here too.Gopi talks only about Rashi, Pari and Mishti.
We poor husbands are out.


Rashi-Gopi:Yes we both are one team.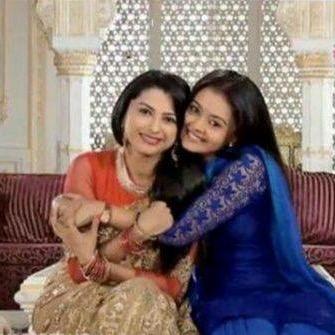 Everyone laughed.
Gopi took Mishti in her arms and Rashi took Pari in her arms.
Mishti and Pari always played together.They were inseparable and were always stuck up to each other holding each other's hand..


Rashi made vegetable soup for Pari and Gopi made kheer for Mishti.
Pari:Rashi aunty..your soup is yummy.

Rashi:Thank you Pari..I will make soup daily for you.


Pari:You are the best Rashi aunty.
They had a cute hug.
Gopi:Rashi…Pari is a soup lover like you.She misses your soup in Dubai.


Rashi smiled:And Mishti is a kheer lover like you and Ahem.Only you can make her favourite kheer.
Gopi smiled.
Mishti:Gopi aunty's kheer is so tasty.Thank you Gopi aunty.


Gopi caressed her head and kissed her forehead.
Ahem narrated stories to Mishti and Pari.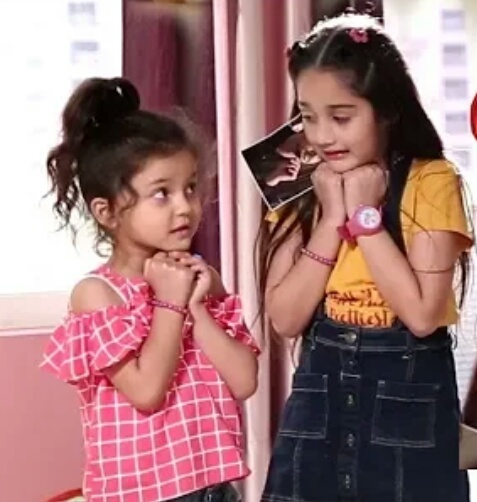 Jaggi:Ahem…Gopi has time only to say stories to Pari.Here you too telling stories?Pari will be tired.
Gopi:Jaggi..again teasing.
Rashi:Jaggi…Ahem is children's favourite child specialist.He knows how to make them happy.


Gopi:See Jaggi…learn from Ahem.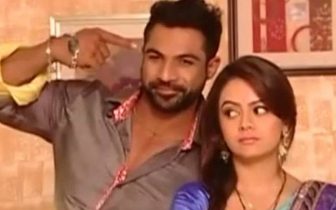 Everyone laughed.
Rashi:Not only Ahem,Baa and Maa are also excellent story tellers.
Janko:Yes..we are the best story tellers.If the kids listen to our stories they will addicted.

Everyone laughed.
Mishti and Pari slept with Kokila and Janko listening to their stories.
The whole family went for dinners,lunch,beach,movies,small picnics and enjoyed a lot.
They all lived happily.
The end

Warning: A non-numeric value encountered in /home/ftpusers/tellyu/public_html/wp-content/themes/publisher/includes/func-review-rating.php on line 212

Warning: A non-numeric value encountered in /home/ftpusers/tellyu/public_html/wp-content/themes/publisher/includes/func-review-rating.php on line 213