Eternal Love Story # Our Riansh (Chapter-56)
Thank you so much for your comments…. I hope you all will like the chapter
---
Chapter-56
In VR Mansion:-
Vansh blindfolds Riddhima and brought her to the car and made her sit there.
Riddhima- Vansh I won't ask anything just tell me where are we going.
Vansh: Well sweetheart just now you said you won't ask anything and now only you are asking where we are going. This important question I won't tell…..
Riddhima was again going to ask something but Vansh opened the radio.
Rou Ya Hasu Teri Harkat Pe
Ya Fir Teri Tareef Karun
Mere Dil Se Tu Aise Khel Gaya
Ab Jee Na Saku Mar Bhi Na Saku
Teri Zehar Bhari Do Aankhon Ki
Mujhe Chaal Samjh Mein Na Aayi
Wafa Na Raas Aayi Tujhe O Harjai
Wafa Na Raas Aayi Tujhe O Harjai
Sadiyon Ye Zamaana Yaad Rakhega
Yaar Teri Bewafai
Wafa Na Raas Aayi Tujhe O Harjai
Wafa Na Raas Aayi Tujhe O Harjai
Riddhima- Vansh are we going on date or we are going to break up?
Vansh- Why?
Riddhima- What why? Why are you playing this sad songs?
Vansh- Oh I didn't notice…
Saying so he closed the radio.
Riddhima (shocked) – Are you mad? You weren't noticing and you are driving?
Vansh- Riddhima I was concentrating on driving so didn't noticed the song.
Soon they reached to the place and Vansh opened the blindfold and Riddhima was shocked.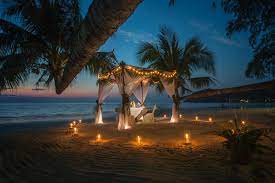 Riddhima- Why you planned it?
Vansh- Are you kidding me Riddhima? Still asking why I planned it. To surprise you sweetheart.
He kept his nose in crook of her neck while his hands went to her waist and entangling his own fingers. He pulled her towards himself and kept on nuzzling in her neck. While Riddhima moved her hands and kept over his and he twirls her around joining their foreheads.
Vansh- I love you Riddhima.
Riddhima- I love you too Vansh.
Vansh smiled and engulfed her into a tight bone crushing hug and she didn't resist. He soon left her and brought her to the table arranged for them.
Riddhima sat on her chair and he pulled her within a flick of seconds and she laid on his lap. Vansh took a spoonful of the morsel and fed her and same did she.
They both were engrossed in each other unaware of the shock they are going to get.
Riddhima stood up and forwarded her hands towards him and he took it she kept both of her hands around his neck while he led his ones to her waist and both joined their forehead and moved their body in dance without any tune.
Soon they heard something fell but being lost in each other they ignored it and then once again they heard the same voice. Vansh craned his neck in the direction and was shocked to see the scene.
Riddhima saw his shocked face and turned to look and saw the whole place had caught fire. They both looked at each other.
Riddhima- Vansh, how it happened?
Vansh- I don't know. Let's go, I will inform fire brigade on the way.
Riddhima held Vansh hand and both came out of the place and Riddhima being too scared hugged him tightly. Vansh hugged back caging her in his arms.
Vansh- Let's go, Riddhima.
Riddhima came out of the hug and both moved to the car. Vansh drove it to Riddhima's place and after giving her a kiss on her forehead and bidding her a bye he left to VR Mansion. All this while thinking how it all happened.
Next Morning:-
All Youngsters were in RV Mansion while elders were preparing for the wedding.
Vansh, Riddhima, Kabir, Sejal, Angre, Siya, Ishani and Aryan were playing truth and dare sitting at the middle of the hall.
Angre- So Kabir, truth or dare?
Kabir- Truth.
Angre- Ok so had you ever killed anyone.
Kabir- Yes.
All (in unison) – Whom?
Kabir- Many times due to Vansh I'd to kill many mosquitos.
All hit their heads with their palm. Bottle again spins and lands on Riddhima.
Siya- So di, who is the most loveable person in your life?
All thought the answer to be Vansh but on seeing her moist eyes they understood the answer and tried to divert the topic but it had already hurt Riddhima and she left from the place. Vansh eyed them.
Vansh- I asked you all not to play, this game always led to something or the other.
Vansh left behind her and started searching her in whole Mansion. Soon he found her on the pool side.
Vansh sat beside her and saw her moist eyes. She looked at him and laid on his shoulder and he took her in.
Riddhima- Vansh today is father's day you know when I was small dad used to take me to many places on every father's day, Usually children used to give surprise to father's but on my case dad used to give us he used to say that he don't want anything he was happy to get me and since years I was waiting to celebrate it with dad. First college then that incident and then Paris. I'm wasn't able to celebrate with him anytime. Why dad did that with us? Why can't we live happily?
Vansh took her in a hug and she cried on his chest clutching it tightly. Vansh gave her a kiss on her forehead and picked her up in his arms.
He laid her to her room and opening the door from his foot he came in and latched the door and laid her on the bed. From the other side, he came and took her in his embrace and slept.
In VR Mansion:-
All were sitting in hall deciding the things and rituals for wedding just then they saw Veer coming in, his face held tension.
Ruchi- Veer why are you so tensed?
Ajay- You went to see for court details, right?
Veer- Dad I went there while dad was brought to court for hearing. But on the way hi…..his….
His voice choked at the completion of sentence.
Sandhya- Will you say, Veer?
Veer- Mom woh his car got blasted and they found his dead body but it's too badly burnt that they won't allow it to bring it here.
That was enough for everyone to break at the news. Soon they heard a thud news and saw Sandhya fallen on her knees.
Uma- Sandhya, calm down. Veer are you sure? Just go and check the dead body once.
Veer- Aunty I saw his face even if it was completely burnt I can recognize it even his belongings were there.
Sandhya was completely broke at this news and she started crying while Uma hugged her to console her.
Ajay- Veer call everyone here, we need to inform them.
This was like a biggest shock for Sandhya she shouted.
Sandhya- No Veer, you won't.
Veer and all were shocked.
Veer- But mom they need to know even Riddhima
Sandhya- Riddhima shouldn't know this, No, let her think he is in prison and listen all of you if anyone dare to tell this to anyone. After a long years, Vansh and Riddhima had come together. I can't let Sooraj's crime to hurt their relation once again.
All were shocked by her words.
Sandhya- Uma, start all the marriage ritual today, we will get them married within two days and till then you all had my swear if anyone of them got to know about it. You all will see the worst shade of me.
Uma just nodded at her while all were still in shock by her statement.
They all sat on the sofa with a thud while Uma and Ruchi led her to the room and made her sleep.
They both came out after a while when they got sure that she had slept.
Veer- Dad, what reason we will tell to them to get them married in such a short span of time.
Ajay- I'm scared about Vansh, he can sense something wrong just by watching our face and by our voice.
Ruchi- Till when are we going to hide this truth.
Uma- There are many questions but no answers.
Ajay- Veer call them here and let's tell them about our decision and it will be a simple wedding.
All nod and him and Veer call Vansh.
Vansh who was sleeping with Riddhima in his embrace picked up the call quickly not to disturb her.
Vansh- Yes Veer.
Veer- Vansh, How is everyone there?
Vansh tells him all about Riddhima and Veer who tried his best to compose himself broke down there. Ajay saw him and took the phone from him
Ajay- Hello Vansh, you all come here. We all have decided something important.
Vansh just gave hmm as a response.
Veer- We really can't tell this to Riddhima, she is completely broken by that news and this news…. No we can't tell her Dad.
He was crying.
Ajay- Veer, calm down, they must be coming. We need to be calm or Vansh will sense it.
All composed themselves and wore a fake smile on their faces.
Soon all came back.
Vansh- Dad What happened? What were you saying that you all have decided?
Ajay- We decided that your wedding will be after two days. I don't want any questions on it. You all can go know and rest from today evening rituals will began.
Episode ends
Precap- All the Rituals began.
Do comments guys if you like the chapter 😀 and i know its short but please bear it for today I'll post soon
Sorry for any grammatical mistake……….