Ek Tu Hi Jaane…Haal Mera ~ Hawayein's sequel ~ Leaf – 02
Ek Tu Hi Jaane…Haal Mera ~ Hawayein's sequel ~ Leaf – 02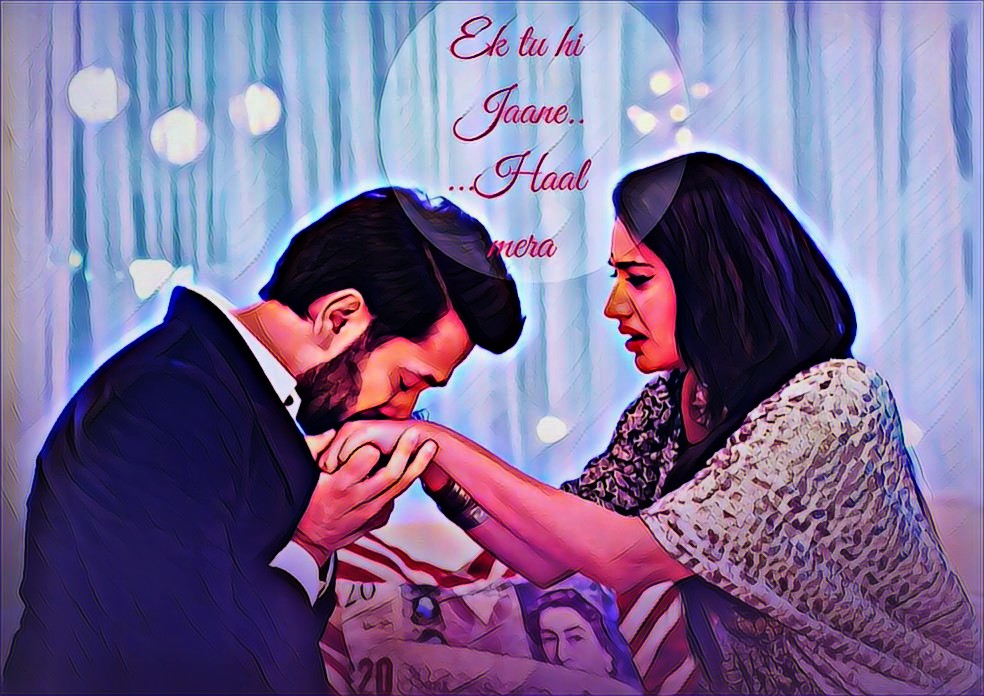 ---
---
Previous Leaf –
https://www.tellyupdates.com/ek-tu-hi-jaane-haal-mera-hawayeins-sequel-leaf-01
---
---
@OBEROI PENTHOUSE
@BAR COUNTER NEAR LIVING
Gauri pours gin into her glass and puts an ice and sipps the drink !…
Gauri "Iss shivaay ne toh naak mein dam kardiya hai…iska toh kuch karna hi padega / Shivaay crossed his limits now i have to do something !"…?
Anika slowly comes downstairs…
Gauri comes to hall where pinky, jhanvi and dadi are sitting !!…
Gauri "You guyz wanna have some gin !!"…
Dadi "Nahi humme nahi peena…tu hi ye sab gin pin pee !!" ?
Gauri "Dadi its gin…gossh…arey anika kaha jaa rahi hon !"…?
Anika "For a meeting…actually meri kuch abroad se friends aarahi hain next week ke ramp show keliye toh unse meet karne jaarahi thi !!"…
Gauri "Ohh"…
Jhanvi "Waise tumne shivaay ko dawaiyaa dedi"…
Anika "Ji badimom !"…
Pinky "O my maata pata nahi mera beta kab thik hoga !"…
Jhanvi "Relax pinky be cool !…Shivaay humara beta hai usse kuch bhi nahi hoga…uski do do moms hain kyun mummy ji !!"…
Dadi "Bilkul…Tu jaa anika puttar !!"…
Anika "Ji"…
She was to leave but suddenly om enter into the penthouse furiously and throws his suitcase on floor scaring everyone !!!…
Jhanvi "Kya hua"…
Dadi "Kya hua puttar !!"…
Om shouts "I am sick…i am sick dadi…i am tired of hearing all this !…Our 1000 crores project got cancelled only bcoz…dammm one small mistake by one of our worker !!"…
Anika goes and hugs him !!…Everyone goes to him and consoles him !..
Anika "Relax tell me what happened !!"…
Gauri brings water for om but spots anika touching om's shoulder ! She holds the glass angrilly and rushes towards om and pushes anika back !!!…
Gauri "Relax…and have this !!!"…
Anika "Yaa om !!"…
Gauri miffs seeing anika's concern !!…
Om "Oh pls !!..Fck this !"…
He throws the glass on floor and went for upstairs !!!…
Pinky "Om is very angry…i hope he dont ruin the room"…
Jhanvi "What rubbish pinky". .
"TING…THANG…THONG THONG…TING"…
Pinky "See i told you !!"…?
Dadi "Kitni kaali zubaan hai iski" ?
Anika "Let me go and check whats happening !!!"…
@RIKARA'S ROOM
Om is ruining his room by throwing the glassy stuffs, bedsheets and everything on floor !!!…
He was to break a tv but anika comes on time !…
Anika "Stopppp !!!"…
He stops immediately and puts it away !…
Anika grabs him like and tries to make him understand !…
Anika "Whats wrong with you bro…its just a projwct that you lose…itna gussa karne ki kya zaroorat hai…aaj 1000 crore gaye hai kal 2000 crore aayenge !…Think positive"…
Om shouts "But bhabhi…..you know what i tried every possible way to grab this project but still it slipped !!!"…
Anika "Aisa bhi toh hosakta naa..ki project agar oberois ko miltaa…toh kuch nuksaan hota naa !!!"…
Om "Bhabhi aap"…
Anika cupps his face and they both sits on floor !!…
Anika "Kabhi kabhi kuch khona paane se zyaada badkar hota hai"…
Om "Huh"…
Anika "What i said…it could be true also…now see a company who was to give the contract turns to be traitors then what would you do…You may would had more loss…Just think om…uss company ne ek worker ke mistake ko dekhkar puri deal cancel kardi toh phir iska outcome kya aata hai ki vo log hamare liye sahi nahi hai…they are wrong…did you understand what i am trying to say !!"…
Om "You…you're correct bhabhi !!!"…
Anika "Tum age mein shivaay se bas 10 days bade hon…par bhi vo tumhe bro bulata tha par dekho aaj tumhe bro usko bro bula chahiye kyun !!"…
Om "Hahaha…Yaa right ye sab toh maine aur shivaay ne milkar sikha tha badepapa aur chotepapa se par usne yaad rakha tha aur mein yaad rakhkar bhi bhul gaya !!…I think i am looser !!"…
Anika "Tum…tum ye kya keh rahe hon…you're not looser you're a big gainer…itne saalo mein tumne humme oberoi mansion oberoi penthouse mein le aaye kya ye kam hain !!"…
They holds each other's hands…
Anika "Rudy aur soumya toh humme chhodkar saalo pehle switzerland chale gaye…kyunki usse apna business start karna tha…toh usne vo kiya…aur tumne bhi vo kiya jo tumhe khud ke aur gauri keliye karna tha…par usme tumne hum ko shaamil kiya"…
He looks on !!…
Anika "Chalo ab ye rona dhona band karo…aur show me your smile !!"…
Om smiles…
Anika "Now thats called an oberoi…jo kabhi haar nahi maanta aur mushkilo bhi muskurata hain…kyunki dil bole"…
Om "Oberoi"…
Anika "Right"…
Om "Bhabhi…aap aap naa shivaay ko lekar itne stressed mat hoiye…he will be absolutely fine !!!…Vo bilkul pehle wala SSO ban jaaye gaa"…
Anika "Hope so"…
Om "Kya hua bhabhi"…
Anika "Aaj achanak galti se…shivaay ne gauri bhabhi ke saari ke upar ketchup phenk diya !!!"…
Om "Oops"…
Anika "Gauri bhabhi ne…shivaay ko mental asylum bhenjne kaa order diya mujhe !!"…
She cries holding his hands !!…
Om "Bhabhi bhabhi dont cry…kahi nahi jaayega hamara bhai !!!"…
He hugs anika warmly as like a brother do !! ?
But Gauri spots that anika hugging om and gets furious !!!…
Gauri thinks "Anika and om are hugging each other…anika ki itni himmat"…
She fumes !!…
Anika "Ohh…i am getting late…i should go for the meeting !!"…
She meets gauri and then leaves !!…
Gauri enters inside the room and silently closes the door !!…She gets close to om and hugs him !…She starts kissing him on his cheeks and lips which gives him relief !!!…She even unbuttons his shirt and places his hand on his chest and obsessively kisses him !!…??
Although her eyes are burning red ….
Gauri thinks "Mein anika ko om ko mujhse chhinne nahi dungi" ?
@FLORATALE HOMES
@4TH FLOOR
Its Anika's fashion house !…
Anika and her foreigner friends are to end the discussion !!…
Girl-1 "No but still i think pink one will be better !!"…
Anika "I think maroon lace will be more good"…
Suddenly anika's ipad receives a call !!…
Anika "One min darls…i will be back in a bit"…
Anika's secretary arrives, MAULI (Additi Gupta) arrives…
Mauli "Mam mam…aapke liye london se call hai"…
Anika "But now i received a call from switzerland…so pls can you"…
Mauli "Sure mam"…
She picks up the call and anika moves forward !!…She moves towards an isolated room and switches on the ac and sits near a window !!…
He swipes and receives the video call…
Anika "Hi soumya !!!"…
— SWITzerland
GENeva —
Soumya is carrying ipad on one hand and shopping bags on other hand !…She is in a cool winter western outfit and beannie !…Her cheeks are a bit reddish due to weather !!…
Soumya "Hi yaaa anika !!!…Kaisa haa tum..i am so sorry i almost forgot hindi !!"…?
Anika "Whhhat…?…well i am fine !!"…
Soumya "Aur baaki sab kaisa hai…badamom, chotamom bla bla !!"…
Anika "Everyone is fine !!"…
Soumya "Except one"…
Anika "Who ??"..
Soumya "Shivaay…Je connais…je sais qu'il ne va pas bien  !!"…?
Anika "Whhhat !!"…
Soumya "I am sorry ?…I mean i know he is not well" ?
Anika gets numb !!…
Soumya "ne pas perdre espoir anika !!" ?
Anika "Can you pls talk in english or broken hindi" ??
Soumya "Ohh so sorry…?…mera matlab haa tum himmat not kaaro aur haaro haaro !!"…?
Anika "You mean dont lose hope !!"…?
Soumya "Yaa yaa…dont lose hope i mean that only…actually in this city most of us talk either in french or in here's local language…no one even talks in english too…and just forget about hindi  !!"…??
Anika "Toh tum log dobara hindi sikhne india kab aarahe hon !!"…
Soumya "Anika…anika tu sais (you know) whenever you ask me about this my answer comes soon…but dont know when that soon will come !!!"…
Anika "Accha fine i understand…say to rudy that i greeted him and also greeted our new born baby"…?
Soumya "Aur tumhari bacchi kaa kya !!"…
Anika "Sorry…you mean mere bete kaa kya !!"…
Soumya "Yaa..i mean hows he !!"…
Anika "Ofcourse he is well soumya and very mischievous…i mean just like his father…very naughty !!"
Soumya "Accha you mean to say Il est méchant…he is naughty" ??
Anika "No no not in that sense" ??
Soumya "Okay fine…take care of yours and everyone…au revoir (bye)"…?
Anika "Au…Au revoir soumya (Bye)"…?
@OBEROI PENTHOUSE
@SHIVIKA'S ROOM
Shivaay is quietly sleeping on bed !…He is sleeping innocently like a baby although his eyes are blinking in fear as he is seeing a nightmare !…
NIGHTMARE –
Shivaay is playing with anika and a boy !!…
Suddenly a bunch of people comes from MENTAL ASYLUM and grabs shivaay !!…
Shivaay "Nahi…ye…ani…anika fairy !…Ye sab !!"…
Anika silently lifts the boy and moves backwards !!!…The white scene turns dark !…
Those people and starts and scares shivaay and throws him inside the van !!!…
Doctor "Hahaha…Now you will stay with us !!!"…
Shivaay panicks "No…no…no !!!"…
– NIGHMARE ENDS
"Nooooooo" He screamingly wakes up and looks everywhere, he throws the pillows and cushions and blankets on floor and starts shouting…
"I dont wanna go…mujhe nahi jaana waha…waha nahi naa plssss" he shouts !!!…
Suddenly a baby boy comes from back and shouts….
"Who ??? Who are youuuu ??" He pushes the boy back and anika saves him from falling !!!…
She sees shivaay pushing back his own SON to her !!!…
Anika "Whats wrong with you shivaay !!!…He is your son…beta hai aapka !!!"…
Shivaay "Bet…betaa !!!"…
The baby boy who is almost 5 years old starts crying !!!…
Anika "No no dont cry !…You are a good boy naa"…
Boy "Mamma…why did he pushed me back !!…Why did he !!"…
Anika "ADVAIT…Ssshhh…You are strong like your dadda naa !!!"…
Advait "Hmm"…
Anika "Then stop crying…see your father is also not crying"…
Anika symbols him to wipe out his tears !…He quickly rubbs and wipes his tears !!…
Advait "Dadda…i wanna hug you !!"…
Shivaay "Oh sure…sure !!!"…
Anika "Awww…and me !!!"…
Advait "You can also join us !!"…☺
He says smiling cutely !…?
They had a family hug !!! ❤❤❤
---
---
PRECAP –
Om "Today i am taking shivaay to office with me !!"…?
Gauri "No ways om…uskaa bhadosa nahi hain koi….kuch bhi kar sakta hain vo"…?
Anika turns back and spots Shivaay coming downstairs in SSO avatar !! ??
Anika gets tearry eyed in joyousness so as all the family members !!…
………………
………………
Anika "Congrats Om"…
She cupps on his shoulder !!…
Gauri thinks "Oh so now you're trying snatch my husband after snatching my RISHAV !!!"…?
……………..
……………..
Anika meets her old friend Sharmilla !…
Sharmilla "According to my study, i think we should keep him in ASYLUM for some time !"…
Anika gets SHOCKED !!!…
---
---
NEXT EPISODE WILL BE UPDTED ASAP
Hey everyoneeee…
Thankyou so much for appreciating the first episode and thanks for liking and commenting…Keep doing that…
I will see you soon and until we meet…
Take care
Lovesss
Riana
❤