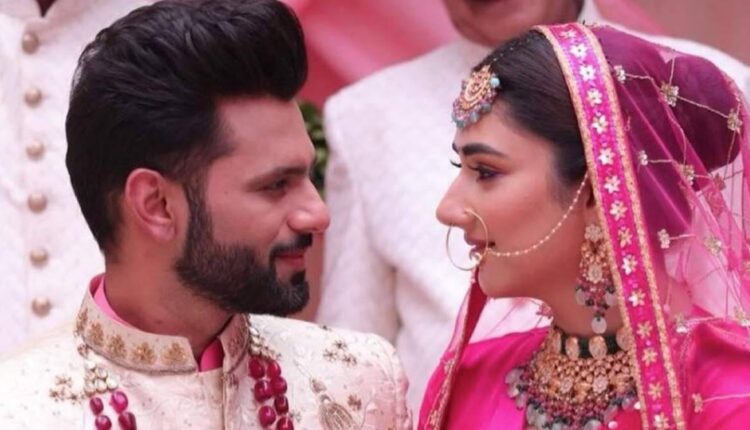 Bigg Boss 14 fame Rahul Vaidya took the vows with his ladylove Disha Parmar in a grand but intimate wedding ceremony on July 16. The couple looked adorable at their wedding ceremony and had a blast with close friends and families. Post wedding the couple spoke to the media and shared their joy with everyone.
Expressing her happiness, the new bride shared, "Rahul is looking very handsome as the dulha and I feel very lucky to be his wife. Every girl wishes to get married one day and I am happy that finally the day has arrived for me."
Talking about the Juta Chupai rasam, Rahul shares, "My friend betrayed me during the joota chupaayi rasam. Aly did his best to hide the shoes, but one of my cousins asked him to give the shoes and then he went and sold the shoes to Disha's friends. I have a hefty amount to get back my shoes. I have paid a very heavy price for it."
Talking about their love story Rahul further added, "Usually love stories are very personal, but I am extremely happy that a lot of people from all over the country and even worldwide connected with our love story. Wherever I travel now, whoever clicks a picture with me, now says that please give our regards to Disha. It is like a blessing that people celebrate our love story as their own. I don't think I can ask for anything more,"
Actor and Bigg Boss host Salman Khan was also invited for the sangeet. "We kept sangeet after the wedding so that we look fresh at the wedding. I know it usually happens otherwise. We thought A couple gets very tired throughout the wedding ceremonies. So, we decided to have it after the marriage. We have invited Salman Khan Bhai for the sangeet with all heart, let's see if he would be able to make it.", said Rahul.
The lovebirds are now looking forward to spending time with each other. "We will be going to Lonavala for our honeymoon (laughs). But genuinely we want to just relax for at least 7-8 days. Our last few days have been hectic and we have spent time with everyone else, except for us. So, we want to be together now. We haven't planned yet, it is a very risky time to fly anywhere so we will probably let everything settle down first and then maybe go later," he said.