Dilwale Dulhania Le Jayenge RuMya SS (ShivIka As Parallel Lead) Roka,Mehendi,Karwachauth special Part 11

Warning: A non-numeric value encountered in /home/ftpusers/tellyu/public_html/wp-content/themes/publisher/includes/func-review-rating.php on line 212

Warning: A non-numeric value encountered in /home/ftpusers/tellyu/public_html/wp-content/themes/publisher/includes/func-review-rating.php on line 213

Rajendra and Sujata were observing Rudra and they got impressed by him.
Rajendra:Rudra is such a nice boy.
Sujata:Yes.He changed our perception about NRI boys.
Rajendra:He is also a typical Indian like Soumya.What if Rudra marries our Bhavya?
Sujata:Then it's our luck.I am sure that Bhavya will like Rudra.
Rajendra:Ya…We will discuss with Oberois regarding this after Prem and Soumya's wedding.
Sujata:Ok.Nice.

Bhavya who over heard this was flattered.She blushed.
She thought of Rudra calling her Bhavu shyly.
She went out blushing.Raghu noticed it.
Raghu:What happened Bhavya?Today you look very happy.


Bhavya was shy:Yes,I am very happy.My parents are thinking of an alliance for me..with Rudraji.I think Rudraji also loves me.I also like him a lot.
Raghu's face became dull.

Bhavya ran away blushing.Raghu was shattered.
Raghu:I lost Bhavya?
Rudra saw Soumya upset.
Rudra:Now why are you upset Soumya?I told you that I will make things alright.


Soumya:Rudy…tomorrow is my engagement.I don't want Prem to put ring on my finger.
Rudra:Soumya…chill.It's only engagement,not wedding.


Soumya:Still even if its for fun I can't wear Prem's ring on my engagement ring finger.


Rudra:Soumya…do you want to be that adamant about it?
Soumya:Yes Rudy.
Suddenly her face blossomed.
Soumya:Wow..I got an idea.
Rudra:What?
Soumya:I will bandage my finger and make others believe that it's wounded.So that Prem cannot put the ring on this finger.


Rudra:Arre wa!Being with me you also learnt how to be mischievous.
Soumya:after all I am yours.
They both giggled joining each others foreheads.
Suddenly they realized how close they are to each other.They looked at each other passionately.
An intense eye lock.


Suddenly they heard a voice.
"Soumya…Rudra…"
They turned back and got shocked.It was Jhanvi.
They became nervous.
Soumya's lips shivered:Maa…
Jhanvi:So he is the person whom you met and fell in love during the Europe trip?
Soumya:Yes Maa.
Jhanvi:Rudra…for Soumya you came to India in search of her with your whole family?
Rudra:Yes aunty.
Jhanvi:That means you are really serious about her and love her very much.
Rudra:Yes aunty.I love Soumya a lot.I can't live without her.
Jhanvi:Yes I understood how much you love Soumya.If you had not loved Soumya sincerely you would not have taken the trouble to come here.My blessings will be always there for both of you.
Both were surprised.
They hugged her thanking her:Thank you so much.
Jhanvi:But Soumya…your papa…
Rudra:Don't worry about that aunty.I will win Tej uncle's heart and he will surely hand over Soumya to me.
Jhanvi:I wish it happens.But it's not easy beta.He is very stubborn.


Rudra:He will melt before our love.I am confident.
Jhanvi smiled emotionally.
She said in her mind:God…please unite them.
Engagement….
Jhanvi wore a beautiful saree.Surprisingly Tej placed a necklace around her neck.


Jhanvi:Tej..this one…?
Tej:Today is our dearest daughter's wedding.On this happy occasion can't I give a lovely gift to my beautiful wife?
Jhanvi blushed:It's beautiful.
Tej:This beautiful necklace looks prettier on you.
She blushed:You are still romantic.
Tej:Yes.But only with my lovely wife.
They both smiled at each other romantically.
Prem and Soumya got ready for the ceremony.
Tej:Show your finger Soumya…
Soumya showed her finger which was bandaged.
Sujata:What happened beta?
Soumya:I am sorry.It got hurt.


Tej:Soumya..how many times I told you to be careful.You are very careless.
Soumya:I am sorry.
Prem:No problem Soumya.Show me any finger.I will put ring there.
Rajender:But the ring has to be put on the right finger.
Prem:I don't believe in all this.It can be any finger.I don't care.
Soumya showed another finger and Prem put ring over there.
Soumya put ring on Prem's finger.


Nirmala:Let God bless you both.
Bhavya imagined Rudra slipping ring on her finger and blushed.


She looked at Rudra romantically.Rudra felt weird.
He thought:Why is this Bhavu always staring at me like this?Hope I don't look like clown before her.
Soumya was very happy as her plan succeeded

and she winked at Rudra.Rudra smiled.
But Prem looked upset.


Harish to Avantika:Avantika…did you notice Prem's expression when they discussed about the ring finger?
Avantika:Yes Harish.I felt Prem was not at all interested in ring exchange.
Ahem:It looked as if Prem just wanted to finish it off.
Gopi:Prem does not look happy like a going to be wed person.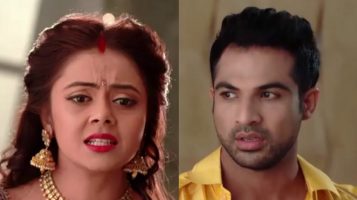 Shivay:See..I told you before itself.But nobody believed me.
Anika:But still it's not confirmed.
Shivay:Very soon I will find out what Prem is hiding from all.
Anika:Anyways happy that Prem could'nt put ring on Soumya's correct finger.


Shivay:There only our Rudy can put ring.
Anika:Of course yes.
Mehendi function….
Everyone looked at Soumya's mehendi.
Sujata:It looks really bright and red.It means Prem loves you a lot.


Soumya thought:It means Rudra loves me a lot,not Prem.
Rudra:I love Soumya more than anything else.That's why her mehendi colour is deep.You all will understand it soon.
Prem was dull.He thought:Sorry Maa,you are misunderstanding my feelings for Soumya.The truth is that I have no feelings for Soumya.I may never love her.


Rudra and gang started dancing.
Ye kudiyaan nashe di pudiyaan
Ye munde gali de gunde
Ye kudiyaan nashe di pudiyaan
Ye munde gali de gunde
Nashe di pudiyaan
Gali de gunde..
O.. o..
Mehndi laga rakhna
Doli saja ke rakhna
Mehndi laga rakhna
Doli saja ke rakhna
Lene tujhe o gori
Aayenge tere sajna
Tej Jhanvi,Harish Avantika,Rajendra Sujata,Ahem Gopi,Shivay Anika,Samir Romi,Raghu Bhavya started dancing.

Mehndi laga rakhna
Doli saja ke rakhna


Oh.. ho.. oh.. ho..


O.. aa.
Sahra sajake rakhna
Chehra chhupake rakhna
Sahra sajake rakhna




Chehra chhupake rakhna
Yeh dil ki baat apne
Dil mein dabake rakhna
Sahra sajake rakhna
Chehra chhupake rakhna

While dancing Bhavya slipped and fell on Raghu's chest.

They got embarrassed and moved away from each other.
Mehndi laga rakhna
Doli saja ke rakhna
Hoye.. hoye.. hoye..
Hoye.. hoye.. hoye..
Bhrrru..


Ud udke teri zulfein
Karti hain kya ishaare
Dil thaamke khade hain
Aashiq sabhi kanware


Chhup jaayein saari kudiyaan
Ghar mein sharamke maare


Gaanv mein aa gaye hain
Paagal shehar ke saare
Bhavya started dancing around Rudra romantically.

Raghu felt upset.
Rudra thought:Guess this girl is after me like the other mad girls in London.How can I tell her to stay away from me?
Nazrein jhukake rakhna
Daaman bachake rakhna
Nazrein jhukake rakhna
Daaman bachake rakhna
Lene tujhe o gori
Aayenge tere sajna
Rudra moved away smiling and started dancing with others.Bhavya became dull.
Raghu went near and started dancing with her.She smiled enjoying the dance.
Mehndi laga rakhna
Doli saja ke rakhna
Sahra sajake rakhna
Chehra chhupake rakhna
Oh.. ho.. oh.. ho.. aa..
Main ek jawaan ladka
Tu ek haseen ladki
Ye dil machal gaya toh
Mera kusoor kya hai
Prem was standing alone.
Shivay:Look at Prem.He is least interested in dancing.
Anika:Exactly.I guess he is not interested in this wedding.
Shivay:Exactly.
All were busy dancing.Rudra pulled Soumya for dance.
Soumya:Rudy…others will see us together.


Rudra:No one will notice us as all are in their own world.


She got relieved.They both started dancing with joy.

Rakhna tha dil pe kaabu
Ye husn toh hai jaadu
Jaadu hi chal gaya to
Mera kusoor kya hai
Rasta hamara takna
Darwaaza khula rakhna
Rasta hamara takna
Darwaaza khula rakhna
Lene tujhe o gori
Aayenge tere sajna
Kuchh aur ab na kehna
Kuchh aur ab na karna
Kuchh aur ab na kehna
Kuchh aur ab na karna
Yeh dil ki baat apne
Dil mein dabake rakhna
Mehndi laga rakhna
Doli saja ke rakhna
Sahra sajake rakhna
Chehra chhupake rakhna
Shava hoyyi.. hoyyi.. hoyyi.. (Repeat 7 times)
Shava..


Aey meri zohar zabi
Aey meri zohar zabi
Tuje malum nahi
Tu abi tak hein hasi
Our main jawaan
Tujpe kuruban meri jaan
Meri jaan
Aey meri zohar zabi
Aey meri zohar zabi
Tuje malum nahi
Tu abi tak hein hasi
Our main jawaan
Tujpe kuruban meri jaan meri jaan
Tujpe kuruban meri jaan meri jaan (Repeat once)
Mehndi laga rakhna
Doli saja ke rakhna
Sahra sajake rakhna
Chehra chhupake rakhna
Shava hoyyi.. hoyyi.. hoyyi.. (Repeat 3 times)(DDLJ).
The next morning….
Tej and Rudra were feeding the doves.
Rudra thought:Tej uncle is really patient to feed these doves.How long can we feed these doves?Why can't these doves fly away?They are over hungry.Worse than Soumya.

Rudra:Tej uncle…yesterday you danced very well.It was a rocking performance.
Tej:Really?

Rudra:Ya.
Tej:Everyone says that I am a good dancer.
Rudra:Really?I did'nt know that before me others too told me that you dance well.
Rudra thought:Wonder who told Tej uncle that he dances well.
Rudra:And you look like a young boy while dancing.
Tej:Really?Everyone says that I look so young that i don't look like a father.
Rudra felt like laughing.
Shivay gave a silk saree to Anika.
Shivay:A karwachauth gift for you.
Anika:It's so beautiful Shivay.I feel nice to wear Indian traditional clothes here.There I don't get a chance to wear Indian clothes.
Shivay:I know that.That's why I gifted you this saree.You know what?You look very pretty in sarees.
Anika:Really?
Shivay:Yes.
Shivay pecked her cheek making her blush.


Karwachauth….
The moon appeared.Everyone started feeding their spouse.
Harish fed Avantika.
Harish:Feed me.I am hungry.
Avantika:The whole day you were eating while I was starving.Then you crazy eater..you still feel hungry?


Harish:Avantika…I am a crazy eater.But when you stay hungry how can I eat?
Avantika was stunned:It means you also did'nt eat?
Harish:No.
Avantika became emotionally:I am sorry Harish.
She fed him water.
Ahem and Gopi looked at the beautiful moon.
Gopi:The moon has come.
Gopi viewed Ahem's face through the sieve.He took the sieve from her and viewed her face through it.
satrangi mausam ho
ya gham ke badal ho
phoolon ki sej ho
ya kanton ki raahein ho
Ahem:Let me see your face too.You are more beautiful than the shining moon.
She blushed.

mere humkadam mere humsafar
raah mein chod na jaana
har kasam tod na jaanaa


They both fed food to each other.
saath nibhana saathiyaa
saath nibhana saathiyaa
saath nibhana saathiyaa
saath nibhana saathiyaa(SNS title song).
Tej broke Jhanvi's fast and Rajendra broke Sujata's fast.
Tej and Jhanvi had dinner together feeding each other.

After breaking fast Harish and Avantika went to a restaurant to have dinner.
Harish was eating and drinking juice like crazy.
Avantika stared at him with a slight smile.
Harish:Why are you staring at me my dear wife?Am I looking that handsome in this age too?


Avantika:I was observing that your craze for food has'nt changed now also.
Harish:I consider that as a blessing.So I can enjoy food to the core.
They both giggled.
Shivay was lost in Anika's beauty when she was dressed in blue silk saree and traditional ornaments.
Oh Jaana…Oh Jaana
Khoya Khoya Rehta Hai
Shivay:After a long time I am seeing you in saree.You look so gorgeous that i can't take my eyes off you.
She blushed.
Dil Dharak Ke Kehta Hai
Tu Mere Jeene Ki Wajah
Anika:You are also looking handsome in this traditional sherwani.
He smiled.
Oh Jaana…Oh Jaana…
Anika:By the way are you only praising my beauty or any plans to feed me?
Shivay:How do you manage to be so fit and beautiful even after eating like this?
She smiled.
He tried to get cozy with her.
Ishq Hai Aanso
Ishq Hai Nagma
Isqh Sukoon Hai
Rahat Hai…
Anika:You naughty…this is not London.This is India.
Shivay:But everywhere romancing the wife is allowed.
She blushed.
Ishq Hai Sehra
Ishq Hai Dariya


Ishq Junoon Hai
Zehmat Hai.(IB ShivIka song).
Romi felt like fainting.Samir caught her by her waist.
Samir:Oh no.


He sprinkled water on her face and made her drink water.
She opened her mouth and looked at him.
Samir:Are you alright?
Romi:Yes.
Suddenly she realized that she was in his arms.She moved away from him.
Romi yelled at him:Why did you beak my fast?
Samir:You fasted?So that's why you were fainting.
Romi:I fasted to get a nice husband.But you flopped my plan by breaking my fast.Oh no.
Samir:I did'nt know that you were fasting.You were going to faint.That's why I made you drink water.I helped you.But you are blaming me.
Romi thought:Did I blame him too much?
Romi:Sorry.When my fast ended like this I got upset unnecessarily.
Samir:It's ok.Even I was wrong though unknowingly I did a mistake.
Romi smiled:It's ok.


Romi walked away.
Samir thought:Whenever Romi shouts at me I get angry.But I get melted when she says sorry to me and forgets all her accusations.why is it like this?
Bhavya offered prayers seeing the moon.She took the sieve with excitement.
Bhavya:I am sure that through this sieve I will see Rudraji and the person whom I see through this sieve will be my soulmate.
She looked through the sieve and got stunned to see Raghu.
Bhavya:How is this possible?Does it mean that Raghuji is my soulmate?


Bhavya hid the sieve behind.
She looked at Raghu emotionally,
Raghu:What happened Bhavya?Is everything alright?


Bhavya:Nothing.Everything is alright.


Raghu:Did you fast for Rudra?


Bhavya thought:What to say Raghuji?I thought I fasted for Rudraji.I wanted Rudraji to break my fast.But now I am confused.I don't know who my man is.Till my dilemma does'nt get cleared I can't take any step.
Bhavya nodded no.
Raghu was relieved.
Bhavya walked away.She broke her fast by herself.
Soumya waited for Rudra eagerly.When Rudra reached her face blossomed.
Soumya:Rudy…I knew that you will come.I was waiting for you.Break my fast.


Rudra smiled:I know that.I knew that you would be waiting for me.That's why I came here.
She smiled.
Rudra:Good that like engagement Prem did'nt come between us.
Soumya:Nobody knows that I am fasting.
Rudra:So it's a secret.
She smiled.
Rudra:But I can't believe one thing.How can a foodie like you fast?
Soumya browned and beat his shoulder lightly.
Soumya:For you not only food I can even sacrifice oxygen.
Rudra became emotional.

They shared a sweet emotional eye lock.


Rudra asked her with a naughty smile:You can sacrifice only food and oxygen or other basic necessity like clothes too?
Soumya:You naughty shameless…
She started beating him.He was smiling.
They both giggled.
Rudra broke her fast by feeding her water

and making her eat morsel.
Soumya was very happy.
Soumya:You know Rudy..for me this Karwachauth moment of you breaking my fast is very special.
They looked at each other emotionally.


They embraced each other emotionally.

Soumya was very happy in her room.
Romi:You look so happy now.


Soumya:Ya.Rudy broke my fast.
Romi:That's cool.Did you break his fast?
Soumya:What?But Rudy…
Romi:Di…you did'nt know that Rudra too fasted for you?
Soumya:Oh no.I thought Rudra can't do this as he is a modern guy.Let me go and break his fast.
Romi:Go fast di.He may be dying out of hunger.
Rudra:Oh no..I feel so hungry.
Soumya went near him with a plate of food.
Soumya:Don't worry Rudy.You don't need to wait anymore.
Rudra was surprised to see her.He smiled.
Soumya:I am sorry Rudy.I never thought that you believe in Karwachauth and all.
Rudra:If you believe in it,why can't I believe it?
She smiled.
Soumya:I never thought that you can avoid food.
Rudra:If you can sacrifice food for me,why can't I do it for you?
They shared an emotional eye lock.
Soumya fed food to Rudra with her hands.


Prem was sitting in his room.He was very upset.
Raghu came inside.
Raghu:Somebody has come to see you.
Prem:who?
A girl came inside.He was stunned.
Prem:Simar!
Simar:Yes Premji.
Prem:How come you are here?
Simar:I came here to break my fast with your hands.


Prem was shocked:What do you mean?How can I?
Simar:Why can't you break my fast Premji?
Prem:Because a woman's fast should be broken only by her husband or lover.
Simar:Right.That's why I asked you to break my fast as you are the person I love.If you don't break my fast I won't eat at all.I will starve.
Prem was shocked.He could'nt believe his ears.His eyes became teary.
Raghu was shocked too.Prem smiled tearfully.
Simar took a sieve and viewed Prem through it.


Simar showed him the plate of food.
Simar:Feed me Premji.


He fed her breaking her fast.


Raghu:What is this?Prem..this is wrong.You are engaged to Soumya.


Suddenly Prem came back to his senses and realized what he did.He was very upset.
He looked at Simar.They both shared an emotional eye lock.
Prem:Simar,you are not only my colleague..but also my best friend.That's why I broke your fast as I know how stubborn you are.I am committed to my fiancee.So please leave Simar.
Simar looked at him tearfully:So I am just a friend for you?
Prem said emotionally:No…
Simar smiled emotionally.
Prem:I mean ..you are my best friend too.
Simar walked out tearfully.
Prem was in tears.
Raghu:Prem,what is all this?
Prem was silent.
Suddenly they heard a voice.
"Tell Prem.What is happening here?"
Prem and Raghu were shocked to see Shivay near the door.

Warning: A non-numeric value encountered in /home/ftpusers/tellyu/public_html/wp-content/themes/publisher/includes/func-review-rating.php on line 212

Warning: A non-numeric value encountered in /home/ftpusers/tellyu/public_html/wp-content/themes/publisher/includes/func-review-rating.php on line 213